Driving down California's Pacific Coast Highway is one of the world's most iconic road trips and one that Steve and I had our sights set on for years. We had both done the trip when younger – in fact this was my third time on Highway 1 – but we wanted to do it together and in the style of travel that this blog is known for, focussing on special places to stay and experience. California has those experiences in abundance, so we whittled away and eventually came up with what we think is the best California road trip itinerary out there.
From towering redwoods to golden coast and wine regions, this trip is filled with extraordinary guesthouses, spectacular landscapes and some of the best food we've ever had. Add to that the easygoing vibe of Californians, the echoes of its hippy past and its reality as one of the most creative, forward-thinking places on earth, and it all adds up to a trip I might never stop dreaming of. This is California dreaming brought to life.
And don't miss our guide to the 22 best road trips in the USA.
Some of the links in this post are affiliate links, meaning I get a small commission if you book them (at no extra cost to you). It's one of the ways I keep this website going. I have marked affiliate links with an asterix *. Read more about my affiliate policy here.
As always, I spent a ton of time planning this trip, which means it should save you plenty of time and energy when planning your Pacific coast highway road trip. I've split it into sections, outlining our travel style, our priorities in California, our budget, how we got around, and detailed sections on each destination. I've also written dedicated blog posts for each destination with extra tips and advice, which I link to throughout the post. It's the ultimate California road trip.
The ultimate California road trip itinerary at a glance
Days 1-4 (3 nights): Sonoma County
Days 4-7 (3 nights): San Francisco
Days 7-9 (2 nights): Santa Cruz
Days 9-11 (2 nights): Monterey County
Days 11-12 (1 night): Big Sur
Days 12-14 (2 nights): Paso Robles
Days 14-16 (2 nights): Santa Barbara
Days 16-18 (2 nights): Malibu/Topanga
Days 18-20 (2 nights): Los Angeles (Venice Beach and Santa Monica)
Days 20-22 (2 nights): Laguna Beach
Days 22-25 (3 nights): San Diego
Days 25-27 (2 nights): Greater Palm Springs
Days 27-29 (2 nights): Joshua Tree
Days 29-32 (3 nights): Los Angeles (Universal Studios and Highland Park)
How to use this California road trip planner
This guide is intended as a California road trip planner, which you can pick and choose from, depending on your priorities, budget and the amount of time you have. We had a whole month for our west coast road trip, and we travelled from October into the start of November. You could easily do the same journey in a much shorter amount of time by picking and choosing your favourite stops. And you could also stop briefly at some of the destinations en route rather than spending the night there. I've detailed how long it takes to travel between each destination, so use that as your guide when planning how much to do each day. You could do a great California road trip in 7 days, but ideally I'd give yourself at least 10 days.
Our priorities and how we planned our Pacific Coast Highway road trip itinerary
California offers a dazzling array of places to visit, from national parks to beaches to some of the most famous cities on earth. It's hard to know what to pick when planning your perfect California road trip itinerary. We decided to focus on the coast with only a few detours inland to Paso Robles, Palm Springs and Joshua Tree. Because we were travelling with Otis, we didn't want to do long journeys, so we made sure we never had to drive for more than three hours in one day. You could definitely do the trip much more quickly by visiting some places as day trips, or just stopping briefly on the way through. And if we'd had more time, we'd have liked to add Yosemite National Park and make a loop back round to San Francisco. We're saving that for next time. And another way you might like to extend it is by driving out to Las Vegas and then up through Death Valley National Park, Yosemite and Lake Tahoe, before looping back to San Francisco. There are lots of options! As it is, this itinerary is ideal for focussing on a Pacific Coast Highway road trip, and we think it's one of the best California road trips you can do.
Our style of travel
As with all the itineraries on Bridges and Balloons, we have a special focus on creating handpicked itineraries that are filled with special places to stay – think beautiful design, plenty of character and amazing locations. We're also millennials, so of course expect brunch, hipster coffee shops and money spent eating out. And I'm a cake and ice cream fiend, so you'll also see lots of that. We favour a local style of travel, so don't always hit all the "must sees", preferring to soak up the atmosphere and experience local life. We look for street art, independent bookshops, farmers markets and parks. And we're always up for spending time in nature. We favour independents over chains, and while we're both vegetarian, we tend to eat in restaurants that are known to be good for all food rather than just veggie stuff. And although we now travel with our baby (who was nine months old for this trip), the things we do aren't just family-focussed, but suitable for anyone with a similar style to us – it's the same stuff we'd have done even before Otis was born.
Our California road trip budget
When we travel, we tend to mix budget and high-end options – for example, staying in a simple AirBnB some nights and then splashing out on a luxury cabin here and there. We take the same approach with food. On this particular trip, we worked with Visit California, so some of our accommodation, meals and activities were sponsored by tourism boards or the places themselves. This meant we sampled more mid-high range accommodations and restaurants than we normally would on one trip. This means we're able to provide you with reviews of those places, so you can choose what to prioritise on your California coast road trip. You could find cheaper options in each place from around $60 per night.
Do remember that the USA doesn't include sales tax in its prices, so you have to account for that when looking at costs (it's 7.25% in California), plus you're expected to tip around 20% on food and drinks orders.
Here's a breakdown of the costs you can expect on a California road trip like ours.
Accommodation: $75 – $490 per night for two people
Our accommodation prices varied a huge amount. The cheapest was a night in an AirBnB in San Diego and the most expensive was a cabin in Big Sur. You could feasibly spend as little as $75 per night in all destinations, but that would sometimes mean staying in hostels or in shared AirBnB accommodation (normally a private room within someone's home). For example, it's quite easy to find nice budget options in San Diego (our £60 room* was a private guest suite in our host's garden in a suburban part of town), but harder in San Francisco and LA. I have included the exact cost of everywhere we stayed in the accommodation section for each destination below. If you use AirBnB, use this link* to get £25 off your first booking).
Car hire: $1900
This was for four weeks, including the transfer fee for picking it up and dropping it off in different locations. We went for an intermediate sized car, so it would be cheaper if you chose compact or small. We used Rentalcars.com* to book our car.
Fuel: $237
Food and drinks: $50-$150 per day
This varies a lot as it depends on how much self-catering you do, plus the type of restaurant you go to. For example, a brunch for the three of us at trendy Gjelina in LA cost $75, whereas our lunch in Paso Robles at Grey Wolf Cellars was only $20. Portion sizes are huge in the USA, so you can often get away with just sharing one dish between two. We bought a cheap electric hot plate at the start of our trip, so we could cook fresh meals for Otis in our hotel rooms instead of always buying him a meal in a restaurant/feeding him ready-made pouches. We also saved a lot of money by not drinking much alcohol. The above cost could easily rise to $200 per day if you added alcohol too.
As a quick quide, a coffee costs around $2.50 including a tip; a fancy ice cream cone is $5; a gourmet donut $4; and a brunch for two in a mid-range cafe/restaurant, including coffee is $30. Wine in California is expensive, so expect to spend upwards of $10 for a glass.
Tours and entrance prices: $750 for two people
We visited very relatively few paid attractions on this trip, so this cost is quite low. Instead we mostly stuck to free attractions and simply exploring a town on foot. This cost would quickly go up if you wanted to visit more attractions. The fees we did pay, per person, were: California Academy of Sciences ($40); San Francisco Botanical Gardens ($9); Roaring Camp Railroads ($29); Henry Cowell Redwoods ($10); Monterey Bay Aquarium ($49.95); 17-mile Drive in Monterey ($10); Joshua Tree National Park ($30); Universal Studios ticket, including Express Pass ($179). Most of the wine tastings we did were free, but we did do a few paid tastings that cost from $15-$25 for a flight (the latter was a wine and cheese tasting).
What we ate on our west coast road trip
Food was a big priority on our California road trip and was one of our biggest costs. California is famous for its fresh farm-to-table cuisine, so we wanted to make the most of that and try as much as we could. We're both vegetarian, so all the places featured are vegetarian-friendly, but most of them also serve meat/fish. Whatever your dietary preferences – from vegan to Paleo – you can expect them to be easily met in California.The state's proximity to Mexico also means you can find plenty of high quality Mexican food, which was a big highlight for us. Other things we particularly enjoyed were the creative ice cream and donut shops; the plentiful coffee options; and the many outdoor dining spots. And if you're vegetarian, I highly recommend trying the impossible burger while your in the USA – it's not available in the UK yet, but is the best veggie burger I've ever had.
As well as farm-to-table restaurants, California also has an incredible range of farm-to-grocery stores, many specialising in natural and organic produce. One of our favourites was Bi-Rite in San Francisco. These stores tend to be quite expensive in comparison to places like Safeways and Trader Joes, but they are definitely worth a look and a treat now and then. We also enjoyed shopping in Whole Foods, which is again quite expensive, but high in quality. You can buy fresh readymade food from the deli bar in Whole Foods, which is a good option if you're in a rush.
Finally, because Otis tends to get sleepy around 6:30pm, we rarely ate out in the evenings. Instead, we tended to eat out at brunch/lunch, and then sometimes ordered take-away in the evenings. Services such as Postmates, Doordash, Uber Eats and Caviar deliver food from top restaurants direct to your hotel, which was a great way for us to try those restaurants in the evenings.
How we got around California on our west coast USA road trip
We hired one car for the entirety of our California road trip, picking it up in San Francisco and dropping it off in LA. As always, we used rentalcars.com* as that's where we've always found the best deals. This time they sponsored our car hire, but you can trust my recommendation is genuine as I've been talking about them for years! Rentalcars.com* is a booking agent for many car hire companies, and the best deal they found for us was with Alamo. We were particularly impressed with the self-check-in system, which meant we could skip the long line at the airport when collecting our car. We opted for a Dodge Grand Caravan, which is an SUV-style car as we needed plenty of room for all of Otis' stuff.
If you don't want to drive, you could take buses instead, although of course that gives you less flexibility about where you stop. Public transport isn't great in the States, so hiring a car is definitely helpful.
I've included the driving time in the section for each destination below. Bear in mind it's significantly quicker to do the LA to San Francisco drive along Highway 5, but that takes all the fun out of it. We drove down the much slower but infinitely more scenic Highway 1. However, if you needed to do the San Francisco to Los Angeles drive quickly, perhaps to loop back for your return flight, it can be done in just under six hours. You could also opt to do parts of the journey on the quicker road, which would help you to fit in more destinations in a shorter amount of time, so perhaps a good idea if you're pushed for time. But whatever you do, I would definitely try to make the time for the drive along the Big Sur coastline – it's one of the driving highlights of a Pacific Coast Highway road trip itinerary.
Find the best deals on car hire
We recommend Rentalscars.com for booking your rental car. They search over 900 companies, and if you find a cheaper deal anywhere else, they promise to beat it. We use them every time.
Weather and what to pack for a California coast road trip in October/November
The weather in California, from north to south, and from October-November varies considerably, so it's a challenging trip to pack for. As a rule of thumb, it's likely to get warmer the further south you go, but microclimates mean you can reasonably expect hot temperatures in places like Sonoma and Paso Robles too. And even when it's hot on the coast, if the fog rolls in, the temperature drops quickly. Essentially, it's difficult to know what to expect, so I recommend packing layers. For us, we found that the temperatures were consistently pleasant throughout the entire trip albeit on the hotter side from San Diego onwards.
Our Pacific Coast Highway road trip itinerary
Sonoma County
Days 1-4 (3 nights)
Sonoma County is the laid-back sister of neighbouring Napa. Where Napa is glam, Sonoma is famed for its down-to-earth rustic vibes and world-class farm-to-table cuisine. It's a place where you can spend the morning walking through redwoods and the afternoon sipping wine in a Tuscan-style villa. It's the ultimate in relaxation, plus it has a warmer climate than San Francisco, so is the perfect sunshine break from the city.
Do note than when I'm talking about Sonoma, I'm referring to Sonoma County rather than the city of Sonoma, which is just one part of the larger area and a place we didn't go to. The areas we visited were: Sebastopol (an artistic little town where we stopped for lunch); Guerneville (a rustic town that has a become a number one spot for gay holidaymakers and is known for its outdoor water sports and party vibes); Forestville (a tiny place with lots of forest, which is home to some amazing cabins) and Healdsburg (a wonderfully charming town, filled with top-class restaurants and tons of tasting rooms). And we also went to the Armstrong Redwoods State National Park, which is a peaceful place for a walk among the trees. If wine is what you're after then I recommend being in walking distance of Healdsburg town square as then you could visit lots of tasting rooms without worrying about driving. If we'd had more time, we would also have visited the coast. Read more about Sonoma county in my things to do in Sonoma County blog post.
Accommodation in Sonoma County
We went for three nights, staying in three different places to get a feel for what was on offer. You could do the same or choose your favourite and opt for a three-night stay in one place as they're all within 20-minutes' drive of one another.
Camellia Inn
The Camellia Inn is one of the most charming places I've ever stayed. It's a traditional family-run guesthouse where the owners genuinely care about each and every guest and go out of their way to make your stay comfortable. The pink-hued Victorian house brims with history and is just minute's walk away from Healdsburg Plaza. The rooms are filled with antiques, but also come with modern touches like an iPad and coffee maker. Hot drinks and treats are available in the communal living room, where guests gather each afternoon for a daily cheese and wine tasting. We also loved breakfast time where Otis was the toast of the big shared table where we all enjoyed the fresh produce that Sonoma is famous for. There's also an onsite spa and a swimming pool for when the weather is warm. Rooms start from $159 per night. Book your stay now*.
Vintners Inn
If you're looking for a spot of luxury on your trip to Sonoma, Vintners Inn* is ideal. Set on a 92-acre vineyard, the luxury lodgings have a European vibe, including a charming courtyard, centred around a picturesque classic fountain. You can see why it's a popular wedding location. We stayed in a sumptuous junior suite with a view of the vineyard, which felt like a quintessential wine country experience. And for food, we were spoilt by John Ash & Co, the onsite fine dining restaurant. The property is run by Ferrari Carano, one of Sonoma's most popular and luxurious wineries. There's also a newly refurbished spa on site. Rooms start from $265 per night. Book your stay now*.
Camp Noon, Forestville
As you know, I love a cabin and Forestville in Sonoma County is cabin central – we were completely spoilt for choice. In the end, I chose Camp Noon*, which is owned by two girls in San Francisco who have a fantastic eye for design. I was sold by the AirBnB reviews that mentioned the styles of Wes Anderson, Anthropologie and Scandinavia, and there assessment was spot on. From the claw foot bath tub to the well curated record collection and retro furnishings, everything was on point. And of course, a cabin's location is key to its success and this one was surrounded by towering redwoods – you can't get much better than that. A night in the cabin starts at £64 per night. Book your stay now*. (Use this link* to get £25 off your first trip).
Where to eat and drink in Sonoma County
Sonoma County is well known for its fresh, farm-to-table cuisine, especially in Healdsburg, which has become a culinary hub for high-end restaurants. We ate an incredible multi-course meal at Healdsburg Shed, which also doubles as a fabulous farm shop, cafe and fermentation bar. The chilled melon and tumeric soup was divine and probably one of the most photogenic dishes I've ever seen.
I also recommend Backyard in Forestville where we had a delicious lunch in their garden. It's child-friendly and specialises in seasonal, locally sourced food.
In terms of wineries, we loved Medlock Ames (a small, somewhat hipster winery) and Korbel, which specialises in sparkling wine.
And don't miss Wild Flour Bread in Freestone near Sebastapol, which has scones I'd drive a day for. It's definitely worth the short detour.
Getting to and around Sonoma County
From San Francisco airport to Healdsburg/Guerneville/Forestville takes about 1.5 hours, depending on traffic. We stayed in Forestville first and drove there via Sebastopol (about an hour from San Francisco) where we stopped for lunch at The Barlow. We also made a detour to the Wild Flour Bakery where people are highly evangelical about the quality of the scones. The detour added about 10-15 minutes to the journey and also meant we got to drive along the atmospheric Bohemian Highway road, which is lined with massive redwoods. If we hadn't had an antsy Otis in the car, we may also have driven out to the coast as the 10-mile journey from Occidental to the ocean is said to be gorgeous.
While in Sonoma County, we mostly drove everywhere and always found a free parking spot easily. However, we also enjoyed how easy it was to walk around Healdsburg, and had a lovely evening stroll around the plaza (it made me feel like I was in an episode of the Gilmore Girls!).
San Francisco
Days 4-7 (3 nights)
San Francisco is one of my favourite cities on earth – it's a place where you can't help but feel inspired, stoking the vibes of its counter-cultural history and forward-thinking nerve. It's built on 43 hills, so you're never far from a view (or a workout!), and looking out across the painted-ladies-style houses and out across the bay is a sight that never grows old. It's a place to sink your teeth into, exploring the different neighbourhoods and getting a sense of what makes the city so special. I'd say three nights as a minimum, but you could easily stay for weeks.
My favourite neighbourhood to explore is the Mission, which has Latino roots, hipster vibes and a plethora of amazing street art (don't miss the Women's Building and Balmy Alley). The main thoroughfare, Valencia Street, is lined with independent shops, cafes and restaurants, and Dolores Park was our favourite place to hang out in the city – the views from there are A plus. Other areas we enjoyed include Castro, Hayes Valley and Noe Valley, which all have a strong, independent ethos, charming Victorian architecture and a proliferation of good coffee. Castro is particularly fun with all its colourful rainbows that celebrate its fame as one of the world's most gay neighbourhoods. Downtown is somewhat grittier, but worth a visit if only to see the famous cable cars, the zig-zag Lombard Street, and to visit the Ferry Building Marketplace, which is filled with great food. And I also enjoyed North Beach, known as Little Italy, which in places feels like it's been frozen in time back to the days of Kerouac, and is home to the City Lights bookstore. Finally, don't miss Golden Gate Park, the city's impressive green space that's filled with museums and gardens, including an expansive botanical garden that includes a redwood grove.
Accommodation in San Francisco
We stayed in three different places in San Francisco. The first was a home exchange in Noe Valley, so I'm afraid that one that can't be easily replicated (I'll be writing more about how we use home exchange soon). But you could use AirBnB if you're looking for a similar experience, living in a local style (use this link to get £25 off your first booking).
San Remo Hotel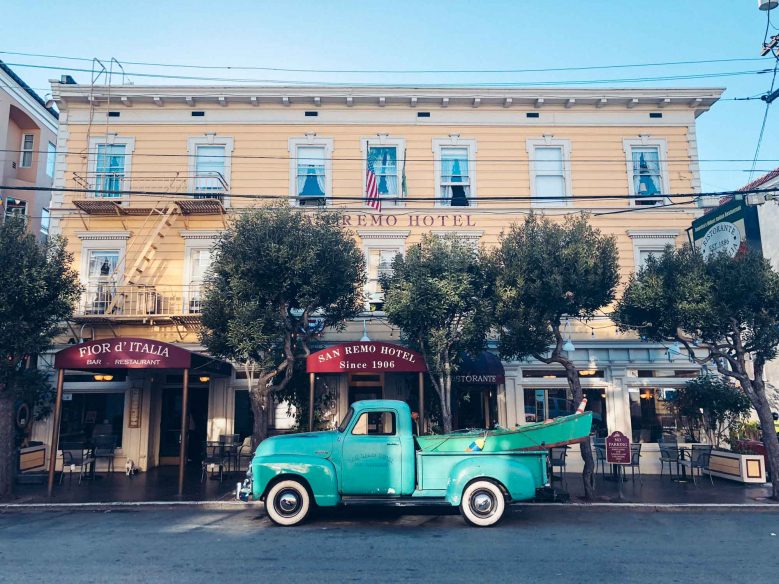 The San Remo Hotel* is the definition of a hidden gem – a budget option in downtown San Francisco that brims with old-world charm. First opened in 1906, it feels like stepping back in time. The rooms have Victorian heirloom furnishings, the bathrooms are shared but spotless, and the attention to detail and customer service is delightful. I was particularly impressed by all the thoughtful touches, like unlimited hot drinks, and helpful bathroom amenities, including mouthwash on tap and lots of fluffy towels. Prices start at $89 per night. Book your stay now*.
Staypineapple San Francisco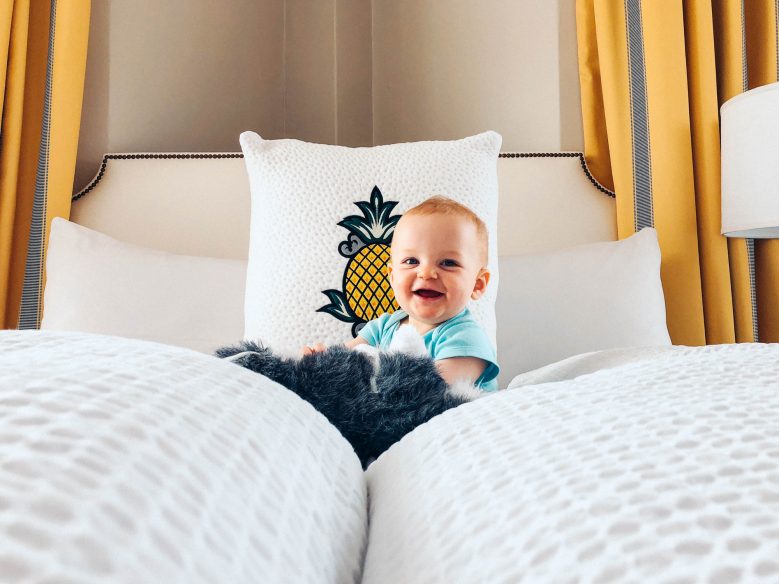 Staypineapple San Francisco* is part of the fun Stay Pineapple chain, which has an emphasis on providing stylish and reasonably priced accommodation in coveted locations. It's all bold and bright and includes nice touches like free cupcakes at 3pm, and what they call the Naked Experience, which includes lush bathrobes and bed linens so you need never leave your room. But the location means that of course you do want to get out and explore, which is where the free bike hire comes in handy. Plus it's proudly dog-friendly if you have a furry friend in tow. Rooms start from $150. Book your stay now*.
Where to eat and drink in San Francisco
San Francisco is a true treat for foodies. I'll write a larger post with details, but favourites for lunch/dinner included: Gracias Madre for perfect vegetarian Mexican food; Boogaloos for brunch in an old pharmacy building in the Mission; Griddle Fresh for brunch in Noe Valley; Roam Artisan Burgers for the best veg burgers in town (we liked them so much, we went back twice); Farmhouse Kitchen for seriously good Thai; El Porteno for empanadas in the Ferry Building; Beloved for health food; and Cha-Ya for vegan Japanese on Valencia Street.
San Francisco takes its coffee seriously, and these were some of the best cafes we tried: Ritual Coffee Roasters; Four Barrel; The Mill and Blue Bottle. Also don't miss Caffe Trieste in Little Italy for an experience of old San Francisco.
Finally, for sweet treats, I highly recommend: Craftsman and Wolves, a modern patisserie that had my favourite cakes in all of San Francsico; Tartine bakery (you have to try the morning bun); Humphry Slocombe ice cream (the secret breakfast flavour is incredible); Dandelion Chocolate for artisan chocolate products and rich hot chocolate; and Loving Cup for frozen yoghurt.
Getting to and around San Francisco
The journey from Sonoma to San Francisco is about 1.5 hours and a nice place to stop for lunch en route is the little village of Mill Valley. The route takes you over the magnificent Golden Gate Bridge, so if you have time be sure to stop at one of the the viewpoints. This is a handy guide to how to visit the Golden Gate Bridge.
San Francisco is the one city we visited where you don't really need a car. The public transport is excellent and we only used our car to get in and out of the city. In fact, you would do well to pick up your hire car at the end of your stay in San Francisco as that way you could avoid the parking charges.
The SFMTA website is useful as you can track live progress of the bus/train/cable car you're waiting for, and the Muni app is handy as it's an easy way to buy tickets for your journey.
If you are parking in the city, be warned that you tend to be limited to a two-hour stay on residential streets, and also watch out for when street cleaning is happening as you mustn't park during those hours (all this info is on the parking signs). We also found a really handy app called Best Parking, which tells you about free/cheap places to park in the city.
Santa Cruz
Days 7-9 (2 nights)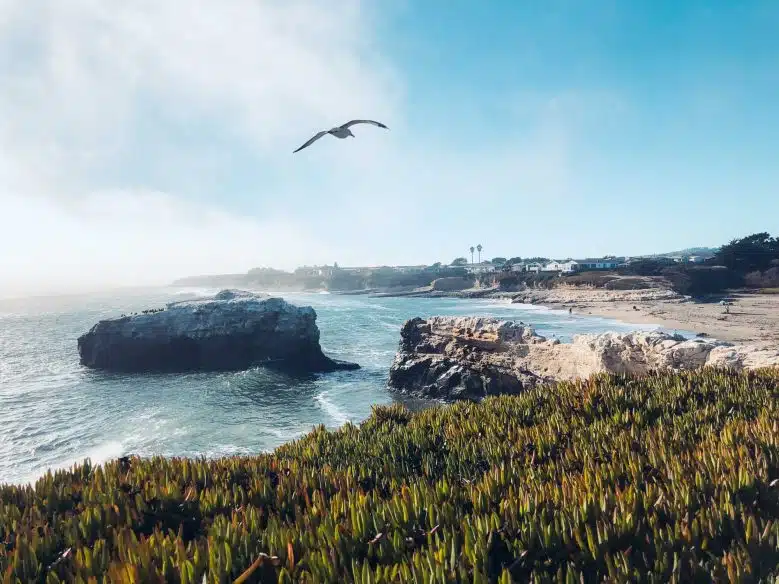 Santa Cruz is famed for its surf and hippy culture, as well as the iconic Santa Cruz Beach Boardwalk. It has oodles of surf, beaches, redwood-covered mountains and a laid-back youthful vibe. While there, our highlights were: driving along the coastal West Cliff Drive and stopping at the scenic Natural Bridges State Reserve; watching the surfers catch some waves (the area near the tiny surfing museum is a good surf spot, plus Pleasure Point, which is further along the coast); walking the Santa Cruz Beach Boardwalk (the rides were closed when we were there, but it was still fun to see); exploring the town and visiting the farmers market; having a wander around the Henry Cowell Redwoods State Park (there are a few different trails and it's an ideal place for a picnic); and riding the old steam train at the neighbouring Roaring Camp Railroads. The latter was a fantastic experience, seeing the redwoods from an old steam train that was historically used for logging – it's a great thing to do with kids, although Steve and I both loved it too.
We also visited Capitola Village, which is best known for its colourful villas that line the waterfront – it's classic Instagram fodder, plus a charming place to wander.
If time had allowed, we'd also have liked to see the university campus as it's said to be stunning (the library is in a redwood forest!). Read more about Santa Cruz in my post on 19 fun things to do in Santa Cruz.
Accommodation in Santa Cruz
We stayed at The Inn at Pasatiempo*, a nicely designed, simple inn with colourful gardens and a heated pool. It has tall forest views and is also right next to a golf course if that's your thing. A no-frills continental breakfast is included and there's a causal onsite grill restaurant, which has a few veggie options. Rooms start at $139 per night. Book your stay now*.
Where to eat and drink in Santa Cruz
Santa Cruz has a few different farmers markets, which are a great place to buy some local produce and perhaps put together a picnic to enjoy on the beach or among the redwoods. We went to the downtown one, which takes place on Wednesdays. See the dates for other markets here.
I also recommend Lulu Carpenters if you're looking for a friendly, homey cafe; or Verve if you want something hipster. The Penny Ice Creamery is fantastic and I also enjoyed some tiny cupcakes from Buttercup Cakes.
Getting to and around Santa Cruz
Santa Cruz is just over an hour's drive from San Francisco, depending where you're starting from. It's worth driving along the coastal Route 1 as it's a beautiful drive and offers a few different photo stops, including Half Moon Bay and Davenport. Taking Route 1 adds about 20-30 minutes to your journey, plus the time you'll need for stops. I also recommend stopping at Swanton Berry Farm, which has a delicious array of strawberry products. Taking this route also means you enter Santa Cruz via West Cliff Drive, which is the perfect intro to the city.
Another scenic alternative would be to take Highway 17 through the Santa Cruz mountains.
Monterey Peninsula
Days 9-11 (2 nights)
The Monterey Peninsula was one of the places that most surprised me on our trip. I wasn't expecting the sheer beauty of it, especially along the 17-mile drive that links Pacific Grove and Carmel. We stopped so many times on that short drive and every view was breathtaking – so much so that we decided to do it twice. We also stayed somewhere incredible, which you can read more about below.
Monterey is perhaps most famous for its world-class aquarium, one of the best in the world and definitely worth a visit. The kelp forest, giant open water tank and jelly fish were my highlights. While there, it's also a good chance to visit cannery row and fisherman's wharf.
And also make sure to spend some time in Carmel-by-the-Sea, a super chi-chi, but very charming village (it's where the TV show Big Little Lies was set). Carmel has a stunning beach and is the start of the 17-mile drive.
Where to stay in Monterey Peninsula
We stayed at Asilomar Hotel and Conference Grounds*, which is both a hidden gem and a bargain. It began life back in 1913 as a leadership camp for the YWCA (the women's version of the YMCA) and has since gone through a colourful history to become a beloved retreat centre on the Monterey Peninsula. It was designed by architect Julia Morgan who is best known for Hearst Castle, and the whole place reminded me of a cross between a retreat centre and the holiday camp in Dirty Dancing! While most of the guests are in groups, the public are also welcome, and it attracts a diverse clientele, from women's chanting groups to tech giants like Google. It's part of a 107-acre state park that's right on the seafront, next to sandy dunes with a walkway running through. Choose from a plethora of different rooms types, including historic and modern options. Rooms without an ocean view start at $160 per night. And our ocean view room costs $230. Book your room now*.
Where to eat and drink in Monterey Peninsula
Brunch at First Awakenings in Monterey was a perfect example of American classics done well – the pancakes were lush. And if you're into seafood then I hear that the Big Fish Grill on Fisherman's Wharf or the Fish Hopper on Cannery Row are both good options.
In Carmel, we bought fresh dolmas, pitta and veg at the farmers market and had a picnic in the little Davendorf Park (the market was right next to it).
There is a dining room at Asilomar but it's mostly geared towards the groups with meal plans being sold as part of a package. If you buy one meal at a time, the prices are pretty high. There is a cheaper cafe on site with some limited pasta and sandwich options. However, I'd recommend eating out/self catering if you can.
How to get to and around Monterey Peninsula
The drive from Santa Cruz to Monterey takes about one hour. We drove via Carmel, so we could stop there for lunch and then do the 17-mile drive, which ends right next to Asilomar.
The drive from Asilomar to Monterey Bay Aquarium takes roughly 10 minutes. I really can't recommend doing the 17-mile drive enough – it was one of the highlights of our trip.
Big Sur
Days 11-12 (1 night)
The Big Sur coastline is what I dreamed of when planning this trip. This section of the California coast drive is one of the most scenic roads in the world, and one you can't help but be awed by. Highlights include the iconic Bixby Bridge, McWay Falls and, my favourite, Pfeiffer Beach. Only a limited number of cars are allowed down to the beach carpark, so you have to get lucky. This is one of the reasons it's a good idea to stay the night along the coast as that ups your chances of getting down there. We did get lucky and were on the beach for sunset, which was among the most breathtaking moments of our trip. The sand on the beach has a purple tinge, created by the interplay of different minerals. If you want to see McWay Falls, it's a very easy, flat 0.5 mile walk in the Julia Pfeiffer Burns State Park. Park at the South Parking lot and follow the signs for McWay Falls. When we went the route was only partially open due to erosion, but we could still see the falls. You can check up-to-date status reports on all trails in Pfeiffer Burns State Park here.
Even if you don't manage to stay the night along the Big Sur coast, the drive is 100 per cent worth it and one that's good to take your time over, stopping at the viewpoints, maybe taking a hike along the way and breaking for lunch at historic Nepenthe.
Where to stay in Big Sur
Accommodation along the Big Sur costline is scarce and as such what is there is wildly expensive. We decided to bite the bullet and just go for it, spending nearly $500 on a night in a cabin at Glen Oaks. Luckily, it was one of the best nights of our trip and worth it as a treat. Our cosy cabin – Archies – was backed by huge redwoods and equipped with all the mod cons we'd need, including a little kitchen so we could cook. And there was even a yoga mat, so I could practise amid the forest.
Glen Oaks straddles two sides of Highway One and the cabins on the opposite side to us were in a beautiful redwood grove where we enjoyed taking a walk. Although I loved our cabin, I noticed some of the cabins on the other side had outdoor fireplaces, which would have been a nice touch. Rooms in the Glen Oaks motor inn are cheaper than the cabins, but you can't stay in them with a baby. In fact, that's the case with many of the places in Big Sur: they are either adults-only resorts, or only have specific rooms where babies are allowed. Wherever you decide to stay, rooms book up quickly, so try to plan ahead. When I booked, Archies was the only cabin available. Book your stay at Glen Oaks now.
And if you want to splash out even more then the Post Ranch Inn* and Ventana Big Sur* both look incredible (one day…)! Or for a cheaper option, try camping – here's a list of some of California's best camp sites, including ones at Big Sur.
Where to eat and drink in Big Sur
I don't often say that places are unmissable, but I think Nepenthe is worthy of that accolade. It combines history, character, great food and one of the best views in the world, to make a fantastic restaurant that beckons all that pass it. It's not cheap, but also not extortionate, at $19 for a burger, and the view is well worth the price. There's also an eclectic and well curated gift shop onsite, plus a cafe serving salads, breakfast and baked goods.
I also recommend the cakes at Big Sur Bakery. And the Big Sur Roadhouse, which is part of Glen Oaks, does a great breakfast and donuts.
Getting to and around Big Sur
The Big Sur coastline, from Carmel to San Simeon is about 71 miles long and takes just over two hours to drive, but that's not counting all the stops you'll want to take. Glen Oaks is about 50 minutes from Asilomar, but we actually drove on an extra 20 minutes to McWay Falls and then went back on ourselves to have lunch at Nepenthe and then check in at Glen Oaks.
Most places are signposted on the road, but Pfeiffer Beach is a little harder to find. It's down a road called Sycamore Canyon Road, less than five minutes after Glen Oaks and before the Big Sur Bakery. Put it into Google Maps before you leave as service is spotty once in the area. The whole route is absolutely stunning and it's an essential part of a Highway 1 road trip.
Paso Robles, San Luis Obispo
Days 12-14 (2 nights)
A lot of people don't think to take the 30-minute trip inland to Paso Robles when driving down the coast, but we think it's definitely worth it. It's a delightfully cute little wine town in San Luis Obispo County and one of the most charming places we visited. Paso Robles old town is filled with little boutiques and is a quaint place to spend the morning shopping. And of course, the main draw is the wine. There are lots of established wineries to choose from and also a burgeoning craft scene of smaller producers, as well as cider and beer makers. Like most wine countries, this is a place to truly relax.
Where to stay in Paso Robles
The main reason we went to Paso Robles was to stay at The Vintage Ranch*, a place we discovered on Netflix' holiday rental makeover show, Stay Here. The interior designer on the show, Genevieve, is amazing at what she does and the show gave me a serious case of wanderlust. The Vintage Ranch* in Paso Robles, a little cottage surrounded by vineyards, was one of the highlights of the series for me, so it was a real treat to see it in the flesh. It didn't disappoint and was every bit as beautiful as I had hoped. The outdoor area is the perfect place to unwind at the end of the day, and is made even more beautiful at night when you can light the fire pit and sit beneath the pretty festoon lights. Plus inside is dreamy, with bohemian touches against a decadent background of creamy white. The cottage sleeps two and starts at $210 per night. Use this link to get £25 off your first trip.
Where to eat and drink in Paso Robles
Make sure to visit Tin City where an industrial park has been transformed into a hub for locally sourced craft drinks, including wine, beer and cider. The highlight for me was the cider at Tin City Cider. I've never tasted anything like it. There are lots of larger wineries along Green Valley Road, although we struggled to find one serving lunch on a Monday. In the end, we stumbled across Grey Wolf Cellars, which turned out to be excellent, both in terms of wine and food – it's particularly well known for its mac and cheese. For something a little more fancy, you could try Niner Wine Estates, which has an oak grove in the shape of a heart (it was closed the day we visited).
In downtown Paso Robles, we had one of the best meals of our trip at Thomas Hill Organics, a bright and airy restaurant with a sweet courtyard garden, serving innovative, fresh food. The coconut bread pudding was particularly good. And for coffee and sweet treats, there's the hipster Spearhead Coffee, or the donuts at Twisted and Glazed where they have a a dizzying section of inventive flavours.
Getting to and around Paso Robles
Paso Robles is just over two hours' drive from Glen Oaks in Big Sur and is a gorgeous route, taking in some of the most dramatic cliff views on the Pacific Coast Highway. The landscape swiftly changes at San Simeon, flatting out and becoming a lot less dazzling (although I've been told there are some beautiful beaches at Hearst State Beach and Moonstone Beach Drive, as well as an elephant seals colony at the Piedras Blancas Rookery). On this route, you could stop at Hearst Castle if time allows (Steve and I had both been before, plus timing wise it didn't work out with Otis' naps).
Santa Barbara
Days 14-16
Santa Barbara is nicknamed the American Riviera, and oh my is it gorgeous. I wasn't sure if it'd be a bit too polished and glitzy for my liking, but I actually found it charming, plus sometimes it's nice to be somewhere that's simply stylish and beautiful. Downtown Santa Barbara is super pretty with lots of white buildings, red roof tops and stylish design. We especially enjoyed the funk zone, which is home to lots of street art and boutique wine tasting rooms. Santa Barbara was our third wine region in California, and one where I was able to do a wine and cupcake pairing (can you imagine my joy?!). Other highlights included the candy-coloured mission building; walking along the beachfront; watching the sunset from Stearn's Wharf; wandering around fancy Montecito; and having a massage at Float Luxury Spa. And for a good photo opportunity, pay a visit to the chromatic gate along the waterfront. Find out more in our post on the best things to do in Santa Barbara.
Where to stay in Santa Barbara
We stayed at the Kimpton Goodland*, a stylish boutique surf hotel in Goleta, about a 15-minute drive from the centre of Santa Barbara. It's eclectic, beach aesthetic epitomises the California vibe and it includes fun touches like a record player in each room, plus a record shop onsite where you can hire your favourite tunes. It's in a converted motor inn building and houses 158 rooms, centred around a pool. The hotel's dining venues, Outpost Restaurant and the Good Bar, spotlight simple but flavorful fare. And it has a fun calendar of events, including S'Mores nights, poolside yoga, and trivia nights. Rooms start at $209 for a double. Book your stay now*.
There are also a lot of awesome Airbnbs to choose from – here's a guide to the best Santa Barbara Airbnbs, including everything from glamping to luxury homes.
Where to eat and drink in Santa Barbara
When people ask what the best meal we had in California was, Oliver's in Santa Barbara tends to spring to mind. Set in fancy Montecito, the smart-casual restaurant, specialises in minimally processed, approachable vegan cuisine. We tried the impossible burger, which is the best veggie burger I've ever had, and the small plates were also fantastic, including a cauliflower bucatini.
We also had good and healthy meals at Backyard Bowls (which has a few locations, specialising in acai bowls) and Honey B, which is housed in a university building, which meant we got a peep inside Santa Barbara student life.
For sweets, Paradice Shave Ice has naturally flavoured Hawaiian shave ice; and Pressed Juicery offers tasty vegan ice cream made from dates, almonds and cacao.
Finally, for wineries in the funk zone, I enjoyed a tasting at The Valley Project, which features an impressive hand-drawn map the Santa Barbara wine regions, plus I loved my wine and cupcake pairing at DV8. The cupcakes were made by a winner of cupcake wars, which is a bit like an American version of the Bake Off.
Getting to and around Santa Barbara
The drive to Santa Barbara from Paso Robles takes about two hours. We stopped at the Madonna Inn en route as I was keen to try their cake (it was the biggest slice of cake I've ever had!). Other good stop-off options would have been either Pismo Beach or Solvang, a little town with Danish-style architecture. We didn't stop at either because Otis doesn't deal well with long journeys, so we didn't want to prolong it, but we've bookmarked them for another time.
Malibu/Topanga
Days 16-18
Malibu is celebrity central, where all the stars have their luxurious beach homes on the California shore. I can see why as it's absolutely stunning. We went for a walk along the beachfront and it had me dreaming of lottery riches! The beach is open to the public, so even though the fancy homes are there, you can still walk right by them. We spent a few hours in Malibu, but chose to stay in Topanga Canyon, a bohemian enclave, surrounded by the vast Topanga State Park. I discovered it via AirBnB where I found a cabin I set my heart on (see the accommodation section below), and I'm so pleased I did as it was one of the most special places we visited. The tiny Topanga village has hippy vibes and an incredible vintage shop, Hidden Tresures, that is worth the visit alone – it feels like stepping back to the seventies. We only stayed for one night, but I'd recommend staying two so that you can explore more of the trails in the national park.
Where to stay in Topanga
We stayed in a stylish little guest suite* attached to an artistic family's home, high in the Santa Monica Mountains. It was so well designed that I took notes for my own inspiration. The private courtyard garden was particularly splendid, especially at night when festoon lights add a touch of whimsy. The house is about as high as you can go in the area, so the views from near the house are also a treat, and it's close to hiking trails if you have the time. There's a small kitchenette, so you can easily self cater. The apartment costs from $108 per night. Book on AirBnB*, and use this link* to get £25 off your first stay.
Where to eat and drink in Malibu/Topanga
We stopped in Malibu for lunch at the well renowned Malibu Farm Pier Cafe. It's the slightly cheaper and more casual sister of Malibu Farm, and it's right at the end of the pier so has beautiful views across the ocean – you can watch the surfers as you dine. We had another impossible burger (we couldn't resist when we saw it on the menu) and the view made it one of the most memorable meals of our trip.
For our night in Topanga, we bought supplies in the local grocers and cooked for ourselves, but I would also have liked to go to the bohemian Inn of the Seventh Ray, a romantic restaurant with a gorgeous location and healthy menu.
While in Malibu, if you're feeling extra fancy, you could try Nobu, considered one of the world's best restaurants.
Getting to and around Malibu/Topanga
Malibu is about 1.5 hours from Santa Barbara, and then it's another 30 minutes up to Topanga. The parking on the road in Malibu is scarce, so you may have to use a car park, which is expensive. We actually ended up parking in Nobu, which cost $30 for the day.
Topanga is a tiny little place, but it straddles a very busy main road, which we found difficult to cross. You might end up having to drive from one side to the other!
Santa Monica and Venice Beach
Days 18-20
We ended our trip in LA as we were flying out of LAX, but we also stopped there on our way to Laguna Beach as we were passing through anyway and it meant we could break up the journey a little. Remember LA is sprawling and the traffic is heavy, so plan carefully where you're planning to go and at what time of day – in the heaviest of traffic, what is meant to be a 30-minute journey can end up taking three hours!
Highway 1 passes alongside the LA coast, so we chose to stop in Venice Beach. Famous for its eclectic 'anything goes' atmosphere, Venice Beach is a smorgasbord of quirky LA culture. Walk along the boardwalk to take it all in, stopping to watch acrobatic breakdancing shows and impressive skateboarders throwing moves. The beach itself is wide and sweeping, so you're never pushed for space. And once done by the ocean, head to Abbot Kinney Boulevard, heralded as the "coolest block in America" and home to all sorts of trendy restaurants, cafes and boutiques.
Venice Beach is just down from Santa Monica, so we also spent some time there, taking a walk on the famous pier and enjoying the hippy-chic vibes.
Where to stay in Venice Beach
We stayed in an Airbnb apartment*, about a 10-minute walk from Abbot Kinney Boulevard. The apartment was part of a complex of rental apartments within one property in a suburban part of town. It was a great set-up and even included a shared coin-operated laundry room, which was a bonus for us on a long trip. The ground floor apartment included a kitchen, so we could self cater, and they also provided everything you would need for a day at the beach (beach towels, umbrella etc). And there were bikes you could use too. The design was simple, and while it wasn't the most characterful apartment we stayed in, it was comfortable and clean, and the outdoor area was a bonus. 
The apartment costs from $120 per night. Book it on Airbnb* (and use this link* to get £25 off your first stay).
We've also put together a guide to the best Venice Beach Airbnbs, and the best Santa Monica Airbnbs.
Where to eat and drink in Venice Beach
Abbot Kinney Boulevard and the surrounding area has an impressive concentration of incredible places to eat, and we tried hard to try as many as possible in the short time we were there. Gjelina is one of the hottest brunch seats in town and we were lucky to get a booking – the seasonal American dishes lived up to the hype. And their sister bakery, Gjusta is also excellent – we just had a cake, but the sandwiches also looked amazing. Another favourite was The Butcher's Daughter, which we also visited while in New York – the trendy, plant-based restaurant and juice bar felt very LA. And for Mexican food, Tocaya Organica is delicious – their vegan picadillo is some of the best veggie protein I've ever tried. Finally, we also rediscovered some old favourites on Abbot Kinney from San Francisco and Portland: Blue Star Donuts, Salt and Straw ice cream, and Humphry Slocombe.
Getting to and around Venice Beach
Venice Beach is a 30-minute drive from Topanga, and Venice Beach is another 15 minutes from there. Once in Venice, we walked everywhere, exploring the beach and Abbot Kinney on foot. An ideal way to explore the area is by bike, but we didn't feel confident enough to do this with Otis. We were able to park for free on the road outside our AirBnB.
Laguna Beach
Days 20-22
Aside from being the subject of an old reality TV show, Laguna Beach is a place that's famed for its beautiful beaches and art-filled town. It's filled with little galleries, public art, and also hosts world-class festivals, including the Pageant of the Masters. The whole place has a laid-back, beach vibe, and the local art college adds a youthful touch. When I arrived, I was somewhat surprised to see that the busy Route 1 runs right through the town – I had imagined somewhere more secluded, but once off the main road, it feels a long way away, and the laid-back vibes prevail.
This is a place where seeing art and spending time on the beach should be top of your agenda. We did a self-guided walking art tour of the downtown area, which was a great introduction to the place, and we also loved visiting the gorgeous Treasure Island Beach, which had a landscaped park above it, which was ideal for hanging out with Otis. We also visited the Pacific Marine Mammal Centre, which does great work rescuing, rehabilitating and releasing marine mammals. Read more in my guide to the best things to do in Laguna Beach.
Where to stay in Laguna Beach
We stayed in a phenomenal room in Laguna Beach, which was right on the oceanfront, looking out across the waves – we were so close to the surf, it almost felt like we were on a boat. It was so special, listening to the waves as we went to sleep and waking up to see the surfers take their morning swim. It was in the luxury Surf & Sand resort* where all rooms have an ocean view and there's also a pool overlooking the beach. It's set on 500ft of Laguna Beach shoreline and, while family friendly, would also be a perfect romantic retreat. We ordered room service from the onsite restaurant to our balcony one night, which is a highly recommended treat. I'm still dreaming of the view from that room. Rooms start at $385 per night. Book your stay now*.
Where to eat and drink in Laguna Beach
Kitchen in the Canyon is a great spot for a casual breakfast or lunch and it's also close to the family-friendly Laguna Beer Company, which offers tastings and plenty of things for kids, like colouring books, board games, card games and more. Both are on Laguna Canyon Road, which has loads of galleries, but you do need a car as it's a busy main road. Reunion Kitchen + Drink is another good family-friendly option, and we really enjoyed ordering room service from Surf & Sand as the rooms' balconies are probably the best seat in town.
Getting to and around Laguna Beach
The journey from Venice Beach to Laguna Beach takes about an hour, but that depends heavily on the traffic. We left Venice after rush hour, which meant we avoided any delays. The downtown part of Laguna Beach is walkable, but you need a car to explore the rest.
San Diego
Days 22-25
San Diego is a famously laid back surf hub, and while its the USA's eight largest city, it feels more like a series of little towns, all with their own vibe. From the historic gaslamp quarter with its plethora of rooftop bars to the hip North Park neighbourhood, there's something to suit everyone. We particularly enjoyed wandering the impressive 1,200-acre Balboa Park, which is home to over 15 museums, art venues, trails and the famous San Diego Zoo. And we celebrated halloween in the local neighbourhood of Kensington, which was amazing for experiencing a slice of local life – the trick or treating there is amazing!
We also spent a couple of nights outside of the centre in La Jolla and the Torrey Pines State Reserve. La Jolla is a chi-chi, pretty part of town with a fantastic family-friendly beach at La Jolla Shores. And Torrey Pines is breathtaking, reminiscent of a smaller Bryce Canyon and perfect for a day hiking. Read more in our detailed San Diego itinerary post.
Where to stay in San Diego
We stayed in three different places in San Diego, all with a distinct character. It's a small city, so you could choose one and use that as your base, although if you do go to Torrey Pines, you'll likely want to make the most of simply relaxing around the lodge and state park. Here's where we stayed.
The Lodge at Torrey Pines
The Lodge at Torrey Pines* is something special. The Five Diamond luxury resort has a classic, old-world elegance and overlooks a world-renowned golf course with views of the Pacific Ocean. We were lucky to stay in a suite that had no fewer than three fireplaces – one in the lounge, one on the spacious terrace, and another in the bathroom! It was pure luxury and a wonderful place to kick back and relax, taking advantage of the spa and exploring the nearby state reserve. It's certainly a treat, but a worthwhile one if you're celebrating. Rooms start at $329 per night. Book your stay now*.
Hotel Republic
Hotel Republic *is a design-conscious centrally-located hotel in downtown San Diego, just outside the gaslamp quarter. The modern lobby and bar is a stylish place to hang out, and they also have a trendy rooftop bar and restaurant (not on the very top of the building, but on a roof at level three). The bathroom in our room was beautiful with a huge tub in a haven of clean design. The hotel is part of the Autograph Collection, a brand that specialises in unique and thoughtful boutique hotels – I've always been impressed with the ones I've stayed in. Rooms start at Hotel Republic start at $225 per night. Book your stay now*.
AirBnB in Kensington
We've written a guide to the best Airbnbs in San Diego (based on our research for our own trip). We stayed in Kensington for one night on Halloween, purely because we'd hard that it was one of the best places for trick or treating in San Diego and we wanted the full American Halloween experience. It lived up to the hype and also gave us a taste of local San Diego life. Kensington is a cute one-street village and our AirBnB guesthouse* was beautiful, situated in the owner's garden – she's a stylist at West Elm, so the place is beautifully put together. The guesthouse starts from $69 per night. Book your stay on AirBnB* (and use this link* to get £25 off your first stay).
Where to eat and drink in San Diego
San Diego is home to some of the best Mexican food we ate in California at Puesto, which has several locations in the city. They serve elevated tacos and other delicious Mexican fare. Another highlight was Donut Bar, which again had some of the best donuts we had in the states. Some are entirely over the top (there's one with a pop tart inside it!), but the tamer ones we ate were perfect. And I also recommend trying Holsem Coffee in North Park where they serve inventive flavours, such as a banana bread cold brew (so good!), and also Sugar and Scribe in La Jolla, which had some amazing cakes and sweet treats. Finally, if you stay at Torrey Pines, be sure to try their chocolate croissant desert – it was divine!
Getting to and around San Diego
To get from San Diego to Laguna Beach takes just under 1.5 hours. Once in San Diego, it's easy to get around by car and we didn't find the traffic to be a problem (although we didn't travel in rush hour). The journey from downtown to La Jolla takes about 20 minutes.
If you were to end your trip in San Diego and needed to loop back up to San Francisco, the San Diego to San Francisco drive is around nine hours up Highway 5, so you'd need to stop somewhere en route.
Greater Palm Springs
Days 25-27
Palm Springs was once the haven of the rat pack, but later became synonymous with retirees and golfing. It's since had a renaissance as a retro chic getaway destination for style-conscious hipsters and the LGBT+ community. It has a heady, laid-back vibe that calls for long days lounging by the pool, drinking cocktails and soaking up the novelty of being in an oasis amid the desert. Take a walk down North Palm Canyon Drive to see the mix of hip, bohemian and kitsch that makes Palm Springs so special.
Palm Springs itself is part of the larger Greater Palm Springs area, which is made up of nine little towns, including Coachella and the fancy Palm Desert where the main shopping street is reminiscent of LA's Rodeo Drive.
We took our time there and relaxed, but if we'd had longer, I'd have liked to visit the art museum and go on the aerial tramway, which takes you up 600ft to the top of a mountain where the temperature is up to 22 degrees cooler than the desert below. The view from up there looks incredible.
Where to stay in Greater Palm Springs
You're spoilt for choice when it comes to stylish, hip hotels in Palm Springs. There's the colourful Saguaro*, the achingly hipster Ace*, and The Parker*, which epitomises what a Palm Springs hotel is all about, harking back to its 1950s roots and adding a dash of post modern eclecticism. We stayed at the stylish Hotel Paseo*, one of the newest kids on the block and the first of the hip hotels to come to Palm Desert. It's part of the Autograph Collection and is just steps away from the glamorous shops, galleries and restaurants of El Paseo, also known as The Rodeo Drive of the Desert.
Read more in my guide to the best boutique hotels in Palm Springs and the most beautiful Palm Springs Airbnbs.
Where to eat and drink in Greater Palm Springs
While in Palm Desert, we ate at Wildest Greens, which doesn't look like much from the outside, but is actually a beautifully bright and airy space with an impressive health-focused organic menu, including paleo, raw and vegan options. And in Palm Springs, we had lunch at Juniper Table, which is part of the hip Kimpton Rowan hotel and serves a fresh all-day menu of sandwiches, salads and breakfast classics. I also highly recommend getting an ice cream at the kitsch Ice Cream and Shoppe. If we'd been there in the evening, I'd also have liked to try Workshop Kitchen + Bar, which serves inventive takes on American dishes.
Getting to and around Palm Springs
Palm Desert is about 2.5 hours from San Diego and its an enjoyable drive through the desert with some great viewpoints along the way. To get from Palm Desert to Palm Springs takes about 30 minutes.
Joshua Tree
Days 27-29
The whimsical world of Joshua Tree National Park has long attracted hippies and mystics on a quest for the otherworldy. And the little town of Joshua Tree, next to the park, is keeping that bohemian sprit alive, although nowadays you'll find just as many hipsters as you will hippies. Of course, the national park is the main event, but it's also a place to get away from it all in the eerie quiet of the desert. City dwellers have created a plethora of desert-chic cabins for your getaway, and things to do include: rock climbing; checking out the thrift stores; hiking; and visiting Pioneertown, which was built in the 1950s as a Wild West movie set and is still used for filming today. Pioneertown is also home to Pappy and Harriet's, a live music venue that has hosted some big stars, including Robert Plant. Sadly it was closed the days we were there. We'd have also liked to visit the Integratron, an "resonant tabernacle and energy machine" that is said to be based on telepathic messages from aliens and is supposed to rejuvenate anyone who goes inside. They host sound baths there that look amazing, but sadly can't be done with babies.
Where to stay in Joshua Tree
I was overwhelmed by the amount of stylish AirBnB cabins in Joshua Tree – it took us ages to finally choose one. I'll be writing a post with our shortlist, but the one we picked was The Moon Cabin*, and I couldn't have been happier with the choice. It was perfectly put together to the extent that I think the owners must be artists. There were thoughtful details like a hand drawn guide to cabin and local area, a telescope for stargazing (the desert sky is epic), and a record player with a well curated vinyl collection.We were in Joshua Tree with four friends, and our cabin was the ideal place to hang out with a full kitchen, dining for six, and a bocce court out back. There's also a converted bus next door, which two of our friends stayed in. The cabin starts at $150 per night. Book your stay on AirBnB* (and use this link* to get £25 off your first stay). Read more in my round-up of the most beautiful Joshua Tree AirBnB cabins.
Where to eat and drink in Joshua Tree
In Joshua Tree, we mostly self catered in our cabin, but also had an excellent breakfast at the quirky Crossroads Cafe (the soy-rizo is delicious) and some good coffee from the Joshua Tree Coffee Company. Our friends also recommended Frontier Cafe, which is just next to the turning for Pioneertown. If it had been open, we'd have definitely paid a visit to Pappy and Harriet's.
Getting to and around Joshua Tree
The drive from Palm Desert to Joshua Tree takes about one hour and we stopped at Pioneertown en route, which is about 10 minutes' drive off the 62 road that runs to Joshua Tree. From Joshua Tree town to the National Park is another 20-30 minutes, depending on which gate you enter at. We entered at the West Entrance (30 minutes from Joshua Tree) and then drove through the park and exited at 29 Palms (20 minutes from Joshua Tree).
Los Angeles (North Hollywood and Highland Park)
Days 29-32
For our second stop in LA we stayed in two places: North Hollywood and Highland Park; the first because its close to Universal Studios and the second because that's where our friends live. For you, it would be about choosing your LA priorities and then staying somewhere nearby. There's a huge amount to choose from, and as we said in the Venice Beach section of this itinerary, LA traffic is legendary, so don't underestimate how long the driving times will be and also plan carefully the time you choose to drive.
North Hollywood / Universal Studios
North Hollywood is a mostly residential neighbourhood that's also home to what's called the NoHo Arts District, an area filled with galleries, dance studios, acting workshops and all you need as a budding star. We stayed there because it's next to Studio City, which is home to Universal Studios, which we were keen to visit. We had a brilliant day there, being enchanted by Harry Potter World and thrilled by all the rides. When you have a baby with you, you're allowed to do what's called a 'child swap' and take turns to go on the ride while the other waits with the baby in a room near the front of the queue. We also had an express pass, so those things combined to make it really easy. It was a great surprise as that's not something we had expected to be able to do with Otis – plus he loved all the characters! Ive written a full guide about how to visit Universal Studios with a toddler or baby.
Do note that North Hollywood isn't next to Hollywood – there's actually a mountain range separating the two.
Highland Park
We went to Highland Park purely because we have friends there, but I recommend paying it a visit as its an interesting and increasingly hip area, filled with a mix of vintage shops, third wave coffee houses, and an impressive selection of bars and restaurants, including some of the best donuts and brunch we had on our trip. Plus it's close to Old Pasadena, which is worth going to for its pretty dining and shopping district.
Where to stay in North Hollywood
We stayed at The Garland*, a stylish boutique hotel with retro-cool decor and an interesting Hollywood history – it was built for the actress Beverly Garland by her husband Fillmore Crank, and their son James runs the place nowadays. James has overseen an impressive renovation project that has modernised the hotel while celebrating its history with a design that echoes California in the late 1970s. I's perfect Instagram fodder (just have a look at the hotel's profile).
The Garland is family-friendly, but its sophistication also lends itself well to couples or friend's getaways. And they have a fun programme of events, including movie nights by the pool. The hotel is less than 10 minute's drive from Universal Studios and they also put on a free shuttle to the park. And don't miss the beautiful Frontyard restaurant (see food section below). Rooms start from $250 per room. Book your stay now*.
Where to eat and drink in North Hollywood and Highland Park
North Hollywood
While in North Hollywood, we ate at The Frontyard, our hotel's casual but chic onsite restaurant, which has a delicious menu of LA cuisine and a gorgeous outdoor patio that's particularly pretty at night when the festoon lights come on and an open fire adds its glow. Inside is also beautifully done with seventies-style decor.
There are also plenty of other options nearby, and if you go to Universal Studios, have a look at Universal City Walk, a free-to-enter entertainment district just outside the park that has a plethora of American favourites, including the first Voodoo Doughnuts outside of Portland.
Highland Park
In Highland Park, we went for brunch at Kitchen Mouse twice, it was that good. I think pretty much anything on the veggie restaurant's menu would be good, but I highly recommend the tacos, breakfast sandwich and moros cakes. Other highlights included pizza from Triple Beam and breakfast at La Abeja. And oh my, don't miss Donut Friend, which serves a mouth-watering array of original vegan donuts. Then wash it all down with some wine from the well-curated Highland Park Wine. It's a proper foodie destination. And if you do visit Pasadena, head to Russell's an old 1930s diner.
Getting to and around Los Angeles
To get from Joshua Tree to North Hollywood takes 2.5-3 hours. We broke up the journey by stopping for lunch in Old Pasadena. I recommend leaving Joshua Tree in the late morning to avoid rush hour traffic in LA.
Found this California road trip blog useful? Share it on Pinterest
Find the best deals on car hire
We recommend Rentalscars.com for booking your rental car. They search over 900 companies, and if you find a cheaper deal anywhere else, they promise to beat it. We use them every time.
Useful travel resources for a California road trip
For car rentals, we recommend booking with Rentalcars.com*. They always have the cheapest deals for mainstream retailers.
If you decide to book any AirBnB apartments, use this link*, as it'll give you £25 off your first trip.
We found great last-minute deals on Booking.com*, getting a discount of up to 60%.
Don't forget your travel insurance! We recommend World Nomads* or True Traveller* who both offer reliable, comprehensive cover, including medical, evacuation, baggage and a range of adventure sports and activities*. You can buy both True Traveller and World Nomads insurance even when you've left home, which is unusual for travel insurance companies.
If you're planning a trip to California or anywhere in the world, be sure to check out our travel planning pages for all our best travel tips, including how to save money with the best cards, what to bring, and all our favourite tools and tricks.
We also have full, detailed itineraries for many other destinations, including 5 days in Iceland; 10 days in Japan; a road trip from Florence to the Amalfi Coast; a South Africa honeymoon guide; and the ultimate road trip in New Zealand. See all our travel itineraries.
And if you do this trip, you might also like to add on a trip to Portland like we did. We flew up from San Francisco and I've written a full guide to how to spend three days in Portland, plus a guide to the best vegetarian restaurants in Portland.
Disclosure: As I said earlier in the post, Visit California and individual tourism boards (Sonoma County; San Francisco; Santa Cruz; Santa Barbara; San Luis Obispo County; Laguna Beach; Greater Palm Springs; and San Diego) helped us to put this trip together and provided some sponsored stays, activities and meals. Here's a full list of places that were fully or part sponsored. Please note that regardless of sponsorship, I always write genuine reviews, plus I say no to sponsorship opportunities that are a bad fit for Bridges and Balloons.
Places that were sponsored by Visit California / the places themselves: Camellia Inn; sfVintners Inn; Healdsburg Shed; Backyard; San Remo Hotel; Alise by StayPineapple; Inn at Pasatiempo; Roaring Camp Railroads; Asilomar Hotel; Monterey Bay Aquarium; The Vintage Ranch; Thomas Hill Organics; Kimpton Goodland; Honey B; Backyard Bowls; Oliver's; Paradice Shave Ice; Surf & Sand Resort; Kitchen in the Canyon; Laguna Beer Company; Reunion Kitchen + Drink; Hotel Republic; Lodge at Torrey Pines; Hotel Paseo; Wildest Greens; The Garland; Universal Studios.
*Affiliate link (we get a small percentage of any booking you make, at no extra cost to you).