A road trip in Italy ticks all the boxes of epic drives, amazing food, friendly people, beautiful culture and some of Europe's most gorgeous sights. It's one of our favourite places to road trip, not least because of the food. We return again and again and are always re-intoxicated by its charms. We've done a fair few road trips in Italy ourselves, but in this post we've also teamed up with some other travel bloggers to compile an ultimate guide to Italy's best road trips. Whether you want to explore the coast, the mountains, the cities or the lakes, there's a trip for you here. It also means I have lots of new bucket list items for the ones I haven't done yet!
Find the best deals on car hire
We recommend Rentalscars.com for booking your rental car. They search over 900 companies, and if you find a cheaper deal anywhere else, they promise to beat it. We use them every time.
The Best Italy Road Trips
All of the accommodation links in this post are affiliate links, which means I get a small commission if you make a booking (at no extra cost to you). It's one of the ways I keep this blog going. Read more about my affiliate policy here. Thank you for your support!
Discovering the Heel of Italy's Boot
Lecce – The Salento – Ostuni – Alberobello – Matera – Castel del Monte
Spend a week discovering the heel of Italy's boot and marvel at the unique architecture and pristine beaches that make Puglia such an unforgettable destination.
By Erika Bisbocci at Erika's Travels
Highlights
Begin your Puglia road trip in Lecce, a beautiful baroque city known for its frosting-like architecture and vibrant night life.
From Lecce, take a day trip to Porto Cesareo for an afternoon at one of Italy's most idyllic beaches. If you have an extra day, you can also drive to the southernmost tip of Italy and explore the cliffs and swimming holes near Santa Maria di Leuca.
From Lecce and its nearby beaches, head to Alberobello via Ostuni. Alberobello and Ostuni are two photogenic gems of the Puglia region. Ostuni's whitewashed buildings feature bright blue shutters and doors. Alberobello is a fairytale city known for housing Italy's largest concentration of beehive trulli huts.
Finally, be sure to spend a night at one of the cave hotels in the rock-hewn city of Matera. While Matera is technically a city in the Basilicata region, it makes for a convenient and unforgettable Puglia road trip destination.
From Matera, you can take a day trip to the perfectly symmetrical Castel del Monte.
Where to stay
Five Days in the Dolomites
Lago di Braies – Lago Carezza – Lago Antorno – Lago di Sorapis – Val di Funes – Alpe di Suisi
A five-day trip through the magnificent Dolomites of Northern Italy.
By Alexander Waltner at Swedish Nomad
Highlights
These are the most beautiful places in the Dolomites that you can drive to without hiking. The only exception is Lago di Sorapis, which requires a full day of hiking back and forth, but trust me, it's worth it. Otherwise, it's easy to skip Lago di Sorapis and spend some more time at the other stops.
Base yourself at Majestic Spa, my favourite hotel in the area. It's situated in the middle, so you will have some driving to do in the morning, but not too far, and the hotel has a fabulous spa area where you can relax and spoil yourself after days of sightseeing.
Both Alpe di Suisi and Val di Funes are best enjoyed in the early mornings, so start by spending two days in each of those, starting in the morning and staying as long as you please. You can go hiking in both these areas, so can easily spend a whole day in each one.
On the third day, visit Lago di Braies, and then continue driving to Lago Antorno, just 45 minutes away. And don't forget to make a boat trip on Lago di Braies.
On day four, I recommend stopping by the towns of Brunico and Bolzano too as theses lovely cities are filled with local life. You can also visit Karersee (Lago di Carezza) on the same day.
The locations on this trip are some of the most beautiful places in Europe, but it's the little cafes, restaurants, and beautiful towns that will make the best memories – don't be afraid to go off the itinerary and make a detour.
You could also extend the trip to this 10-day Italy itinerary.
Where to stay
Florence to the Amalfi Coast
Florence – Sienna – Rome – Positano – Ravello
Experience some of Italy's biggest bucket list destinations on this trip from Florence to the Amalfi Coast, passing through Tuscany and Rome along the way.
By Victoria at Bridges and Balloons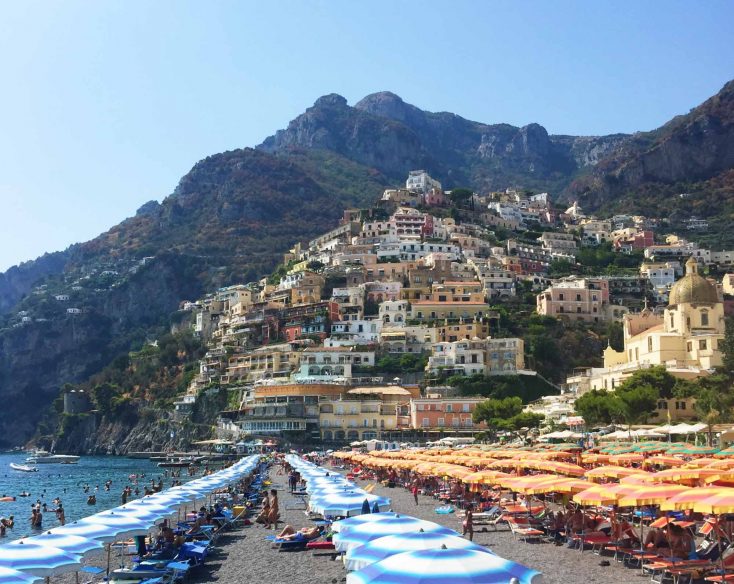 Highlights
Start in Florence, taking in the majesty of the birthplace of the Renaissance, before moving onto the hills of Tuscany. Spend time exploring its enchanting villages and relaxing in a Tuscan villa.
Next up is Rome where you can spend a 3 days getting lost in the city's grandeur, and enjoying all the exquisite food.
The jewel of the journey is the drive along one of the the world's most beautiful coastlines, the jaw-dropping Amalfi Coast. The road hugs the cliffs with nerve-wracking, but glorious views across the villages and out to sea. Base yourself in Positano or the quieter Ravello, being sure to take a day trip to glamourous Capri.
Read more in our full Florence to the Amalfi Coast itinerary.
And check out this post for some unique Italy travel souvenirs, including from Florence.
Where to stay
Italian Lakes from Verona to Turin
Verona – Lake Garda – Lake Iseo – Lake Como – Lake Lugano – Lake Maggiore – Lake Orta – Turin
Take to the winding roads around the Northern Italian lakes and visit picturesque villages with alpine ranges as your backdrop and shimmering lake waters.
By Katy Clarke at Untold Italy (Instagram: Untold Italy)
Highlights
This classic road trip covers six of Italy's beautiful lakes and stunning landscapes between Verona and Turin.
From popular Lake Garda in the east to mysterious Lake Orta with its atmospheric island, you'll encounter changing terrain, cuisine and customs along the way. You'll even visit Switzerland briefly so don't forget your passports for the border crossing!
Each of the lakes visited on this road trip has its own personality and unique traits. Lake Como is glamorous, with ornate villas gazing serenely over its cool waters. Garda is a vacation paradise where you can swim in the shadow of Roman ruins. Lugano has Swiss charm while Maggiore draws gasps thanks to the surrounding mountain peaks.
We love the Lakes Orta and Iseo. Smaller and relatively unknown, they offer quiet charm and towns with cobbled streets and houses draped in vines and wisteria. Which lake will be your favourite?
Where to stay
Cinque Terre and the Italian Riviera
Pisa – Cinque Terre – Portofino – Genoa – Finale Ligure
Take in some the most colourful towns on Italy's coastline, including the magnificent Cinque Terre.
By Victoria at Bridges and Balloons
Highlights
Start in Pisa to see the famous leaning tower before heading up to La Spezia, the jumping off point for Cinque Terre. Park there and get train in as the roads between the villages and notoriously long-winded and can get very busy, so it's much easier to visit by train. Spend a few days exploring the villages, hiking between them and enjoying the sunsets by night.
Next head to glamourous Portofino and its more down-to-earth sister Santa Margherita Ligure. Enjoy the candy-coloured houses and explore all the chic boutiques. Take trips to Camiogli and the monastery at Santa Frutuosso while you're there.
Pass through Genoa on your way up the coast, staying the night in Finale Ligure, a popular beach spot for holidaying Italians. Also stop by Finalborgo, a charming town that has made lists of the the most beautiful towns in Italy.
Where to stay
Sicily Loop
Taormina – Mt Etna – Cefalu – Zingaroo National Parl – Trapani – Favignana – Valley of the Temples – Baroque cities
Circumnavigate Sicily on this road trip across charming old towns, beautiful beaches and the mighty Mount Etna.
By Leanne Scott at The Globetrotter GP
Highlights
There is a common misconception that Sicily is a small island. It's actually pretty big, and you will need at least 10 days to circumnavigate it. It's 100% worth the effort though and is one of the best Italy road trips I have taken so far.
Sicily offers the perfect blend of charming old towns with cobbled alleys and old streets, beautiful beaches and dramatic scenery like Mount Etna, an active volcano. There are ancient monuments and amphitheatres, pretty islands and a plethora of delicious restaurants offering authentic Italian food.
I'd recommend spending a few days in Taormina where you can arrange a day trip to Mount Etna. Then work your way west via Cefalu and the beautiful Zingaroo National Park.
Spend a day cycling around the tiny island of Favignana, stopping at various beaches with the brightest coloured ocean.
And then your last few days will be spent exploring the Valley of the Temples and the Baroque cities in the southeast, Ragusa being my absolute favourite.
Epic Week in Sardinia
Bosa – Cuglieri – Buggeru – Cagliari – Villasimius – Palau – Maddalena Island – Capo Caccia
Explore the beauty of Sardina from UNESCO sites, to the most beautiful beaches and hikes on this epic road trip.
By Hanna Thomas at Solar Powered Blonde
Highlights
Start in Bosa, and wander through this pretty little town for the morning. Then head south to Cuglieri, home to orange rooftops and an outstanding basilica on top of a hill.
Once you leave Cuglieri, explore the beach at Buggeru and the port. After a bit of time spent in the car, head up the mountains to hike with the best view of Cagliari below while visiting the flamingos at Quartu Sant Elena along the way.
Next have a beach day and explore the stunning beaches in Villasimius, including Capo Carbonara, some of the most perfect beaches on Sardinia.
Once you head up north, stop at Capo D'Orso, also known as Bear's Rock for the most incredible sunset. Once you have explored Palau, get the boat across to La Maddalena Island. From here you can also cross over the bridge to Caprera Island, home to the most beautiful beach ever, Cala Coticcio. Here all the beaches are perfect with bright blue sea, and lovely to swim in summer but also in March, as it's so shaded it's also the warmest beach.
To finish off your epic road trip, head to Capo Caccia, to see dolphins swimming at sunset and incredible cliffs.

Where to stay
A week in Northern Sardinia
Alghero – Spiaggia della Pelosa – La Maddalena – Porto Cervo – Nuoro – San Giovanni di Sinis – Bosa
Explore the northern half of Sardinia, including beautiful beaches, ancient Nuraghi and picturesque Italian villages.
By Lotte at Phenomenal Globe Travel Blog
Start by exploring the beautiful streets of Alghero, grab an espresso at the bar of get a slice of pizza at one of the many restaurants.
Then go for a swim in the crystal-clear waters around Spiaggia della Pelosa, one of Sardinia's most celebrated beaches.
From there, head to La Maddalena and take a boat tour from Pulau around this stunning archipelago. Along the way you'll stop at several of the islands (and get to see a pink sand beach).
Next is Porto Cervo where you can watch the million-dollar yachts and perhaps even spot a celebrity.
In Nuoro, walk the cobblestoned streets of the historic center and follow in the footsteps of famous artists such as Francesco Ciusa and Salvatore and Sebastiano Satta.
And in San Giovanni di Sinis, admire the 360-views and visit the ruins of Tharros.
Finally, end your trip in Bosa. Visit the nearby castle for spectacular views, then hike down and stroll through the colourful streets filled with cute cafes and gelaterias.
Where to stay
Umbria to Le Marche
Orvieto – Perugia -Urbino – Montefalco – Norcia – Ascoli Piceno
Follow peaceful country roads through the green heart of Italy where you'll discover off-the-beaten-track hilltop towns, soaring mountains and authentic Italian hospitality.
By Annabel Kirk at Smudged Postcard
Highlights
Start your visit from Umbria to Le Marche in the region in Orvieto with its magnificent cathedral welcoming you to the city from its dramatic clifftop position.
Next, Explore Umbria's capital: home to Etruscan archways, medieval alleyways and an excellent summer music festival.
Take a meandering route north to Urbino in Le Marche, birthplace of artist Raphael. On route, perhaps stop at tiny Montone for lunch or Lake Trasimeno for a wander along the ramparts of Rocca del Leone.
Drop back into Umbria by way of Gubbio, a town which clings to the mountainside offering a particularly impressive view of the patchwork Chiascio Valley below.
Stay near Montefalco (expect delicious red wine to accompany your meals here) to explore medieval Assisi and neighbouring Spello.
Drive east to Norcia to pick up delicious local products for lunch from a norcineria (pork butcher) before setting off towards the sublime landscape of the Sibillini National Park. If you visit in late spring and early June you will be rewarded with the most magnificent wildflower display.
Spend a few days exploring the landscapes of the southern Marche from an agriturismo near Ascoli Piceno. In summer, there's a sagre (food festival) in one of the villages each weekend, taking in anything from truffles to snails.
If you've had your fill of culture, the Adriatic coast will offer you an authentic slice of Italian beach life: you won't find many foreign tourists there!
Where to stay
Find the best deals on car hire
We recommend Rentalscars.com for booking your rental car. They search over 900 companies, and if you find a cheaper deal anywhere else, they promise to beat it. We use them every time.
Useful travel resources for an Italy road trip
For car rentals, we recommend booking with Rentalcars.com. We've always found them to have the cheapest deals for mainstream retailers.
If you decide to book any AirBnB apartments, use this link, as it'll give you £25 off your first trip.
We often find great deals on Booking.com, getting a discount of up to 60%.
Don't forget your travel insurance! We recommend World Nomads or True Traveller who both offer reliable, comprehensive cover, including medical, evacuation, baggage and a range of adventure sports and activities. You can buy both True Traveller and World Nomads insurance even when you've left home, which is unusual for travel insurance companies.
If you're planning a trip to Italy or anywhere in the world, be sure to check out our travel planning pages for all our best travel tips, including how to save money with the best cards, what to bring, and all our favourite tools and tricks.
We also have full, detailed itineraries for many other destinations, including a California road trip; 5 days in Iceland; 10 days in Japan; a road trip from Florence to the Amalfi Coast; a South Africa honeymoon guide; and the ultimate road trip in New Zealand. See all our travel itineraries. And read more on Italy here.