From magical castles to dramatic coasts and charming villages, there are UK road trips to tickle every taste. Discover the lakes and hills of the north, the beaches of the south and all the magnificent landscapes, history and folklore in between.
In this post, we've teamed up with other bloggers to bring you the best UK road trips. From Scotland to Cornwall to the Lake District, we've covered the UK's most famous road trips as well as some lesser known ones too. There's a British road trip for everyone.
Do one by itself, or join up a few if you have some extra time and want to create an even more epic UK road trip.
The Best Europe Road Trips
The Best UK Road Trips
All of the accommodation links in this post are affiliate links, which means I get a small commission if you make a booking (at no extra cost to you). It's one of the ways I keep this blog going. Read more about my affiliate policy here. Thank you for your support!
1. Causeway Coastal Route
Belfast – Dark Hedges – Giant's Causeway – Carrick-a-Rede Rope Bridge – Dunluce Castle – Glens of Antrim
See the magnificent Causeway Coast including the iconic Giant's Causeway and scenes from Game of Thrones.
By Ivan at Mind the Travel
Highlights
When to go
May to September
The Causeway Coastal Route is a 130-mile driving route (with nine scenic loops) stretching along the coast from Belfast to Derry-Londonderry. It is undeniably one of the most stunning routes you can take in the UK and when you drive it, you'll see why.
Hugging the Atlantic coast, this jaw-dropping route is steeped in myth and legend. The route has nine designated additional scenic routes, so you can break it down into smaller journeys and take your time enjoying the sights.
The drive takes you to several of Northern Ireland's main tourist attractions and landmarks – the Giant's Causeway itself, Carrick-a-Rede Rope Bridge, Dunluce Castle, Dark Hedges and the Glens of Antrim. The 40,000 interlocking basalt columns is one of the reasons to take this incredible route, which is also home to pristine beaches, fishing villages, craggy castles, and gorse-shrouded valleys. Summer, May to September, would have the best weather to enjoy this drive.
Walk along the dramatic Gobbins cliff path and go bird-watching at the RSPB reserve on Rathlin Island, Northern Ireland's only inhabited offshore island. When taking this iconic route, keep in mind that some of the roads are quite narrow and winding in places, so watch your side-view mirrors.
For all HBO Game of Thrones fans out there: Dark Hedges was featured in hit TV drama Game of Thrones as the Kingsroad.
Where to stay
2. The Norfolk Coast
Norwich – Wroxham – Cromer – Blakeney – Burnham Market – Kings Lynn
Take a road trip along Norfolk's beautiful and unspoilt coast, enjoying the unique Norfolk Broads and the best of British sea-side resorts.
By Izzy at the Gap Decaders
Highlights
On this Norfolk road trip, start in the medieval city of Norwich with its fabulous cathedral before heading to Wroxham, the hub of the Norfolk Broads. The dramatic landscapes and raw beauty of the Broads will suck you in and the best way to see this thriving wildlife haven is from a boat.
On to Cromer, a very traditional bucket-and-spade destination, with a gorgeous sandy beach, pretty town and to die for fresh fish and chips, still served traditionally in newspaper. If you're looking for a slightly more refined meal, try succulent Cromer crab, caught locally on the morning that you eat it.
Your next stop is the charming town of Blakeney, where you can fish for crabs from the harbour wall and take a boat trip to Blakeney Point to visit the seal colony there.
On to Burnham Market, a pretty village set around a green, with a lively foodie scene and plenty of independent gift shops and galleries.
Make your way to Kings Lynn, via Hunstanton if you fancy a bit more bucket-and-spade activity. Kings Lynn is your final stop and an historic port city whose history can be seen in the elegant Custom House that overlooks the harbour.
Where to stay
3. Jurassic Coast
Swanage – Corfe Castle – Durdle Door – Lulworth Cove
Discover Dorset's Jurassic Coast from Bournemouth to Lulworth.
By Bhushavali N at My Travelogue by Bhushavali
Highlights
This scenic road trip goes from Bournemouth to Lulworth Cove, which is a part of Dorset AONB, and this entire stretch of Jurassic Coast is one of the UNESCO World Heritage Sites of the UK.
Start from Bournemouth with your first stop at Sandbanks, which has beautiful views of Old Harry Rocks. From here, a very short distance of 0.3km is to be done by a unique kind of a ferry, called the cable ferry, which is pulled with chains.
Take a pit stop for breakfast at Swanage, on the other side of ferry terminal and take a walk in the Durlston Country Park along the coast, enjoying the viewpoint for Anvil Lighthouse. On sunny days, its even possible to see dolphins here. Also see this guide to things to do in Swanage.
From there, head to Corfe Castle, which was built in the 12th Century. At one point, it even housed the crown jewels. By the 17th Century it was destroyed, but the views from here are spectacular. Very close to this is the Avon Valley railway, which has a cute Victorian-styled station that operates steam and diesel trains.
Fnally, make your way to Durdle Door and Lulworth Cove. You can do this trip in a day, but could also spread it over several days if you'd like more time to explore.
Where to stay
4. A Loop of the Lake District
Kendal – Windermere – Keswick – Scafell Pike – Ambleside
A road trip through the stunning landscape of the Lake District's memorable hills and lakes.
By Nick at Impact Winder
Highlights
The Lake District is a magical place. It can often be rainy and gloomy, but that's all part of the English charm, right? No matter what, a road trip through the Lake District will give a memorable experience in the tranquil nature of the hills and lakes.
Starting in Kendal you'll drive out towards Windermere, the largest natural lake in England and the name of the town beside it. Here you'll have plenty of activities for the day, including walking the quaint streets between Bowness and Windermere. You can also partake in water sports on Lake Windermere.
From Windermere, head north towards Keswick, stopping off for a little hike up Loughrigg Terrace which gives you incredible views over to Grasmere and the surrounding hills. In Keswick, you can walk by Derwentwater, which provides lovely views of the hills across the lake. Head back into town for English-style fish and chips with a pint at The George Pub. There's even the infamous Pencil Museum if you're traveling with kids.
Heading south out of Keswick, you'll enter the real outdoorsy section of the road trip. Beware of the dangerous roads, so go carefully up the passes. Stop off at Buttermere for a small hike to get some views of Crummock Water and Buttermere, and just enjoy the tranquility before heading for a long (but scenic) drive all the way around to Boot for the evening.
After staying in Boot, I'd suggest getting up early and going for a long hike up (or near) the biggest Mountain in England, Scafell Pike. After your hike, head up and over Hardknott Pass (please be careful on the very steep winding roads) heading back towards Ambleside.
Spend your last day in Ambleside, enjoying the local village, seeking out the historic Bridge House, and if you're keen, hop on a ferry for a tour around the whole lake.
Where to stay
---
5. South West Coastal 300, Scotland
Ayr – Dalmellington – Thornhill – Moffat – Dumfries – Kirkcudbright – Mull of Galloway – Girvan
The South West Coastal 300 (SWC300) is a circular road trip exploring hidden gems in the south of Scotland. Taking in the pristine coastline from Ayrshire to Dumfries and Galloway and the hills of the Southern Uplands mountain range, this road trip offers a change of scenery for the adventurous road tripper.
By Kathi Kamleitner at Watch Me See
Highlights
Start in the delightful seaside town of Ayr and visit the birthplace of Scottish national bard Robert Burns.
Move on to Dalmellington and spend an evening stargazing at the Scottish Dark Sky Observatory and continue to the sleepy village of Thornhill. Spend some time exploring the area: from hiking in the hills near Moffat to wandering the romantic grounds of Drumlanrig Castle, which also featured in Outlander.
Continue south towards Dumfries, a bustling market town near the Scottish-English border and the charming coastal communities of Kirkcudbright (artist town), Newton Stewart and Wigtown (book town). The road hugs the coastline and offers stunning views of the Solway Firth.
After a detour to the Galloway Hills and a kayak tour on Loch Trool, continue down the lush-green Mull of Galloway peninsula. Visit the surprisingly exotic Logan Botanic Garden and stand at the southernmost point of Scotland from where you can see the coast of the Lake District, the Isle of Man and even Northern Ireland.
The final section of the SWC300 leads up the coast to the seaside town of Girvan and the fairytale mansion at Culzean Castle – a glorious end for an off-beat road trip through Scotland.
Where to stay
6. Bristol to Bath via the Cotswolds
Bristol – Painswick – Broadway – Chipping Norton – Kingham – Upper Slaughter – Lower Slaughter – Bourton-on-the-Water – Bibury – Castle Combe – Bath
Explore bohemian Bristol, charming Bath and the prettiest Cotswolds villages on a mini road trip across the stunning English countryside.
By Maria & Katerina at It's All Trip to Me
Highlights
Start in Bristol, this alternative gem of a city which is the indisputable capital of Europe's street art. Stroll around the once neglected but now vibrant and full of life docks and snap countless shots of the utterly impressive Clifton Suspension Bridge before leaving the city behind and heading to your first stop in the Cotswolds, Painswick.
After a relaxing sleep in Painswick, explore the village of Broadway and climb to the top of the nearby Broadway Tower so as to enjoy the most breathtaking views to the English countryside for as far as the eye can see. Then it's time to indulge in a traditional afternoon tea in Chipping Norton before discovering one of the quaintest villages in the Cotswolds, Kingham.
The next part of this mini road trip will take you to some of the prettiest villages in the UK. Upper and Lower Slaughter, Bourton-on-the-Water and Bibury are among the most picturesque villages in the Cotswolds with their honey-coloured cottages and scenic walking paths. The last Cotswolds village on this route is the marvellous Castle Combe where you can have a peaceful stroll before heading to Bath for the night.
The following day is dedicated to exploring Bath and its charms. Home to a magnificent complex of Roman baths and renowned for its unique architecture, the spa city of Bath is the perfect place to end a mini road trip across one of England's most scenic parts.
Where to stay
7. The Ultimate South Wales Roadctrip
Brecon – Pen-Y-Fan – Sgwd Yr Eira Waterfall – Swansea – Tenby – St Davids
Explore two of Wales' gorgeous National Parks on this mountainous and coastal road trip in the Brecon Beacons and Pembrokeshire.
By Pauline at BeeLoved City
Highlights
There are three beautiful National Parks in Wales. In this Ultimate South Wales Road trip, you will get to discover two of them: the Brecon Beacons and Pembrokeshire Coastal National Park. This itinerary is perfect to get the best of both worlds. The Beacons are inland and all about mountains. Pembrokeshire is all about beaches and the coast.
You will start in the beautiful village of Brecon, head south to Pen-Y-Fan for a hike. Stop at the horseshoe ridge car park and start the trail from there. It will take you about four hours. The hike is pretty challenging but so rewarding. Once you get to the summit, you will get stunning views over the Brecon Beacons. After that, it will be time to get a refreshing break at the Sgwd Yr Eira waterfall.
You will keep going south towards Swansea and then head to Pembrokeshire coastal National Park and the very cute and colourful village of Tenby – perfect for a lunch break. You will also find a lot of beaches in the area, perfect for a walk.
Last but not least is St Davids. St Davids is the smallest city in the UK and has so much to offer. You can walk around and get a drink in one of the local pubs but also visit the beautiful castle.
[Note from Victoria: You could also start or end this trip by driving the famous Black Mountain Pass, which starts in Llandovery and ends in Gwaun-Cae-Gurwen. It's full of hairpin turns and switchbacks and also known as the Top Gear road and is popular with test drivers. It's about a 45-minute drive]
Where to stay
8. Peak District and Derbyshire
Vienna – Salzburg – Innsbruck – St.Moritz – Zermatt – Geneva
This meandering road trip through the Derbyshire Dales and Peak District takes in all the big must visits, and for a small area Derbyshire certainly delivers on adventure, history and fine food.
By Emma Pamley-Liddell at Journal of a Nomadic Family
Highlights
When to go
Late Spring/ Summer
Divided into seven days, this route will take you from south to north, visiting the beautiful towns of Matlock, Matlock Bath, Bakewell and Castleton whilst visiting quaint villages along the route. You'll be glamping and staying in a yurt, resting your weary legs in a number of beautifully restored pubs, eating in gastro inns and visiting a huge number of stateley homes. I hope you've packed your energy because you'll certainly need it.
Pack your walking shoes because you'll be visiting famous Derbyshire peaks, rock formations, caves, parks, dales, reservoirs and gardens on this massive journey through the Peak District.
You'll be exploring the depths of the darkest caves, hopping over stepping stones, admiring waterfalls and clambering around viaducts on this active trip to Derbyshire's National Park. But don't worry, if it's history you're after you can also take a ride of a steam train, visit old pump houses and mills, stomp around centuries old castles and halls, be impressed by the magnitude of the architecture and wind yourself around the elegant towns full of stone bridges and bustling tea shops that showcase some of England's finest desserts.
A full map of stop-offs can be found here.
Where to stay
9. North Coast 500 – Scotland's Route 66
Inverness – Bealach Na Ba – Ullapool – Durness – John O Groats – Wick – Golspie – Black Isle and all the wee villages along the way
Enjoy the epic North Coast 500, Scotland's answer to Route 66, taking in wild turquoise seas, pristine white beaches, historic castles, royal ruins, fantastic fresh food and fun live music.
By Gemma Armit at Two Scots Abroad
Highlights
When to go
Spring – Autumn
The North Coast 500 is Scotland's answer to Route 66, starting and ending in Inverness. The route can be done clockwise or anti-clockwise – there are no rules! However, it's worth noting that most of the roads in the Scottish Highlands are single track and you have to pull over into passing places to let other drivers through. Please be mindful that locals use this route too.
Inverness is the starting point but worth a day of your time to visit the Culloden Battlefields and Clava Cairns.
Next, if heading west first, take on Scotland's scariest road, the Bealach Na Ba and have lunch at Applecross. If camping, there's a popular site. The midgies can be pretty brutal though.
Drive along the majestic roads stopping at Sheildaig, Gairloch and the beaches. Where you end up staying will depend on how many days you plan to spend travelling but I recommend a night in the lively town of Ullapool to hear Scottish music at the pubs.
Next, head up to Durness, stopping at more beaches, Ardvreck Castle ruins and then over to John O' Groats. From here you can take the ferry to the Isle of Orkney or visit Duncansby Head and Stacks of Duncansby. Watch out for the surfers in Thurso.
Travel down east of the Highlands, stopping off to see castles such as Dunrobin Castle and distilleries like Balblair or Glenmorangie Distillery. The Black Isle is a lovely peninsula within Ross and Cromarty and the best location to potentially see dolphins.
The route ends back at Inverness, however most car rental pickups take place in Edinburgh so enjoy the ride back down the east coast through Aberdeenshire, Tayside and the Kingdom of Fife.
Where to stay
10. Isle of Wight and the Military Road
Portsmouth – Ryde – Shanklin – Freshwater
Visit the Isle on Wight on a three-day road trip to explore 'Dinosaur Capital of Great Britain' and to drive the iconic Military Road.
Highlights
Picturesque villages and towns, cliff coast, sandy beaches and beautiful fauna and flora makes the Isle of Wight one of the most visited places in the UK.
If you are visiting England, rent a car from the airport and you are good to go! Start in Portsmouth, which is around two hours' drive from London. From there you take a ferry and you are in a different world.
Life on the Isle of Wight goes way slower so there is no reason for you to rush while exploring the island. Start very simple by relaxing on Ryde beach – it really is one of the most beautiful beaches in the UK.
On the next day head out to a very "smelly" place – the Garlic Farm. It's a unique experience and everything there is made from garlic – even ice creams!
Next on your list will be a beautiful village called Shanklin followed by an amazing drive on the Military Road. You will be driving through the Isle of Wight AONB where you can see many stunning cliffs.
On your last day, explore some of the key landmarks located in the western part of Isle of Wight. Go for a mini hike to see The Needles and spend a few hours on the Alum Bay Pebble Beach before taking the ferry from Yarmouth.
11. North East 250, Scotland
Aberdeen – Fraserburgh – Spey Bay – Glenshee – Aberdeen
Enjoy a circular route around northwest Scotland, taking in beautiful coastlines, picturesque villages, mountain scenery and plenty of castles and whisky distilleries along the way.
By Sonja at Scotland For Families
Highlights
The North East 250 is the best of Scotland in one road trip. It's a circular route around the northwest part of Scotland, encompassing beautiful coastlines, picturesque villages, mountain scenery and plenty of castles and whisky distilleries along the way.
While it's possible to do the route in as little as three days and see some of the highlights, you could easily spend a week or more stopping at many more locations along the way.
You can travel either clockwise or anti-clockwise and join the route at any point depending on where you're travelling from, but the most popular way to do it is starting and ending in Aberdeen and travelling anti-clockwise.
From Aberdeen you'll travel up the east coast of Aberdeenshire, stopping in at beautiful sandy beaches and rocky clifftops.
From there you'll continue along the north coast of Aberdeenshire, known as the Moray Coast, visiting historic fishing villages.
After you've had your fill of the sea it's time to turn inland and taste your way through Speyside and the many Whisky Distilleries in the area.
Continue through the spectacular mountain scenery of the Cairngorms, before travelling through Royal Deeside and the highlight of "Castle Country", with its many royal connections and stunning castles to visit, until you find yourself back in Aberdeen.
Where to stay
12. Cornwall Coast and the Atlantic Highway
Plymouth – Eden Project – Falmouth – Kynance Cove – St Michael's Mount – Penzance – Minack Theatre – Porthcurno Beach – St Ives – Padstow – Bedruthan Steps – Treyornan Bay – Tintagel Castle
Explore the Cornwall coast on this magical trip, taking in some of the UK's most beautiful coastline and quaint seaside villages.
By Alexx Hayward at Finding Alexx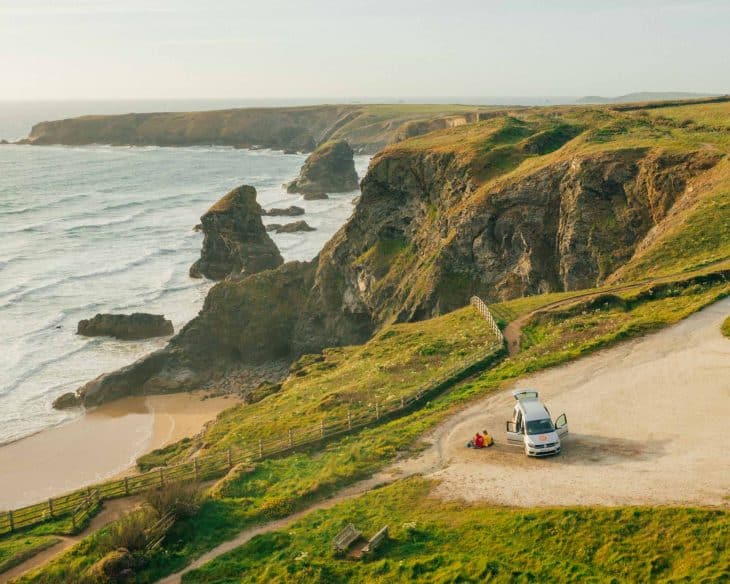 When to go
May, June or September
Cornwall's rugged coastline is almost 700km long, with quaint seaside towns and historic castles dotted across the dramatic landscapes. This Cornwall road trip can be completed in three to seven days depending on your travel style and where you're driving from, but there's plenty more stops in between to add to a Cornwall itinerary if you've got more time.
Begin on the Plymouth side of the county before making your way southwest down the coast. Dig your toes into the sand at Pendower Beach, stop off at Falmouth to stock up on yummy treats, then head to Kynance Cove and Lizard Point for a picnic with a view over massive cliffs and tropical-looking water.
Next up is St Michael's Mount, but make sure your visit coincides with low tide so you can reach the castle, before exploring the understated little fishing town of Penzance and finding somewhere to lay your head.
Day two is slower paced, kicking off with the unique cliff-top open air Minack Theatre and nearby Porthcurno Beach. Nanjizal Beach's clear waters and Sennen Cove's surf are worth a visit if the weather is on your side, then head up to magical St Ives for a classic English seaside experience. Hold onto your ice cream cone though, those seagulls are brutal!
The next day's adventure is heading up towards Padstow, via some seriously impressive viewpoints and beaches. Godrevy Heritage Coast's sheer cliffs and bright blue waves are a must-see, as are Chapel Porth beach, Poly Joke Beach and the incredible Bedruthan Steps. Treyarnon Bay is where you want to be for sunset, especially if you can get a room at the beachfront YHA, one of the best located hostels in the country.
Cornwall is about as tropical as the UK gets, and with rolling hills, rocky cliffs, dazzling beaches and whimsical coastal towns, it's a must-do road trip for both UK locals and visitors alike.
[Note from Victoria: Part of this route is along the A39, also known as the Atlantic Highway, and one of the UK's most beautiful coastal roads. You can extend the itinerary to take in the rest of the Atlantic Highway, including the surfing town of Bude and the stunning Exmoor National Park. You could add just one more day to do this.]
Where to stay
13. The Best of Yorkshire
Ingleton – Malham Cove – Hardraw Force – York – Goathland – Whitby – Robin Hood's Bay – Scarborough
By Sinead at Best in York Guide
Discover the best of Yorkshire from the rolling landscapes of the Dales, to historic York, across the rugged Yorkshire Moors to the dramatic North Yorkshire coastline.
When to go
April – October
Start your Yorkshire road trip with an active day in Ingleton. Tour the largest show cave in England, White Scar Cave, and walk the 4.5mile long Ingleton Waterfalls path. Hike to the top of Ingleborough (723 metres) for an incredible view of the beautiful Yorkshire Dales.
Drive across the rolling Dales to the picture perfect village of Malham. Climb to the top of Malham Cove, a natural amphitheatre 80 metres high, then extend your walk to visit Malham Tarn or the imposing Gordale Scar gorge.
Next up is the historic, lively city of York. Tour York Minster, the largest Gothic cathedral in northern Europe and walk the city's medieval city walls, the longest city walls in England. See The Shambles, voted England's best street or visit one of York's world class museums such as the Jorvik Viking Centre or the York Castle Museum to learn about the city's heritage. Climb the Norman era Clifford's Tower for a 360 degree view of York or enjoy a relaxing boat cruise on the River Ouse. Treat yourself to a classic afternoon tea at the iconic Betty's Tea Rooms or dinner in a medieval ale house at The House of Trembling Madness. Or go to the railway museum, which is an ideal thing to do in York with kids.
Leaving York, drive across the wild Yorkshire Moors stopping to hike into the Hole of Horcum or to visit Goathland, which featured as Hogsmeade Station in the Harry Potter movies.
Explore the seaside town of Whitby before heading down the dramatic coastline to the charming fishing village of Robin Hood's Bay. Wander the cobbled lanes of this car-free village or stroll the expansive beach searching for fossils.
Finish your road trip with an ice cream or traditional fish and chips on the popular beach at Scarborough!
Where to stay – Malham – The Buck Inn York – Dean's Court Hotel Robin Hood's Bay – The Bay Hotel
Where to stay
14. Sussex Coast and Countryside
Rye – Hastings – Eastbourne – Beachy Head – Brighton – Halnaker – Amberley Castle – West Witteringthon
Follow the coastal road from the historic town of Rye to the stunning cliff top views of Beachy Head.
By Kathryn Burrington at Sussex Bloggers
Highlights
Enjoy seaside towns, ancient castles, quiet countryside walks and historic pubs set in the rolling hills of Sussex. Start in Rye, reputedly the prettiest village in England and there's certainly plenty to admire along its historic cobbled streets.
After a leisurely morning exploring ,take the A259 to Winchelsea before heading south to the coastal road. At Hastings, be sure to visit the clifftop castle and the old town. It's bursting with charm and numerous great places to eat. Don't miss the unique fisherman's net drying huts.
Sticking to the coastal road continue to Eastbourne. Stop by the pier and walk along the prom via the stunning bandstand and soak up the nostalgic seaside atmosphere. The views at sunset are gorgeous all along the coast and the fish and chips always tasty. The best coastal views though has to be at Beachy Head where the white cliffs plunge down into the sea. It's another spot for a stunning walk.
Continue along the coast for a more bohemian seaside experience in Brighton. Think street art, quirky little streets full of unique shops and the totally ostentatious and not to be missed Royal Pavilion.
From here, head inland to the village of Storrington and Amberley, where you can spend the night in a castle (or just pop by for afternoon tea). At Halnaker, follow the old Roman road along a magical tunnel of trees before climbing the hill to a restored windmill for stunning views across the South Downs National Park. Wine lovers will also enjoy a visit to the local vineyard, Tinwood.
From here, head back to the coast for your final stop, the stunning beach at West Wittering. Park at the far end of the car park for a quieter stretch of beach and walk along the sand dunes or take a refreshing dip in the sea.
Where to stay
14. North Wales and Snowdonia
Llandudno – Conwy Castle – Bangor – Anglesey – Snowdon – Portmeirion – Snowdonia National Park
Explore the natural beauty of North Wales including the phenomenal Snowdonia National Park.
Highlights
Start in the popular seaside town of Llandudno that was home to Alice in Wonderland author, Lewis Carroll, before heading on to Conwy Castle.
Next spend a day or two exploring Bangor and Anglesey, including Beaumaris Castle, Lligwy Beach and the Amlwch Port Windmill.
Your next stop is Mount Snowdon, the highest peak in Wales, which you could climb or choose to take a scenic train to the summit from Llanberis.
Finally visit the fairytale village of Portmeirion with all its colourful buildings and unique gardens. You could use Portmeirion as a base to spend a few final days exploring more of Snowdonia National Park, enjoying all the hiking and climbing on offer.
Where to stay
Top tips for a UK road trip
For car rental for your UK road trip, we recommend booking with Rentalcars.com. We find they always have the cheapest deals for mainstream retailers. Bear in mind that if you're picking up and dropping off the car in different locations, there may be a transfer fee, which is normally quoted separately to the rental price.
If you decide to book any AirBnB apartments, use this link, as it'll give you £25 off your first trip.
We often find great last-minute deals on Booking.com, getting a discount of up to 60%.
Have a look at our travel planning pages for lots of time and money saving travel tips.