San Francisco is one of my favourite cities in the world – a progressive hotspot, rich in counterculture, arts and beauty. It's a city that gives birth to creativity of every kind, and makes for an intoxicating place to visit. Historically, it has lacked creative hotels, but is now hot on the heels of Portland, Palm Springs and London when it comes to hip hotels. Here's my list of the best – we stayed in some and the rest are what I came across during my research. It's my guide to the best hip boutique hotels in San Francisco. Fourteen made the main list, and then I've added eight more that don't quite fit the bill for "hip" but are ones worth considering if you're looking for a San Francisco boutique hotel. Let me know if you have any to add to the list.
We were in San Francisco as part of our epic California road trip (still dreaming of that every day!).
All of the accommodation links in this post are affiliate links, which means I get a small commission if you make a booking (at no extra cost to you). It's one of the ways I keep this blog going. Read more about my affiliate policy here. Thank you for your support!
The Best Boutique Hotels: San Francisco
Phoenix Hotel
If we were to give a crown to the most hip – and perhaps best – of the San Francisco hotels, it'd go to the Phoenix Hotel. Originally a caravan lodge that opened in 1956, it was revamped as The Phoenix, San Francisco in the eighties and became a favourite with touring musicians – its guest list includes the likes of Kurt Cobain and David Bowie. In 2018, it was restyled by Liz Lambert who updated all the rooms, adding an extra element of cool, while retaining the property's rock n' roll soul. The lobby feels like a 70s recording studio, there are vintage posters galore and the onsite record collection will make many a collector jealous. The 44 rooms are arranged around an iconic (and landmarked) swimming pool.
Rooms start at $160. Find the latest deals now.
Hotel G
This "lifestyle concept hotel", Hotel G, aims to channel San Francisco's laid-back vibes, and has gone for a retro style that complements the vintage hotel building (it had two previous incarnations before becoming Hotel G in 2014). The result is a stylish place to stay, with nice touches, such as banker's lamps and mid-century writing desks. It has 153 rooms and the location is central, close to Union Square and lots of the best things to do in San Francisco.
Rooms start at $250. Find the latest deals now.
Hotel Zetta
Hotel Zetta, San Francisco is the one of the first names you'll hear when talking about hip hotels in San Francisco. With a consciously hip/"techy" style, it channels the Big Tech campuses, with games such as shuffleboard and plinko in the lobby, and even a VR game station. The rooms are homely in a 'techy' kind of way, so you could easily pretend you're living the life of a Big Tech employee, staying on campus and all! You can even order a Nintendo Wii or Atari game console to your room. It's also home to a British restaurant and Marianne's, a candle-lit cocktail bar. In downtown San Francisco, near to Union Square and SoMa, it's close to many of the city's most popular attractions. See this handy post for a definitive guide to San Francisco's neighbourhoods.
Rooms start at $199. Find the latest deals now.
Hotel Emblem
The previous hotel on this site (Hotel Rex) was literary themed and Hotel Emblem hones in on this to draw inspiration from the Beat Generation. There's a writer's alcove filled with books in the lobby, a typewriter to start your novel, walls made of books, and nods to the Beat Generation throughout, including a weekly poetry slam. You can even book a special package, which includes a Beat Generation tour in a vintage Volkswagen. There's a jazz-inspired speakeasy bar on site. It's one of the best of the San Francisco boutique hotels.
Rooms start at $200. Find the best deals now.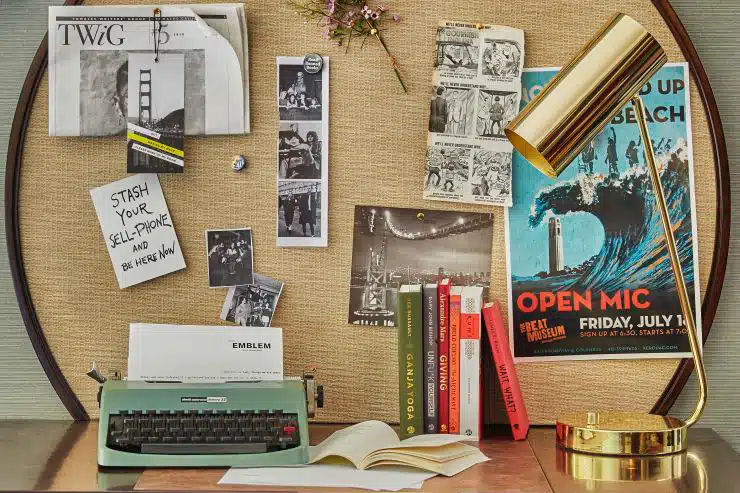 Proper Hotel
The boutique Proper Hotel chain prides itself on creating stylish, one-of-a-kind properties, created for the "global nomad". Opened in 2017, the San Francisco hotel was its flagship creation and features a juxtaposition of styles designed by Kelly Wearstler. There's a range of different room options, including some of the most stylish bunk beds you might ever see. And the toiletries are Aesop (my favourite!). One of the highlights is the Charmaine rooftop bar, which has become a popular spot for San Francisco's It crowd. An the on-site restaurant, Villion is top notch, serving contemporary American food.
Rooms start from $245. Find the latest deals now.
Tilden
This former art-deco hotel, The Tilden, has been remodelled into a stylish space that nods to its past while also updating it with modern touches. The effect is an artistic space with a white canvas that's accented with warm wooden tones and blue velvet sofas. The black and white rooms are comfy with pillow-top mattresses and a well-stocked mini bar. There's a lovely hidden garden – the Hummingbird Garden – at the back. And the street-level café is as good as many of the coffee shops San Francisco is famed for. The hotel is in Tenderloin.
Rooms start at $120 per night. Find the latest deals here.
Staypineapple San Francsico
Staypineapple San Francisco is part of the Stay Pineapple chain, which has an emphasis on providing fun, stylish and reasonably priced accommodation in central locations. It's all bold and bright, and my favourite touch was the free cupcakes at 3pm. They also have what they call the "Naked Experience", which includes lush bathrobes and bed linens so you need never leave your room. But seeing as it's in central San Francsico, you of course do want to get out and explore, which is when the free bike hire comes in handy. The hotel is proudly dog-friendly.
Rooms start from $150. Book your stay now.
Kimpton Buchanan
The Kimpton chain can be relied upon for creating stylish places to stay that draw on the character of the city they inhabit. Our favourite is The Goodland in Santa Barbara. This San Francisco branch, the Kimpton Buchanan, is situated where Japantown and Pacific Heights and includes nods to both neighbourhoods. It's a comfy mid-range option with some striking design features (look up at the 3,100 Japanese whisky bottles hanging from the ceiling) and a good location in the centre. The restaurant, Mum's, serves casual Japanese food.
Rooms start at $150. Find the latest deals now.
Hotel Zeppelin
Owned by the same people as The Zetta, Hotel Zeppelin is another hotel that's all about celebrating a slice of San Francisco culture. Where the Zetta is about Big Tech, Zeppelin plays homage to the city's counterculture tradition, adopting a 1970s punk-rock vibe that's reflected in the design details, like vinyl players in every room. As with the Zetta, the public spaces are well equipped for fun and lounging, including lots of games, basketball hoops, a skeeball machine, a pool table, plush sofas and a cosy fireplace.
Rooms start at $140. Find the latest deals now.
Hotel Zephyr
Hotel Zephyr is an ideal hotel if you're travelling with kids. It has a whimsical, somewhat zany style with a nautical theme throughout. It's right on the bay, so some of the rooms have water views, complete with portholes and nautical map murals. One of the highlights is the The Yard, an outdoor courtyard filled with games such as ping-pong and giant Connect Four, fire pits, and a vintage caravan selling drinks, snacks and light meals. It's just a couple of blocks from Fisherman's Wharf.
Rooms start at $220. Find the latest deals now.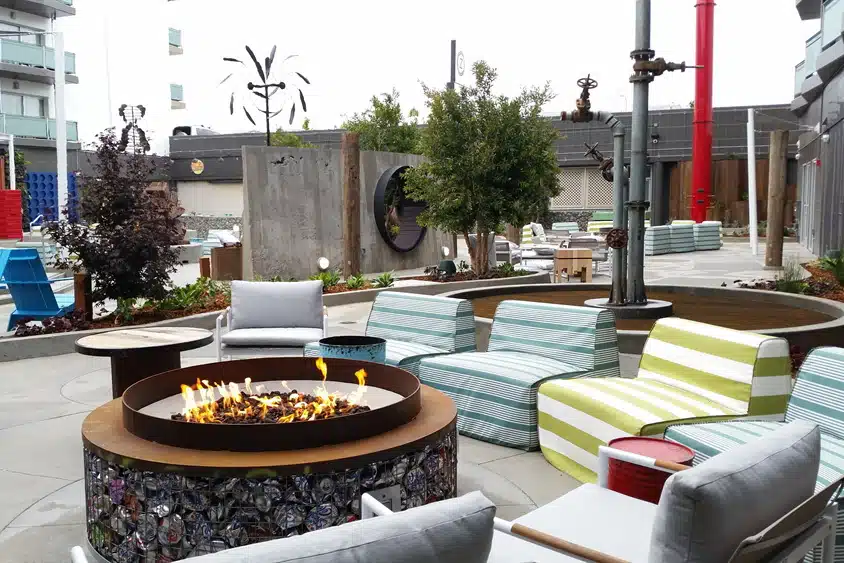 Nineteen 06 Mission
We fell in love with the Mission area of San Francisco. It has Latino roots, hipster vibes and a huge amount of excellent street art, cafes, restaurants and shops. We did a home exchange while there, but a good hotel option is Nineteen 06 Mission. The B&B has an environmentally-conscious, low-key style, but it's biggest selling point is its location, close to all the Mission has to offer. Breakfast is included, but you'll want to try some of the local brunch spots too.
Rooms start at $110. Find the latest deals now.
Hotel Kabuki
In San Francisco's Japantown, Hotel Kabuki draws on Japanese style with a cool New York loft vibe too. The hotel recently went under a renovation that has resulted in a gorgeous lobby with concrete columns, wooden floors and a well curated selection of stylish furniture and trendy accessories. The huge warehouse-style windows look out onto a Japanese garden and the lobby bar serves a selection of Japanese-inspired bites and inventive flower-themed cocktails. There's a big gym on site and a yoga/barre room.
Rooms start at $330. Find the latest deals here.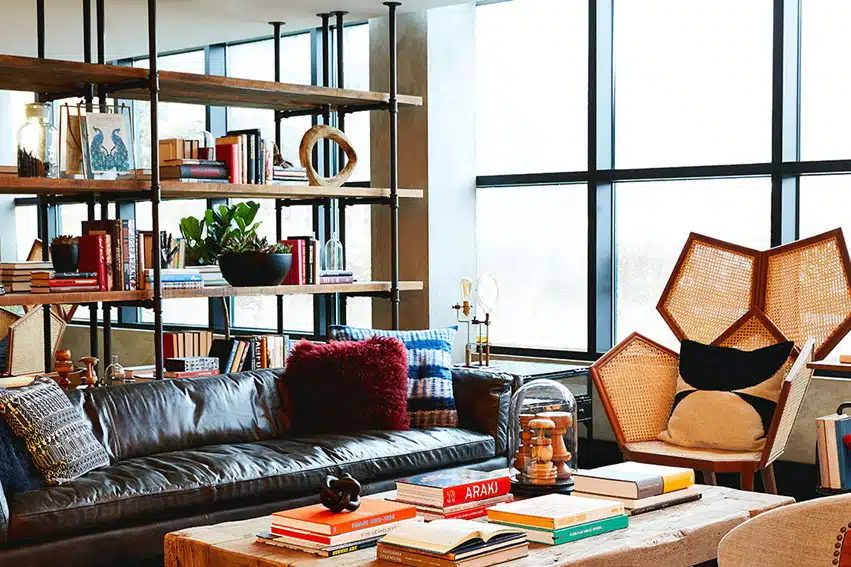 San Remo Hotel
The San Remo Hotel was a delightful surprise to us. It's a proper hidden gem in the Little Italy area of the city and brims with old-world charm. First opened in 1906, it feels like stepping back in time to the heyday of neighbourhood hotels. It's the kind of place that would have had regulars, maybe even people who stayed there for months on end – even now, it has that vibe. It's decorated with eccentricity and includes details like wood-panel walls, Victorian heirloom furnishings and a rotation of vintage cars that are parked outside (the owner is a collector).The bathrooms are shared and come equipped with fluffy towels and lots of handy amenities, such as mouthwash and shampoo on tap. There's a laundry room on site, unlimited hot drinks and an Italian bistro downstairs. We loved it's character and the price is fantastic, starting at just $89 per night. It's about five minute's walk from Fisherman's Wharf. And although this might seem like a slightly unusual hotel to include in a list of 'hip hotels', I think it's uniqueness warrants its space. For us, it's one of the best hotels in San Francisco.
Rooms start at $89 per night. Book your stay now.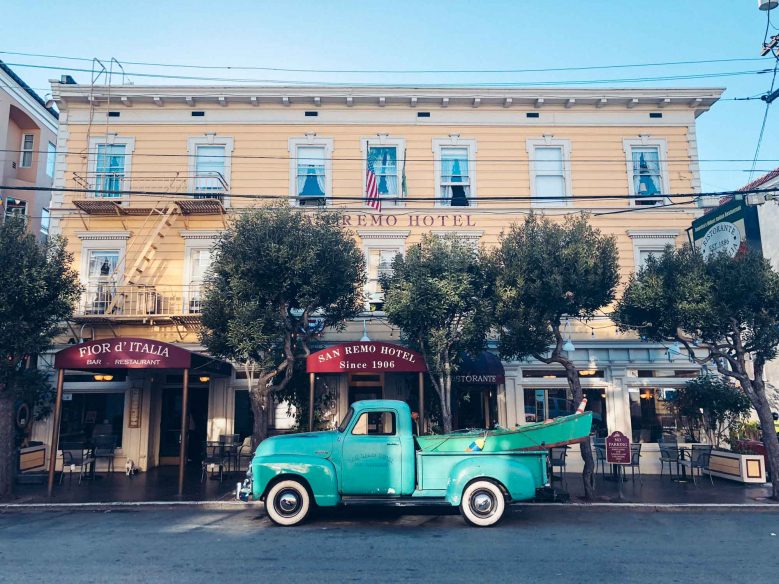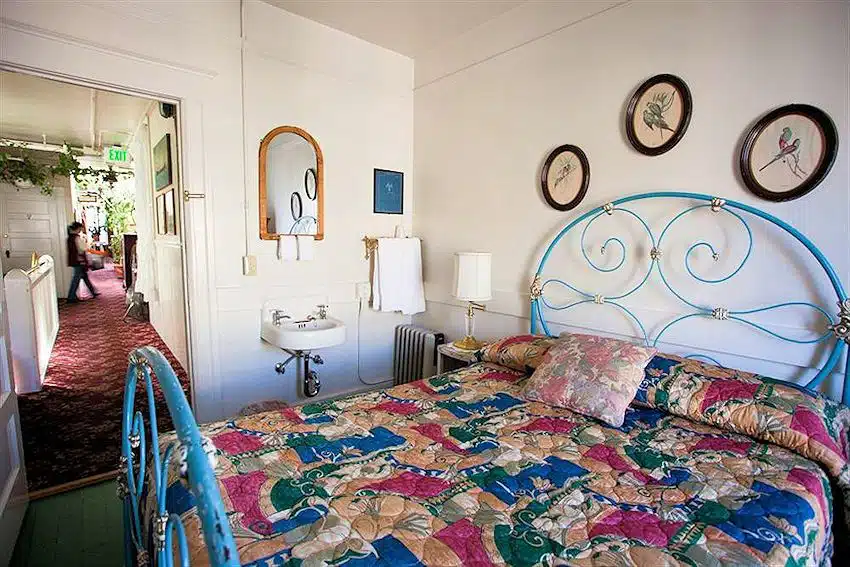 Hotel Boheme
Another Beat inspired hotel, Hotel Boheme is a world away from the snazzy Hotel Emblem, but it has authenticity on its side with Ginsberg having regularly stayed there. It was rebuilt after being destroyed in the 1906 earthquake and has a bohemian style that harks back to the 1950s. If you're looking for character, and don't mind teeny tiny rooms, then this is the place to go. It's in a similar vibe to the San Remo Hotel with old-school hospitality, such as a nightly bottle of sherry that guests can help themselves to. Like the San Remo Hotel, it's in North Beach in the heart of the Italian area of the city.
Rooms start at $178. Find the best deals now.
Some that don't quite make the cut for "most hip", but are worth mentioning…
The Clift Hotel
Designed by french designer Philippe Starck, The Clift is a swanky, luxury hotel with chandeliers, statement rugs, and an impressive furniture collection featuring the likes of Salvador Dali. If you're not staying here, the Redwood Room restaurant is worth a visit in itself, and there's also a bar, the Living Room, that replicates an old English club.
Rooms start at $250. Find the latest deals now.
Spero Hotel
The eco-friendly Spero Hotel has stylish rooms with geometric patterns against a white backdrop and views across the city. Dogs get their own play basket and it's eco-friendly credentials include reusable water bottles and soap recycling.
Rooms start at $210. Find the latest deals.
Herbert Hotel
The Herbert Hotel has an interesting history, starting out as a clubhouse, set up by an eccentric timber merchant. Nowadays it's a budget place to stay, including the option of shared bathrooms to save extra pennies.
Rooms start at $87 . Find the latest deals.
W Hotel
The W Hotels brand targets a young, tech-savvy crowd and the San Francisco branch is no different. That said, it does feel a bit bland and I wouldn't necessarily put it in the "hip" category. Some of the rooms have amazing panoramic views of the city skyline.
Rooms start at $210. Find the latest prices.
Good Hotel
The Good Hotel sounds and looks good in principle, but the reviews aren't great with people complaining about the cleanliness and staff. I'm mentioning it because it's philosophy is good, with nearly all furnishings made from reclaimed and recycled materials, and amentites that encourage eco-friendly behaviour.
Rooms start at $130. Find the latest prices now.
Vertigo
If you're a fan of Hitchcock then you'll be interested in Hotel Vertigo where the film of the same name was filmed. It used to be a Prohibition-era speakeasy, and now the whole hotel is filled with nods to its moments of fame, including orange and white décor, based on the movie poster.
Rooms start at $110 per night. Find the latest deals now.
Hotel del Sol
It's somewhat garish, but if you're looking for a fun, kid-friendly hotel, then the colourful Hotel del Sol is a good option in the Marina district of the city.
Rooms start at $255. Find the latest deals now.
Hotel Adagio
Chain hotels are never my first choice but I do like Marriot's Autograph collection, which is reliably comfortable and with an emphasis on style. That said, it's hard to shake that corporate vibe, which is why I haven't included the Hotel Adagio in the main section. The façade of this building is gorgeous.
Rooms start at $215. Find the latest deals.
All photos are courtesy of the hotels.