Driving through charming villages, seeing sunsets over the hills and picking up cheese for picnics along the way is what French road trips are made of. We've teamed up with other travel bloggers to create an ultimate guide to France's best road trips.
Please note that as this is a collaborative post, the accommodation recommendations are the bloggers' own and not necessarily the sorts of special places that Bridges and Balloons is known for recommending. Also, all the accommodation links are affiliate links, which means I get a small commission if you book them (at no extra cost to you). That's one of the ways I keep this blog going. Thank you!
Find the best deals on car hire
We recommend Rentalscars.com for booking your rental car. They search over 900 companies, and if you find a cheaper deal anywhere else, they promise to beat it. We use them every time.
North to South loop
Brussels – Pontorson – Saint Malo – Poitiers – Lyon – Grasse – Marseille – Dijon – Reims – Brussels
Whether you're a backpacker or a luxury traveller, this is the ultimate two-week France road trip, from Brussels in Belgium down to the French Riviera and back again, taking in some of the country's coolest cities and sights.
By Clare Drinkwater and Backpacking Bella
Highlights
When to go
May, June or September
The first stop is Mont Saint Michel in Normandy to see France's most popular attraction outside of Paris, the fairytale abbey on an island and one of the most beautiful places to visit in France. Then, take a short trip to Saint-Malo, Brittany's historic port city.
Head southeast to explore picturesque Poitiers, with its impressive Romanesque architecture. While you're here, visit the nearby Futuroscope theme park, which is full of fun multimedia attractions and unique 4D movie experiences.
Lyon is the next stop, with its historic centre, which is a UNESCO World Heritage Site. In the evenings, dine out at one of the city's top restaurants or simply feast on its famous French tacos and listen to an open-air musical performance.
On the French Riviera, get to know Grasse's prestigious perfume industry at the Musée International de la Parfumerie and even create your own scent, before moving onto to Provence for a stop at Marseille's Old Port.
Returning north, discover Burgundy's delightful city of Dijon, which dates back to the Stone Age. Take a walking tour around its winding streets and taste its many local mustard flavours, which may surprise you. Finally, swing by Reims for a well-deserved tour of one of its famous champagne houses and toast your fantastic France road trip.
Where to stay
Road trip in the Provence
Montpellier – Nimes – Orange – Avignon – Gordes-Roussillon – Apt – The Provençal Colorado – Aix-en-Provence – La Camargue – Montpellier
Get absorbed in the special atmosphere of the Provence Region, visiting its cities with ancient landmarks, charming villages, wonderful landscapes and the colors of the blooming lavender fields.
By Gábor Kovács at Surfing the Planet
Highlights
When to go
Mid-June – Mid-August for lavendar
Start your trip from Montpellier and focus your first day on the most beautiful cities of the region and their fascinating landmarks. The Roman architecture in Nimes, the ancient theatre in Orange and the medieval atmosphere in Avignon are among the unmissable things to see in Provence.
You can dedicate day two to the charming hilltop villages of the Provence such as Gordes and Roussillon. If you travel between the middle of June and the middle of August, you will be amazed by the colourful lavender fields near Apt. You should also check out the Colorado Provençal with a unique landscape in the region.
On the last day, spend a few days in Aix-en-Provence with its atmosphere full of art and culture, before visiting the Camargue Region, one of the most unique landscapes in Southern France.
Where to stay
French Riviera road trip
Marseille – Calanque National Park – Cassis – St Tropez – Cannes – St Paul de Vence – Monaco
Take in the glitz, charm and all-encompassing beauty of the world-renowned French Riviera.
By Victoria at Bridges and Balloons
Highlights
Start in vibrant Marseille, a multicultural port city filled with gastronomic delights and a history stretching back to classical Greece.
From there head east along the coast to the breathtaking Calanque National Park, a 20km stretch of sheer cliffs, giving way to turquoise waters with little beaches in-between.
Be sure to stop in Cassis, my favourite of the riviera towns. Stay there the night or head on to St Tropez.
St Tropez is famous for its glitzy yacht lifestyle, but also manages to retain its charm and is one of the prettiest of the seaside towns. Stay a night to soak in its charms.
Home to the famous film festival, Cannes is synonymous with the rich and famous, but if I'm honest, I found it underwhelming. Many would disagree with me, so stop by and decide for yourself.
From here, you could head straight to Monaco or go for a short, and highly recommended, detour to St Paul de Vence, a pretty art-filled hilltop village where the likes of Picasso used to hang out.
And then end your trip in Monaco, the most glitziest of all the glitzy where you can be dazzled by the mega yachts, lamborghinis and people draped in gold.
If you fancy it, you can continue this trip into Italy, Switzerland and back to France to make it the most colourful road trip in Europe.
A medieval route in the Dordogne Valley, France
Bordeaux – Sarlat – Lacave – Terrasson – Perigueux – Bordeauxerigueux – Bordeaux
Visit a number of the most beautiful villages in France on this drive through the medieval Dordogne Valley in southwestern France.
By Cindy Baker at Travel Bliss Now
Highlights
Rent a car in Bordeaux and drive to the romantic village of Sarlat, spending 2 – 3 days to explore the prettiest villages in the Dordogne – Domme, Beynac and La Roque-Gageac.
Get the fairy-tale experience with a night in a luxurious castle in Lacave and a visit to the magical cliff-side village of Rocmadour.
From Terrasson, learn about the region's fascinating prehistoric roots with a visit to the of the International Center for Cave Art in Montignac Lascaux.
Before returning to Bordeaux, feast on local specialties like truffles, duck and walnuts in beautiful Perigueux.
Where to stay
Loire Valley Road Trip: Chateaux Charm
Saumur – Chateau d'Usse – Chateau de Villandry – Chateau de Chenonceau – Chambord Chateau
Starting in the historic pretty town of Saumur, this three-day Loire Valley itinerary takes you to five of the most impressive chateaux of the Loire Valley.
By Shelley at Life Journey for Two
Highlights
Starting in the historic pretty town of Saumur, the first chateau stop is the fairytale castle, Chateau d'Usse. This chateau is said to be the inspiration for the fairytale, 'Sleeping Beauty'.
Next, you'll be enthralled by Chateau d'Azay-le-Rideau, set on an island on the River Indre. Views from the front and back give contrasting visions of this 12th-century feudal castle.
Chateau de Villandry, your next stop, has what some call the most beautiful gardens in France, with sections of the manicured gardens representing four forms of love; fickle, tender, passionate and tragic love.
Further along the Loire is Chateau de Chenonceau. This has to be one of the most photogenic chateaux, as it spans the width of the river Cher and the reflections on the water make for an impressive sight.
Your final stop is Chateau Chambord, the largest chateau in the Loire valley. You can access the gardens and wander around the many paths on the grounds and only need to pay admission fees for entrance to the chateau itself.
It's easy to alter this road trip to suit your tastes and time frames, as all of the vineyards, chateaux and historic towns are within easy reach of each other. Whether you have three days or three weeks you would be able to fill your time relaxing and soaking in the romantic, renaissance feel of the Loire valley.
Where to stay
Driving the Verdon Gorge – The Grand Canyon of France
Trigance – Balcon de la Mescla – Pont de l'Artuby – Observation Spots – Col d'Illoire – Château d'Aiguines – Lac De Ste Croix – Moustiers-Sainte-Marie
Experience the Verdon Gorge Route, a dramatic drive through some of France's most spectacular scenery.
By Nadine Maffre at Le Long Weekend
Highlights
When to go
May/June/September
The Verdon Gorge, known as the Grand Canyon of France, is an impressive sight somewhat out of odds with the relaxed and bucolic countryside that surrounds it.
By following the Rive Gauche route, you'll experience an easy drive while still being able to take in some of the most impressive observation points along the gorge.
This route allows time to explore the beautiful village of Trigance, stop for panoramic views over the gorge, indulge in lunch at a restaurant along the way, and still have time to enjoy the tranquil Lac de Sainte-Croix with its iconic turquoise water. Hire a canoe or paddleboat to explore the gorge and view the towering cliffs from below.
Round off the day with dinner in the fairytale-like village of Moustiers-Sainte-Marie where you'll be able to scale the stairs to the Notre Dame de Beauvoir Chapel, see the notorious golden star, and watch the waterfall spring from the craggy mountainside.
Stay en route, or complete the drive as a day trip from Aix-en-Provence.
Where to stay
Route des Grand Alpes (with a detour)
Menton – Cerviéres – Chamonix – Lake Annecy
The iconic Route des Grande Alpes starts in Lake Geneva and follows all the high mountain passes south until the French Riviera. This route does it in reverse with a detour to Lake Annecy and Gorge du Fier.
By Kathryn Bird at Wandering Bird Adventures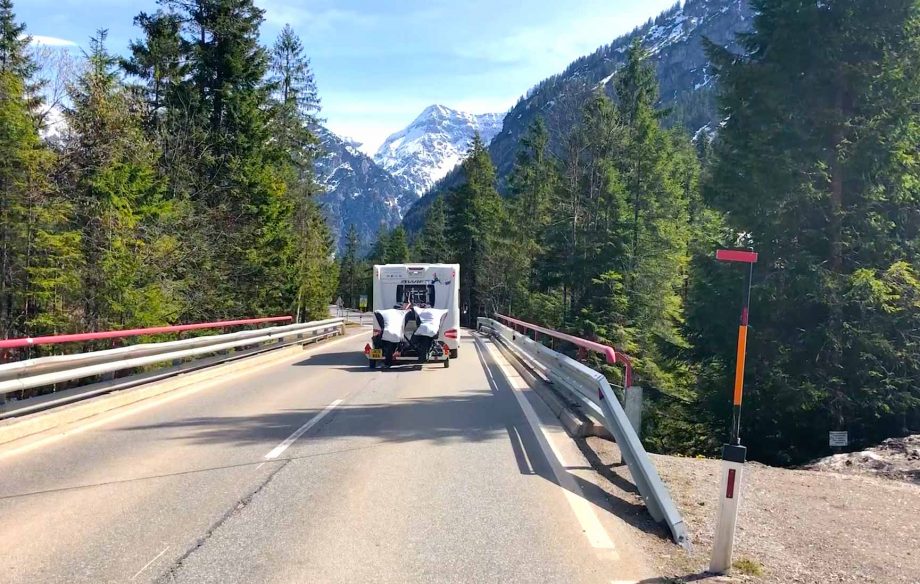 Highlights
When to go
Late Spring / Early Autumn
Start in Menton, which is a beautiful town with lots to explore. Stock up with road trip snacks here- you may not see an open shop for a while! Head north up to Cerviéres (don't follow the sat nav- the Route des Grand Alpes is not the quickest route.)
The first couple of days you'll be wowed by the scenery, wildlife and peace of the mountains, but once you arrive in Chamonix, prepare for some fun. There are bars and restaurants open all year, but the highlight for us was going up the Cable car onto Mont Blanc. Dress warmly (it's COLD up there, even in summer) and get there as early as you can – stay overnight and go first thing in the morning to see the sun rise.
Lastly, enjoy the stunning location of Annecy. The colour of the lake is jaw-dropping and it's a fun town to wander round.
Spend at least two nights at Annecy if you can and don't forget to visit the Gorge du Fier a few miles away – a huge gorge you can walk into with a fast flowing river just beneath your feet. That was one of our highlights of the trip!
We did the trip in a leisurely three days- you can definitely do it faster, although don't underestimate how steep the roads can be or how often you have to stop for cyclists.
Our itinerary was:
Day 1- Menton up to near Cerviéres
Day 2- Cerviéres to Chamonix
Day 3- Chamonix to Lake Annecy
Where to stay
Alsace Road Trip
Colmar – Eguisheim – Riquewihr – Strasbourg
Explore Alsace in the French Region of Grand Est, well known for its wines and picturesque villages with half-timbered houses.
By Elisa at France Bucket List
Highlights
When to go
Autumn (after harvest)
This itinerary follows part of the Wine Route of Alsace, from south to north. Start in Colmar, the most popular of the Alsatian villages, and wander around with no direction to admire its beautiful architecture and picturesque canals. In Colmar, we recommend doing a wine tasting session to get introduced to the wines of Alsace and perhaps buy your first bottles.
Visit the beautiful villages of Eguisheim and Riqewihr on a day trip from Colmar. The architecture is similar to the one of Colmar but each of these villages has some cute corners and details that make them unique. Visit one wine producer or two for wine tasting and more bottles of your (already) favorite Alsatian wines.
Drive north to Strasbourg, the capital of the region of Grand Est. Strasbourg is an international city home of the European Parliament. Wander around La Petite France, the historical center of Strasbourg and admire its impressive Cathedral, built in Gothic style. If you are not afraid of heights climb up to the top of the bell tower. If there are no clouds you can see the Black Forest in Germany!
Where to stay
Champagne Road Trip
Epernay – Hautvillers – Reims
This champagne road trip explores some of the most beautiful corners in the French region of Grand Est.
By Norbert at World in Paris
Highlights
When to go
Autumn (after harvest)
Epernay is one of the best day trips from Paris, but this time we are going further to explore more places of Champagne on a multi-day road trip.
From Paris, head to Epernay, the capital city of champagne. The road goes through rolling hills and vineyards, which are especially beautiful with the fall colors.
Take your time to visit Epernay, the city center has beautiful architecture. Epernay's main street is Avenue de Champagne, flanked by the buildings of the most important Champagne houses in France. These champagne houses have kilometers and kilometers of wine cellars underground, that's why Avenue de Champagne is considered the most expensive avenue in the world!
To get the most out of this tour, book well in advance your visit to Moët-Chandon wine cellar. This is a very popular tour so it gets sold out very fast, especially if you want to visit it during the weekend. During your visit, you will learn about champagne and the champagne-making process while visiting a part of their wine cellars. The tour finishes with a glass of champagne.
Spend the rest of the day in Hautvillers, a picturesque town at only 5 km from Epernay. Its abbey was home to Dom Perignon and you can still see his tomb at the foot of the main altar.
On the second day head to Reims, the capital of Champagne region. Explore the city's historical center and be sure to visit Reim's cathedral, a jewel of Gothic architecture. One day is enough to get the most out of Reims but you can decide to spend an extra day to complete your visit, perhaps also with a wine tasting tour.
Where to stay
Southwest France for Food and Wine Lovers
Toulouse – The Gers – Bordeaux
Explore Toulouse and the Gers, part of France's Occitanie region – an area similar to Provence but less touristy.
By Shobha George at Just Go Places
Highlights
When to go
May/June/September
Start your exploration of south-west France in Toulouse, a major city with several UNESCO world heritage sites, the Canal du Midi running through it, the headquarters of Airbus and the Toulouse Space Center. The city is called the Pink City because of the sandstone used in its building. The colours of the architecture are gorgeous in the warm summer sun. The food is diverse and international thanks to the local university population. For example, we found something called a French Taco (meat etc but wrapped in a French crepe). The traditional dish from Toulouse is cassoulet which is a beans and sausage dish.
Leave the city behind, and head into the countryside of the Gers region for its charming little villages. The capitol of the region, Auch is relatively large but most villages are tiny. The village of Marciac is known for its jazz festival. The local cuisine is delightful but not for vegetarians. The specialty of the region is foie gras, confit de canard and Armagnac. You can find foie gras on everything including pizza.
The last area to explore is Bordeaux, which reminded us of a little Paris in its architecture. The historic centre of Bordeaux is a UNESCO world heritage site. The best thing to do in Bordeaux is hang out in the sunshine and drink lots of great French red wine. Interactive and digital, we also found the Bordeaux Museum of Wine fascinating (even the kids agreed!).
Where to stay
Find the best deals on car hire
We recommend Rentalscars.com for booking your rental car. They search over 900 companies, and if you find a cheaper deal anywhere else, they promise to beat it. We use them every time.
Travelling with kids?
If you're travelling with kids, try some of this fun and free printable road trip games from Nerd Bear.