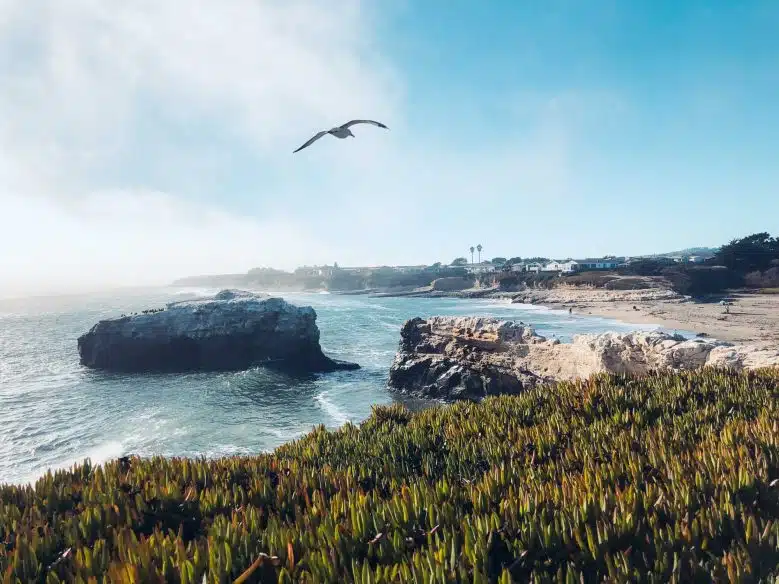 Dreaming of an American road trip and not sure where to start? This is a round-up of the best road trips in the USA, featuring everything from the classic Route 66 and Pacific Coast Highway to more off-the-beaten path options like a road trip in Alaska. From the colours of fall to the most stunning coastal routes, there's something to suit all tastes.
We've done a few USA road trips ourselves, but for this post I've also partnered with lots of other experienced travellers to create an ultimate guide to the best road trips in the USA. From California to Hawaii to the East Coast, we've covered some of the most famous must-do American road trips as well as some lesser-known, but just as special, USA road trip options.
Do one by itself, or join up a few if you have some extra time and want to create an even more epic American road trip.
All of the accommodation links in this post are affiliate links, which means I get a small commission if you make a booking (at no extra cost to you). It's one of the ways I keep this blog going. Read more about my affiliate policy here. Thank you for your support!
The Best Europe Road Trips
The Best USA Road Trips
1. The Ultimate California Road Trip
Sonoma – San Francisco – Santa Cruz – Monterey – Big Sur – Paso Robles – Santa Barbara – Malibu – LA – Laguna Beach – San Diego – Palm Springs – Joshua Tree
Fulfil your California dreams with this ultimate west coast road trip, taking in everything from wine regions to surf towns to the big cities of LA and San Francisco.
By Bridges and Balloons
Highlights
Duration
2 weeks – 1 month
Start your journey in Sonoma wine country, enjoying the farm-to-table dining and small, independent wineries. Then next up is the creative hub of San Francisco where you could spend days exploring its neighbourhoods, restaurants and museums.
Santa Cruz is the place to go for surfing or a walk along the famous boardwalk. And don't miss the steam train through the redwoods. Monterey and its 17-mile drive is one the most scenic spots on the route and you'll want to pay a visit to the world-famous Monterey Aquarium and the idyllic village of Carmel.
Big Sur is the most iconic part of the Pacific Coast Highway and an absolute must for any California Road Trip. Stop at Nepenthe for a meal along the way with some of the best lunch views you'll ever have.
Many overlook Paso Robles in San Luis Opisbo, but this quaint wine town is well worth a visit, and after that head to Santa Barbara, known as the 'American Riviera' and the perfect place to soak up that laid-back California lifestyle.
On your way to LA, stop off at Malibu and Topanga before spending some time in the beach towns of Venice and Santa Monica. Also, try one of the famous theme parks such as Universal Studios.
Heading on down the coast, your next stop is Laguna Beach followed by San Diego where it's worth staying around La Jolla for beach vibes and the beautiful Torrey Pines.
Finally, head inland to the desert town of Palm Springs, a playground for Angelenos. And finish it all off with a visit to the magical, other-worldly landscapes of Joshua Tree before looping back to LA.
To extend this road trip, you could head to Las Vegas from Joshua Tree and then up through Death Valley National Park, Yosemite and Lake Tahoe, before looping back to San Francisco.
Read more details in my Ultimate California Road Trip guide.
Where to stay
---
2. Southern USA – An Epic Deep South Itinerary
Atlanta – Blue Ridge Parkway – Asheville – Charleston – Savannah – Tallahassee – Mobile – New Orleans
Explore that famous Southern Charm, from the mountains of North Carolina to the famed hospitality of Charleston and Savannah, plus the magic of New Orleans.
By Bridges and Balloons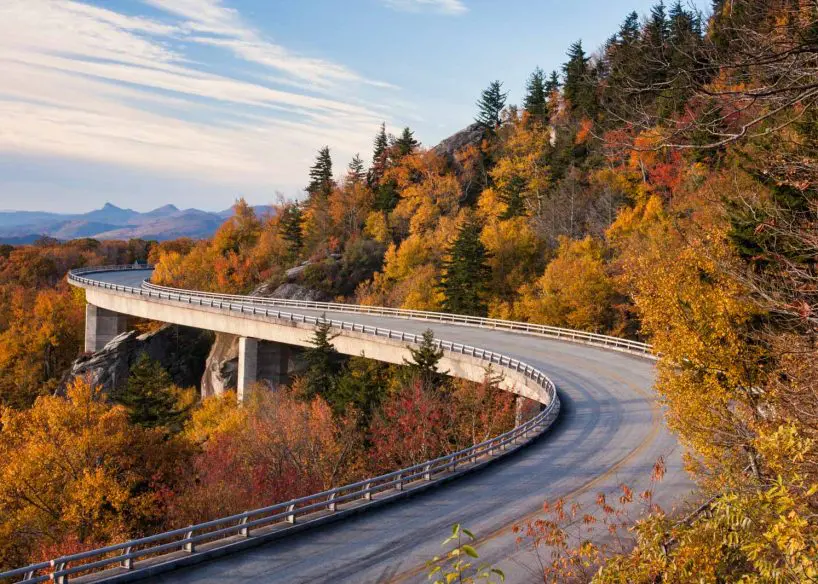 Highlights
When to go
Autumn – Spring (avoid hurricane season)
Start your Deep South road trip in Atlanta, the birthplace of Martin Luther King and many African American political and cultural movements. It's a place to educate yourself on the area's history while also diving into the food scene.
Next head up to the Blue Ridge Parkway, stopping at the Smoky Mountains along the way. Try to time your trip with the fall, so you can experience the majesty of the parkway's fall colours.
Creative Asheville is the perfect place to base yourself for exploring the parkway, and to enjoying a slice of mountian life before you head south to well-to-do Charleston.
The history of slavery casts a shadow over the area, so be sure to pay your respects and learn more at one of the more responsible plantation tours such as Magnolia Plantation. Next is arty and charming Savannah where you'll be happy wandering it's attractive streets.
From there, head along the Gulf Coast to Tallahassee and Mobile before finally reaching New Orleans, a truly one-of-a-kind city and somewhere you could several weeks.
Read more details in my full Southern road trip itinerary. And you could follow this trip with the Natchez Trace Parkway, detailed below.
Where to stay
3. Going to the Sun Road
Whitefish – Lake McDonald – Trail of Cedar – Logan Pass – Jackson Glacier Overlook
One of the USA's most scenic National Park drives with glacial lakes and alpine tundra.
By Priya Vin at Outside Surburbia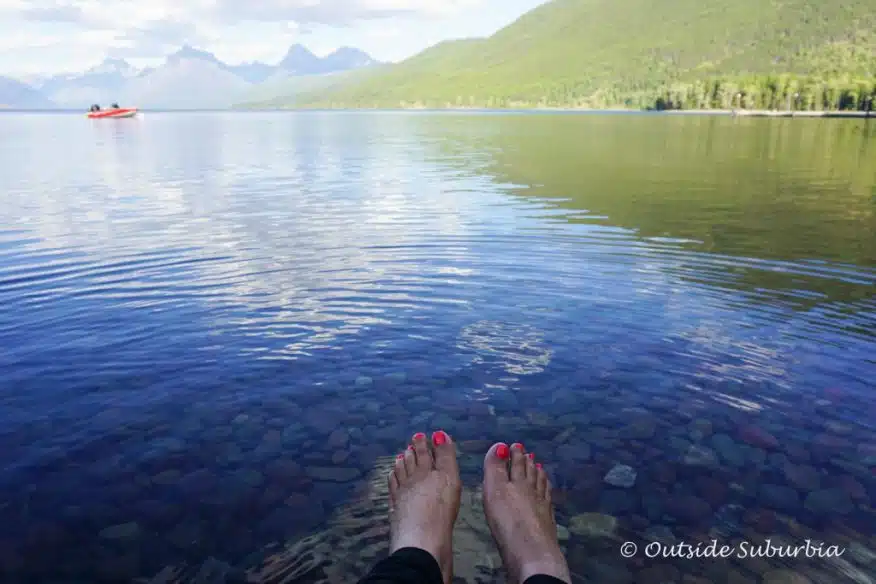 Highlights
Duration
2 hours (allow full day for stops)
When to go
June-October (closed in winter)
Driving the Going to the Sun Road is considered one of the best national park experiences and rightfully so. As the road climbs up the mountains you can see almost every type of terrain – from glacial lakes and forests in the lower elevations to alpine tundra in the higher elevations.
The drive takes you on a paved two-lane highway that seems like it is carved into the mountains. The road is pretty narrow and you need to be careful when driving it.
Going to the Sun Road runs across the Glacier National Park from east to west. The road is only 50 miles but driving it offers some of the best views of the Glacier National Park.
There are many scenic viewpoints along the road that you can't miss. Watch out for wildlife – it is easy to spot bears and longhorn sheep if you bring some binoculars. Pullouts can be found along the drive if you want to stop for photos and take in the views. Also see this detailed Glacier National Park itinerary.
Where to stay
4. The best of Florida and Georgia including the islands
Orlando – New Smyrna Beach – Amelia Island – Jekyll Island – St Simons Island – Savannah
This road trip takes in the best of the Sunshine State and Georgia with some of their most beautiful islands and colourful towns.
By Nichola West at Globalmouse Travels
Highlights
Start in Orlando for the thrills and excitement of this vibrant city. There's something for everyone in Orlando and it's a good place to get acclimatised and enjoy the fun of this exciting metropolis.
Next up head for the old school charm of New Smyrna Beach where you can take boat trips to see river dolphins in the wild, pick up bags of salt water taffy and watch turtles hatching on the beaches.
Then start on the islands, beginning with Florida's Amelia Island where the waves crash and gorgeous sunsets send orange pangs across the sky. Follow up with old world history on Jekyll Island where you can cycle through clouds of Spanish moss hanging from the trees and scramble across the trees of Driftwood Beach which lay across the sand like a spectacular sculpture.
St Simons Island in Georgia is much more bustling than Jekyll Island and a good place to reconnect with a busier world and all the shops and amenities that brings.
Finish up with history and culture in colourful Savannah where southern charm is in abundance and there's plenty to enjoy for all members of the family.
This is an ideal family road trip through Florida and Georgia.
Where to stay
5. Best of New Mexico Road Trip
Truth or Consequences – Bosque del Apache – Socorro – Albuquerque – Santa Fe – Taos
Experience the best of New Mexico from the Truth or Consequences hot springs to Santa Fe, home of Georgia O'Keeffe.
By Wendy Elliott at Adventurous Retirement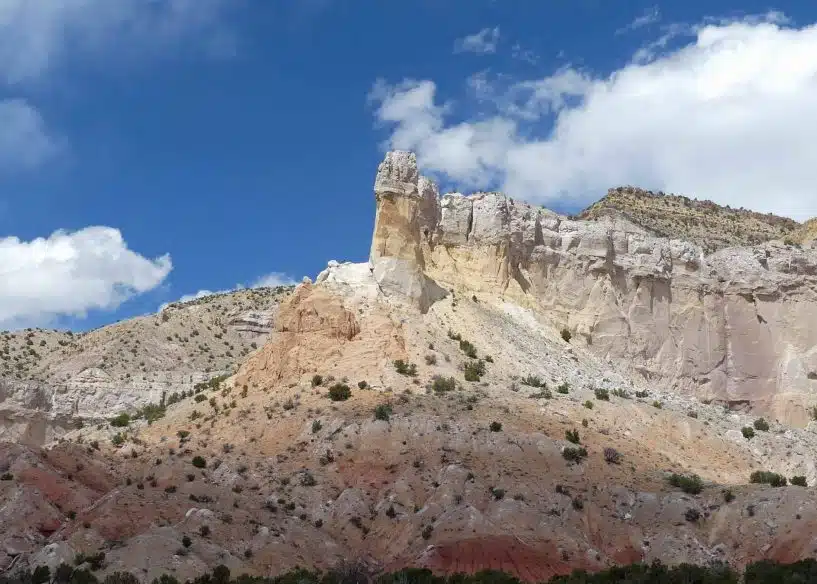 Highlights
There's so much to see and do on this New Mexico road trip that I suggest spending at least one week.
Start at Truth or Consequences, known for its hot springs with 10 commercial bathing spas. My favorite spa is Riverbend Hot Springs – its public pools are set on the Rio Grande River, a beautiful spot. It's an artsy town with galleries and historical museums, like the Geronimo Springs Museum.
On the road to Albuquerque, stop at Bosque del Apache Wildlife Refuge for birding. If you are into history of the west, or science and technology, then stop in Socorro for the museums. Visit the Very Large Array (VLA) National Radio Astronomy Observatory.
Albuquerque boasts over 15 museums. My top choices are the Indian Pueblo Cultural Center and its restaurant, plus the Turquoise Museum.
Next up is Santa Fe where there is so much to do, you can fill 8-10 days easily. Spend at least 3 days. My top picks are: hiking Tent Rocks, Bandolier, and Plaza Blanco in Abiquiu; visiting the Georgia O'Keeffe and Meow Wolf museums, and doing a guided tour of both Ghost Ranch and Georgia O'Keeffe's home.
Finally head to Taos and explore the historic town and famous historical sites, like San Francisco de Asis Church, Kit Carson Museum, and Blumenschein Museum. Visit the Taos Pueblo, walk the Rio Grande Gorge Bridge, and check out off-the-grid living at Earthship Biotecture.
Truth or Consequences – Stay overnight at Riverbend or camp at Elephant Butte State Park. In Albuquerque, we stayed at Enchanted Trails RV Park. In Taos, we stayed at Taos RV Park & Campground. Overnight accommodations are available at Earthship Biotecture in Taos.
Where to stay
6. South Dakota Adventure from Sioux Falls to Devils Tower, WY
Sioux Falls – DeSmet – Badlands – Rapid City – Black Hills – Deadwood – Devils Tower – Custer
A wild trip through South Dakota, taking in Badlands National Park and the famed Mount Rushmore.
By Sam Glauser at My Flying Leap
Highlights
When to go
May to September
Start this tour of South Dakota in Sioux Falls and visit the beautiful Falls Park before making your way to DeSmet, the former home of Laura Ingalls Wilder of Little House on the Prairie fame. Stop along I90 to see the famous Corn Palace, then spend the day hiking in the striking Badlands National Park. Visit the Minuteman Missile Museum, where you can learn about the Cold War missiles once residing there. You may want to see the locally renowned Wall Drug megaplex as well that has almost everything you can imagine for sale.
Rapid City is a great central location to stay in for the rest of your trip. Spend a day in Deadwood, where outlaws "Wild Bill" Hicock and "Calamity" Jane once roamed. Visit Devils Tower in Wyoming where a scene in Close Encounters of the Second Kind was filmed. Of course, you'll want to visit the monument at Mount Rushmore, then enjoy the beautiful pine-topped peaks of the Black Hills Forest.
Next, head south to admire the gorgeous landscapes at Custer State Park including beautiful lakes, pine-topped forests, and the Needles area with "hoodoo" spire rock formations. If you're lucky, you'll get to see wild animals including bison, sheep, elk, coyote, and more. Nearby Wind Cave has some spectacular rock formations to explore. Check out the Mammoth Site, a giant partially-excavated sinkhole with the remains of more than 60 Colombian and woolly mammoths dating back more than 100,000 years.
If time permits, take a stroll through downtown Rapid City among the statues of the American presidents and influential men. There's also a great alley with some interesting murals to check out nearby. South Dakota has something for everyone and it's a great place to visit.
Where to stay
7. Overseas Highway from Miami to Key West
Miami – Key Largo – Islamorada – Marathon – Key West
The Overseas Highway, also known as US-1, is an awesome Florida road trip to take from Miami to Key West. This unique route requires 42 bridge crossings through the Florida Keys, with the largest overwater stretch being seven miles long.
By Theresa McKinney at Fueled By Wanderlust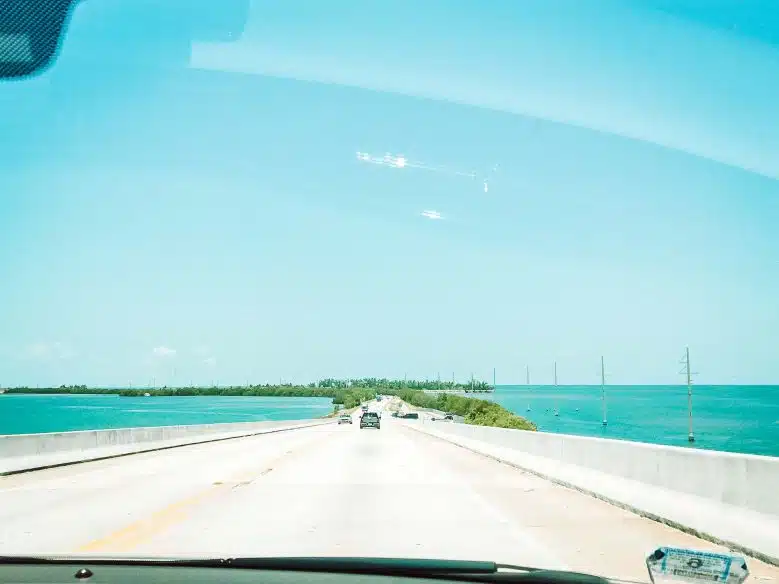 Highlights
While this road trip begins in the energetic city of Miami, the vibe quickly becomes laid back as you head south through the tropics. After leaving the U.S. mainland, the first major Key you'll reach is Key Largo, where divers, snorkelers, and even paddlers will enjoy the crystal clear waters of John Pennekamp Coral Reef State Park.
Continuing south, you'll reach Islamorada, where you should pop into Florida Keys Brewing Co. for a quick taste of locally brewed craft beer. Islamorada is also a great lunch stop, as there are many highly rated restaurants in the vicinity.
Next, you'll close in on Marathon, where animal lovers will enjoy visiting the dolphins at the Dolphin Research Center in Grassy Key, as well as the resident sea turtles at Marathon's Turtle Hospital.
The journey concludes when you reach Key West, which is far south enough to be just 95 miles away from Cuba. In Key West, there is plenty to keep you entertained, from the bars on Duval Street, to the Ernest Hemingway House, to dinner at Latitudes on nearby Sunset Key. I recommend spending a few nights in Key West, as you will not want to leave after one day. Bahia Honda State Park is the place to go for the best beaches in the Keys.
Where to stay
8. North Wisconsin
Tomahawk – Chequamegon-Nicolet National Forest – Bayfield near Apostle Islands
Discover the hidden gems of North Wisconsin.
By Paulina Rubia at Paulina on the Road
Highlights
One of the most scenic road trips you can take is without any doubt driving from Tomahaw to Bayfield near the Apostle Islands since it takes you to the best hidden gems of Northern Wisconsin. Indeed, it's the best way to explore the mesmerizing charm of Northern Wisconsin's natural wonders.
Start your road trip in Tomahawk and drive along plenty of small lakes until you reach Chequamegon-Nicolet National Forest. The National Forest is a paradise for hikers and outdoor lovers. Hike through groves of maple and oaks and get a chance to see white-tailed deer, foxes, and countless bird species.
Continue your road trip north and drive along the scenic Wisconsin River until you reach Minocqua on Lake Tomahawk. Here, you can try different water activities, such as water skiing, fishing, wakeboarding, tubing, and raking a relaxing sunset pontoon ride.
From here continue your ride until you reach Bayfield, one of the prettiest towns in Northern Wisconsin. It's the best departure point to explore the Apostle Islands' National Lakeshore. The best way to explore the natural wonders of this area is by kayaking.
Where to stay
9. Discover the Breathtaking Scenery of the Colorado Rockies
Denver – Rocky Mountain NP – Hanging Lake – Colorado National Monument – Black Canyon of the Gunnison NP – Crested Butte – Mesa Verde – Great Sand Dunes NP – Garden of the Gods
Home to everything from 14,000-plus-foot peaks to the continent's biggest sand dunes to world-class food and brews, there's something for everyone in Colorado.
By Meg Atteberry at Fox in the Forest
Highlights
When to go
June-Mid September
The best way to see the Centennial State is to head out on a Colorado road trip. With four national parks, incredible mountain scenery, and plenty of places to get lost in, you'll want to spend anywhere from 4 days to 2 weeks exploring this stunning landscape.
Most travelers will start in Denver, the Mile High City. Home to an incredible food and craft beer scene, there's plenty of entertainment in the state's capital. Try to time your road trip up with a concert at Red Rocks Amphitheater, one of only four naturally occurring amphitheaters in the world.
Next, stop at the famous Rocky Mountain National Park. Located just two hours from Denver, this beautiful landscape hosts a variety of activities from wildlife viewing to world-class rock climbing.
After you've had your fill at the park, head out towards Grand Junction, on the Western Slope of the Colorado Rockies. Don't forget to stop at the famous Hanging Lake Hike along the way, one of Colorado's best hikes. Here you can explore the Colorado National Monument. World's away from Colorado's mountains, these sandstone spired and canyons are reminiscent of the famous landmarks of Southern Utah and speak volumes about the diversity of this state.
For your next stop, dip back into the mountains and head south towards Gunnison and Crested Butte. You can opt to stay in the cute mountain town of Crested Butte, where you can enjoy mountainous wildflower hikes and top-notch mountain biking. Or continue towards Black Canyon of the Gunnison National Park. This steep canyon boasts 1,000-plus-foot walls and has plenty of incredible camping and rafting opportunities.
If you have spare time, swing down towards the Four Corners for a stop at Mesa Verde. Otherwise, continue onwards towards the mighty Sangre de Cristo Mountains, where you'll find the Great Sand Dunes National Park. Nestled up against towering peaks, you'll be treated with an endless sea of sand dunes – the largest in North America. This is also black sky territory, meaning you can see even the faintest stars at night.
Afterward, swing back north towards Denver, making a stop at the Garden of the Gods in Colorado Springs. If you're into nature, you'll love going on a Colorado road trip.
Where to stay
10. Southwest Loop From Las Vegas
Palm Springs – Joshua Tree National Park – Grand Canyon National Park – Page – Bryce Canyon National Park – Zion National Park – Valley of Fire State Park
Visit some of the United States' most iconic parks and landmarks on this scenic loop through California, Arizona, Utah and Nevada.
By Rhonda Krause at Travel? Yes Please!
Highlights
When to go
October – March (when it's not too hot)
Start your south-west road trip in Las Vegas and head southwest to Palm Springs, California where you can enjoy some golf, hiking, and poolside relaxation. Schedule in some time for a day trip to Joshua Tree National Park where you can hike among boulders and the park's namesake trees.
Next up, journey to Page in Arizona breaking up the drive with a stop at the Grand Canyon. Once in Page, take a tour of the mesmerizing Antelope Canyon and visit the scenic Horseshoe Bend Overlook.
From Page, travel to Bryce Canyon in Utah for some hiking among the hoodoos. There are plenty more great hiking opportunities at the next stop in Zion National Park as well.
From Zion National Park start heading back to Las Vegas. Spend the afternoon in Valley of Fire State Park walking the nature trails to see some interesting rock formations and petroglyphs.
Where to stay
11. Natchez Trace Parkway
Natchez – Jackson – French Camp – Tupelo – Tishomingo State Park – Nashville
Drive 444 miles through gorgeous wooded landscape on this historic route from southern Mississippi to Nashville.
By Bridges and Balloons
Highlights
Start in Natchez where you'll find plenty of antebellum mansions (it was once home to the most millionaires per capita in the world, due to slavery). From there, wind your way up towards French Camp, stopping at Emerald Mound and the Tupelo-Baldcypress Swamp en route.
You could also make a detour to Jackson if you fancy a bit of city time and want to explore some of the museums and galleries. Otherwise spend the night at French Camp, where you can explore the history of the old French pioneer settlement.
From French Camp, you could feasibly go all the way to Nashville in one day (the drive is five hours, but it might be worth breaking up the journey with one more night stop at a place of your choosing.
Places to stop at between French Camp and Nashville are: Jeff Busby Park for hiking and fabulous views; Chicasaw Village and Bynum Mounds to learn about the history of the Chickasaw people; Tupelo, which is Elvis Presley's birthplace and also home to the useful Natchez Trace Parkway Visitor's Centre; the Pharr Mounds indigenous burial sites; Tishomingo State Park; Bear Creek Mound, an ancient indigenous ceremonial site; the Merriwethew Lewis Site where the famous explorer died; and Franklin, a charming creative enclave. I'd recommend staying the night in the state park, especially if you're camping.
Finally, the trip ends at Nashville, the famed city of music where you can hear live acts the whole day long. From here, you could also extend the trip to Memphis, which is just three hours away – be sure to stop at the Jack Daniel's Distillery along the way!
Where to stay
12. Mississippi Great River Road
Minneapolis – Potosi – LeClaire – Hannibal – St.Louis – Memphis – Natchez – New Orleans
Follow the Mississippi River from Minnesota down to Louisiana, getting the know middle America and the history of the great river.
Highlights
Start in friendly Minneapolis before heading south to Potosi on the corner of Iowa, Illinois and Wisconsin, and where you can take a tour of the National Brewery Museum.
Next is Le Claire, Iowa where you can take a boat trip on the river and visit the famous Buffalo Bill Museum.
Hannibal is your next stop where you can visit Mark Twain's hometown, and then head on to St.Louis, home to the famous gateway arch and plenty of museums and galleries.
Then it's on to Memphis, home of the Blues and where you can visit Graceland. From here, you could ether head straight to Nathcez or head to Nashville and then follow the Natchez Trace Parkway road trip detailed above.
And for your final stop, it's New Orleans, one of the USA's most exciting and creative cities. You could easily spend weeks there.
Where to stay
13. Coastal New England: Massachusetts to Maine
Cape Cod – Boston – Portland Maine – Acadia National Park
Enjoy a one-week summer road trip from Massachusetts to Maine or New England fall foliage tour in the latter half of October.
By Jenifer Byington at The Evolista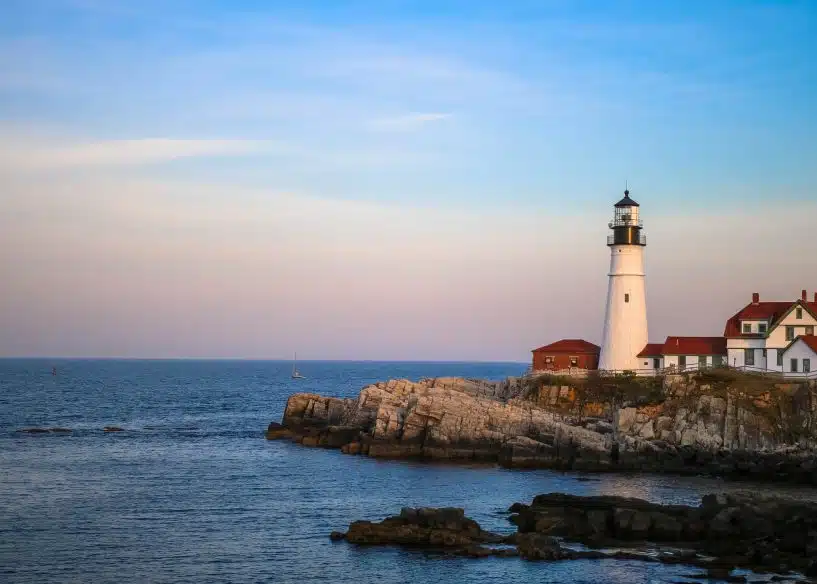 Highlights
When to go
Summer or October for fall foliage
At less than 550km, this trip is more about activity and less drive time. Start with two days in Falmouth Cape Cod. Shop the picturesque village, ride bikes along the Shining Sea Bikeway, enjoy a free summer concert and dinner at Añejo Mexican Bistro. Weather permitting, take a ferry trip for a delightful day on Martha's Vineyard stopping at Vineyard Haven, Oak Bluffs and Edgartown.
Next up, two days of fun in Boston staying at the Godfrey Hotel. A self guided Freedom Trail tour takes you to many historic sites including Boston Common, the USS Constitution, the dining hall at Quincy Market in Faneuil Hall and the Old North Church. Check out the Harvard campus in Cambridge and a Red Sox game at Fenway Park.
One day in Portland, Maine is best started on beautiful Casco Bay with a Lucky Catch Cruise to learn about lobstering. You'll have a memorable time, seeing four lighthouses, including the famous Portland Head Light. Allagash Brewing is a "must visit" for the local beer and the on-site food truck – Bite Into Maine has been touted as the best lobster roll in Maine.
For your two-day visit to Acadia National park, base yourself in Bar Harbor at The Inn on Mount Desert. Get an early start as you watch the sunrise over Cadillac Mountain and take in the incredible views of the out islands. A trip highlight is rock climbing in Acadia, whether you're a beginner or advanced. For a delicious lunch with a view, don't miss the popovers at Jordan Pond restaurant. Spend the rest of your time coastal kayaking or hiking trails in Acadia. This is a must US trip and one that you could extend by starting in New York and taking in some of Connecticut en route.
Where to stay
14. Outer Banks National Scenic Byway
Corolla – Nags Head – Hatteras – Ocracoke – Beaufort
See some of the most beautiful North Carolina lighthouses and beaches, while enjoying one of America's most scenic routes, the Outer Banks' National Scenic Bypass.
By Annick Lenoir-Peek at The Common Traveler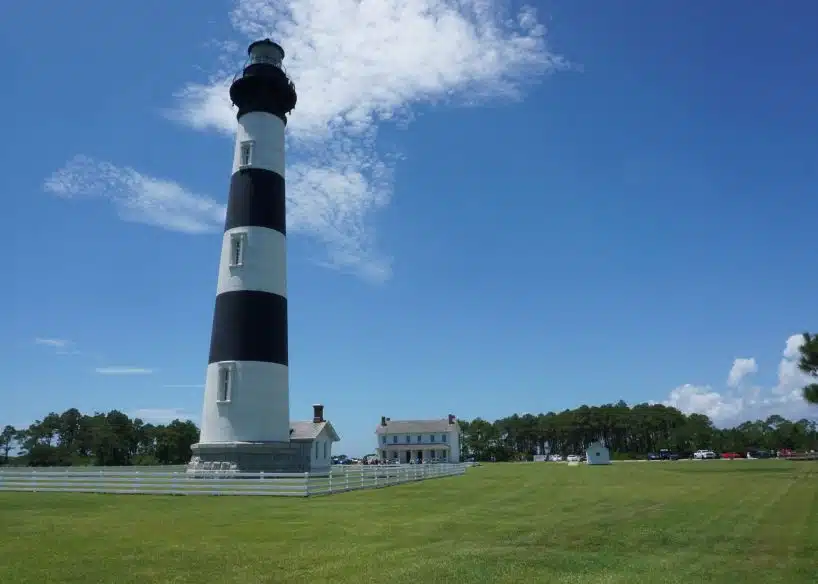 Highlights
When to go
March-May / Sept-Nov
Start in Corolla, the official starting point of the Outer Banks National Scenic Bypass. Spend the night so that you can take an early morning tour to see the island's wild horses. Climb the Currituck Beach Lighthouse, and then move on to Nags Head.
On your way to Nags Head, stop in Kill Devil Hills and see the birth of aviation where the brothers' first took flight. Pick up a picnic lunch to enjoy at Bodie Island Lighthouse. Then enjoy a leisurely drive through some picturesque fishing villages on your way to the next town.
Next up is Hatteras, home to the tallest lighthouse in the Americas. Don't miss an opportunity to have dinner at Hatteras Sol Waterside Grill.
Spend some time on Ocracoke. Explore the island by bicycle or foot. Enjoy the island's laid back style before moving on to the tail end of the road.
The remainder of the trip involves a ferry ride out to Cape Lookout. This lighthouse's location on its own island with beautiful beaches makes a great day trip. The end of the road leads visitors to the beginning of North Carolina's Crystal Coast – a road trip for another day.
Where to stay
15. I-81 Virginia – Blue Ridge Parkway and Skyline Drive
Bristol – Floyd – Blue Ridge Parkway – Staunton – Shenandoah National Park Skyline Drive – Harrisonburg – Luray – Winchester
Explore a vast range of landscapes, visit the birthplace of country music, admire the views of what's dubbed one of the top scenic drives in the USA, and more on this epic I-81 road trip in Virginia.
By Lindsay Davies at I've Been Bit! Travel Blog
Highlights
When to go
June-October (October for fall colours)
Start in Bristol, the birthplace of country music, as you stand in two states at once before taking off north along the I-81.
Both Abingdon and Wytheville are worth spending time in as they have a wonderful balance of history, culture and incredible eats. Whatever you do, make sure you make a detour to Floyd Virginia for their famous Friday Night Jamboree.
Afterwards, continue the I-81 detour to enjoy the incredible views you'll find along the Blue Ridge Parkway. There's a reason it's named one of the top scenic drives in the USA.
Breeze on by Roanoke and stop by Natural Bridge while en route to Staunton and see what Thomas Jefferson called the "most sublime of nature's works." Upon arriving in Staunton, enjoy this eclectic city as you won't find architectural styles inspired by various countries around the world side by side anywhere else.
Then, it's off to tackle the Skyline Drive through Shenandoah National Park. You don't need to hike in order to enjoy its natural beauty as there are lookouts everywhere along the road.
Rest your head in Harrisonburg before heading to Luray where you'll find the largest caverns in the eastern United States. Don't forget to enjoy the tunes from world's largest musical instrument – the Great Stalacpipe Organ!
Finish your trip with a visit to Winchester where you'll find just one of two pedestrian malls left in the state. It's the perfect spot to grab a final bite to celebrate that you've travelled the entire state of Virginia from the southern border to the north.
Where to stay
16. San Francisco to Seattle
San Francisco – Mendocino – Crater Lake – Bend – Eugene – Cannon Beach – Portland – Seattle
Take in the wonders of northern California and Oregon on this San Francisco to Seattle drive.
By Margie dQ at DQ Family Travel
Highlights
Start in San Francisco, where you can walk the Golden Gate bridge, visit Alcatraz and enjoy the various cuisine options in the city. If you have more time, you could also do some of these day trips from San Francisco.
Then head north to Mendocino. Here enjoy the coastal charm of this small town filled with many hiking, biking and kayaking opportunities.
Then, head to Crater Lake national park to take a hike or simply admire the deep blue water. Afterwards, head to Oregon's high desert and enjoy the many outdoor opportunities and food/beer scene in Bend.
Next, head back to the coast towards Florence to ride the sand dunes and drive the Oregon coast finishing up in Cannon Beach.
Take a drive to explore the city and many things to do in Portland and then finish the Pacific Northwest road trip in Seattle, where you can walk through Pike Place Market and see the space needle.
Where to stay
17. Road to Hana, Maui, Hawaii
Olowalu – Haleakala National Park – Kula – Ho'okipa Lookout – Ku'au
Explore Croatia's incredible Dalmatian Coast on this trip from Dubrovnik to Zadar. Be amazed by the stunning coastline and visits to Venetian inspired cities and towns along the way.
By Anne Steinbach at Travellers Archive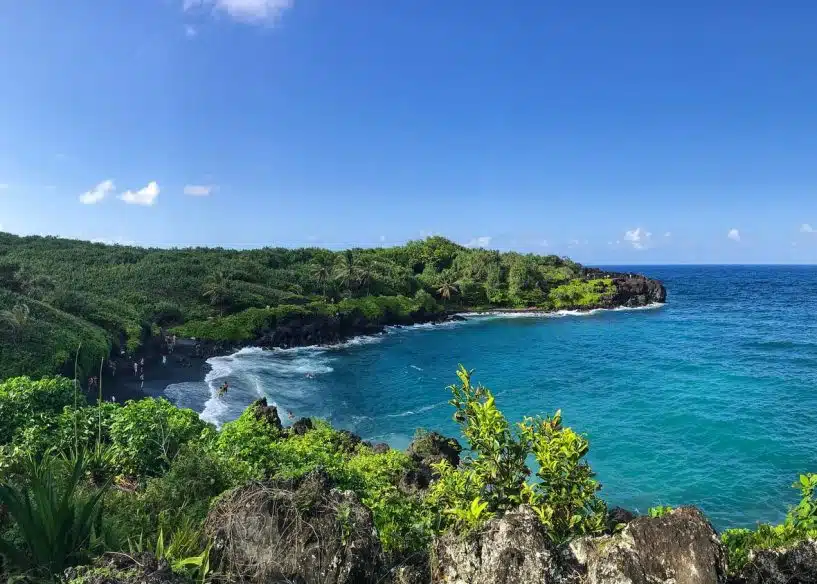 Highlights
When to go
Spring – Summer
One of the most impressive road on the Hawaiian island Maui is definitely the Hana Road. It is one of the top three sights on a Maui vacation. The route leads from the main town of Kahului along the north coast over 103 kilometers to the small town of Hana.
Officially called Hawaii State Route 36 and 360, you pass 54 bridges, almost 600 hairpin bends on the two-lane country road and pass numerous natural highlights, which has rightly earned the Road to Hana the title of one of the most beautiful panoramic roads in the world.
Once on the road, make sure to plan in some beautiful stops along the way such as the Twin Falls, the Kaumahina State Wayside Park, which is perfect for a picnic, and the Ke'aenae Arboretum, which is a beautiful garden showcasing the nature surrounding you.
Aside from that, the Road to Hana is just stunning – you'll never get sick of the endless lush green landscape around you, the winding street and of course the numerous bridges that are somewhat perfectly carved into the nature.
18. Yellowstone, Grand Tetons and Rocky Mountains
Yellowstone – Grand Tetons – Rocky Mountain National Park Adventure
Explore some of the most popular national parks in the United States on this 2 week epic journey amidst the Rockies, seeing lots of wildlife, scenery, geological features, and fun touristy towns.
By Stephanie at Explore More Clean Less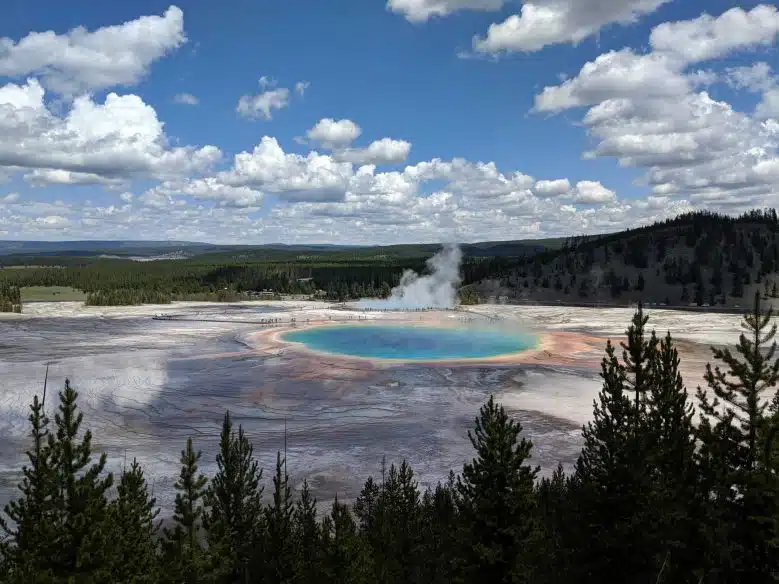 Highlights
When to go
July-August (or September to avoid huge crowds, but risk bad weather)
Start from the north, cruising down the famous Beartooth highway into Yellowstone National Park and visiting the can't-miss Grand Prismatic Spring, Old Faithful, and wander around looking for bears, moose, and wolves.
Head south into Grand Tetons National Park to see more moose, historic barns, and boat across the lake for beautiful views and an easy hike up to Inspiration Point while enjoying the charms of Jackson Hole at night.
Head Southeast into touristy Estes Park with friendly elk everywhere and then head into Rocky Mountain National Park for longer hikes, bighorn sheep spotting, and more breathtaking scenery. Don't miss driving the Trail Ridge Road up above the tree line and keep your eyes peeled for pika, unique little furry creatures that live in the alpine terrain.
Where to stay
19. Texas Hill Country Enchanted Loop
San Antonio – Boerne – Fredericksburg – Bandera – Luckenbach – Johnson City – Dripping Springs – Austin – San Marcos – Wimberley – Gruene – New Braunfels
Experience the beauty of Texas Hill Country, where charming small towns connected the three big cities in the region on this one-week enchanted road trip.
By Umiko Buhl at Two Worlds Treasures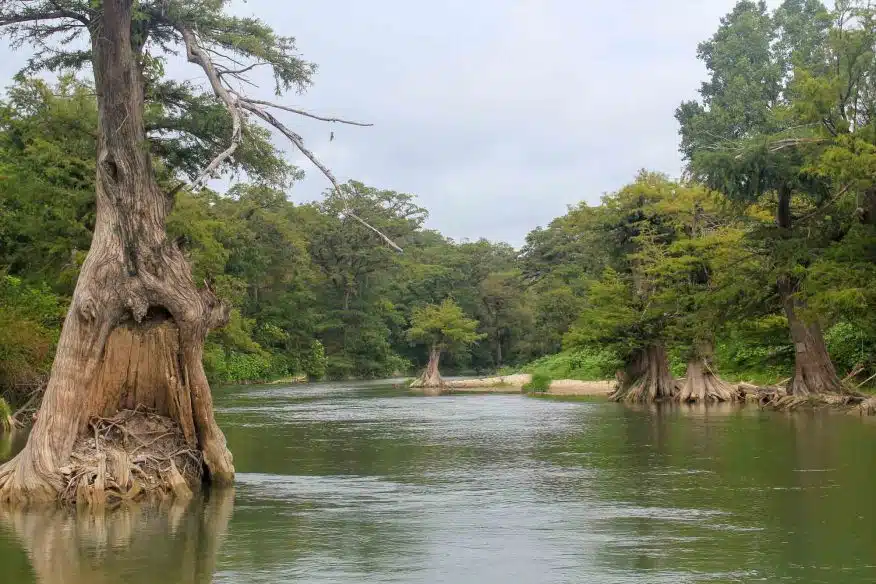 Highlights
When to go
Summer or Autumn
Start from San Antonio, the second biggest city in the region. Rent a bike and tour the San Antonio Missions, the first World Heritage Site in Texas. After enjoying lunch at the River Walk, take the river cruise and end the day by exploring the Alamo. (Also see this guide to free things to do in San Antonio.)
Next morning, drive to Fredericksburg, the third biggest city. Go underworld in Boerne to enjoy the Hill Country's gem, a Cave Without A Name. Indulge in German food in downtown and explore this quaint little town before you climb into your bed in Fredericksburg.
Fredericksburg will be your base for the next two days. Embrace yourself in this rich German heritage town. Stroll downtown; hike the Enchanted Rock; hop on the 290 Wine Shuttle; and visit the National Museum of the Pacific War. Take a day trip to Bandera and become a cowboy at a dude ranch. Don't forget tubing in the Pedernales or Guadalupe.
On the way to Austin, stop at Luckenbach and visit the Texas White House at Lyndon B. Johnson National Historical Park. Then cool off in the Hamilton Pool Preserve in Dripping Springs before you spend the next two nights in Austin. When in Austin, swim at Barton Springs, find street art, indulge in BBQ, visit the Capitol, and watch the bats emerge from Congress Avenue Bridge, just like the locals do. Austin is the first biggest city in the region and is also the capital of Texas.
On your way back to San Antonio, make several stops at these unique small towns: Wimberley, San Marcos, Gruene, and New Braunfels. Then end your road trip by learning more about Mexican heritage in San Antonio.
Where to stay
20. Get your kicks on Route 66
Chicago – St. Louis – Catoosa – Tulsa – Oklahoma City – Amarillo – Santa Fe – Flagstaff – Santa Monica
One of the USA's most iconic road trips – get your kicks on Route 66, the classic American road.
By Stephanie Craig at Oklahoma Wonders
Highlights
When to go
May and September when the route is less crowded
See America's most famous road trip route from Midwestern parries through the deserts of the Southwest and all the way to the Calfornia coast.
Start in Chicago, the first of the major cities on Route 66, at the official Route 66 "Begin" sign. Your voyage down the Mother Road begins in the capital of America's Midwest.
Depending how long you have, you can immerse yourself in every roadside attraction and kitschy diner, or you can continue on and head to St. Louis for a stop at the Gateway Arch. Kansas's stretch of the Mother Road is short, but sweet.
Next is Oklahoma, where you'll find the famous Catoosa Whale, the Arcadia Round Barn, and the Gold Dome. Don't skip a night in Oklahoma City, enjoying the nightlife in Bricktown before snapping a pic of the Milk Bottle Building in the morning.
When you've left Oklahoma, you'll find Amarillo's Cadillac Ranch a delight. New Mexico and Arizona are bursting with natural beauty and fun stops like the Twin Arrows. If you've never been to the Grand Canyon, take a day to visit it as it's close enough to Route 66 for a great day trip.
End your trip with a day at the Santa Monica pier. Find the official Route 66 'End' sign here and then head off for some fun in the sun.
Where to stay
21. Olympic Peninsula Loop
Olympia – Olympic National Park – Forks – Cape Flattery – Port Angeles
Driving the Olympic Peninsula Loop is the most beautiful stretch in Washington state, and one of the best road trips in the USA.
By Kay at The Awkward Traveller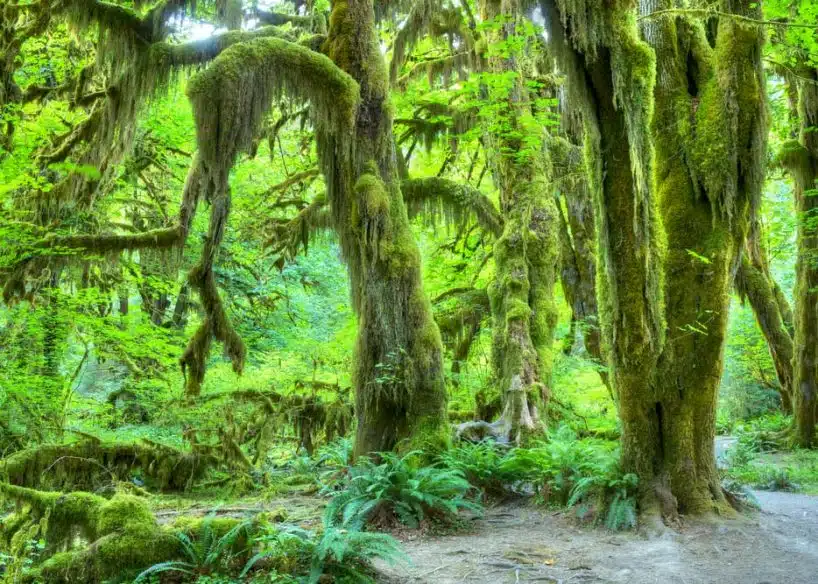 Highlights
The loop is only about an hour from Seattle, or 30 minutes from Tacoma, but either way you will start the drive from the city of Olympia, Washington. Pick up a sandwich (and milkshake!) for the road from the area's best drive-thru, Canna Cabana, then head west.
You will technically hit Olympia National Forest first, then the National Park, but wait to stop until you reach Forks, Washington. Spend the day recounting your favourite scenes from the hit movie franchise Twilight, including eating at The Lodge, aka Carver Café from the books. Then watch the sunset at La Push, where Jacob and the other werewolves reside – though in actuality is the ancestral land of The Quileute Native American Tribe. There aren't too many fancy hotels in Forks, but staying at the Miller Tree Inn B&B will give you a comfortable cozy experience.
In the morning, head into Olympia National Park. You can spend as many days as you want in the park, but if you only have one to spare, definitely check out Hoh Rain Forest, Madison Creek Falls, and Lake Crescent. Camping is a popular option for lodging (including campervans), but if you want a more solid lodging option, head to the city of Port Angeles for the night.
Port Angeles has a wide variety of restaurants that pride themselves on local and sustainable ingredients, as well as a range of craft breweries. Those are the main highlights of this beautiful road trip loop, but if you would like to extend your trip, you can cross the border into Canada via ferry from Port Angeles. Vancouver or Victoria, BC are just a few easy hours away.
Where to stay
22. Alaska Highlights
Anchorage – Talkeetna – Denali National Park – McCarthy – Valdez – Cordova – Seward
Explore the stunning scenery and natural wonders of Alaska on this epic road trip taking in the state's highlights.
Highlights
Start in Anchorage, Alaska's biggest city before heading up to cute Talkeetna, a laid-back base for those climbing Mount Denali. Consider taking a flight over Denali where you'll have the chance to land on a glacier.
Then head to Denali National Park where the towns of Healy, McKinley Park, and Cantwell are good bases with plenty of amenities. Spend some days exploring the park, including hiking, river rafting, kayaking and spotting wildlife. For many, this is the highlight of an Alaska trip. The Denali Highway is a particularly scenic drive but only open in summer.
From here, head to the village of McCarthy and the mining ruins at Kennecott before going to Valdez where you can take a glacier boat tour.
A fun detour is to go on the Alaska Marine Highway ferry to Cordova where you can explore the Prince William Sound's most pretty town and do some spectacular bird watching around the Copper River Delta.
From there, take a ferry to Whittier and drive to Seward via the scenic Turnagain Pass. While in Seward, visit Resurrection Bay and take a tour of Kenai Fjords National Park to see the sea lions, sea otters and whales.
Where to stay
Top tips for a road trip in America
For car rental for your American road trip, we recommend booking with Rentalcars.com. We find they always have the cheapest deals for mainstream retailers. Bear in mind that if you're picking up and dropping off the car in different locations, there may be a transfer fee, which is normally quoted separately to the rental price.
If you decide to book any AirBnB apartments, use this link, as it'll give you £25 off your first trip.
We often find great last-minute deals on Booking.com, getting a discount of up to 60%.
Have a look at our travel planning pages for lots of time and money saving travel tips.