The allure of southern USA has been calling me for years. I wanted to experience that famous Southern charm, the music, the moss-laden trees, the accent, the mountains, and all the colourful cities and quirks that make up the southern states.
It's a big area y'all, so coming up with a south US road trip itinerary was no mean feat. We found our priorities, including the Blue Ridge Parkway, New Orleans and Charleston and built it out from that. What we came up with was a fascinating trip through five states that far exceeded our Southern dreams.
So here's our south USA road trip itinerary, including all the details of what we did, where we stayed and where we ate – it's all you need to plan a perfect road trip in southern USA.
Also see our guide to the 22 best American road trips.
Some of the links in this post are affiliate links, meaning I get a small commission if you book them (at no extra cost to you). It's one of the ways I keep this website going. I have marked affiliate links with an asterix *. Read more about my affiliate policy here.
Southern USA road trip at a glance
Days 1-2: Atlanta
Days 2-4: Blue Ridge / Smoky Mountains
Day 4: Blue Ridge Parkway
Days 4-7: Asheville
Days 7-10: Charleston
Days 10-13: Savannah
(Days 13-14: Tallahassee or Montgomery)
(Days 14-15: Mobile)
Days 15-20: New Orleans
(Days 20-21: Jackson)
(Days 21-23: Memphis)
(Days 23-26: Nashville)
We went to all the places that aren't in brackets. However, If you have time, you could also add the places in brackets, heading to Montgomery or Talahassee and/or Mobile (rather than flying between Savannah and New Orleans). And following New Orleans, you could add Jackson, Memphis and Nashville (or follow the Natchez Trace Parkway straight to Nashville). This would make it the ultimate south USA road trip!
USA Southeast Road Trip Map
Where is southern USA?
First of all, it's not easy to define 'southern USA' as although it can include everything south of the Mason-Dixie line and as far west as Louisiana and Arkansas, most definitions hone in on the central states, leaving out the states north of Tennessee and North Carolina, and also sometimes Florida. For the sake of this south USA itinerary, we're focusing on the Carolinas, Georgia and Louisiana, with the option of adding stops in Tennessee, the Florida panhandle, Alabama and Mississippi for an in-depth deep south road trip itinerary.
Our priorities and how we planned our road trip in southern USA
Planning a three-week Southern USA road trip was a daunting task – there's so much to try and fit in and so many options to choose from.
For us, we were somewhat limited by time and traveling with an almost-two-year-old. We didn't want to do too many long journeys, plus we also favour a slower mode of travel, ideally spending at least 2-3 nights in any one place.
You could do the same itinerary in a shorter (or longer) amount of time, or pick and choose from the destinations to craft your ideal southeast road trip itinerary.
As with all the itineraries on Bridges and Balloons, we have a special focus on creating handpicked itineraries that are filled with special places to stay and things to experience – think beautiful design, plenty of character and amazing locations – plus heaps of cake, independent bookshop, farmers markets and parks. We like to do a local style of travel, so don't always hit all the "must sees", preferring to soak up the atmosphere and experience local life. Read more about our style here.
I'll also be writing detailed blog posts for each destination with extra tips and advice.
How we got around on our Southern USA road trip
We hired a car all the way from Atlanta to Savannah, and then flew from Savannah to New Orleans (although you could drive between the two if you have the extra time).
As always, we used rentalcars.com* as that's where we've always found the best deals. Rentalcars.com* is a booking agent for many car hire companies, and the best deal they found for us was with Alamo. We opted for a Dodge Grand Caravan (same as we had in California), which is an SUV-style car that allowed plenty of room for Otis' stuff.
If you don't want to drive, you could take buses instead, although of course that gives you less flexibility about where you stop. Public transport isn't great in the States and distances between places are large, so hiring a car is definitely helpful for a road trip in the south.
I've included the driving times in the section for each destination below.
Find the best deals on car hire
We recommend Rentalscars.com for booking your rental car. They search over 900 companies, and if you find a cheaper deal anywhere else, they promise to beat it. We use them every time.
Weather and what to pack for a road trip in the south in November
Although the south has a reputation for being hot, we were there in November and the temperatures were pretty chilly. We had a few warm days at around 23 Celsius, but mostly it hovered around 15, sometimes going down to 8. We needed the heating on in all the places we stayed, even in New Orleans. That said, the temperature in November varies a lot, so I'd pack layers and keep an eye on the weather forecast. The sun makes a big difference, and we had quite a few days where we'd be wearing t-shirts in the sun in the mornings and then wearing a scarf in the afternoon in the shade.
Our South USA road trip budget
When we travel, we tend to mix budget and high-end options – for example, staying in a
simple hotel some nights and then splashing out on a luxury option here and there. We take the same approach with food. And we're also big fans of the sharing economy, so do home exchanges when we can.
On this particular trip, we did home exchanges in the Smoky Mountains and New Orleans, but the rest was Airbnb, plus a couple of hotels. The home exchanges helped keep our costs down, but in the budget, I'm including the prices of equivalent Airbnbs, so you know what to expect.
Do remember that the USA doesn't include sales tax in its prices, so you have to account for that when looking at costs, plus you're expected to tip around 20% on food and drinks orders.
Accommodation: $75 – $220 per night for two people (total of $2,080 for 17 nights)
The accommodation cost of $2,080 for the whole tip includes three nights in hotels and the rest is Airbnb. If you're new to Airbnb, use this link* to get £25 off your first booking).
Car hire: $470 (plus $83 for a car seat)
This was for 13 days, including the transfer fee for picking it up and dropping it off in different locations. We went for an intermediate sized car, so it would be cheaper if you chose compact or small. We used Rentalcars.com *to book our car.
Fuel: $237
Food and drinks: $50-$100 per day (for two adults and one child)
This varies a lot as it depends on how much self-catering you do, plus the type of restaurant you go to. For example, the most expensive meal we had was lunch at Basic Kitchen in Charleston, which cost $70 for the three of us, whereas our lunch at Mercier Orchards near Blue Ridge was $25. Portion sizes are huge in the USA, so you can often get away with just sharing one dish between two. We saved a lot of money by often self-catering. And we also didn't drink on this trip (I was pregnant and Steve was recovering from glandular fever). You could easily add an extra $50 per day if you added alcohol into the equation.
As a quick quide, a coffee costs around $2.50 including a tip; a fancy donut is $4; and a brunch for two in a mid-range cafe/restaurant, including coffee is $30.
Tours and entrance prices: $472 for two people
We visited very relatively few paid attractions on this trip, so this cost is quite low. Instead we mostly stuck to free attractions and simply exploring a town on foot. This cost would quickly go up if you wanted to visit more attractions. The fees we did pay, per person, were: Blue Ridge Scenic Railway ($45); Asheville Pinball Museum ($15); Charleston carriage ride ($28); Magnolia Plantation ($28); Charleston Children's Museum ($12); Savannah Trolley Tour ($34); Wormsloe Plantation ($10); Mardi Gras World ($22); New Orleans Botanical Garden ($8); Storyland ($5).
Disclosure
This was not a paid, sponsored trip, but we did receive a few discounted/complimentary stays because we are bloggers. We received discounts for the Airbnbs in Asheville and Charleston, and the Sonder apartment in Savannah. And our stay at the Catahoula Hotel in New Orleans was complimentary. We were also given media passes for Charleston, Savannah and New Orleans, meaning we received complimentary entry to: Charleston Children's Museum; Palmetto Carriage ride; Savannah Trolley Tour; Wormsloe Plantation; Magnolia Plantation; and Mardi Gras World.
Road Trip Southern USA: Our Itinerary
Atlanta
Days 1-2
The centre of countless African American political and cultural movements, and considered the South's unofficial capital, Atlanta is an exciting, diverse city where you can spend days exploring its history, cuisine and getting to know its people.
What to do in Atlanta
Accommodation in Atlanta
Where to eat and drink in Atlanta
Atlanta has a wealth of great food, including Southern classics and worldwide cuisine. Here are a few recommendations.
Getting to and around Atlanta
We drove everywhere we needed to go in Atlanta, or walked around downtown from our hotel. However, if you don't have a car, you can get around using the bus, railway or tram. You can use the Marta website to plan your journey on the bus, tram or streetcar.
The drive from the airport to downtown Atlanta took about 15 minutes.
Blue Ridge / Smoky Mountains
Days 2-4
There's something magical simply in the name, the great smokies, and the reality lives up the enchantment. Cloaked in a perpetual blue haze, the Great Smoky Mountains National Mark, along the Tennessee-North Carolina border, is part of the southern Appalachians, and the USA's most visited national park. We stayed an hour outside the park in Murphy, near to Blue Ridge. This is a good jumping off point for exploring both the Smokies and the Chattahoochee National Forest.
Things to do in the Smoky Mountains
Accommodation in the Smoky Mountains
We stayed in the cutest cabin, The Hemlock House*, near Murphy, North Carolina. It's everything that cabin dreams are made of, surrounded by forest, and with the cosiest interiors you could wish for. It's stylishly done, with a mix of modern and vintage touches, twinkly lights and a fire for snuggling in front of by nightfall.
From the front, the cabin looks tiny, but it actually has three floors and includes two bedrooms, a kitchen/lounge area, a full bathroom, a shower room, and a laundry cupboard (with washer and dryer). A s'mores kit is also provided for use on the outdoor fire pit. And there are kids toys as well, which was a bonus for Otis.
The owners also have a second cabin, The Holler House*, which is perhaps even cuter, albeit more tiny. In fact, it's a proper tiny house of the Tiny House Movement. The one-room cabin is an Instagram dream and includes lots of classic cabin touches, including hammocks, a yoga deck, outdoor shower, firepit and woodburner. We chose the Hemlock House because it had more space, but for aesthetics, at a push, I'd go for the Holler House (although the Hemlock House is also A+ for aesthetics.
The Hemlock House starts at $110 per night. Book Hemlock House here*.
And the Holler House starts at $125 per night. Book the Holler House here*.
Where to eat and drink in the Smoky Mountains
If staying in a cabin, I think the best option is to take advantage of your setting and self-cater amid the cosines. That's what we did.
Getting to and around the Smoky Mountains
The drive from Atlanta to Murphy took just over two hours. Although there are a few bus services, you would struggle in this area without a car as the buses are few and far between. If you're carless, it might be better to stay in Gaitlinburg where there is more public transport, including to the Smoky Mountain National Park.
Blue Ridge Parkway
Day 4
One of the main reasons we did this trip was to drive the Blue Ridge Parkway in autumn and see all the seasonal leaves. It was a gamble as you can't bank on nature and all the variables that go into when the leaves will change – a storm could blow them off, hot weather can cause delays or cold the opposite – you just have to hope for the best. In that respect, we were lucky: we just missed "peak colour" but it still had the wow factor we'd been hoping for. Moreover, we drove on a clear and sunny day, so the views were wide and awesome.
That said, I think the Blue Ridge Parkway is likely worth driving at any time of year as the road and views are stunning. The whole thing is 469 miles long, starting at Shenandoah National Park and ending at the Great Smoky Mountains National Park. The speed limit is 45mph, so it would take about 15 hours to drive the whole thing. We just did one section from Balsam to Asheville, but one day I'd love to do it all.
There are lots of viewpoints along the way (we stopped at pretty much every one we passed!) and there are also plenty of hikes to choose from. We did a short one called the Graveyard Fields Loop Trail, which was easy to do with Otis and included a beautiful waterfall.
This website has a really useful route planner with details of where to stay and things to along the whole length of the Blue Ridge Parkway.
Where to stay on the Blue Ridge Parkway
We stayed in Asheville, which I cover in the next section, but there are lots more options if you want to drive more of the parkway. The route planner I shared above has lots of options.
Where to eat on the Blue Ridge Parkway
There aren't many places to eat on the parkway itself, so you may need to bring a pack lunch to enjoy at a picnic spot, or else you can leave the parkway to eat. This map lists all the different options on or near the parkway. There were no options for us between Balsam and Asheville (the Pisgah Inn was closed), so we ate just before we got on at Balsam (at Burger King of all places because we wanted to try the Impossible Whopper, which I can now confirm tastes just as I remember a real Whopper did).
Getting to and around the Blue Ridge Parkway
It took us about three hours to drive from Balsam to Asheville along the parkway, which included all the stops at the viewpoints. We were at Graveyard Falls for another hour or so, so in total our whole time on the parkway was about 4-5 hours. It also took about 1.5 hours to drive from our cabin near Murphy to Balsam.
Asheville
Days 4-7
Asheville was a dream for us – a liberally minded mountain town filled with art, creativity, great food, and surrounded by stunning nature. It's just off the Blue Ridge Parkway, so an ideal place to stay along the way. We loved every bit of it and here's a post with our 31 favourite things to do in Asheville.
Things to do in Asheville
Many people use Asheville as a base to explore the surrounding nature and multitude of different hikes and outdoor sports, but the city itself is also worth exploring. These were some of our favourite things to do in Asheville:
Accommodation in Asheville
We chose to stay in West Asheville, a residential area with a hip reputation. There are plenty of Airbnbs on offer and we chose this beautiful house*, just off the main West Asheville strip, Haywood Road. I'm obsessed by this American style of wooden houses with porches, and this one was extra special, complete with a day bed on the porch, perfect for lounging. The interiors of the house were also beautiful, filled with little creative touches, collected by the artist owners. It had three bedrooms, so had even more space than we needed, and we really appreciated the full kitchen and spacious living room. It was one of those Airbnbs where you really felt like you were getting a taste of what it'd be like to live there. I recommend it 100%. The house costs from $145 per night. Book your stay here*.
Where to eat and drink in Asheville
Asheville is filled with great places to eat and drink and is particularly famous for its craft beer scene. A few of our favourites were:
Getting to and around Asheville
We covered how we got to Asheville from the Smoky Mountains in the section above on the Blue Ridge Parkway. If we hadn't driven on the Blue Ridge Parkway, the journey from Murphy to Asheville would have only taken two hours. Once in Asheville, we drove most places, but also did one full day of walking from our place in West Asheville to downtown and back via the River Arts (the walk was about an hour each way).
Charleston
Days 7-10
Charleston is one of the most pristine cities I've ever visited, filled with row after row of colourful, perfectly kept houses. Add to that a hefty dose of Southern charm, horses and carriages roaming the streets, and a plethora of historic houses, and you feel like you've stepped back in time to the 18th Century.
Things to do in Charleston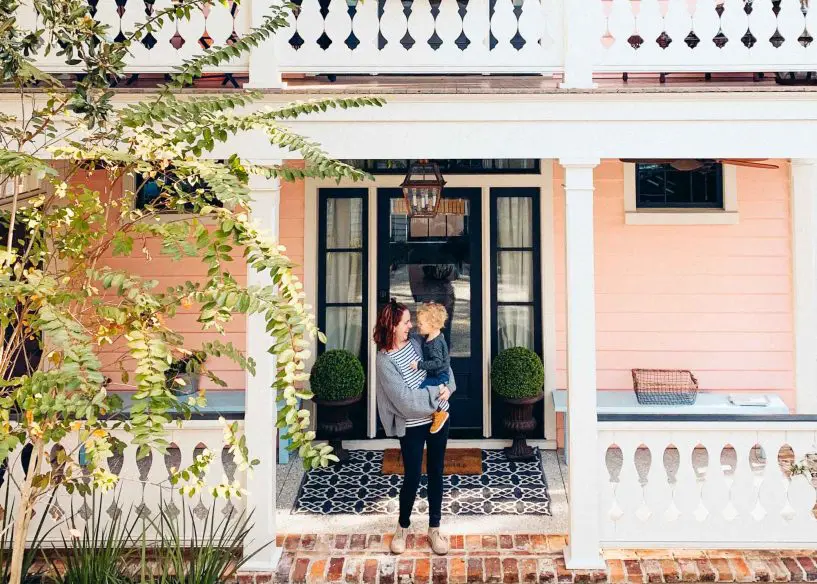 Accommodation in Charleston
Charleston has a plethora of beautiful homes to stay in, be they Airbnbs, hotels or guesthouses. We chose to stay in Airbnb/rental properties as we wanted a taste of local Charleston life. We stayed in two different properties and have also written a guide to the best Airbnbs in Charleston.
Where to eat and drink in Charleston
Getting to and around Charleston
The journey from Asheville to Charleston takes four hours. It's highway nearly the whole way, so not the most scenic drive (especially after having done the Blue Ridge Parkway).
Once in Charleston, there's a shuttle bus that can take you to most of the major sights, but we drove or walked most places. We never had an issue with finding a parking space (there's a large parking lot near the City Market). And we had parking spaces included at our accommodation. It was particularly handy having a car to drive out to the Magnolia Plantation.
Savannah
Days 10-13
Trees draped in hanging Spanish moss, an artsy population fuelled by one of the county's best art schools, picturesque squares, and a laid-back Southern charm are just some of the things that combine to make Savannah into arguably Georgia's most beautiful city.
Things to do in Savannah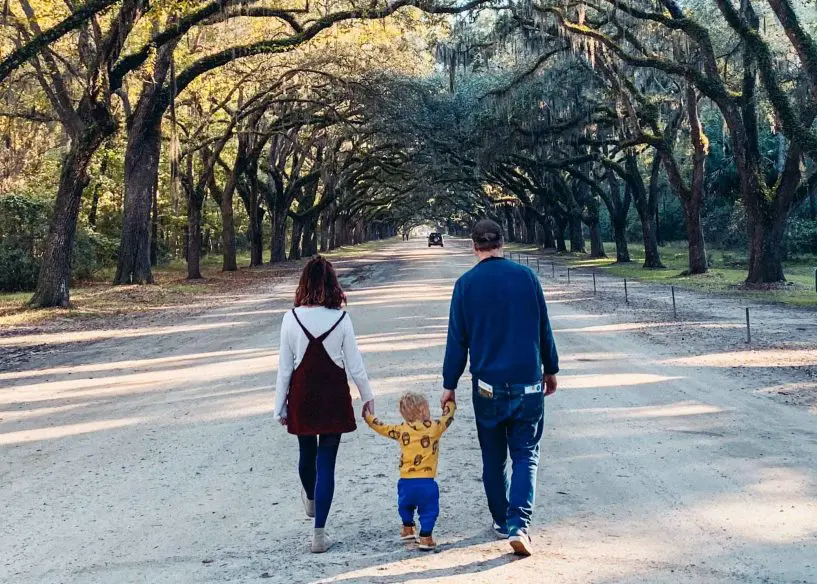 Accommodation in Savannah
We stayed at a Sonder apartment on Broughton Street. Sonder a in between a hip, boutique hotel and an apartment rental. You get all the comfort and convenience of an apartment (fully equipped kitchen, laundry, living space etc) but with the quality of a well designed hotel. It's a great concept and ideal for families who want a bit more space (we're quickly learning that sitting in the dark in a hotel room once Otis is asleep at 7pm is far from ideal!). Plus it's a good price, starting at $75 a night. Book your stay now.
Our only mistake was that we booked an apartment where the bedroom was on the corner of a busy street. This would be fine if it was just me and Steve as we could wear ear plugs, but the noise did wake Otis up. If you're booking this particular building in Savannah (East Broughton Street), I'd recommend booking an apartment where the bedroom is set back from the street (there are plenty available).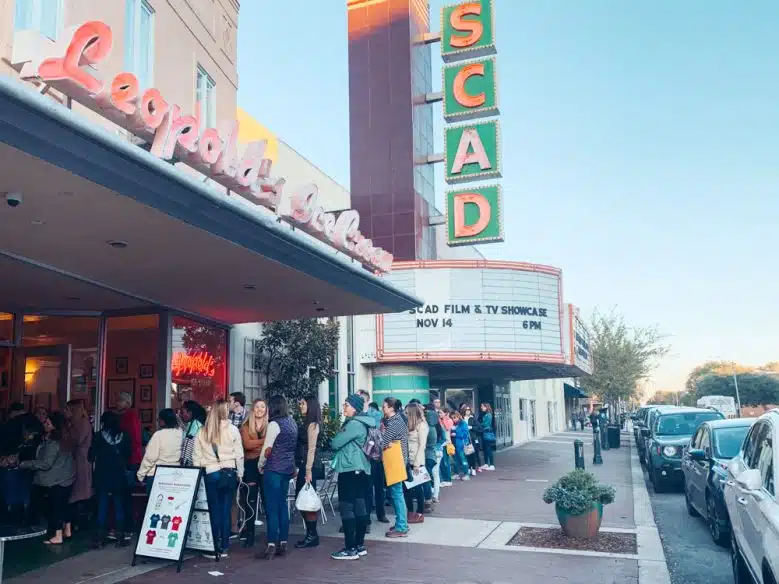 Where to eat and drink in Savannah
Getting to and around Savannah
The journey from Charleston to Savannah is about two hours.
Once in Savannah, you don't really need a car aside from to visit the plantations or sights outside of the city. We parked in one of the city parking garages near our place on East Broughton Street and only used the car to drive up to the Starland District (although we could have taken public transport there too) and to Wormsloe.
The rest of the time, we got around either on foot or on the trolley. I highly recommend the trolley as it goes to all the major sights, runs frequently (we never waited more than 15 mins) and it's nice to hear about some of the history and culture as you travel.
New Orleans
Days 13-18
Oh, New Orleans! I kind of knew I'd love it before I got there and the reality lived up to the hype. We were there for five nights, which allowed us to explore lots of different areas and really soak up the city's vibe. It's one of the most creative places I've been to and you can feel that on every street.
Things to do in New Orleans
Accommodation in New Orleans
We had two nights in the Catahoula Hotel*, a hip boutique hotel with minimalist, industrial-style rooms and a beautiful modern vintage Pisco bar, which also serves delicious plant-based, south-east asian food. It's a bar as much as a hotel and has a buzz by night. The patio and roof deck is particularly striking with a three-storey mural and pretty festoon lighting. The hotel is ideally suited to a hip, young crowd, and the premier rooms have plenty of space if you're travelling with a baby/toddler. That said, nowadays, with Otis, I prefer an apartment to a hotel room, so I'd also recommend checking out the Catahoula Hotel's apartments. The hotel is situated in the Central Business District of New Orleans, which isn't the most characterful spot in the city, but does have lots of good cafes, plus it's in walking distance of both the French Quarter (10 mins) and the Garden District (15 mins). Rooms start at $80 per night. Book your stay here now*.
For the remainder of our time in New Orleans, we did a home exchange in Mid City, right next to City Park. We stayed in a gorgeous Arts and Crafts house in a residential area, which was a fantastic taste of local life. Being next to City Park, it was a very family-friendly area and also close to the Canal Streetcar (just 15 mins to the French Quarter). It was a peaceful place to stay, so a good option for families. The Home Exchange we did isn't on Airbnb, but there are plenty of other rentals available in the area.
If we hadn't done a home exchange, I would have also looked at options in the Garden District, Marigny and Bywater.
Where to eat and drink in New Orleans
Getting to and around New Orleans
We flew to New Orleans from Savannah as we were short on time (the drive is 9.5 hours, so you'd need to break it up along the way. If we'd had more time, we'd have stopped at Talahassee or Montgomery, and perhaps Mobile too. I've written a little about them below.
We didn't hire a car in New Orleans, and mostly got around on foot, cable car and bus, with the odd Uber when we were short on time. We walked as much as we could as that's the best way to really soak in the character of the city. Buses and cable cars are reasonably priced ($1.25 per journey or $3 for a day ticket) and easy to navigate using Google maps.
How to extend this road trip
As outlined in the itinerary and map at the top of the post, I've offered some suggestions for how to extend this southern US road trip, including stops on Tallahassee, Montgomery, Mobile, Jackson, Memphis and Nashville. As we didn't go to see these places, I've linked to blog posts/articles that could be useful for planning a trip there.
Useful travel resources for a southern USA road trip
For car rentals, we recommend booking with Rentalcars.com*. We've always found them to have the cheapest deals for mainstream retailers.
If you decide to book any AirBnB apartments, use this link*, as it'll give you £25 off your first trip.
We found great last-minute deals on Booking.com*, getting a discount of up to 60%.
Don't forget your travel insurance! We recommend World Nomads* or True Traveller* who both offer reliable, comprehensive cover, including medical, evacuation, baggage and a range of adventure sports and activities*. You can buy both True Traveller and World Nomads insurance even when you've left home, which is unusual for travel insurance companies.
If you're planning a trip to the southern US or anywhere in the world, be sure to check out our travel planning pages* for all our best travel tips, including how to save money with the best cards, what to bring, and all our favourite tools and tricks.