Santa Barbara is nicknamed the American Riviera, and oh my is it gorgeous. Apparently Oprah has a house there, and also Rob Lowe, Tom Cruise, Whoopi Goldberg, Ellen DeGeneres, and the list goes on. To be honest, this made me a little wary of it – I thought it might be a little too polished for my liking, but I actually found it charming. And it's obvious why the celebrities like it: the whole place is stunning.
While some of the restaurants and shops might be a little too fancy for most of us, there are plenty of affordable things to do in Santa Barbara, and the beauty of the city is something that can be enjoyed by everyone. From the Spanish-Moorish architecture to the dreamy beaches and surrounding wine regions, Santa Barbara is ideal for a weekend getaway or year-round sunny vacation. And there are plenty of options for everyone and every budget when creating a Santa Barbara itinerary.
We went as part of our California road trip, sandwiched in-between visits to Paso Robles and Topanga. Here's a round-up of the best of what to do in Santa Barbara for a relaxing weekend getaway.
Some of the links in this post are affiliate links, meaning I get a small commission if you book them (at no extra cost to you). It's one of the ways I keep this website going. I have marked affiliate links with an asterix *. Read more about my affiliate policy here.
Santa Barbara itinerary at a glance
Day 1: Downtown Santa Barbara, Mission, Wine Trail and Stearns Wharf
Day 2: Lotusland/Botanical Gardens, Montecito, shopping and galleries
Day 3: Nature day – pick your choice of beach and/or adventure activity
Where to stay: The Goodland*
Bridges and Balloons favourites
Funk Zone for great street art, wine bars and creative boutiques.
The Urban Wine Trail for a do-it-yourself tour of the region's best wines.
Sunset from Stearns Wharf
Chromatic Gate for that perfect Instagram shot.
Massage at Float Spa (plus some relaxation time in the garden)
Oliver's for one of the best veggie meals we had in California.
Handlebar Coffee Roasters for your hipster coffee shop fix.
A perfect three-day Santa Barbara itinerary
For a perfect Santa Barbara itinerary, I would recommend picking and choosing from the list below, so that you can create the ideal itinerary for your own specific interests. However, if you're looking for a quick shortcut, this is what I'd recommend for a three-day Santa Barbara itinerary. We did this trip as part of our one-month California road trip:
Day one
Explore the downtown area, taking in State Street, the Funk Zone, and the museums/monuments of your choice (for example, the Mission, the courthouse or MOXI). You could combine your explorations with the Urban Wine Trail, stopping for tastings along the way. End the day at Stearns Wharf for sunset, and then, for the night owls, head back to the Funk Zone for some late-night drinks at Municipal Winemakers.
Day two
Head to Lotusland or the botanical gardens in the morning and Montecito in the afternoon, combining it with lunch at Oliver's, our favourite Montecito restaurant. Depending on your tastes, do a spot of shopping or perhaps head to an art gallery or two later on. In the evening, head to the Lobero for a theatre show, or if you're staying at the Goodland, enjoy one of their evening socials.
Day three
Take advantage of Santa Barbara's beautiful nature and spend the day either relaxing or trying something adventurous. Options include: chilling on the beach, kayaking, surfing, SUP, hiking to Inspiration Point, or doing a whale watching tour. At the end of the day, top off your trip with a relaxing massage at Float Spa.
25 fun things to do in Santa Barbara
Hit the beach
Wedged between the mountains and the sea, Santa Barbara is a natural paradise and a trip to the beach is a must. Lined with palm trees and next to Stearns Wharf is West Beach, a laid-back spot, popular with volleyballers, and a hop-on point for sail boats and kayaks. Butterfly Beach in Montecito is a sheltered and pretty option away from the city centre crowds. And Leadbetter Beach is another popular place for kayaking, long boarding and stand-up paddleboarders.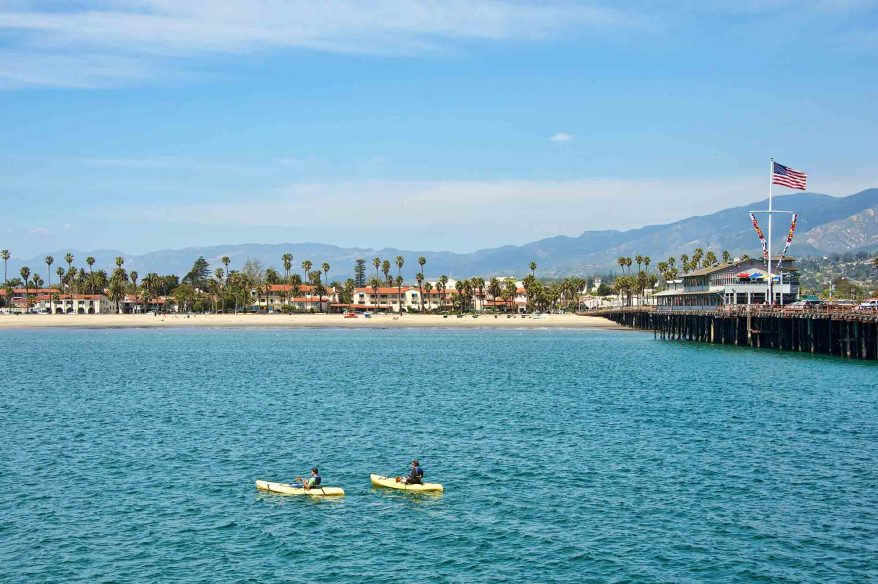 Go kayaking
Santa Barbara is a dream spot for kayaking, with scenic bays, beaches and the Channel Islands National Park. It's a tranquil way to experience the beauty of the coast and maybe even spot some whales! The remote North Country beaches are some of the best options for kayaking, or you could paddle in the area around Stearns Wharf. We didn't go tot the Channel Islands National Park, but it look gorgeous and is a known spot for some of the world's best coastal kayaking. There are some tours to choose from below.
Sunset from Stearns Wharf
Stearns Wharf is one of Santa Barbara's most iconic landmarks, and for us it was the perfect place for a sunset stroll. There are a few restaurants and cafes, which seemed quite touristy, but might be worth it for the views. They're mostly serving seafood.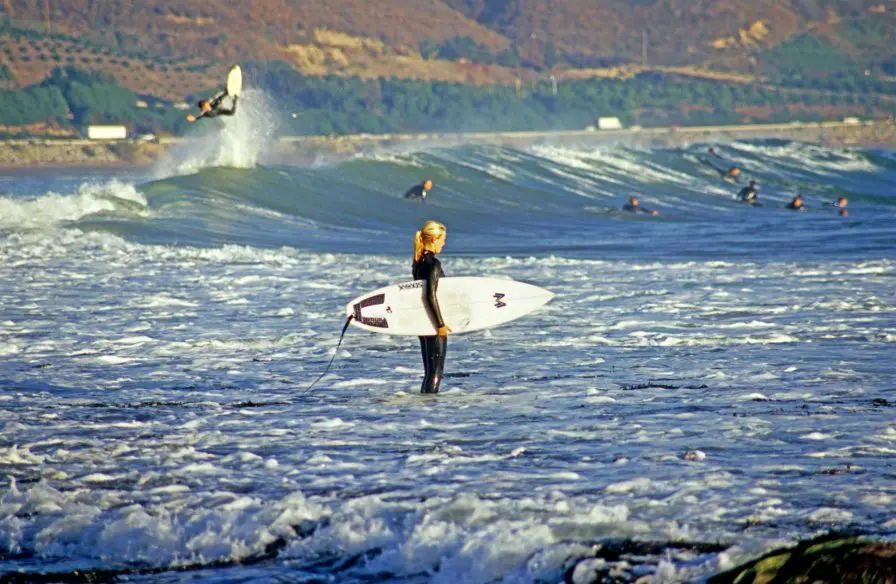 Soak up the California surf life
Santa Barbara has some of the best surf in California, suiting everyone from beginners up to pros. Gaviota and Jalama are the places to go for experienced surfers, but if you're just beginning, Refugio State Beach is a good option. And there are plenty of places offering surf lessons and board rentals. If you're in California and into surf, you might also like our post on the best things to do in Santa Cruz.

Try SUP
More my style is stand-up paddleboarding, or SUP. You might even have the company of dolphins!
Follow the Urban Wine Trail
One of our favourite experiences in Santa Barbara was an afternoon spent wandering the city, following the Urban Wine Trail. There are over 20 wineries serving wines from Santa's Barbara's seven wine regions. The majority of the wineries are in the Funk Zone, but there's also one at the end of Stearns Wharf, which is a good place to end the day for sunset. The Funk Zone also has some good craft breweries if you fancy a change from wine.
Explore the trendy Funk Zone and all its street art
As well as being home to many wineries, the Funk Zone is worth a visit in its own right. It's home to a plethora of cafes, galleries, creative boutiques, and lots of excellent street art. Many of the buildings are converted warehouses with murals on the walls. One of the trendiest wineries is Municipal Winemakers (nicknamed Club Awesome).
Head to glam Montecito
Home to the rich and famous is stylish Montecito, an upmarket part of town with a chic but laidback vibe – where if you do see a celeb, they'll more likely be decked in flip flops rather than heels. It's worth going for a walk through the village and to visit Oliver's (our favourite restaurant in Santa Barbara if not California). Montecito is also home to some of Santa Barbara's most beautiful coastline, including the pretty Butterfly Beach.
Get a massage at Float Spa
I spent a blissful afternoon at Float Spa where I had an A+ massage and then relaxed in their tranquil little garden. As a new mum, it was the ultimate kid-free treat.
Visit Lotusland
A big reason I have to go back to Santa Barbara is to visit Lotusland, a 37-acre estate in Montecito owned by the late Ganna Walska, an opera singer and socialite. The garden looks incredible – it's known as one of the world's best – and is made up of the 25 distinctly designed gardens, all with different themes, and filled with all sorts of rare and grand plant life. The New York Times said: "For Walska, plants were more than plants; they were colors to paint with, a family to nurture, characters to direct." You have to book a private tour to view the garden and none were available when we were there, so be sure to book in advance!
Explore the botanic gardens
If you miss out on Lotusland, you can still visit the impressive Santa Barbara Botanic Gardens, which are open every day. The 78-acre gardens have five miles of walking trails and sweeping views of the both the coast and the mountains. All the plants are native to California, so you can see the rich diversity the state gives rise to. And don't miss the authentic Japanese teahouse.
Get a snap at the Chromatic Gate
If you're looking for a perfect Instagram then the chromatic gate is for you. This imposing rainbow sculpture is next to East Beach and you're sure to see lots of other Instagrammers jumping, walking or dancing their way through. Another good Instagram spot is the tiled stairs in the Paseo Nuevo shopping centre.
Visit Old Mission Santa Barbara
The candy-coloured pink and white Mission is regarded as one of the most beautiful buildings of its kind in California and, with the mountains as it backdrop, it certainly makes a pretty picture. We didn't go inside as it was Otis' nap time, but you can do a self-guided tour from 9am-4:15pm.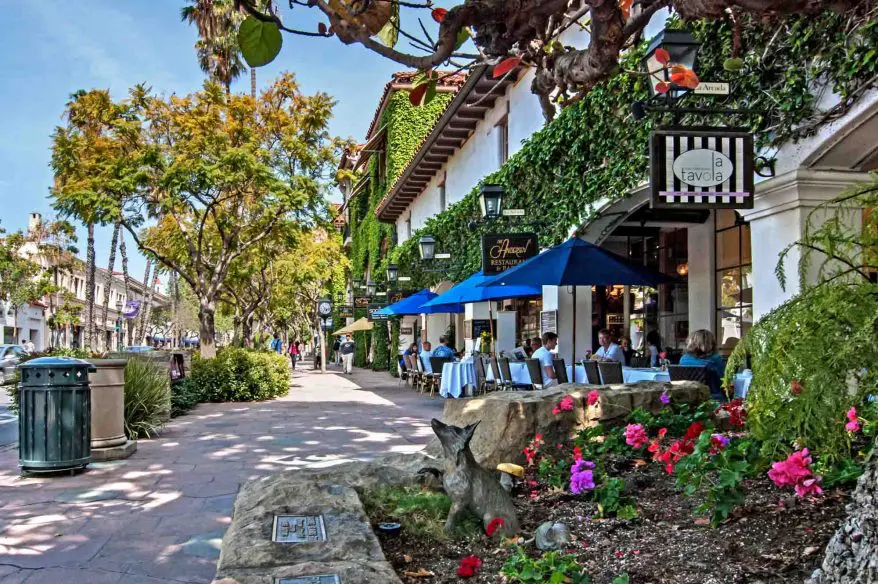 Shop, shop, shop
Santa Barbara is super easy to walk around and ideal if you fancy a bit of shopping. They have everything from glamorous chain stores to creative boutiques and old bookstores. State Street is the main high street where you'll also find Paseo Nuevo, an outdoor, fountain-filled mall.

Go whale watching
The Santa Barbara Channel is one of California's best places for whale watching. Pacific grey whales migrate through from November to April, and you can also spot humpbacks, blue whales, mike whales and fin whales.
Go to the Santa Barbara County Courthouse
For another architectural gem in Santa Barbara, go to the County Courthouse, which is lauded as one of the USA's most beautiful government buildings. In fitting with the local style, the Spanish-Moorish building typifies Santa Barbara's architectural elegance. You can climb the clock tower to enjoy sweeping views of the city.
Take the kids to MOXI
If you're travelling with kids, then MOXI, an innovative hands-on science museum is a must. You can do things like build your own race car, play a giant guitar, or design something with the the 3D printer. It's suitable for all ages, but they host toddler mornings on Tuesdays, so little ones can explore at their own pace. Other good options for kids are the National Maritime Museum in the harbour, the Santa Barbara Museum of Natural History, and the Santa Barbara Zoo.

Visit the Santa Barbara Museum of Art
There are a number of small galleries throughout Santa Barbara, but for the biggest collection head to the Santa Barbara Museum of Art, which has over 27,000 pieces in its permanent collection, featuring fine art from across the globe. The gallery includes a mix of different media, and features everything from 19th-Century French art to contemporary installations. Admission is free on Thursdays.
Go hiking
Santa Barbara city itself is beautiful, but for truly spectacular scenery head to some of its surrounds. A popular hike is to Inspiration Point, which has fabulous views across the coastline. The round trip is 3.5 miles, starting at Tunnel Trail, or you can go fro a longer option, starting at Jesusita Trail. Both trails are steep in parts. Another option is Rocky Pine Ridge where the photo above was taken. You can read details about how to get there here.
Catch a play at the Lobero
The Lobero is one of the oldest theatres in California and another of the city's architectural icons. It hosts both community and professional shows. Check out the programme and see if there's anything that catches your eye during your trip. Or another good place to watch a show in the city is the Santa Barbara Bowl
Ride bikes along the coastline
Santa Barbara is a perfect place for a bike ride, especially along the coastline where you can cycle along the palm-lined Cabrillo Boulevard while enjoying views of the ocean and Santa Ynez Mountains.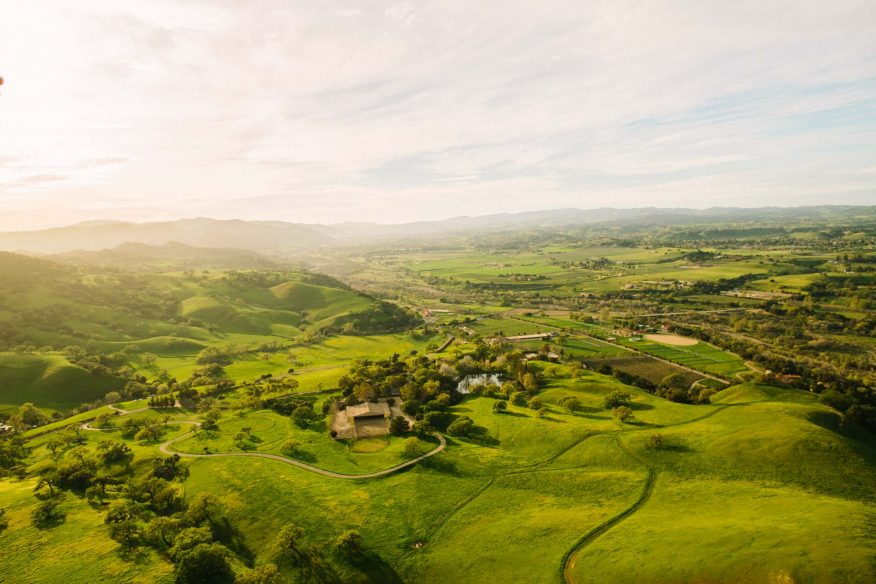 Take a day trip to wine country
Although you can try many of Santa Barbara's wines within the city, there's nothing quite like heading to the source and visiting some of the vineyards (like we did in Sonoma). The Santa Ynez Valley is only about 45 minutes outside the city and offers all the rolling hills, gourmet food and charming towns that you'd expect from a premiere wine country. You can even do a cupcake and wine tour!
Where to stay in Santa Barbara
Santa Barbara has a brilliant selection of Airbnbs, from hippy abodes to luxury houses. To make your choice easier, we've curated a list of of the 17 best Santa Barbara Airbnbs.
There are also some excellent hotels. We stayed at the Kimpton Goodland*, which is in Goleta, an area on the outskirts, about 10-minutes' drive from the city centre. It was one of my favourite hotels from our time in California, perfectly styled and well priced for the quality. Kimpton are well known for creating hotels that reflect the character of the local area, and in Sant Barbara, they've created a hipster surf-chic vibe in a converted roadside motel. There's an airstream on the lawn, a vinyl concierge for the in-room record players and a weekly programme of socials in the hotel bar, including S'Mores nights, poolside yoga, and trivia nights.
Rooms start at $209 for a double. Book your stay now*.
Where to eat and drink in Santa Barbara
Oliver's
Oliver's was one of the most stand-out meals we ate in California. Located in the fancy Montecito, the restaurant has a stylish terrace, lit by fairy lights, and the whole place has a causal, but fine dining atmosphere. The menu offers inventive vegetarian fare with a good line of small vegetable-forward plates. We were huge fans of the impossible burger, and also the cauliflower bucatini. And the staff were wonderful with Otis – he was completely besotted with them.

Funk Zone wineries
Santa Barbara wine country is made up of seven regions (five official, and two unofficial), which were made famous by the film Sideways. A good day trip would be to visit some of the wineries at the source, but if you want to stay local, the Funk Zone is the place to go. It's the home of the bulk of the Urban Wine Trail – a self-guided tour of over 20 tasting rooms. I particularly liked The Valley Project, which has a photogenic hand-drawn map of all Santa Barbara's wine regions, plus DV8 where I did a wine and cupcake pairing (you can imagine how much I loved that!).
Backyard Bowls
For a healthy breakfast, head to one of the Backyard Bowls branches across the city. They specialise in huge acai bowls, and are a classic (and reasonably priced) way to start a Santa Barbara day.

Paradice Shave Ice
On a sunny day, there's not much better than a cone of shaved ice, and Paradice Shave Ice has a rainbow of natural flavours.
Pressed Juicery
Close to Paradice Shave Ice is Pressed Juicery which as well as juices, also serves some an ice cream alternative made of dates, almonds and cacao.
Honey B
This hidden plant-based cafe, Honey B, is housed in a university building, so, like us, you might find yourself sitting outside a seminar and getting a little peak in student life.
For more food recommendations, see this guide to the best food in Santa Barbara.
How to get around Santa Barbara
Santa Barbara is an easily walkable city with all the main attractions situated in a three-mile radius of downtown, and there are also lots of public transport options too. The city is known for being eco-friendly and has a car-free programme that encourages you to walk by providing handy walking maps and details of all the alternative transportation options in the city. Alternatives to cars include the MTD bus network, and the MTD waterfront and downtown shuttles. It's also a good place to explore by bike. That said, as the trip was part of our big California road trip, we had a car and found it easy to park in the downtown area.
Santa Barbara is a good option for a short break from L.A. The drive takes around 1.5 hours. If you're heading to L.A. too, here's a handy guide to 100 things to do in Los Angeles.
Found this useful? Save it on Pinterest
Useful tips for a trip to Santa Barbara
For car rentals, we recommend booking with Rentalcars.com*. We've always found them to have the cheapest deals for mainstream retailers.
We've made a round-up of the best Airbnbs in Santa Barbara. If you decide to book any AirBnB apartments, use this link*, as it'll give you £25 off your first trip.
We often find great deals on Booking.com*, getting a discount of up to 60%.
Don't forget your travel insurance! We recommend World Nomads* or True Traveller* who both offer reliable, comprehensive cover, including medical, evacuation, baggage and a range of adventure sports and activities*. You can buy both True Traveller and World Nomads insurance even when you've left home, which is unusual for travel insurance companies.
If you're planning a trip to Santa Barbara or anywhere in the world, be sure to check out our travel planning pages for all our best travel tips, including how to save money with the best cards, what to bring, and all our favourite tools and tricks.
Photo credits: Some of the photos in this post are courtesy of Visit Santa Barbara. These are the photographer's credits: View from the courthouse ( Jessy Lynn Perkins); Funk Zone art (Max Whittaker); Sunset at Arroyo Hondo Beach (Mark Weber); Kayaking next to Stearns Wharf (Jay Sinclair); Surfer (Mark Weber); SUP (Jay Sinclair); Butterfly Beach (Jay Sinclair); Lotusland (Lotusland); Botanic Garden (Cecilia Rosell); Mission (Jay Sinclair); State Street (Mark Weber); Whale Watching (Visit California); Courthouse (Blake Bronstad); Hiking (Elliot Hawkey); Lobero (Jay Sinclair); Bike ride (Jessy Lynn Perkins); Wine country aerial (Nanco Helicopters).
Disclosure: Our stay at the Goodland and our meals at Olivers and Backyard Bowls were gifted to us. However, all opinions are always my own, regardless of sponsorship. Read our policy on working with brands here.
*Affiliate link (we get a small percentage of any booking you make, at no extra cost to you).