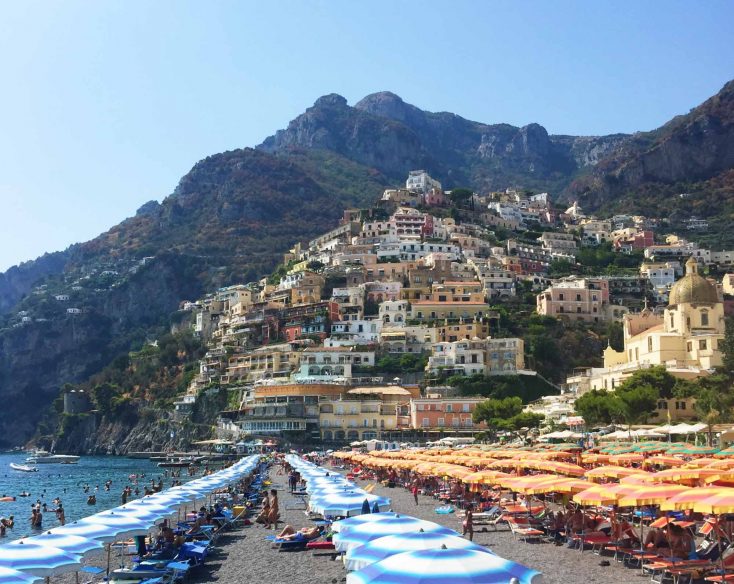 How to spend a perfect 2-3 weeks in Italy, road tripping from Florence to the Amalfi Coast via Tuscany, Rome and Naples.
From the food to the country's expertise in living la dolce vita, Italy is one of my favourite places to visit. Steve and I go back time and time again, and it was the perfect choice for our babymoon – the last holiday we took before our baby arrived. We chose to do a two-and-a-half week Italian road trip from Florence down to the Amalfi Coast, with stops in Tuscany, Rome, Venafro, Positano, Capri, Ravello and Salerno. We did a lot, but the pace was relaxed and we came back feeling refreshed and nourished.
As usual, we spent lots of time planning the perfect Italian trip, so this post is here to save you some time and offer some tips for creating a similar Italian itinerary. It includes all the details of where we stayed, what we did, where we ate and how much it all cost. Do feel free to add your own tips/questions in the comments.
Some of the links in this post are affiliate links, meaning I get a small commission if you book them (at no extra cost to you). It's one of the ways I keep this website going. I have marked affiliate links with an asterix *. Read more about my affiliate policy here.
Our Florence to Amalfi itinerary at a glance
Days 1-3: Florence
Stay at AirBnB in centre*
Days 3-6: Tuscany
Stay at Castello Leonina Relais*
Days 6-9: Rome
Stay at AirBnB in Trastevere*
Days 9-10: Venafro
Stay at Dimora del Prete*
Days 10-13: Positano
Stay at Casa Perseus* AirBnB
Days 13-15: Ravello
Stay at B&B I Limoni*
Days 15-18: Giungano
Stay at Domus Laeta*
A romantic Italian road trip
Our holiday was a babymoon, so the focus was on taking a romantic trip and taking advantage of all our precious time together before the baby arrived. I was 17-20 weeks pregnant at the time, so we also tried to make it as relaxing as possible, while still fitting in lots of the things we love to do, such as wandering around cities and seeking out all the best food. We created an itinerary that included a mixture of city time, combined with breaks in the countryside and by the coast. For us, it was perfect. However, if you're keen on seeing all the big tourist sights then you'd need to add them in. There would definitely be time within this Italy itinerary.
Our budget
We weren't on a strict budget, but also didn't splurge on high-end luxury, instead sitting somewhere in-between. We were in Italy in August, during the peak season, which meant accommodation prices were at their highest. We mostly stayed in AirBnBs (sign up with this link* to get £25 off your next trip), but also booked a few hotels with booking.com*. One of the main things we splurged on was food, eating out for most meals, aside from a few picnics and home-cooked meals along the way. The total cost for our trip, including flights was around £3,360 for both of us. A rough breakdown is this:
Flights: £150 each return
Accommodation: £1,600
Food and drinks: £900
Car, parking and petrol: £310
Extras (entry fees, day trips): £250
Total for two people: £3,360
You could easily do things much more cheaply by opting for more basic accommodation and self-catering.
How we got around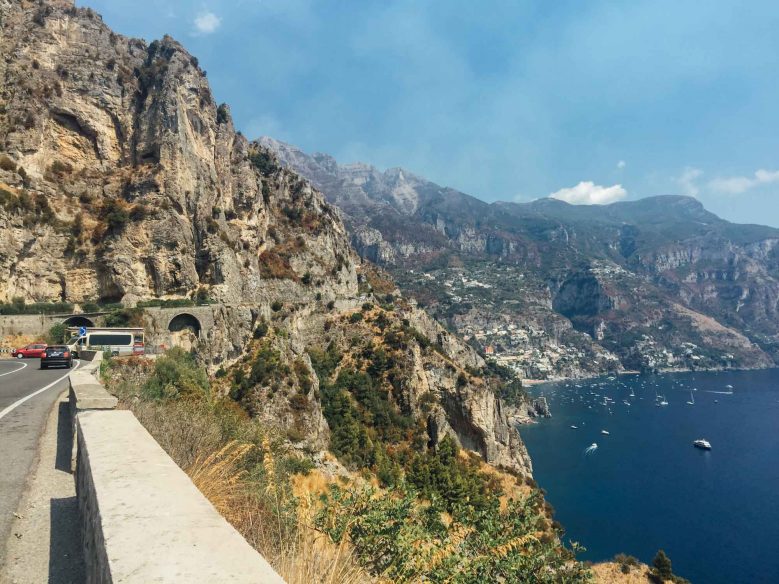 We travelled to and from Italy with Easyjet and Ryanair, flying to Bologna from Bristol, and back to London from Naples. We flew to Bologna because there were no direct flights to Florence on the day we travelled and the train journey from Bologna to Florence is only 35 minutes, plus a 20-minute transfer from the airport to the train station. We could also have added a couple of days to our trip at the beginning to explore all the things to do in Bologna.
Once in Italy, we hired a car using rentalcars.com* and drove this for the whole duration, picking it up in Florence and dropping it off in Naples. The rental cost £200 for the duration. In most places we stayed, we were able to park for free, but some parking spots came with steep charges. For example, it costs about €30 to park for the whole day in Positano. Also bear in mind that the driving in Italy is pretty intense. We found that drivers tend to be much more aggressive and fast than in the UK, which means you have to be extra aware of people doing things like undertaking or pulling out of junctions suddenly. In Positano, the roads are very narrow and the tourists tend to walk in the roads, so this can be pretty stressful. But worst of all is Naples, which counts as one of the worst places we've ever driven. It wasn't unusual to see cars double parked along the streets or just abandoned in the road. I'd say around one in ten cars had a dent or was damaged in some way! If you're not a confident driver then it might be worth parking outside of city centres and catching a train from there. This would also save you on parking costs.
Find the best deals on car hire
We recommend Rentalscars.com for booking your rental car. They search over 900 companies, and if you find a cheaper deal anywhere else, they promise to beat it. We use them every time.
Italy for vegetarians
Food is one of the main reasons Steve and I love Italy. Even though the meat and fish-heavy secondi courses are normally off limits, the antipasti and primi courses are always enough. Plus there's always pizza. We're constantly impressed by the high quality of food and the variations across the different regions. And best of all, for me, is the gelato. I made sure to have one every day. The coffee and wine is also a highlight. Of course, on this trip, being pregnant meant my choices were more limited, but there was still plenty to enjoy. I've written a post about the foods to avoid when pregnant in Italy.
Italy in August
We were in Italy from mid August to early September. Most people will warn you not to go at this time of year, not only because of the temperature, but also because of the crowds: it's when Italian people take their holidays, plus when much of Europe is on summer vacation. As such, Italy is packed to the brim with tourists. We were especially aware of this in the cities where attractions like the Duomo in Florence had a 1.5 hour queue to get inside. As we weren't concerned with going into the big sites, this wasn't an issue for us, and we always found quiet side streets that offered respite from the crowds. It was nowhere near as intense as I had imagined. By the time we got to the Amalfi Coast, it was the start of September, and while it was still really busy, I heard it was much worse the week before. Plus I'm a fan of warm weather, so for me the temperature was perfect (around 32 degrees).
Save time and money on your next trip
See our travel resources page for all our best travel tips, including how to save money with the best cards, what to bring, and all our favourite tools and tricks.
Travel insurance
Don't forget your travel insurance! We recommend World Nomads* or True Traveller* who both offer reliable, comprehensive cover, including medical, evacuation, baggage and a range of adventure sports and activities*. You can buy both True Traveller and World Nomads insurance even when you've left home, which is unusual for travel insurance companies.
Florence
Days 1-3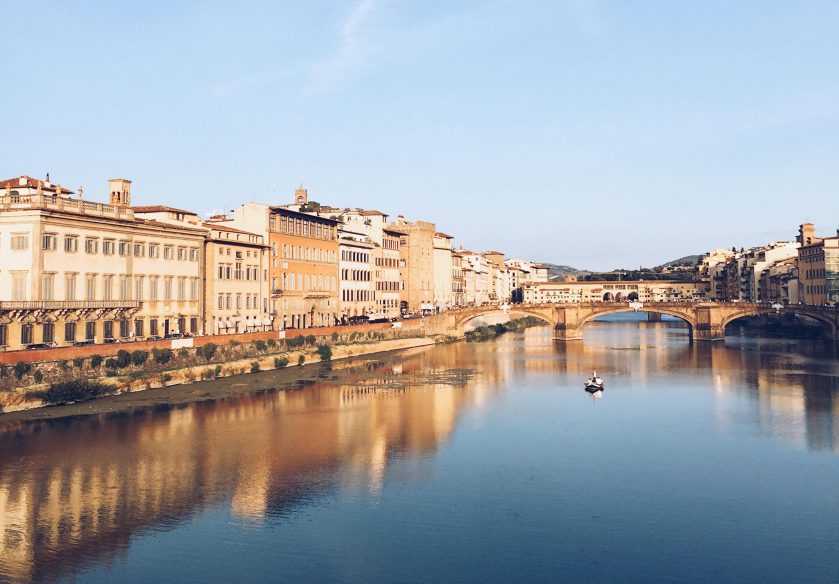 The beauty of Florence is all-consuming. Even with the crowds, it's a city that enchants. Filled with museums, galleries, churches and fine architecture, it's a place that could be explored for months. Steve and I tend to prefer wandering a city rather than rushing to see all the sights, and that's what we did in Florence, strolling the plazas, bridges and streets. It was my third time there, but for first timers (and non-pregnant people) I would recommend climbing to the top of the Duomo for incredible views across the city (buy an advance ticket here to avoid crazy long queues). We also went to the Ufizi, which to be honest was a bit too much when pregnant and in August. Despite booking our tickets in advance, we still had to queue to collect the tickets, and then queue again to enter the gallery, which all together took around one hour (I've now found a better option where you also get to skip the pick-up queue). The galley is impressive, and is certainly a must if your a fan of Renaissance art, but not so much if you're not. Also don't miss the classic Ponte Vecchio bridge.
Accommodation in Florence
We stayed in an AirBnB right in the city centre*, just a 10-minute walk from the Duomo. Because I was pregnant, I was keen to stay within walking distance of the centre, and at £63 per night, this was a good bargain. Book your stay now*. (Use sign up with this link* to get £25 off your first AirBnB trip.)
Where to eat in Florence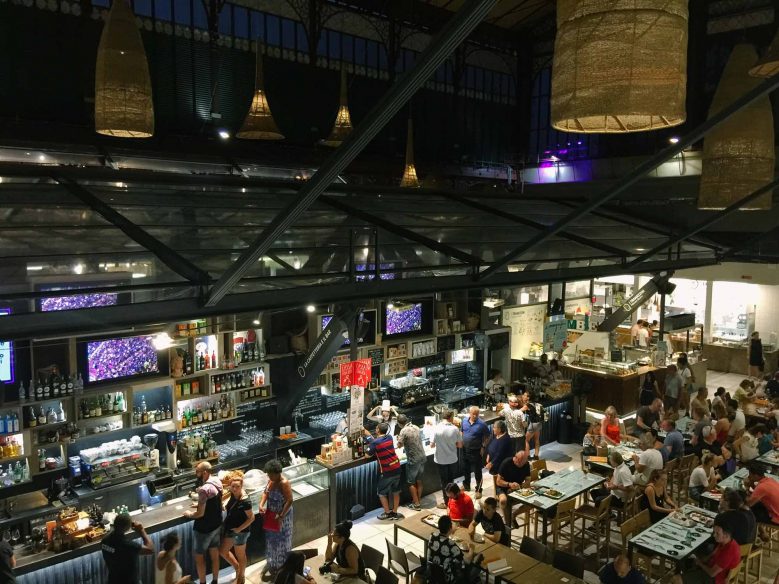 Florence is filled with amazing food and you could spend months exploring it all. Places we tried and recommend include: Brac for generously portioned and delicious vegetarian food in an gallery-style setting; Ino for perfectly made sandwiches with a huge variety of flavours; and the impressive, modern Mercato Centrale where you can find stalls selling some of the best of Florence's food. We had pizza at La Pizzeria Sud, which was amazing. And for gelato, I recommend Gelateria La Carraia and Mordilatte.
You could also do one of the food tours below. Or find a full list here.
Getting to and around Florence
We flew into Bologna and travelled to Florence via the airport shuttle (20 minutes) and a train (35 minutes). The shuttle cost €6 and the train was pretty expensive at €23 each. From the train station, we walked the 15 minutes to our AirBnB, and then spent the rest of our time in Florence travelling around by foot. Everything we wanted to see was in walking distance of our apartment.
Tuscany
Days 3-6
We wanted our trip to include a mixture of cities and nature, so our first countryside stop was Tuscany where we stayed in a gorgeous castle not far from Siena. We spent most our time relaxing by the pool, but also took the time to visit Montepulciano, a hill town famous for its wine, and Siena, the city that rivals Florence. We had already visited Siena before so took a relaxed attitude to our time there, mostly eating and enjoying ice cream. If it's your first time, then it's worth visiting the city's Duomo and seeing the Piazza del Campo where the famous Palio horse race takes place each year. It was also our second time to Montepulciano, which we returned to because it stole our hearts the first time. It's an enchanting little place, perfect for stopping for lunch and simply wandering around.
Accommodation in Tuscany
We stayed at Castello Leonina Relais*, a 13th-century castle, 15 minutes from Siena and surrounded by classic Tuscan hills. It was the ideal place to sit back and relax for a few days, while still having nearby options to explore. The pool is particularly beautiful with views across the hills. The room cost €119 per night to including breakfast.
Where to eat in Tuscany
Castello Leonina Relais serves dinner, and there are also snacks available at lunchtime. The vegetarian section was limited so we only ate there one night, but the food was delicious and the setting divine, lit by fairy lights and looking out over the Tuscan sunset. On the other night we ate in Siena at a delicious local restaurant called Osteria Boccon del Prete, which was recommended by fellow bloggers and friends at Never Ending Voyage. For our other meals, we made picnics from deli food bought in Siena. Finally, for gelato, I recommend Venchi in Siena, which was one of my favourite gelato places in Italy (it's a chain with branches across the country). We also tried Grom, but I was put off by the very rude staff.
Getting to and around Tuscany
We drove to Castello Leonina Realais from Florence, which took around an hour and a half. To get to Montepulciano from the castle took around 50 minutes.
Rome
Days 6-9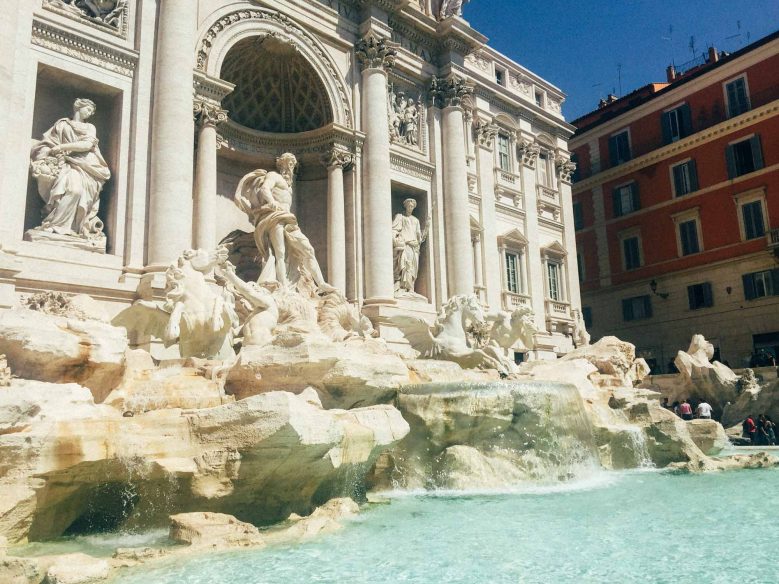 Rome is one of my favourite cities in the world, especially the Trastevere neighbourhood with its winding, cobbled streets and crumbling ivy-clad buildings. As with Florence, we spent the majority of our time wandering around. We didn't go into any of the attractions, but the streets themselves are like a living gallery and museum, and we followed the Lonely Planet's walking tour of the city centre, which took in lots of the highlights, from the Pantheon to the Trevi Fountain. We also went to see the ruins at the Palatino and Colosseum, but we just looked at these from the outside, rather than paying/queuing to get a closer look. And on the Sunday we went to the Vatican to see the Pope's Sunday Angelus. It's not like Wednesdays where he comes down into the square, but it was still pretty exciting to see him standing at the window, reading the Angelus and greeting the crowd. The atmosphere was amazing! If you want to visit some of Rome's bigger sights, such as the Sistine Chapel and the Colosseum, be sure to book tickets in advance as they do get booked up. Here are some more things to do in Rome from Lisa at LL World Tour, plus a useful guide on things to do in Rome with kids.
Accommodation in Rome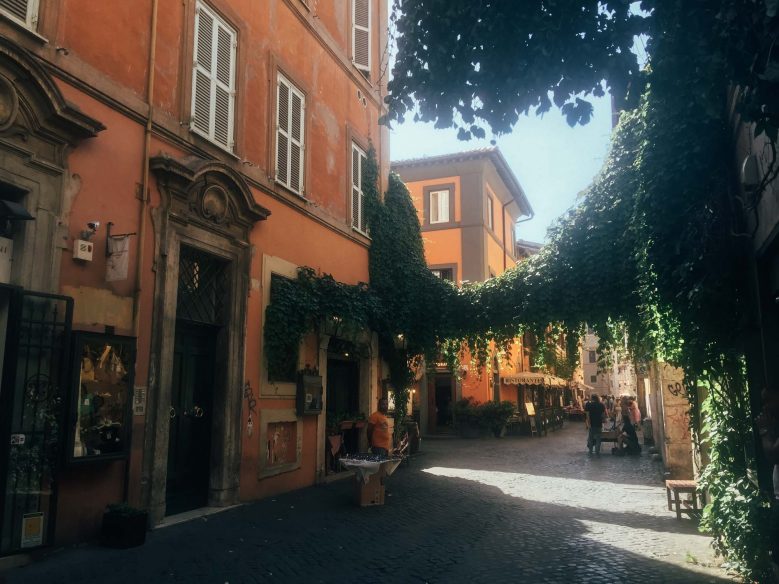 We stayed in an AirBnB in Trastevere*, which had several bedrooms, all with their own bathroom (not en-suite), plus a communal kitchen area. It was an ideal location and breakfast was included at a local cafe. The room cost £51 per night. Book your stay now. Book your stay now*. Sign up with this link* to book and get £25 off your first trip.
Where to eat in Rome
Oh my, I would love to spend years in Rome, trying all the amazing food. Places we loved include: the Bonci Pizzarium for perfect, square-sliced pizza; Sette Oche in Altalena in Trastevere for excellent local food; Dar Poeta for pizza in Trastevere; and Fiordiluna and Fatamorgana for gelato. In fact, Fatamorgna was my favourite gelato place in all of Italy.
For a good way to get a taste of all things Rome, try one of the food tours below. You can see a full list here.
Getting to and around Rome
The drive from Castello Leonina Relais to Rome took around two and a half hours. We stopped in a charming town called Orvieto en route where we had lunch at a lovely place called Tipica Trattoria Etruscan. The drive was simple, but did get harder once we arrived into the outskirts of Rome.
Venafro
Days 9-10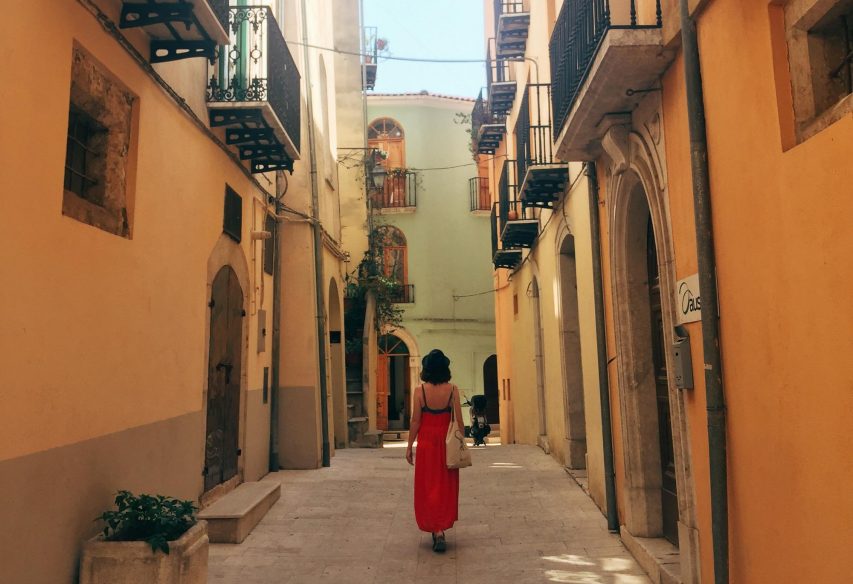 We went to Venafro solely to break up the journey from Rome to the Amalfi Coast. We searched for interesting places to stay in-between the two places, and that's how we landed on Dimora del Prete in Venafro. It certainly was an incredible place to stay, although the town itself wasn't great with only a tiny old section and a larger, somewhat run-down modern part. Our lacklustre feeling towards the town was partly because we were there on a Monday and most things were closed. There are ruins nearby but, being the cultural heathens that we are, Steve and I didn't go there and instead spent the afternoon relaxing in the palace.
Accommodation in Venafro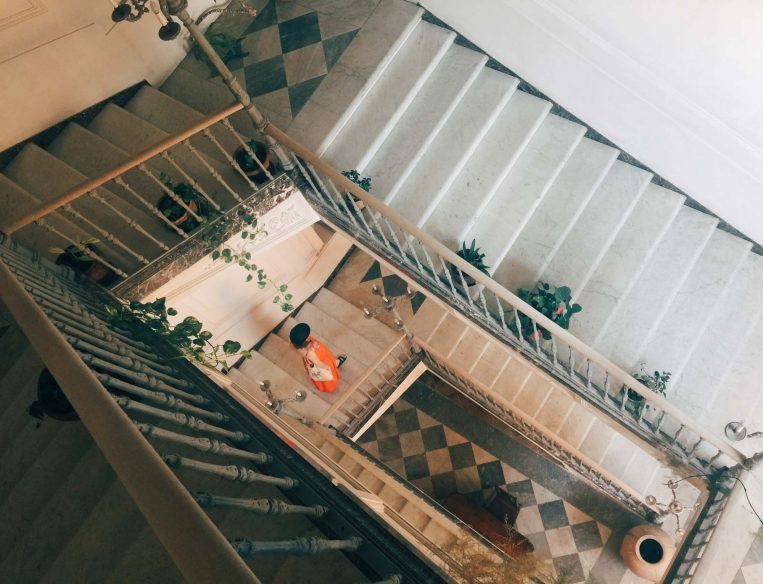 As I said, the main thing that bought us to Venafro was Dimora del Prete*, an amazing neoclassical palace, run by Dorothy whose husband's family have lived in the palace for generations. From frescoed ceiling to antique furniture and a sweeping marble staircase, the whole palace is enchanting. Be sure to get someone to show you around some of the state rooms too. It's well worth a stay. Our room cost €100 for the night.
Where to eat in Venafro
Unfortunately, we struggled to find good food in Venafro as most places were closed. We ate a somewhat disappointing lunch in L'Argine and a pizza that was good but not sensational at Al Ghiottone Venafro.
Getting to and around Venafro
The drive from Trastevere to Venafro took around two hours, and from there to Positano was another two and a half hours.
Positano and Capri
Days 10-13
I've dreamed of the Amalfi Coast since I first saw a photo of Positano and its colourful buildings spilling down the cliffs. I was always somewhat put off by the high prices, but for our babymoon we decided it was worth it. And worth it, it was. The Amalfi Coast is the stuff of Italian dreams, charming and with magnificent sea views at every turn. We decided to spilt our stay between Positano and Ravello (see the next section), but we could equally have stayed in one place and done day trips to the other. I personally prefer to stay the night rather than do day trips as places tend to have less crowds in the mornings/evenings (when the day trippers are gone).
While in Positano, we spent one day on the beach and the other day taking a trip to Capri. We could have stayed the night in Capri, but it's even more expensive than Positano, so a day trip had to suffice. And the day trip was wonderful. We decided to splash out and, rather than take the large ferry, opted for a smaller trip with 10 other people on a beautiful boat where we could lounge on the comfy deck as it whisked us out to sea. It was one of my favourite days of our holiday. The whole trip was about 8 hours and included visits to the green cave and white cave, as well two chances to swim in the sea and a scenic stop where prosecco, beer and soft drinks were served. We also had the option of stopping at the Blue Grotto, but the queue to get in was over an hour, so we decided to give it a miss. The trip also involved a four-hour stop in Capri. This gave enough time to visit Anacapri and Capri Town, although Steve and I chose to go to Capri Town only as we preferred to explore at a leisurely pace. The island is gorgeous, but incredibly fancy, filled with luxury boutiques and restaurants with prices to match. One menu we looked at was charging 7 euros for a can of coke. I definitely recommend going to the Gardens of Augustus, which have amazing views and are also a pleasure to walk around. Here's another option for a Capri boat trip from Positano.
For out day on the beach in Positano, we did as the Italians do and joined the brim-to-brim umbrellas on the main beach (Spiaggia Grande), hiring two sun loungers for the day. These cost 15 euro each for the day. There are smaller, less crowded and cheaper beaches nearby at Fornillo, Laurito and Arienzo, but we decided that as we only had one day, we fancied being on the main one to lap up the view of Positano.
The accommodation in Positano and along the Amalfi Coast is quite expensive, so a cheaper option could be to stay in Sorrento and do a day trip like this from there. Because parking is so expensive, it's likely cheaper or at least the same price to do an official tour, but that depends on whether or not you want the freedom of driving yourself.
Accommodation in Positano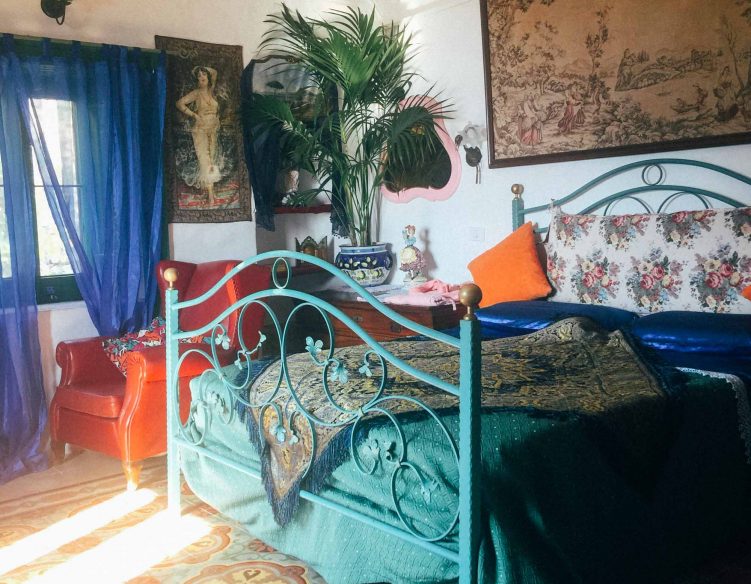 We stayed in an AirBnB called Casa Perseus* just outside the main town, along the path that leads down to Laurito beach. The old stone house is decorated in an eccentric style with antique furniture, including a (broken) grand piano, as well as deep blue satin sheets and colour-changing lightbulbs! The balcony is a highlight with loungers, a table and incredible sea views, and you can also enjoy those views from the bedroom. Luigi who welcomed us is one of the friendliest people we met in Italy and even brought us a special local cake to try on our last morning there. The apartment also has a kitchen where we cooked on two of the nights, enjoying meals out on the balcony. The apartment cost £136 per night. Book your stay now*. Use this link* to book and get £25 off your first trip.
Where to eat in Positano
Positano is a pricy place to visit and we also had a gorgeous balcony to enjoy, so we self-catered for two of our nights there. On the other night we ate at La Taverna del Leone, which is just outside the main town, and serves exquisite local food. It was one of the best meals we ate in Italy.
At lunch, we opted for pizza on the seafront at Chez Black one day and Ristorante la Pergola the other. Neither of these were spectacular, but the prices were okay. Note that Chez Black is famous for its seafood, which has much higher prices than the pizza.
In Capri, don't miss gelato at Buonocore Gelateria where they make their waffle cones fresh to order.
Getting to and around Positano and Capri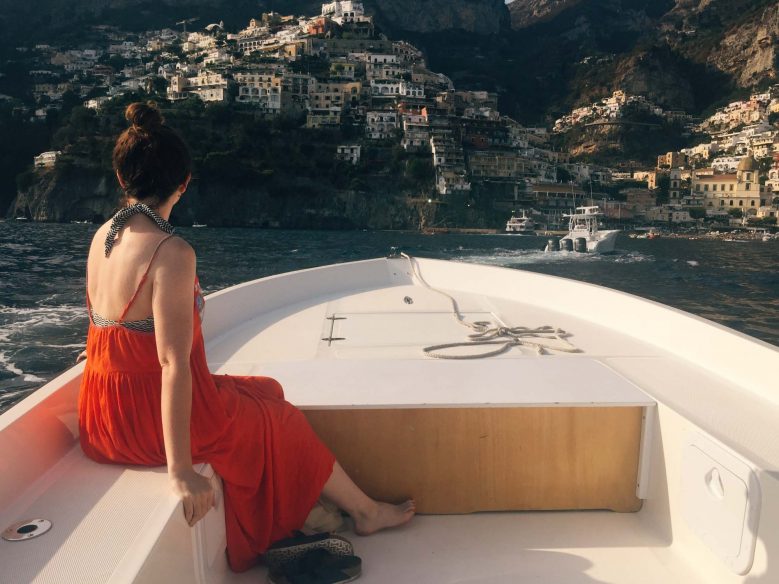 The drive from Venafro to Positano was 2.5 hours long and part of that was along the famous Amalfi Coast road (SS 163), known as one of the most beautiful routes in the world. It also has a reputation for being dangerous due to its hairpin turns, narrow lanes and drop-off to the sea. It wasn't as bad as I expected and we found the drop was well protected by barriers along the road. Plus the beauty is jaw-dropping and it definitely counts among the most scenic routes we've ever travelled. That said, Steve was driving and I, being a nervous driver, probably wouldn't have braved it.
Driving into Positano itself is very hectic and parking is expensive at around €30 for a day. It's a better idea to leave your car at your accommodation and get the bus in from there. Unfortunately these don't run that often and one of the bus companies (SITA) requires that you buy a ticket before you board. Although there was a bus stop directly outside our house and nowhere nearby to buy a ticket, we weren't allowed on the bus when we tried to catch it. This was very frustrating as it was on the day of our trip to Capri and we didn't have the time to drive into Positano and back to buy a ticket and then wait for another bus, so instead had to pay to park there for the day. This is the timetable for the bus where you can buy tickets onboard.
In Capri, we took the funicular from the port up to Capri Town. Again, you have to buy a ticket before you board. The ticket station is across the road from the entrance to the funicular. If you want to go to Anacapri, the cheapest and most convenient way is to club together with a group of people and catch one of the iconic open-top taxis. There are also public buses, but you have to wait for these, so might end up rushing around or even missing your boat back. Another option is to take a mini bus which does a semi-guided tour from Anacapri to Capri Town and back to the port. This costs around €25 per person.
Ravello
Days 13-15
Set high on the hills above Amalfi, Ravello is a picturesque, elegant town with incredible views and lush gardens. It's where artists such as Wagner, Virginia Woolf and DH Lawrence used to hang out. It's also home to an annual festival of chamber music where some concerts take place on one of the world's most beautifully-located stages, perched on a cliff, looking out to sea. Note that not all the concerts take place on this stage – we made that mistake and booked tickets for something that turned out to be indoors!
Ravello is a place that's mostly about enjoying the views and idyllic setting. One "must-see" is Villa Rufolo, a 14th-century villa with gorgeous cascading gardens that are a delight to wander around and offer some of the best views in town.
Accommodation in Ravello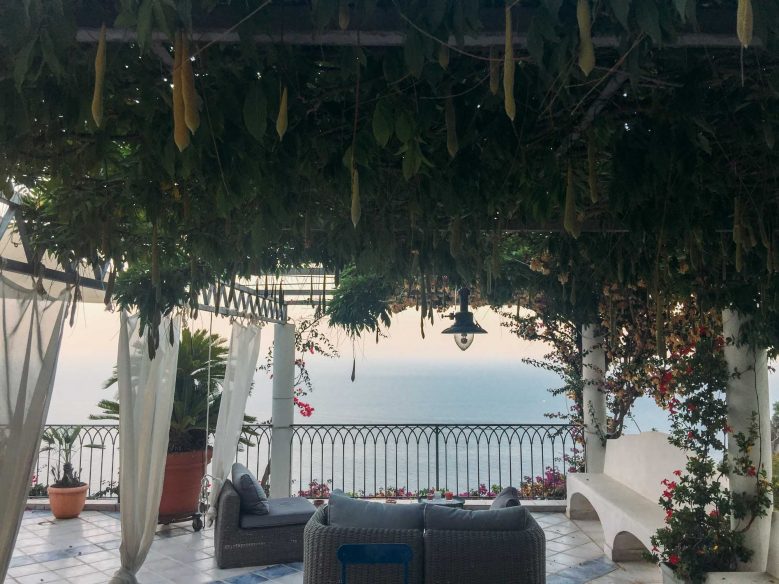 We stayed in an AirBnB called B&B I Limoni*, set next to a lemon farm that cascades down the hill. Our light and airy room was modern and comfortable with a beautiful view out to sea. A simple breakfast was also included. If you do book this place, bear in mind that there are around 300 steps from the road down to the B&B. This was manageable, but a little intense when 19 weeks pregnant! I was pleased to only be there for two nights! If you struggle at all with steps, then don't book this place. But if you don't, then the climb is most certainly worth it. The room cost £118 per night including breakfast. Book your stay now*. Use this link* to book and get £25 off your first trip.
Where to eat in Ravello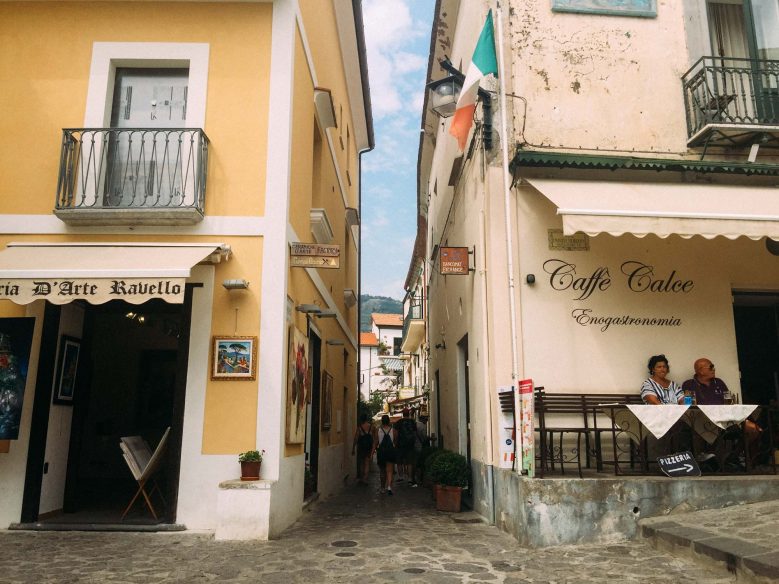 Ravello is a lovely place to stroll around in the evening before going for dinner. We ate at Vittoria t, which serves both local dishes and pizza, and at Mimi Bar Pizzeria. Both had a good vegetarian selection. Baffone Gelateria Artigianale is great for gelato.
Getting to and around Ravello
It's around one-hour's drive from Positano to Ravello, following the beautiful coastal road, plus a steep and windy climb up to Ravello. We stopped in Amalfi for a coffee along the way. In Ravello, we were able to park for free on the road that led to our AirBnB. We could have walked from there to the centre of town, but as it included another 200 or so steps, we decided to drive and park in town. There are a few car parks with plenty of spaces.
Giungano (Salerno)
Days 15-18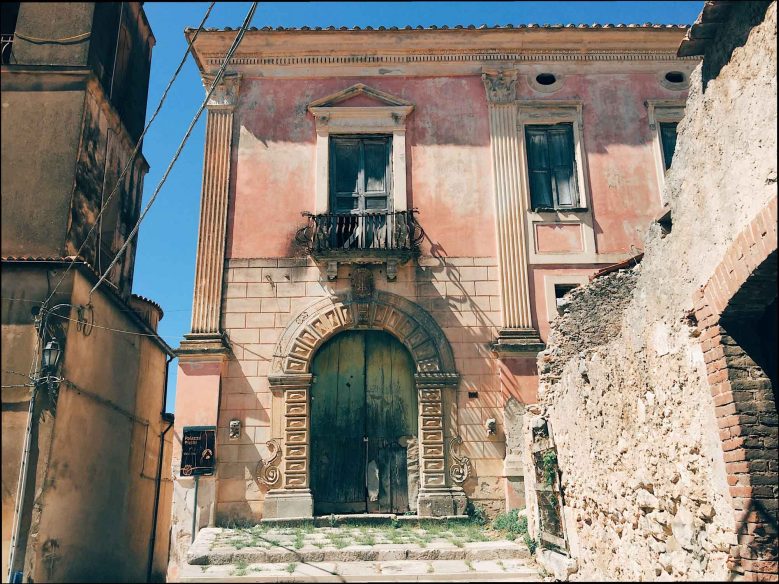 Our final stop took us of the beaten path to Giungano in Salerno. Just two hours from Amalfi, it's an area almost entirely free of tourists, aside from some who come to visit the ruins at nearby Paestum. We were drawn there by a beautiful villa called Domus Laeta where we wanted to spend the final few days of of our holiday, relaxing by the pool and having some quiet time away from the crowds. Salerno is one of Italy's underrated regions, often being overlooked for places like the Amalfi Coast or Tuscany. But the hilly region has a lot of offer, from gorgeous views and hikes to a sandy, rugged coastline and some of the country's best buffalo mozzarella. We went to the beach one day and were surprised to find it empty, a far cry from our day in Positano. That said, the sea was rough and it was very windy, so we didn't stay for long. Instead we did what we had intended and spent most of time lounging at the hotel and in the charming town of Giungano. It was blissful.
Accommodation in Giungano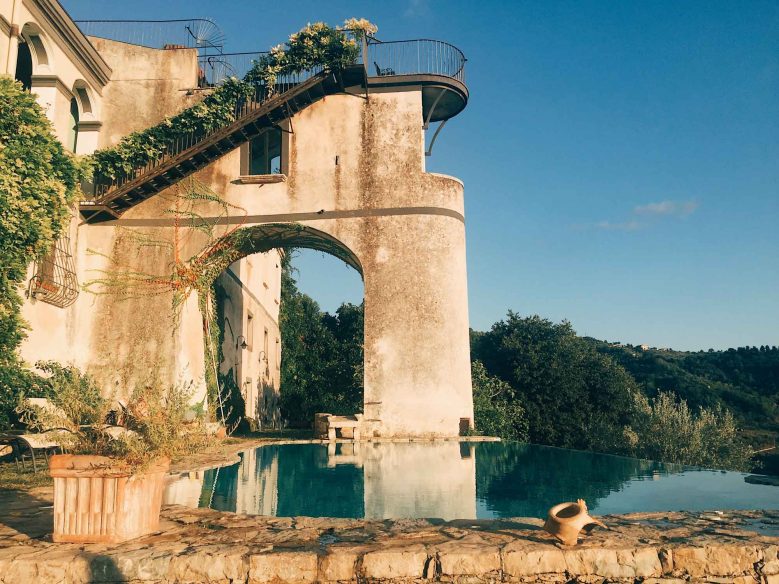 Domus Laeta* is a special find. The historic hilltop retreat has sweeping views across the countryside out to the sea, and is filled with antiques, including an ancient library filled with old books. We spent one of our most memorable evenings in the hotel, enjoying dinner with the other guests, swapping stories from around the world. If we had felt more energetic, there are also plenty of walks nearby in the Cilento National Park. Our room cost €100 for the night.
Where to eat in Giungano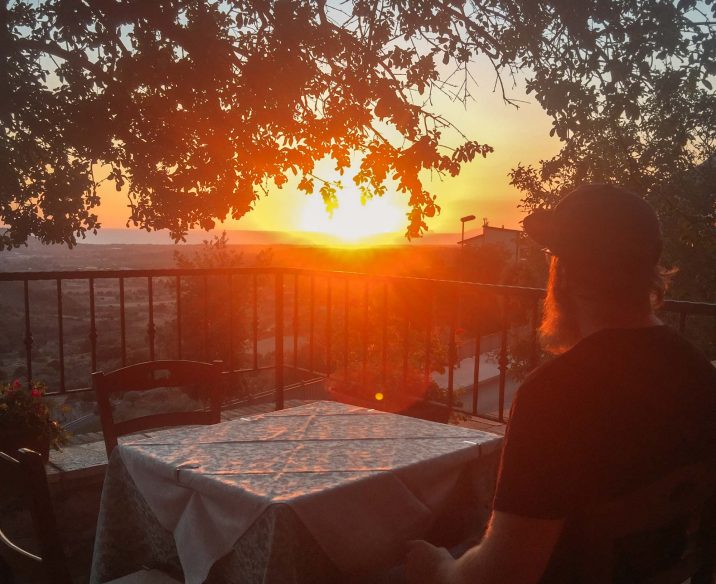 We ate at the hotel one night (evening meals must be requested in the morning) and on the other nights we ate in Giungano at a restaurant called La Torretta where we ate twice because we loved it so much. The hearty, home-cooked food is served on a terrace with beautiful views out to sea. There were plenty of vegetarian options and it was one of those places that felt like a precious, local gem.
Getting to and around Giungano
Giungano is about an hour's drive from Ravello. We drove via Paestum, which was about 20 minute's from Giungano. The drive is straight forward. And to get back to Naples Airport where we were flying home from, it was just another hour and 45 minutes. However, we decided to drive via Naples city centre as we wanted to try pizza in its birthplace. The pizza at 50 Kalo was indeed exquisite but the drive into Naples was hair-raising and I wouldn't recommend it (see the section on driving at the top).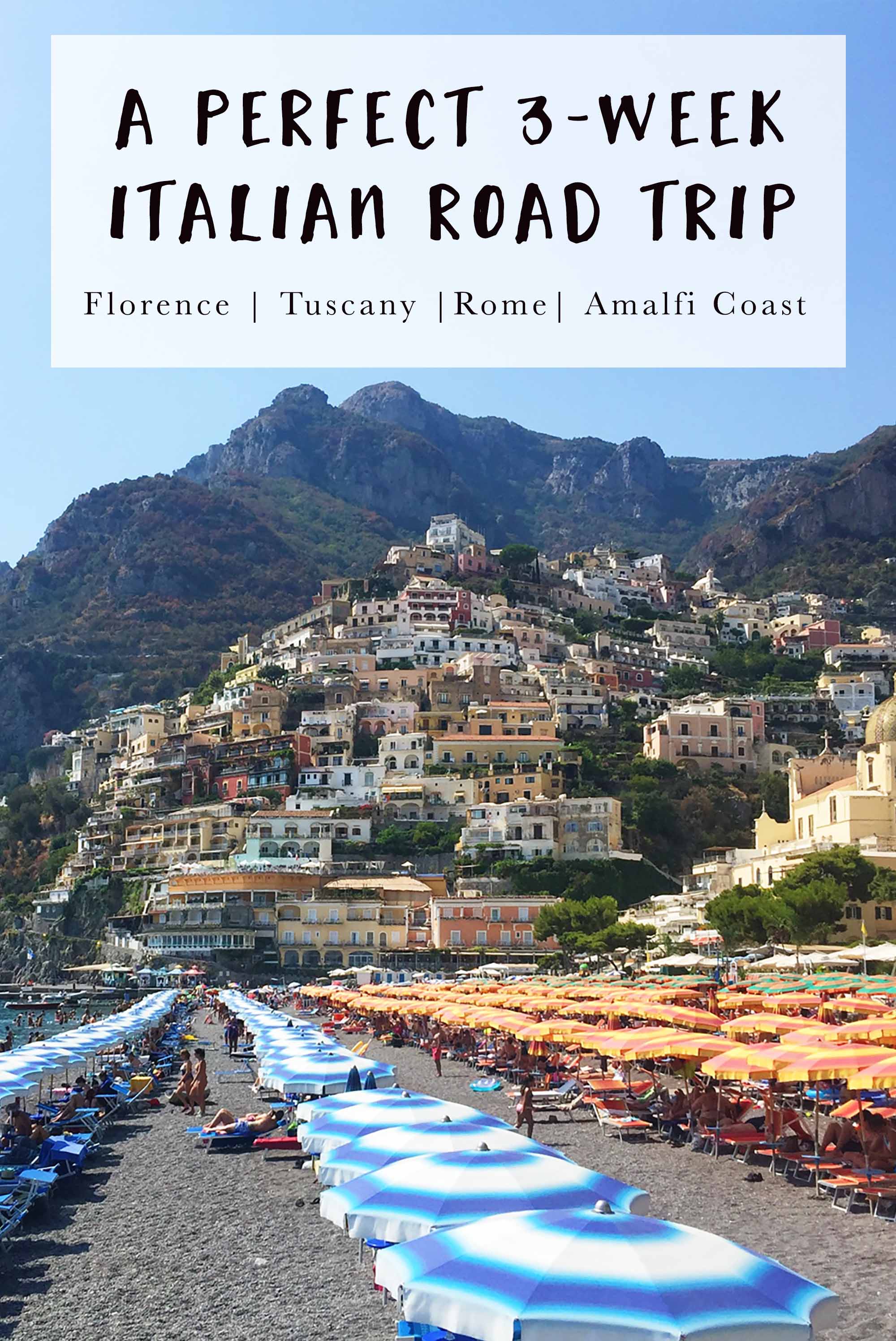 Some recommended sites for Italy
For car rentals, we recommend booking with Rentalcars.com*. They always have the cheapest deals for mainstream retailers.
If you decide to book any AirBnB apartments, use this link*, as it'll give you £25 off your first trip.
We found great last-minute deals on Booking.com*, getting a discount of up to 60%.
If you're planning a trip, be sure to check out our travel planning pages. We also have full, detailed itineraries for How to relax in Goa and Kerala; The ultimate South Africa honeymoon guide; How to make the most of 10 days in Japan; Finding hygge in Copenhagen, and 48 Hours in Dublin. See all our itinerary posts here.
*Affiliate link (we get a small percentage of any booking you make, at no extra cost to you).