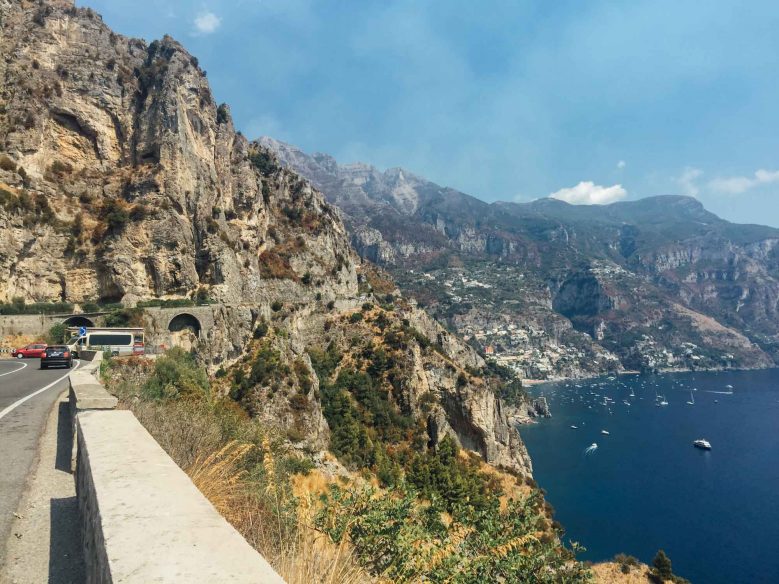 There's nothing like a road trip in Europe to make you appreciate the diversity of the continent – buy croissants and go for a walk on a French beach in the morning then sip a spritz beside an Italian lake by sunset. From mountains to coast to cute medieval villages – there's something to suit all tastes. We've done a fair few of our own Europe road trips, but for this post I've also partnered with lots of other experienced travellers to create an ultimate guide to the best Europe road trips. From Iceland to Greece to Italy and Romania, we've covered some of the most famous road trips in Europe as well as some lesser-known, but just as special, European road trip options. It's the ultimate Europe road trip blog.
Do one by itself, or join up a few if you have some extra time and want to create an even more epic European road trip.
And if you're heading stateside, we also have a guide to the best road trips in the USA.
Or for more European options, see our guides to the best UK road trips, best road trips in France and the best road trips in Italy.
All of the accommodation links in this post are affiliate links, which means I get a small commission if you make a booking (at no extra cost to you). It's one of the ways I keep this blog going. Read more about my affiliate policy here. Thank you for your support!
Find the best deals on car hire
We recommend Rentalscars.com for booking your rental car. They search over 900 companies, and if you find a cheaper deal anywhere else, they promise to beat it. We use them every time.
Where's the best place to do a road trip in Europe?
The Best Europe Road Trips
The Best Europe Road Trips
The Big Greek Road Hop – Driving the Peloponnese
Athens – Levidi – Nafplio – Mystras – Laconia
Sweep away from Athens and head deep into the Peloponnese to wander through the land of Sparta, Olympia and the ancient gods. Slow down among the olive groves and walk through quiet villages. Take your time and discover the real side of Greece.
By Abigail King at Inside the Travel Lab
Highlights
When to go
May-October (Avoid August)
Start from Athens, having first spent time in this ancient yet frenetic capital. Then leave the chaos behind and head onto the quiet, well maintained roads that lead into the Peloponnese.
Wind up to the small village of Levidi to get well and truly off the beaten track. Head to Nafplio on the coast to indulge in ice cream and to rest by the waves on the beach.
Head further south to the rocky outcrop of Mystras, a Byzantine capital once mistaken for ancient Sparta.
From here, either slow down and stay in rural farms or head west to the vast new complex of Costa Navarino. This hotel has attracted art and cultural exhibitions from the world class Benaki Museum in Athens: beach by day and learn by night.
On your return to Athens, stop off at ancient Messini, a ruined ancient city, and Mycenae further north, even older than that.
Then it's back to Athens, birthplace of democracy, and back to home after that.
Where to stay
Florence to the Amalfi Coast
Florence – Sienna – Rome – Positano – Ravello
Take in two of Italy's most glorious cities, plus the beauty of Tuscany and the dramatic Amalfi Coast on this two-week scenic road trip
By Bridges and Balloons
Highlights
Start in Florence, taking in the all-consuming beauty of the birthplace of the Renaissance, before moving onto the hills of Tuscany where you can live the Tuscan villa dream.
Explore Sienna and then drive through the hill towns to Rome where you can spend a few days getting lost in the city's magnificence, and enjoying all the food.
Next up is one of the world's most beautiful coastlines, the jaw-dropping Amalfi Coast. The road hugs the cliffs with nail-biting, but glorious views across the villages and out to sea. Base yourself in Positano or the quieter Ravello, being sure to take a day trip to magical Capri.
Read more in our full Florence to the Amalfi Coast itinerary.
Where to stay
A Winter Wonderland in Lapland
Rovaniemi – Kemi – Saariselka – Inari
A winter wonderland getaway filled with lots of beautiful snow, the amazing colours of the Northern Lights, Ice Castles that you won't believe, and excursions you won't soon forget.
By Sara at Our Kind of Crazy
Highlights
Starting in Rovaniemi, you can check out Santa's home along with his reindeer before heading to Kemi. Kemi, Finland is a hidden gem in Lapland, that is not to be missed. They have an awesome Snow Castle that has a different theme every winter, with carvings that are all made of ice and snow. Check out the Icebreaker Sampo Cruise while you're there, and see how the icebreaker ship breaks the frozen ice to help ships get to port. You can even float in the icy waters.
The Seaside Glass Villas are the most picturesque cabins looking out the Baltic Sea, where you can (with luck) catch some Northern Lights dancing across the sky.
Afterwards, head on North up to Saariselka, for an adventure of a lifetime. Northern Lights Village has some dreamy glass igloos to stay in, where you can watch the Auroras from your room. They offer snowmobile excursions, cross country skiing, snowshoe tours, all to go on the hunt for the Northern Lights.
You'll want to stop in Inari, Finland before you depart, and here you can learn all about the Finnish culture, and feed reindeer as well. It is definitely the dream winter trip that we cannot recommend enough.
[Editor note: We've also written a four-day Lapland itinerary]
Where to stay
North Coast 500, Scotland
Bealach na Ba – Applecross – Ullapool – Dunnet Head Lighthouse – Inverness
The North Coast 500 is an epic coastal road trip route in the Highlands of Scotland.
Niki Gordon at Chasing Departures
Highlights
When to go
(Spring/Autumn)
Start in Inverness and make your way around the northernmost part of Scotland where you'll see stunning scenery, ruined castles, and a variety of wildlife.
You'll want to give yourself plenty of time to make all the stops you want along the way. There are so many places, you definitely won't be able to plan for them all. Some will simply be along the side of the road, others will be a sign that takes you on a minor detour to an abandoned castle or another fantastic site.
Be sure to stop to try the fresh-caught fish along the way. Haggis and black pudding is also another must-try on the menu.
And don't forget to keep an eye out for sheep that are allowed to roam where ever they please. Including the middle of the road!
Where to stay
Iceland Ring Road
Reykjavik – Vik – Hofn – Fjalladyrd – Heiðarbær – Hvammstangi – Skjol
Pack up your sleeping bags and tents and hop on the road for an epic eight-day summer camping adventure around Iceland's Ring Road.
By Taylor Taverna at Taverna Travels
Highlights
While Iceland has seen a spike in tourists the past few years, much of the Ring Road is still quiet and untouched, even during the high season. I'll include some necessary highlights for you en route, but don't be surprised if you find yourself pulling over every few minutes to snap another photo or go for a quick stroll.
Start your adventure in Reykjavik, stopping at famous locations like the Blue Lagoon and the Hallgrimskirkja church, before hitting the road.
Make your way to your next destination, Vik, a quaint town in Southern Iceland. The campsites sits below a beautiful church, just across the way from the famous black beach. On the way you'll pass a number of must-see destinations, like the Seljalandfoss Waterfall and the Seljavallalaug Pools.
Next you'll find yourself in Hofn, a fishing town with some of the best local seafood. Wander the docks taking in the local atmosphere. Continue around the Ring Road through green fields with horses to icy roads and snow blizzards (even in the summer). Prepare to experience all four seasons each day, and enjoy every minute of it.
[We've also written a 5-day Iceland itinerary for winter – Victoria]
Where to stay
The following are campsites on the Ring Road that you can use with the Iceland Camping Card.
Highlights of Andalucía in Southern Spain
Granada – Nerja – Ronda – Pueblos Blancos – Seville – Córdoba
Spend 10 days exploring southern Spain's gorgeous Andalucía region, gorging on tapas, gazing at historic buildings and strolling cobblestoned streets.
By Rebecca Arnold at Rebecca and the World
Highlights
Start the trip in Granada, where the highlight will undoubtedly be the Alhambra. You'll need at least three hours to explore the intricacies of this thousands-of-years-old former fortress and palace. Granada is one of the last outposts of Spanish cities serving free tapas with drinks, so make sure to explore as many of the local bars as your stomach will allow.
Next up, head west to Nerja for some beach time. Don't forget to enjoy some of the fresh local seafood. From here, drive to Ronda, famous for its 100-metre-high bridge which is more than 200 years old. This amazing feat of engineering should be viewed from both above and below to truly experience its grandeur.
Take a slow day of driving to Seville, stopping in to admire a few of the pueblos blancos (white villages) along the way. Grazalema and Zahara de la Sierra are both highly photogenic. Wander the cobblestoned streets of these small towns to experience Spanish life, and find a local restaurant for lunch.
In Seville, more architectural wonders await. Make sure to add the Real Alcázar, Plaza de España, Casa de Pilatos and the Seville Cathedral to your itinerary. Catch an intimate flamenco show at La Carbonería.
End your trip in Córdoba, where the intricate beauty of La Mezquita will blow you away. Wander through the candy-striped archways of this mosque-cathedral, spending time at the jaw-dropping mihrab (prayer niche).
Where to stay
Northern Ireland Loop
Belfast – Carrick a Rede Bridge – Giant's Causeway – Portstewart – Derry – Lough Erne – Belfast
Explore the beautiful country of Northern Ireland, with its heritage listed sites, excellent food and fascinating history. Starting and ending in the capital city of Belfast.
By Heyley Lewis at A Lovely Planet
Highlights
Start in Belfast for your Northern Ireland road trip, and visit the Titanic museum for an in-depth dive into the ships origins.
Drive along the Causeway Coast to the Carrick a Rede Bridge, an iconic rope bridge connecting the mainland to a small island.
Continue along the coast to the Giant's Causeway, a UNESCO World Heritage Site and marvel at its incredible beauty.
Next stop is Bushmills Distillery, where you can learn how Whisky is made, and of course, have a little taste (if you're not driving).
Spend the night in Portstewart and enjoy dinner at Harry's Shack, right on the beach. In the morning get up early for a surf.
Drive on to Derry and take a city tour, admiring the city's murals.
Hop back in the car and drive to Lough Erne. If you're into golf, enjoy the magnificent golf course. If not, take a boat trip out onto the stunning lake.
Spend the night at Lough Erne Resort and in the morning, drive back to Belfast. End your road trip with a black cab tour, taking in the city's top attractions, followed by a beer (or whisky!) in the Cathedral Quarter.
Where to stay
The colourful towns of France, Switzerland and Italy
Colmar – Lucerne – Lake Como – Cinque Terre – Portofino – French Riviera
Take a trip through some of Europe's most charming villages, from fairytale Colmar to the dramatic setting of colourful Cinque Terre.
By Victoria at Bridges and Balloons
Highlights
Start in Colmar, a fairytale village of pastel-coloured house and scene that look straight from the town in Beauty and the Beast.
Next up is Lucerne, the Swiss town famed for its cobalt blue lake surrounded by mountains.
The drive from here to your next destination, Lake Como, is stunning, winding through the Alps. Stay in Varenna, a charming pedestrianised village and spend some days exploring the lake's towns and natural beauty.
From Como, head to Cinque Terre, one of the most spectacular places in Italy, where colourful cliffside villages hug the coast. Also spend a day or two north of there in picture-perect Portofino, playground of the wealthy and it's more down-to-earth neighbour, Santa Margherita Ligure.
Finally head to the French Riviera via Monaco, staying in the artistic hilltop village of St Paul de Vence. End your stay in Marseille, stopping off at Cannes, St Tropez, Cassis and the magnificent Calanques National Park along the way.
Read more in our detailed itinerary of this road trip through France, Switzerland and Italy.
Where to stay
Castles and Beaches on the Aberdeenshire Coastal Trail
Stonehaven – Aberdeen – Royal Deeside – Newburgh – Cruden Bay – Rattray Head
Go off the beaten track to discover Scotland's scenic beaches, castles and towns of the north east on the Aberdeenshire Coastal Trail.
By Kathi Kamleitner at Watch Me See
Highlights
Base yourself in Aberdeen, a bustling city by the seaside that offers everything a Scottish city needs: a sprawling beach, an urban city centre with iconic street art, a historic University campus and a medieval Old Town.
Spend a day in the city then head out to explore the coast. The Aberdeenshire Coastal Trail stretches north and south of Aberdeen. Begin your adventure by visiting Stonehaven, just south of Aberdeen and home to the stunning ruins of Dunnottar Castle.
Next, head north, making a stop in Newburgh to visit the local seal colony. Visit the haunted ruins of Slains Castle and stop by the nearby village of Cruden Bay for a seafood lunch.
The highlight of this road trip is only for those who brave a narrow dirt road on the way to Rattray Head. Your efforts will be rewarded by a gorgeous sandy beach and a lighthouse on a rock just off the shore.
Crovie and Pennan are your final calling points for the day – two villages that are built on such narrow stretched of land between the sea and the cliffs, cars can barely pass through.
The next day, swap the coast for the mountains and explore the Scottish Castle Trail. Head into the Royal Deeside, where you can choose from hundreds of sites – but only one has supposedly inspired Walt Disney to create his pink fairytale castle: Craigievar! At Balmoral you can visit the Queen's summer residence and stretch your legs at the large estate. Or head to the Muir of Dinnet for walks in the local nature reserve.
Where to stay
Epic Week in Sardinia
Bosa – Cuglieri – Buggeru – Cagliari – Villasimius – Palau – Maddalena Island – Capo Caccia
Explore the beauty of Sardina from UNESCO sites, to the most beautiful beaches and hikes on this epic road trip.
By Hanna Thomas at Solar Powered Blonde
Highlights
Start in Bosa, and wander through this pretty little town for the morning. Then head south to Cuglieri, home to orange rooftops and an outstanding basilica on top of a hill.
Once you leave Cuglieri, explore the beach at Buggeru and the port. After a bit of time spent in the car, head up the mountains to hike with the best view of Cagliari below while visiting the flamingos at Quartu Sant Elena along the way.
Next have a beach day and explore the stunning beaches in Villasimius, including Capo Carbonara, some of the most perfect beaches on Sardinia.
Once you head up north, stop at Capo D'Orso, also known as Bear's Rock for the most incredible sunset. Once you have explored Palau, get the boat across to La Maddalena Island. From here you can also cross over the bridge to Caprera Island, home to the most beautiful beach ever, Cala Coticcio. Here all the beaches are perfect with bright blue sea, and lovely to swim in summer but also in March, as it's so shaded it's also the warmest beach.
To finish off your epic road trip, head to Capo Caccia, to see dolphins swimming at sunset and incredible cliffs.

Where to stay
Sao Miguel Azores Adventure
Ponta Delgada – Furnas – Ribeira Grande – Sete Cidades – Nordeste
Spend four days exploring the beautiful landscapes of Sao Miguel, one of Portugal's Azores Islands.
By Inma at A World to Travel
Highlights
Departing from the capital, Ponta Delgada, where the PDL airport is located (served by a multitude of cheap flights from many points of the old continent) and establishing our base there, every day we toured a corner of the island.
The first day we drove west. Sete Cidades and its many lagoons had us busy before watching the sunset over the favorite spot of surfers on the island: Mosteiros.
The second day we visited the north and northeast, Ribeira Grande and the cliffs that surround it, in addition to the tea plantations and other wonders of the area.
Finally, the third day we drove east. Near Nordeste, we saw more lagoons, waterfalls, and cliffs. Our favorite was Punta do Sossego, where we decided to end our adventure before returning to Ponta Delgada to spend the night and, the next day, take the plane back home.
As we had little time, we had to limit our Azores road trip to the island of Sao Miguel, the island that receives the most tourism. Still, as we traveled there in winter, we were lucky to have the island for ourselves because there were hardly any other tourists. For our next trip, there are the other Azores islands to explore like the beautiful Terceira and Flores. Oh Portugal, what an inexhaustible source of dream landscapes you are!
Where to stay
Wild Atlantic Way, Ireland
Derry – Donegal – Achill Island – Galway – Tralee – Castlemaine – Killarney – Kinsale
Take in the natural beauty that is Ireland on this epic 2500km road trip from the top of Ireland, along the West Coast to the bottom of Ireland.
By Catherine Jordan at Passports and Adventures
Highlights
Start in the Northern Ireland town of Derry and start making your way south until you reach the fishing town of Kinsale.
There are many places to stop along the way, the hardest part will be chosing where. Achill Island is a must and in particular Keem Bay. While making your way from Achill to Galway, Clifden and Connemara are other areas you must visit.
And no trip along the Wild Atlantic Way would be complete without visiting the Cliffs of Moher, one of the things to do in Ireland you must add to your itinerary.
As you make your way further south, visit the small fishing town of Dingle where you might spot a certain local celebrity. And you should treat yourself to some fish and chips.
From Dingle, you'll next drive most one of the most scenic parts of Ireland, the Ring of Kerry. This 177km circular ring road, passes along the Wild Atlantic Way and through Killarney National Park, Ireland's first National Park. If you have time, visit Muckross House, the Torc Waterfall, Ross Castle and the Gap of Dunloe.
And finally, you'll make your way from Killarney to Kinsale, completing one of the most epic road trips in Europe and one of the best things to do in Ireland.
Where to stay
The Alps, from Vienna to Geneva
Vienna – Salzburg – Innsbruck – St.Moritz – Zermatt – Geneva
An epic road trip through the Alps in Austria and Switzerland. Start in Vienna then drive through idyllic villages, bustling cities and some of Europe's highest mountain ranges.
By Priya Vin at Outside Suburbia
Highlights
Start in Vienna and then make your way to Salzburg. We stopped at the bright yellow Melk Abbey that sits majestically on a rock overlooking the Danube.
While the Old Town of Salzburg is known for its baroque architecture and breathtaking squares, palaces and gardens, it is also a perfect base for a few amazing road trips in Austria. We loved driving on the highest Alpine road to the see the highest mountain and also walking on the highest suspension bridge in Austria.
Once we made it to Switzerland, we based ourselves in the Alpine winter tourism holiday resort town of St. Moritz, which is perfect for summer activities as well. We loved being pampered at a Palace Hotel here after our day hikes in the mountains nearby.
From St. Moritz we drove to Zermatt, which was the longest drive day. We parked our car and took a train into the car-free little town of Zermatt which lies at the foot of the Matterhorn. It is probably the world's most famous pyramid mountain.
You can enjoyed walking, cycling, climbing, paragliding and other high-Alpine tours in the region which is legendary among mountaineers. It has several family-friendly easy to do hike around the many meadows and crystal clear lakes.
We made a quick stop on the shores of Lake Geneva, at Chillon Castle in the town of Montreux before reaching Geneva. Surrounded by vineyards and set against the breathtaking backdrop of the snow-covered Alps, this is a place we wished we had planned for a little more time!
Where to stay
Gothenburg – Oslo – Flam – Bergen – Stavenger – Copenhagen
An epic road trip through Sweden, Norway and Denmark.
By Jamie Italiane at The Daily Adventures of Me
Highlights
Start in Gothenburg, Sweden's vibrant second city. From there, you drive up the coastline to Oslo, stopping at the medieval town of Fredrikstad along the way.
Spend your next day exploring Oslo before driving up to Flam, an area famous for its fjords and dramatic landscapes.
And then head to the seaside city of Bergen stopping at as many waterfalls as you can on the journey. Explore the city and then head to Stavenger before finally getting the ferry to Copenhagen. You could end your trip there or loop back round to Gothenburg if your flight home is from there.
Where to stay
Gauja National Park, Latvia
Riga – Karlamuiza – Cesis – Sigulda – Riga
Driving from Riga across Gauja National Park to experience the pristine nature of Latvia.
By Claudia Tavani at My Adventures Across The World
Highlights
Gauja National Park is the largest in the country, and comprises the small towns of Cesis, Valmiera and Sigulda. It's the beautiful nature of this region that steals the show.
Once you get to Karlamuiza you can enjoy the hikes through the beautiful, thick forest. The trail goes along the Amata River and the sandstone cliffs and rock formations that made the region famous.
Cesis, where you stop on the second day of the road trip, is a lovely town whose main point of interest is a medieval castle. You can bike from there to Valmiera to experience the beauty of the national park.
Sigulda is another pretty town whose main point of interest is the castle. If you happen to be traveling at the beginning of the summer, make sure to attend the Midsummer Festival for incredible celebration with fire and flower ceremonies and lots of popular singing.
Where to stay
Dalmatian Coast
Dubrovnik – Split – Trogir – Primosten – Zadar
Explore Croatia's incredible Dalmatian Coast on this trip from Dubrovnik to Zadar. Be amazed by the stunning coastline and visits to Venetian inspired cities and towns along the way.
By Noel Morata at Travel Photo Discovery
Highlights
When to go
Spring – Autumn
Start your trip from the world famous Dubrovnik, making sure to try out all the magnificent seafood dining options in any of these places – the food is amazing, fresh and definitely delicious!
Next head to historic Split. You could base yourself here and do day trips, or take more time if you want to stay over night in any of the cities or towns along the way. [This is the gateway to some of Croatia's most beautiful islands if you fancy some island time!]
The first stop is Trogir, a wonderfully old Venetian island city with many different architectural features, promenades, squares and fantastic seafood restaurants. It's one of the most famous historic Adriatic landmarks.
You can also have a nice visit to another little town in a peninsula called Primostene with scenic views from the main hill or walk through the waterfront to check out the cute shops and fresh seafood options. [Editor note: Sibenik is another good option, and a good jumping off place for visiting Krka National Park]
The last stop is another Unesco historic site called Zadar which is filled with lovely squares, beautiful architecture and waterfront vistas and walkways to explore [Editor note: Another good day trip from here is Plitvice National Park]
Romantic Road, Germany
Need to add
Pass through quintessential German towns and some gorgeous fairytale castles on the Romantic Road in Germany.
By Adam Lukaszewicz at Getting Stamped
Highlights
The Trip takes you from Wurzburg to the southern border of Germany to the town of Füssen. Along the Romantic Road, you'll find more than a dozen stops. To do all of the stops, you should allow a minimum of three days, but you could easily fill a week if you love castles and old-world charm.
The perfect three-day itinerary for the Romantic Road would start from Wurzburg. Before heading down the road, make sure to wander through the extensive gardens and opulent rooms of the Wurzburg Residence. From there pick another stop along the route that catches your eye – you really can't go wrong with the charming Bad Mergentheim.
On your second day linger a while watching Rothenburg Ob Der Tauber's narrow cobblestone streets come to life before jumping back into the car on your way to Füssen. In this stretch of the Romantic Road, there are many little towns worth pulling over for, but some favourites are Dinkelsbühl, Nördlingen, Harburg, each with their own charms.
If you plan your day right, you can make it up to the famous Mary's Bridge (one of the best viewpoints of Neuschwanstein Castle) just in time for sunset. Reserve your last day to explore two of Germany's most famous castles Neuschwanstein and Hohenschwangau perched in the foothills of the mountains.
This route can also be done in reverse, but with some of the most impressive bits in the south, most find it better to end here. No matter which way you choose to tackle the Romantic Road, it is sure to be a road trip to remember
Where to stay
Cultural Coastline of Northern Spain
Madrid – Avila – Salamanca – Leon – Picos de Europa – Bilbao – San Sebastian -Zarauz
Explore Northern Spain, a region brimming with culture, history and more delicious food and drink than you'll be able to squeeze in.
By Jules Hatfield at Don't Forget to Move
Highlights
Starting your Northern Spain road trip in Madrid to get a taste of the country's bustling capital, including its epic museums like Prado National Museum and the Reina Sofia.
When you've had enough of the city's traffic, head north to small town Avila to walk the castle wall and grab a traditional famous local dessert, the Yemas de Santa Theresa.
Next up explore the traditional cities of Salamanca, a beautiful town with the oldest university in the country and Leon, the region's tapas capital.
If you've had your fill of cities, we suggest driving all the way to the coast of Northern Spain and then heading West to Picos de Europa. This national park is a gorgeous stop to immerse yourself in nature. Stop for a couple of nights at one of the small towns in the park so you can really get a feel for this unique place. There are plenty of hikes that will take you up into the mountain range.
Finally, we recommend ending your trip in the very unique Basque country. Depending on who you ask, this region isn't part of Spain, at least in culture, language and political views (don't worry, you don't need a visa!).
Bilbao is the region's capital and a great place to start to get a taste of the Basque culture. Then, head up to San Sebastian on the coast for the beach and to stuff yourself with the local version of tapas, Pinxtos.
Finish up your trip with the coast's hidden gem, Zarautz. This small coastal town is popular with local holiday goers but you can still find a slice of the beach for yourself.
Where to stay
Slovenia in 10 Days
Ljubljana – Lake Bled – Soca Valley – Piran – Vipava Valley
A 10 day discovery of one of Europe's most underrated countries, taking you through mountains, lakes, wine valleys, and incredible gourmet food.
By Victoria at Bridges and Balloons
Highlights
Start in Ljubljana, the charming capital with a pretty old town and laid-back vibes, perhaps doing a day trip to Maribor while there.
Next go to Lake Bled to one Slovenia's most famous sights, the fairytale castle amid a pristine lake.
Drive along the Vrisic Pass through the Triglav National Park and beautiful Soca Valley, staying the night at the incresible Hisa Franko.
From Kobarid, head to Piran, an atmospheric place to spend some time on the Slovenian coast, enjoying the seafood, sunsets and pretty seaside town.
And then it's on to the serene Vipava Valley where you can stay at Majerija, a beautiful farmhouse and restaurant, serving sumptuous meals you'll want to linger over.
Stop at the magical Predjama Castle on your way back to Ljubljana.
Read more in our detailed 10 days in Slovenia post.
Where to stay
Bucharest to the Transfăgărășan Highway
Bucharest – Brasov – Curtea de Argeș
The Transfăgărășan Highway itself is quite simply one of the most incredible in the world. Every twist and turn make this a joy to drive.
By David Murray at Show Them the Globe
Highlights
The Transfargarasan Highway is generally considered to be one of the greatest roads in the world. Even Jeremy Clarkson from Top Gear called it "the best road in the world".
Over six million kilograms of dynamite was used to blast the road through the Carpathian Mountains to create this incredible road. Originally built by the Romanian ruler Nicolae Ceaușescu as a military road, today the highway is a tourist destination.
The mountain pass is long meandering road with hairpin bends and steep snakes through the mountains, passing lakes, waterfalls and castles. It opens up to overlook a beautiful valley with amazing views of the Highway. The views from here are truly unique and it's crazy to see the cars like ants snaking up the pass.
Start in Bucharest. And then drive the highway from north to south for the best views of the road, basing yourself in Brasov for the night before making the journey along the highway.
Make sure to stop at the Vidraru Dam for some really stunning views of the Romania countryside.
Where to stay
Sicily Loop
Taormina – Mt Etna – Cefalu – Zingaroo National Parl – Trapani – Favignana – Valley of the Temples – Baroque cities
Circumnavigate Sicily on this road trip across charming old towns, beautiful beaches and the mighty Mount Etna.
By Leanne Scott at The Globetrotter GP
Highlights
There is a common misconception that Sicily is a small island. It's actually pretty big, and you will need at least 10 days to circumnavigate it. It's 100% worth the effort though and is one of the best Italy road trips I have taken so far.
Sicily offers the perfect blend of charming old towns with cobbled alleys and old streets, beautiful beaches and dramatic scenery like Mount Etna, an active volcano. There are ancient monuments and amphitheatres, pretty islands and a plethora of delicious restaurants offering authentic Italian food.
I'd recommend spending a few days in Taormina where you can arrange a day trip to Mount Etna. Then work your way west via Cefalu and the beautiful Zingaroo National Park.
Spend a day cycling around the tiny island of Favignana, stopping at various beaches with the brightest coloured ocean.
And then your last few days will be spent exploring the Valley of the Temples and the Baroque cities in the southeast, Ragusa being my absolute favourite.
Find the best deals on car hire
We recommend Rentalscars.com for booking your rental car. They search over 900 companies, and if you find a cheaper deal anywhere else, they promise to beat it. We use them every time.
Pin it for later
Top tips for a road trip in Europe
For car rental for your Europe road trip, we recommend booking with Rentalcars.com. We find they always have the cheapest deals for mainstream retailers. Bear in mind that if you're picking up and dropping off the car in different locations, there may be a transfer fee, which is normally quoted separately to the rental price.
If you decide to book any AirBnB apartments, use this link, as it'll give you £25 off your first trip.
We often find great last-minute deals on Booking.com, getting a discount of up to 60%.