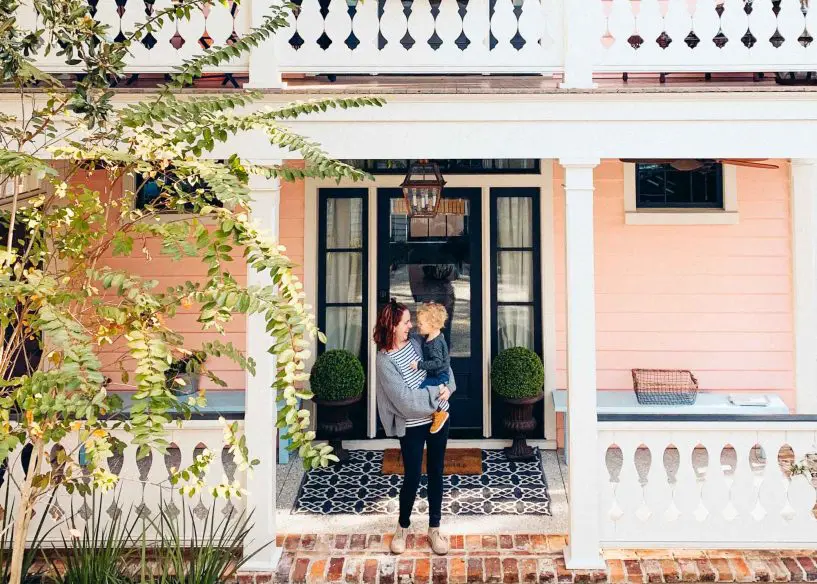 Charleston is filled with dream homes – I was bowled over by the colour, cuteness and character of so many we passed on the streets. But to truly get a taste of what it'd be like to live in one of these gorgeous abodes, Airbnb is the obvious choice. I spent hours trying to choose an Airbnb in Charleston, eventually settling on two, which happily exceeded my expectations. This list is a round-up of the shortlist I complied when doing research – a carefully curated guide to the best Airbnbs in Charleston.
Airbnb Charleston: The Best Places to Stay
The Little Pink House on the Peninsula
This is my favourite of all Charleston's Airbnbs, which is why we chose to stay there on our Southern USA road trip. I admit, the aesthetic of the little pink house itself was a major draw – I mean just look how cute it is. And the interiors were equally up to scratch with a gorgeous high-spec kitchen and a large bathroom. Despite being small, it feels spacious due to the design, plus the charming porch and balcony provide some added space too. We were travelling with a toddler and still didn't feel cramped.
What the guests say: "The location is hard to beat with excellent restaurants just a short walk away. The place is charming – just the right size for a long weekend getaway. It was clean and bright and Mauri was easy to communicate with. We had a great stay!"
Modern apartment in downtown Charleston
Wagener Terrace is one of Charleston's hippest neighbourhoods, just a 20-min walk from King Street and filled with plenty of independent restaurants, cafes and bars. This three-bedroom apartment in a historic duplex is an ideal choice for your stay there, furnished with modern amenities, thoughtful design touches and everything you need for a comfortable stay. Another good option in the area is this one-bedroom apartment.
What the guests say: "Denise's place was spotless and beautifully decorated. Check in was seamless and the house is located in a charming neighborhood close to some great restaurants. The beds were very comfortable! We fully enjoyed our stay."
Zero Water Street
The third-floor suite in a waterfront mansion is all about the views, with expansive vistas of Charleston Harbour and Fort Sumter. Best of all it comes with a huge private piazza, complete with hammocks and rocking chairs for lounging and taking in those views. The apartment itself is classically styled and includes a full kitchen, master bedroom, study and bathroom. The high ceilings, original Tiffany chandelier and black marble give a stately vibe and give you a taste of what it'd have been to live in Charleston back in the 1800s.
What the guests say: "Wonderful property with all you could ask for – cleanliness, plenty of room, and wow, the view! Enjoy the piazza to see the ocean, dolphins, and horse drawn carriages all in one sitting!"
Old meets new in historic apartment
If you'd like to stay in Charleston's historic district amid all the old mansions, this luxurious two-bedroom loft apartment offers a central stay close to galleries, museums and historical tours. Mixing heritage items with mod cons, high ceilings and original fireplaces makes for a comfy yet characterful stay.
What the guests say: "Tim's place is located right in the centre of the historic district of Charleston, and made a great base from which to explore the city. There are lots of excellent bars and restaurants close by, and Tim had left a book of recommendations. The apartment itself was beautiful, and Tim had left wine and essentials for our arrival. Great host, great location, great apartment – no complaints!."
Enchanting apartment in historic district
This is one of my favourite Airbnbs on the list in terms of its style. Mixing mid-century opulence with stylish, modern touches, the three-bedroom apartment has a stately yet fun character. The mint-coloured freestanding bathtub in one of the bedrooms is a highlight, as well as the pretty front porch. You can also rent out the entire five-bedroom house here.
What the guests say: "A beautiful home within walking distance to many shops and restaurants. Very spacious and comfortable with plenty of amenities. Ginger is a fabulous host. We will be booking again on our next trip back to Charleston!."
Hip home in downtown Charleston
With a neutral, pared-back style, this peaceful apartment with wooden floors, and exposed beams and brick offers a comfy stay. Accommodating up to 10 guests, it's an ideal choice for groups. It's also just off King Street and in walking distance to all the main sights.
What the guests say: "The home is in a perfect location and walkable to great restaurants and bars. It's beautifully decorated and has great amenities. Check in/out was easy and communication was perfect."
Tranquillity with heated pool
The star of the show at this one-bedroom apartment is the beautiful outdoor heated salt-water pool. On the ground floor of one of Charleston's classic wooden houses, it has comfy furnishings and a shared courtyard with a koi pond as well as the pool. It's situated in the popular Cannonborough-Elliotborough neighbourhood, close to some excellent restaurants, bakeries and boutiques.
What the guests say: "Had a very nice stay. The apartment was clean and had all the necessary amenities. The pool was a nice addition. It is shared by a few apartments. The location is pretty good. Short walk to King St. restaurants/bars.."
Southern Shangri-La in Cannonborough-Elliotborough
Sydney and Will have a few Airbnbs in Charleston under the name Southern Shangri-La, which represents everything they love "from good vibes to travel to surf". All are decorated with a fun bohemian style with pieces collected from the owner's travels around the world. This colourful two-bedroom apartment in Cannonborough/Elliotborough is my favourite, but there are also lovely, and slightly cheaper options in the same neighbourhood – Unit A and Unit C.
What the guests say: "Great spot and centrally located. We loved that everything was walkable! The place was adorable and clean and had great amenities. The white noise machines were the cherry on top. Great place, we were obsessed."
Cosy apartment
This two-bed apartment in trendy Cannonborough/Elliotborough is a super stylish space with a fun and impeccable use of colour, from the hot pink front door to the mint kitchen cabinets. Sit out on the front porch while watching the world go by and then head out to one of the local restaurants or bars. If there are just two of you, this stylish studio offers a cheaper option nearby. 
What the guests say: "Christiana's apartment was very comfortable and she quickly answered a question I had prior to check-in. The pictures accurately show the rooms and the location is perfect to get to excellent restaurants and shops."
Chic apartment in classic Charleston house
This bright and airy two bed apartment can sleep up to seven people. As with many of Charleston's homes, it marries old and new with original features alongside modern furnishings, creating a stylish high-end space. The outdoor piazza (porch) is a highlight.
What the guests say: "Great spot in beautiful Charleston! Perfect home base for exploring the city. The house was gorgeous, comfortable, and very clean. Loved afternoons on the outdoor patio! Hosts were super nice and went over and beyond in helping make our stay with our 2 year old as easy and seamless as possible."
The Inns at 154 Spring Street
The Inns are a brand of luxury vacation homes in Charleston, offering reliably stylish accommodation that showcases local artists and interior designers. This is a one bedroom option at their property on Spring Street, complete with an en-suite bathroom, kitchenette, mini fridge, coffee machine and shared outdoor common spaces.
What the guests say: "The Inns have a lovely apartment block. We stayed in E, a little cottage to the rear. It was clean, tidy and very cute. You are a short walk to bars and food, and a longer albeit not too long a walk to downtown. Definitely recommend this place."
Percy Street Retreat
This home is currently available on Airbnb but you can rent it out for events and photoshoots. We stayed there while in Charleston and it turned out to be my dream home, from the décor right down to the record collection. Contact Flyway Management if you're interested in hiring it out, or to find out if they'll be renting it out again for stays in the future.
Found this useful? Share it on Pinterest!
All photos courtesy of Airbnb.