Giant oaks trees hanging with moss, elegant public squares and picturesque streets, plus oodles of Southern charm combine to make Savannah one of the South's most charming cities. It's also has a thriving arts community and is renowned for its hospitality, earning it two monikers: the 'Creative Coast' and 'Hostess City'. All these delights make for a gorgeous city break. From wandering Forsyth Park to finding the city's best restaurants, here's a guide to the most fun things to do in Savannah, Georgia. we went as part of our big southern USA road trip.
Some of the links in this post are affiliate links, meaning I get a small commission if you book them (at no extra cost to you). It's one of the ways I keep this website going. I have marked affiliate links with an asterix *. Read more about my affiliate policy here.
Savannah Travel Guide
Bridges and Balloons' favourites
Head to the Forsyth Park Farmers Market on a Saturday
Wander the old town and take in all the pretty houses and squares
Grab an ice cream at Leopold's
Sample the amazing baked good at Back in the Day
Head to the trendy Starland District for food, coffee and indy boutiques
Where to stay in Savannah, GA
Savannah is an easily walkable city so it's worth staying around the centre, so you can forego the need for a car. That said, there are also some great options in the trendy Starland District, a little north of Forsyth Park (a 45 minute walk from River Street).
These are a few of our favourite apartment rentals and hotels in Savannah.
Sonder Apartments
We stayed in a Sonder Apartment, which are essentially a cross between an apartment rental and a boutique hotel – you get the benefits of both, with the style of a hotel but the space of an apartment (and cheaper than a hotel too). Sonder have a few different apartment blocks in Savannah and we stayed at the one on Broughton Street, which is ideally located for all the main sights. Book your stay here.
The Thunderbird Inn
The Thunderbird Inn* is a renovated roadside motel, voted one of the top ten best retro hotels in the USA. The hip, colourful hotel comes with lots of little bonuses, including complimentary doughnuts, coffee, lemonade and hot popcorn. Book your stay now*.
Azalea Inn
Experience some classic Southern hospitality at this charming B&B, the Azalea Inn*, in central Savannah. Rooms are plush and comfy and there's also a pool, BBQ and lush garden to enjoy. Book your stay now*.
Perry Lane Hotel
For an upscale hotel, opt for the stylish Perry Lane Hotel* where you can sit back and relax or tap into the lively Savannah party scene. Amenities include a hip rooftop pool and bar, contemporary restaurant/deli and full programme of events and classes. They have morning rooftop yoga sessions for both guests and non-guests. Book your stay now.*
How to get around Savannah, GA
Central Savannah is easy to navigate on foot and a pleasure to walk around with all the gorgeous squares and architecture. There's also a good bus network if you don't fancy walking – there's even a free shuttle (the dot) that takes you around the Savannah historic district free of charge. However, you'll need to drive/take a bus to any area south of Midtown.
We also loved using the hop-on-hop-off trolley tour as a means of getting around while also learning about the city.
The best time to visit Savannah
The best time to visit Savannah is Spring (March-May) when flowers are in bloom and temperatures are fair. Autumn (mid-September to mid-November) is also a good time as temperatures are fine (ranging from 14-26°C) and the room rates drop. Summer is high season and hottest month in Savannah is July with an average temp of 33°C. The heat and humidity can make it unbearable for those not used to the climate. The coldest month is January with an average daytime high of 16°C and a low of 4°C. August is the wettest month.
Fun things to do in Savannah, GA
1. Hang out in Forsyth Park
Forsyth Park is one of the most iconic Savannah sights, especially its fountain, which is the most photographed spot in the city. The 30-acre park is one of the best places to see the moss-laden trees and it's also a simply gorgeous place to hang out.
On Saturday, don't miss the farmer's market. And if you have kids, the playground is fantastic.
2. Tick off all 22 squares
Savannah was planned as a utopia and central to that vision was the plethora of beautiful squares. There are 22 in total, all joined by equally pretty streets, and each with its own personality. Wander them all and pick your favourite – we loved Crawford Square with its pretty pagoda, which any fellow Gilmore Girl fans will appreciate! The squares offer many of Savannah's best photo spots.
3. Pick your dream house
Savannah is filled with gorgeous town houses. Stroll the streets and choose your favourite. One of the most beautiful streets is Jones Street with huge mansions and towering oak trees. But I also loved the streets around Forsyth Park.
4. Do a trolley tour
One of the best ways to explore Savannah is on one of the trolley tours. We did the Old Town Tolley Tour, but another option is Old Savannah Tours. The Old Town Trolley has 15 stops and you can choose between a one or two-day pass, which allows you to hop on and off as much as you like. The driver explains the history and culture of the city during the tour, which proved to be a really relaxing way to learn more about Savannah and its history. It's also a good option for kids who are into trams and like! [Disclosure: Our trolley tour was free of charge courtesy of Visit Savannah. This is the only thing we used our media pass for.]
5. Wander City Market
City Market, Savannah's 18th-Century open-air marketplace is one of the city's top tourist attractions. The restored warehouses home an eclectic selection of restuarnts, boutiques, art galleries and bars, and the pedestrianized streets are an ideal place to sit back and watch the world go by.
6. Buy some cookies at Byrd's
Perhaps the most famous cookies in the South, Byrd's Cookies is a must for anyone with a sweet tooth – or if you're simply looking for an iconic gift to take back home. There are several locations in the city including on River Street and in City Market. You can try samples in-store then choose your favorites to take back home. The peach cookies are amazing!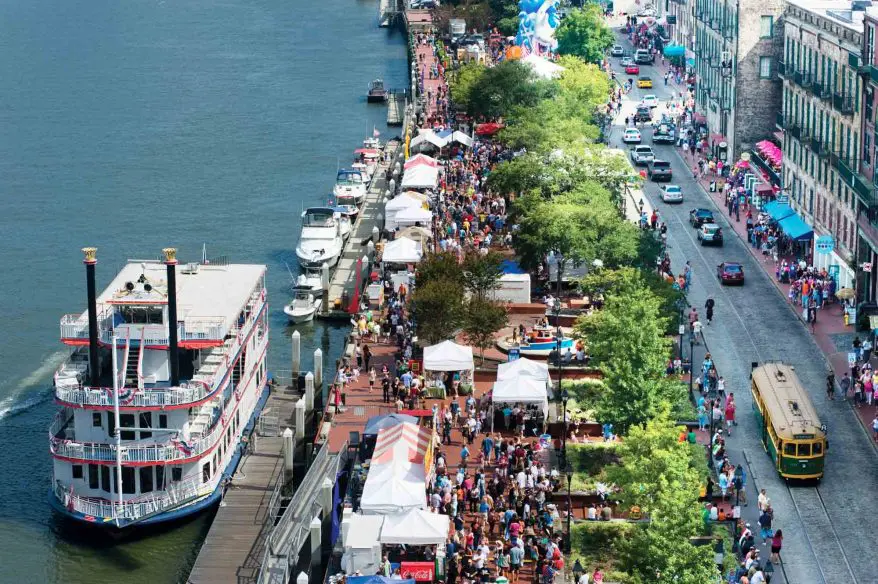 7. Take a stroll on River Street
River Street is another of Savannah's top tourist attractions. It runs alongside the Savannah River and is lined with souveier shops, galleries and restuarants. It's also very popular for pub crawls. We found City Market to be the more attractive of the two.
8. Visit Shop SCAD
Savannah is home to SCAD, one of the USA's best art schools and Shop SCAD is a great place to see some of the artwork of current and historic alumni. The impressive boutique/gallery features everything from paintings to textiles to jewelry, some more affordable than other.
9. Go to the SCAD Museum of Art
Another SCAD institution is the SCAD Museum of Art, which has an impressive permanent collection as well as regularly rotating exhibitions. Admission is $10 and children under 13 go free.
10. Find out why it's known as the Hostess City
Savannah is famed for its hospitality, so make sure to seek out some classic Southern charm while you're there. Perfect places to experience it include The Grey, The Olde Pink House and the Azalea Inn.
11. Explore the local art scene
As you'd expect with an arty city, downtown Savannah is filled with little galleries featuring both local art and pieces from further afield. Places to check out include Gallery 209, Roots Up Gallery and Kobo. There were some beautiful pieces celebrating feminist icons when we went to Roots Up.
12. Indulge in chocolate at Chocolat by Adam Turoni
These little shops are galleries of exquisite chocolates made into an artform by Adam Turoni. It's worth popping in just to look at them, but I also highly recommend buying some – they're fancy chocolates at their best. I particularly loved the Mexican Mayan truffle and the red velvet cake truffle.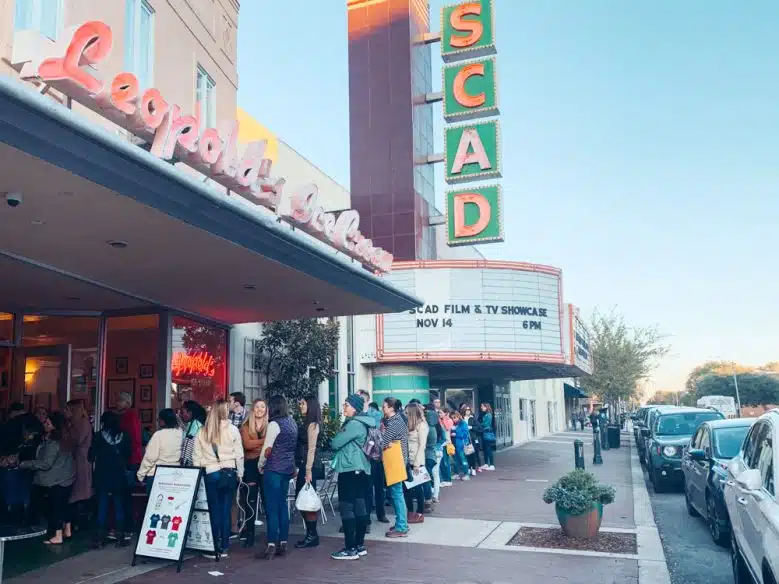 13. Try one of the USA's best ice creams at Leopold's Ice Cream
Ooooh you can't go to Savannah without trying an ice cream from Leopold's Ice Cream –and everyone knows that hence the queues. But the wait is very much worth it for an ice cream from one of the USA's oldest ice cream parlours. Grab a cone or dine in for one of their famous sundaes.
14. Enjoy top notch baked goods at Back in the Day Bakery
This was my number one favourite bakery in Savannah – the fluffy buns and scones are nothing short of perfect. Plus it's a super cute shop with top notch hospitality and an invitingly rustic décor. The owners have published a few cookbooks, which I have on my wish list – would love a taste of Savannah at home!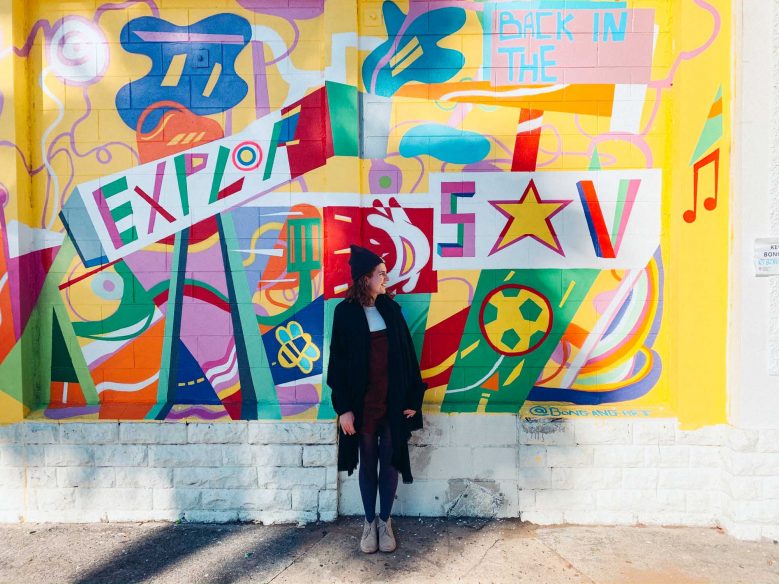 15. Take in the street art in the Starland District
The trendy Starland District is one of the best places to see street art in the city. While we were there, we saw several people painting murals on walls that had been designated for that purpose. It was particularly interesting to see the artists at work.
16. Go to the Savannah Children's Museum
The Savannah Children's Museum is a lovely place to while away some time and keep the kids occupied. It's entirely outdoors and includes over a dozen exhibits including a maze, reading nook and sensory garden.
17. Take a riverboat cruise
Taking a riverboat cruise is a relaxing way to learn more about Savannah's history while viewing the city from the river. There are a few different options to choose from, including moonlight, brunch and dinner cruises, and a gospel cruise where you get to hear the live sounds of Southern gospel music. This would be a fun thing to do as a couple, being one of the most romantic things to do in Savannah.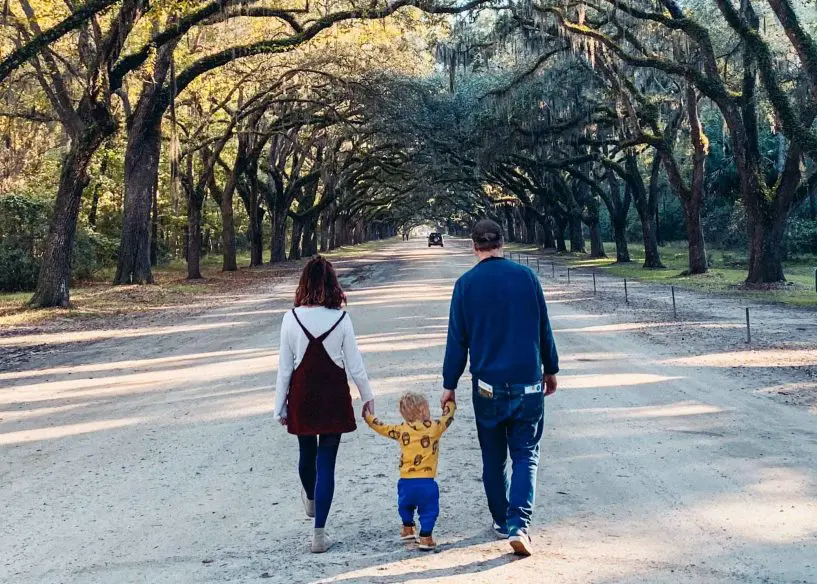 18. Walk the Avenue of Oaks at Wormsloe
One of Savannah's most photographed sights is the impressive avenue of oaks at Wormsloe Historic Site. Somewhat misleadingly named, Wormsloe is actually an old plantation with a troubled history, which isn't sufficiently acknowledged in its tours. It's therefore a somewhat complicated place to visit, but there's no denying the 1.5-mile avenue of oaks is impressive.
19. Explore haunted Savannah on a Hearse Ghost Tours
Yep, as the name suggests, this is a tour conducted from an actual hearse. Savannah is known as the most haunted city in the USA and this is a suitably dark way to explore it all. The guided tour takes 75-90 minutes and journeys through the cemeteries and haunted past of Savannah, telling ghost stories along the way.
20. Go to the historic Savannah Theatre
If you fancy catching a show while in town, the Savannah Theatre is the place to go. Not only does it look pleasingly retro from the outside, it's also one of the USA's oldest theatres and hosts a fun programme of live music revues.
21. Book Lady bookshop
It wouldn't be a Bridges and Balloons guide without an independent bookshop and the pick of choice in Savannah is the Book Lady. This gorgeous vintage store sells new and used books and is the kind of place you could get lost in for hours.
22. Head to the Telfair Museums
Alongside the smaller galleries, you can also visit the Telfair Museums, the South's oldest public art museum, spread over three buildings and covering 200 years of art history. One of the buildings, the Jepson Centre also houses the Artzeum, an interactive children's art museum.
23. See Juliette Gordon Low's Birthplace
Were you a Girl Guide? I didn't make it past Brownies, but the founder of the Girl Guide movement, Juliette Gordon Low, was born in Savannah. You can visit her home to take a tour and learn more about the movement.
24. Tour a historic home
Savannah is filled with historic homes and some are open to visitors. The Mercer Williams House is an Italianate mansion that featured in Midnight in the Garden of Good and Evil. Or try the Owens Thomas House, a villa that exemplifies British Regency style architecture. And the Sorrel Weed House for Greek revival and Regency architecture.
25. Visit Bonaventure Cemetry
Head to Bonaventure Cemetery to experience the epitome of Southern Gothic. Immortalised in Midnight in the Garden of Good and Evil, it's the oldest cemetery in Savannah and covers 100 acres, filled with forlorn statues amid the classic Southern Spanish moss. Another popular cemetery to visit in the city is Colonial Park Cemetery, the oldest cemetery from the Revolutionary era.
26. Underground tours of Savannah
To find out more about Savannah's part in the history of slavery, the Underground Tours of Savannah come highly recommended. While many of the plantations shy away from talking about slavery, these tours put slavery front and centre, telling the African American journey from slavery to freedom in Savannah, Georgia and beyond. We weren't able to do this with Otis, but it's top of my list of things I wish we'd had time for. The Freedom Trail is another highly rated option.
27. Visit the first African Baptist Chrurch
Savannah's First African Baptist Church is believed to be the oldest continually active, autonomously developed African-American congregation in North America. The church was also the birthplace of the area's civil rights movement during the 1950s and 1960s, ad it was part of the Underground Railroad during the civil war.
28. Take a brewery tour at the Coastal Empire Brew Company
Beer lovers, the place to go in Savannah is the Coastal Empire Brew Company where you can do a tour and tasting. Other breweries to try are Southbound Brewing Co and Moonriver Brewing Company. If beer isn't your thing, then head to Ghost Coast Distillery for an array of different spirits.
29. Go shopping on Broughton Street
Broughton Street is the premier shopping street in Savannah (although you'll find interesting boutiques all over the city). Popular shops include the Paris Market (see number 29), Civvies vintage store and 24e Design Co. for interiors.
30. Go to the Paris Market
One of the most popular shops is The Paris Market, a whimsical space selling a curated selection of gift from around the world. The café on the ground floor is gorgeous.
31. Visit the Cathedral of St John the Baptist
You might recognise this cathedral from Forrest Gump. It's open to visitors and features some impressive stained glass windows.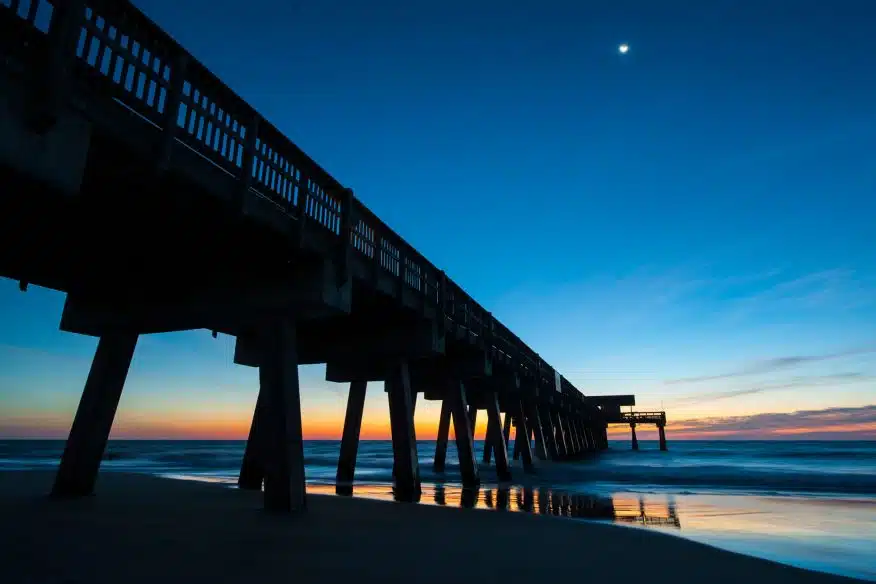 32. Head out of the city to Tybee Island
A 30-minute drive from the city, Tybee Island is Savannah's beach of choice, Head there for some time on the sand, dining at the local restaurants and spotting dolphins and manatees along the shore.
33. Buy some goodies at the Savannah Bee Company
The Savannah Bee Company is now a celebrated international brand, so be sure to visit it in its hometown to pick up some honey-laden goodies. The hand cream is A+.
34. Go to Cumberland Island
Another place for a beachside day trip from Savannah is Cumberland Island, the largest of Georgia's barrier islands. It has 17 miles of white, sandy beaches and 9,800 acres of wilderness. It's also good for history buffs due to the ruins of Dungeness ( a mansion built by Thomas Carnegie). Look out for the wild horses!
35. Do a food tour
Get to the heart of Savannah's food scene with a culinary tour. Savannah Taste Experience offers two options: one through the historic district and another off-the-beaten tour through the city's east side.
36. Visit a plantation
As we said above, the Savannah plantations don't tend to cover the history of slavery, which we found quite shocking considering the significance of slavery in their history. However if you're keen to see a plantation, there are a couple close to Savannah including Wormsloe (see number 18) and Rose Hill Mansion. However, you'll find many more in Charleston if you choose to do a day trip there.
Where to eat in Savannah
Classic foods to try in Savannah include the southern speciality of fried green tomatoes, shrimp and grits, and pralines. Plus don't forget the Georgia peach.
Places we recommend include: Treylor Park for reimagined Southern comfort eats; Green Truck Pub for excellent burgers; Foxy Loxy for Tex Mex; Sentient Bean for hearty health food near Forsyth Park; Fox and Fig for a modern plant-based menu in hip surrounds; Husk Savannah for southern food and cocktails; Starland Yard for food trucks and pizza; and Parker's Market for high-end convenience food in an old gas station.
For coffee, there's the Paris Market, Bitty & Beau's, Gallery Espresso, Foundery Coffee Pub and Savannah Coffee Roasters. And we've already mentioned our favourite sweet treats at Byrd's and Back in the Day.
Found this post useful? Save it on Pinterest…
Useful travel tips for a trip to Savannah
For car rentals, we recommend booking with Rentalcars.com*. We've always found them to have the cheapest deals for mainstream retailers.
If you decide to book any AirBnB apartments, use this link*, as it'll give you £25 off your first trip.
We often find great deals on Booking.com*, getting a discount of up to 60%.
Don't forget your travel insurance! We recommend World Nomads* or True Traveller* who both offer reliable, comprehensive cover, including medical, evacuation, baggage and a range of adventure sports and activities*. You can buy both True Traveller and World Nomads insurance even when you've left home, which is unusual for travel insurance companies.
If you're planning a trip to Savannah or anywhere in the world, be sure to check out our travel planning pages for all our best travel tips, including how to save money with the best cards, what to bring, and all our favourite tools and tricks.
*Affiliate link (we get a small percentage of any booking you make, at no extra cost to you).