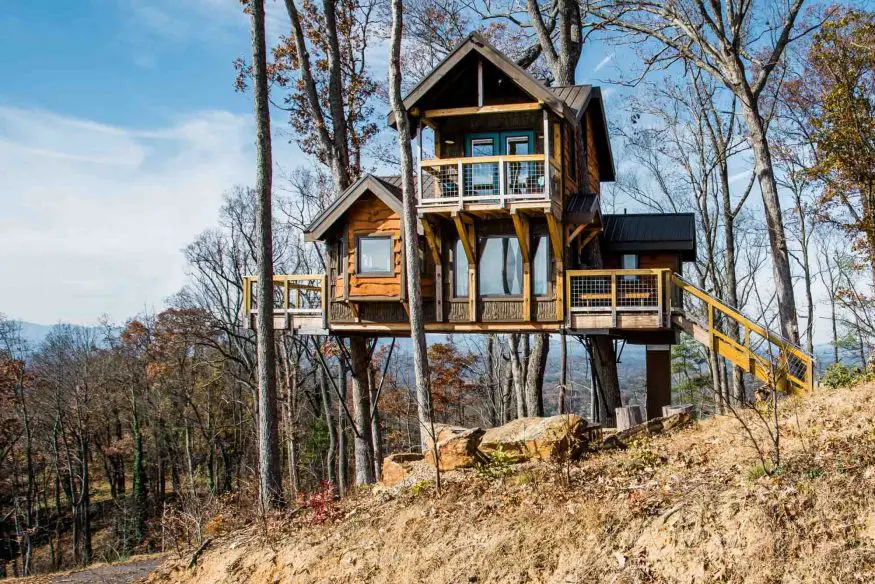 Asheville is the cool mountain town of the South, filled with creative, liberally minded people, craft beer, hip cafes, live music and a dazzling landscape of majestic nature. We loved every moment of a or trip there during our Southern USA road trip – so much so that we wrote a post about 31 things to love about Asheville.
The creativity of the city's people spreads to Asheville's places to stay. We were spoiled for choice and I spent ages trying to decide which Airbnb to stay at. We eventually chose a house in West Asheville, mainly for its location in the hip part of the city, but also for its pretty porch (I have a thing for American porches!). This list is made up of all the other Asheville Airbnbs that made my shortlist plus a few more that caught my eye. Whether you're looking for a romantic getaway in Asheville or are travelling with a huge group, this list has you covered.
Also see our guide to how to find your perfect Airbnb stay.
All of the accommodation links in this post are affiliate links, which means I get a small commission if you make a booking (at no extra cost to you). It's one of the ways I keep this blog going. Read more about my affiliate policy here. Thank you for your support!
Airbnb Asheville: The Best Airbnbs in Asheville
If you find this post useful, please share it on Pinterest.
Live like a West Asheville local
We chose to stay in West Asheville, a residential area with a hip reputation. There are plenty of Airbnbs on offer and we chose this beautiful house, just off the main West Asheville strip, Haywood Road. I'm obsessed by this American style of wooden houses with porches, and this one was extra special, complete with a day bed on the porch, perfect for lounging. The interiors of the house are also beautiful, filled with little creative touches, collected by the artist owners. The house has three bedrooms, a full kitchen and open-plan living room/dining area, so is ideal for families. It's one of those Airbnbs where you really felt like you're getting a taste of what it'd be like to live there. I recommend it 100%.
What the guests say: "We had a wonderful visit to Asheville with our stay at Colleah's unique and fun home. From the 50's decor, the fantastic front porch for outdoor dining and relaxing and the great tips for eating out you could not chose a more delightful place to stay. Walking distance to restaurants and groceries made eating choices easy. Also very easy to find everything we had an interest in seeing , including downtown Asheville and access to the Blue Ridge Parkway. Highly recommend Colleah's lovely home!"
West Asheville sanctuary in the trees
This studio apartment is part of an architecturally stunning home in the trees of West Asheville. The main house has incredible double-storey windows, and the studio channels that vibe with floor-to-ceiling windows looking out onto the trees. It's a small but perfectly formed space with a harmonious peaceful style. There's a deck that's perfect for yoga.
What the guests say: "If I could give this air bnb a 10 star review I would! It felt like we were in a treehouse the whole stay. One of our favorite parts about this location was how secluded it felt and the back deck was very quiet and cozy. I feel like this is a steal for it being so close to downtown Asheville (10-15min drive)."
The Rad Pad
The Rad Pad is a bright and roomy 600-sq-ft apartment with bright walls and white-wood ceilings. Luxury touches include a huge rain-head shower and high-end bed linens. It's in the trendy West Asheville area and close to the River Arts District. Downtown is just a 10-minute drive away.
What the guests say: "A lovely pad, very spacious, comfortable, and clean with all amenities. This was our second visit, which says it all! It is good to be able to walk to nearby Haywood Road with its good cafes and restaurants, and we felt very much at home."
Mountain View Charming
Many people in Asheville have turned the ground floor of their home into a guest apartment and this is a beautiful example. Decorated with antique furnishings and colourful artwork, it's a cosy space and just a 5-min drive from downtown Asheville. A highlight is the outdoor fire pit with beautiful mountain views.
What the guests say: "We had a wonderful stay! It was very clean, inviting and authentic. The location was perfect – about a 4 minute drive to downtown Asheville! As it is an apartment space below a home, we did hear the pitter-patter above us at times, but they did a great job of being quiet early morning and night! Definitely recommend a stay at this precious place."
Gashes Fluss Haus
Gashes Fluss Haus is 10-minutes' drive from Asheville, rght on the Blue Ridge Parkway, and the place to go to live your rustic cottage dreams. The two-storey cottage is over 100 years old, but has a modern rustic style with whitewashed walls and floors and a woodburning stove to keep things cosy. You walk over a cute little bridge to get to it.
What the guests say: "This place is a dream. We booked only one night and wished we had stayed longer. It's cozy, beautiful and convenient. Paul's place is right on the Blue Ridge Parkway and maybe 10 minutes drive to downtown Asheville. However, you may want to stay in and enjoy this wonderful and welcoming home. We had a wonderful and peaceful night playing games by the fire. Would 100% book again!"
Downtown Artist Loft
A cool, artist's loft in the heart of downtown Asheville with a view of bustling College Street. High ceilings, exposed brickwork and huge windows tick off all the loft essentials, and local art gives it a creative, homely feel. You're in the heart of the action here and steps away from some of Asheville's best food, drinks and nightlife.
What the guests say: "Wish we could have stayed longer! Super cozy and unique loft in a great location. Lots to do in walking distance. We stayed on a Tuesday night and the noise wasn't bad at all. We heard some music but with the sound machine and cozy bedroom we slept great and I tend to be a light sleeper."
Retro vintage in West Asheville
For two people, this cosy little studio in West Ashville is ideal. The striking colour scheme is complimented by vintage art and antique furnishings, which combine to create a beautiful and unique space. It's close to all the allures of West Asheville, from hip coffee shops to live music.
What the guests say: "This is a very cozy and stylish place in West Asheville. The apartment is exactly as it looks in pictures. I kept noticing cute little touches in the apartment throughout my stay. The location is in a cute and quirky area of West Asheville that is walkable to a number of restaurants and bars. Downtown Asheville is about 10 minutes away."
Dreamy treehouse retreat
Oh my, just look at this treehouse. I was desperate to stay here when we were in Asheville, but it was all booked up and you can see why. The structure is stunning and the location amid white oaks looking out onto the mountains just adds to the perfection. Inside is cosy with mod cons like Netflix or the option to keep it natural and simply stargaze from the bed. It's just 10 minutes' drive from downtown Asheville. The owners are currently building four new treehouses plus an underground hobbit-like home.
What the guests say: "Wow, book this treehouse now! I can promise you won't regret it. It's absolutely beautiful inside and magical from the outside. We spent our honeymoon here and I can't imagine a more romantic backdrop than mountain views and this cozy home 🙂 we will be back for sure!"
Queen Bee Boutique RV
Airstreams continue to be one of the coolest ways to enjoy a vacation, especially when decked out like the Queen Bee Boutique RV. The 'shabby-chic' RV is cleverly put together with lots of modern comforts, including a full kitchen, coffeemaker and wi-fi. Just 20 minutes from Asheville and surrounded by woodland, it's a good place to immerse yourself in nature, swim in the creek and enjoy the stars, while still being close enough to the city.
What the guests say: "So cute! The setting is very pretty and peaceful. The Airstream is decorated very nicely! The bed and couch were super comfy, nice linens, bath products and special touches- like a sound machine and flameless candles. The host was great!"
The Cloud Nine
If you're a group of six looking to enjoy the great outdoors, you'll struggle to find better than this dream house in Candler, just 20 minutes from downtown Asheville. The contemporary and stylish home uses a backdrop of white with natural wooden and leather accents to add warmth along with the fire. Enjoy the view through the floor-to-ceiling windows and even take a bath while gazing out to the mountains. The open-plan living space and common room (complete with piano) are ideal for groups while the bedrooms and three bathrooms offer privacy too. In summer, you can enjoy the wraparound deck, plus the sunrise view is said to be spectacular.
What the guests say: "We had an unbelievable week staying at Cloud 9, I do not even know where to begin! The views, hospitality, house, cleanliness, decor and location were top notch- we're missing it already. It's 20 minutes to the grocery store, 30mins from downtown Asheville and 20mins to the blue ridge parkway where there's views and hiking galore. Barbara, our hostess, was super fast in her responses and the house was stocked with more than just the essentials. The neighborhood is quiet, we found berries to eat for breakfast and our dog was in heaven with all the nature we were surrounded by. We would 100% recommend staying at Cloud 9 to anyone looking for a quiet spot to just get away from it all!"
Romantic getaway with high style
Weaverville, just 15 minutes from downtown Asheville, is a good option when visiting the city, plus it has a very cute high street of its own. This cute cabin in the woods is an ideal choice with its modern Scandi style and plethora of amenities including a washer/dryer, wi-fi, TV, desk space, and huge garden to roam in.
What the guests say: "Absolutely beautiful home. Extremely clean, super cozy and comfortable, design and layout was extremely well thought out. We really enjoyed our stay! If you're thinking of booking do it! You'll absolutely love it!"
Serene studio in Weaverville
Another lovely option in Weaverville is this studio apartment owned by my blogging friend Kim at So Many Places. Set in the scenic Reems Creek Valley, the light and bright studio apartment comes equipped with a kitchenette and all you need to get cosy on your mountain getaway. There's also a private deck area, fire pit and gorgeous mountain views. And Kim is lovely so you can be assured you're in great hands (just read the review below!).
What the guests say: "I can by far say that this was one of the most thoughtfully planned and guest-centered Air B&B's I have ever stayed in! Kim thought of every little touch to make us feel at home, and make sure our stay was as comfortable as possible. From the toiletry cart in the bathroom, to the homemade muffins and bottle of wine waiting for us upon arrival, it truly felt like we were being hosted by family. While the space is a one-room studio, the attention to detail, amenities, and cleanliness were better than you'd find in any hotel suit. Kim's thoughtfulness was even apparent in her hosting of our dog Caesar, making him feel just as at home as us. We greatly enjoyed our stay! Thank you!"
This home reminds me of some of the Airbnb cabins in Joshua Tree, with its modern hipster style, including thoughtful design touches and a light-filled white-wall space. It's not big on privacy, so would suit close friends or a family, but the high ceilings mean it'd never feel cramped. The house is in the Riceville Valley, just 15 minutes from downtown Asheville. Sometimes you may even spot a black bear in the area!
Huge home on horse farm
If you have a huge group, this massive house on a 50-acre horse farm, is a perfect place to be. It has six bedrooms, 11 beds, and a beautiful open-plan living space, plus a sun room with a ping pong table. Get cosy in front of one of the two wood-burning fireplaces and cook feasts in the fully equipped kitchen. Or hang out in the copious grounds. Plus it's just a couple of miles from Asheville (10 minutes to West Asheville and 15 minutes to downtown). And so well styled too!
What the guests say: "Our group had the most perfect weekend at Canaan Valley Farm! Dan & Courtney were incredible hosts and provided some of the best hospitality we've ever experienced. From personal barn tours and horse back riding, to local BBQ recommendations- they made our Asheville experience that much better! There was so much to do on the property we felt like we never had to leave to look for activities. We could not find one thing about our weekend on the farm that was not perfect."
Eclectic and stylish cabin
What the guests say: "Our group had the most perfect weekend at Canaan Valley Farm! Dan & Courtney were incredible hosts and provided some of the best hospitality we've ever experienced. From personal barn tours and horse back riding, to local BBQ recommendations- they made our Asheville experience that much better! There was so much to do on the property we felt like we never had to leave to look for activities. We could not find one thing about our weekend on the farm that was not perfect."
Cosy cabin with hot tub
If you're after a hot tub, we've found the place for you. This stylish new-build mountain cabin has everything you need to get cosy outside, including a large hot tub, fire pit, swing and outdoor games. Blending modern and rustic, it's what cabin dreams are made of, plus it's only six miles from downtown Asheville.
What the guests say: "This place is dreamy and beyond. The decor is warm and incredibly simple yet stylish / modern. Everything was wonderful. Beds were so comfy, loved all the details and the outside living space was magic. It was the perfect getaway for a ladies trip and we hope to make it a recurring spot."
Applewood Manor (B&B)
Airbnb is increasingly hosting traditional Airbnbs on its site, so if you're looking for a more full-service option, Applewood Manor is a beautiful option. The charming B&B comes with all the southern hospitality you'd hope for, including a well-reviewed three-course breakfast served every day. This particular room has a double bath, perfect for a couple's romantic getaway.
What the guests say: "The Applewood Manor is a beautiful old home in the Montford Historic District. Chase and AJ had decorated the whole house for Christmas, which I love. The furnishings were modern, clean and comfortable. The 3 course breakfasts were outstanding. The meals were super-filling and provided a great start to our day. Most B&Bs don't welcome children, but Applewood Manor does. They had a pack and play for our little girl in our room, as well as a high chair set up for breakfast. Overall, an amazing experience."
Tiny House near downtown Asheville
We fell in love with the tiny house movement in Portland, and it's also going strong in Asheville. This is one of the best tiny house rentals we came across, set amid the trees and with a tiny house's characteristic ingenious use of space. The high ceilings make it feel bigger than it is and the wooden interiors ensure a classic cabin-feel. The house is four miles from downtown Asheville.
What the guests say: "If I say how great it was then I will never get back in for our next trip! We have always wanted to try tiny house living so just that was a dream and this place is so cute! Karen has great pillows, all the touches in the place so that we just relaxed and enjoyed simple clean living in asheville. And the porch…bring your best wine and the right toast for your loved one! The experience is there….will certainly come back!"
Found this useful? Save it on Pinterest
All photos courtesy of AirBnB.
*Affiliate link (we get a small percentage of any booking you make, at no extra cost to you).