This is the second part of our back-to-nature New Zealand road trip itinerary. The first part focussed on the South Island, and this part details our New Zealand North Island itinerary.
In the first post, I also explained all the logistics of our road trip in New Zealand: how much we spent, the kinds of places we stayed, and the experiences we were looking for. I suggest reading the South Island itinerary post first then delving into this one for all the New Zealand North Island road trip details.
What to include in your New Zealand North Island Itinerary?
The South Island tends to get a lot of the glory, but New Zealand's North Island is equally as special, with some of the country's most beautiful beaches, as well as magnificent mountains, forests and lakes. It's also the place to go for epic geothermal sights, from geysers to volcanoes and multi-coloured hot springs – there's even a beach where you can dig your own natural hot tub!
As with all of New Zealand, North Island is a hotbed of outdoor activities and you can do everything from skiing to kayaking to hiking and surfing. For a slice of city life, you have Auckland, the country's biggest and most populous city, as well as Wellington, the tiny but charming capital. And the New Zealand's North Island is also the place to go to experience Maori culture.
We think doing a road trip is the best way to travel North Island, New Zealand.
Highlights of the North Island
These are some of the highlights of a trip around New Zealand's North Island.
How to adapt this two-week New Zealand North Island itinerary
In this post, I've outlined a roughly two-week itinerary for New Zealand's North island, starting in Wellington and ending in Raglan/Auckland. You can easily adapt it to suit your tastes, preferences and timescale. Just pick and choose the places that sound most appealing to you and spend more or less time in each one depending on your priorities. The Bay of Islands and Raglan are detours, so would be obvious ones to miss, which would make our itinerary nine days. However, for us, the Bay of Islands was a highlight, so it's really down to your own tastes.
Some areas we didn't include on our trip, which you might like to consider are: Hawke's Bay, which is famous for its wineries and Art Deco design; the Bay of Plenty, a popular spot for Kiwi holidaymakers and a centre of Maori culture; and the Surf Highway 45, which is a 105km paradise for surfers.
We also went to New Plymouth, but that was purely to go to the Womad Festival, so I haven't included it in our main itinerary below. I have, however, included a short section about it at the end, in case your trip also coincides with the festival or you want to explore the National Park area around Mount Taranaki, the Whanganui River and the surf highway.
All of the accommodation links in this post are affiliate links, which means I get a small commission if you make a booking (at no extra cost to you). It's one of the ways I keep this blog going. Read more about my affiliate policy here. Thank you for your support!
Our North Island New Zealand itinerary at a glance
You can do this as a standalone New Zealand North Island itinerary from Wellington to Auckland. Or if you want to explore the whole country, combine it with our South Island road trip itinerary.
Days 1-3: Wellington
Stay in a Wellington Airbnb
Days 3-4: Tongariro National Park
Stay at Adventure Lodge and Motel
Days 4-5: Lake Taupo
Stay at Tiki Lodge Backpackers
Days 5-6: Rotorua
Stay at AirBnB apartment in the Redwoods
Days 6-8:
Hobbiton / Coromandel
Stay at Coromandel treehouse
Days 8-9: Auckland
Stay at Aimee's AirBnB
Day 9: Whananaki
Pick up Spaceship campervan and stay at DOC campsite, Otamure Bay
Days 10-13: Bay of Islands / Waipoua Forest
Stay at Bay of Islands holiday park
Days 13-14 : Auckland
Stay at Aimee's AirBnB
Days 14-16: Raglan / Waitomo
Stay at Solscape
Top tips for planning a road trip in New Zealand's North Island
For car rentals, we recommend booking with Rentalcars.com. They always have the cheapest deals.
We found great last-minute deals on Booking.com, getting a discount of up to 60%.
If you sign up to AirBnB using this link, you'll get £25 off your first booking.
Read our guide to how to choose a campervan in New Zealand.
Don't forget your travel insurance! We recommend World Nomads or True Traveller who both offer reliable, comprehensive cover, including medical, evacuation, baggage and a range of adventure sports and activities. You can buy both True Traveller and World Nomads insurance even when you've left home, which is unusual for travel insurance companies.
Save time and money on your next trip
See our travel resources page for all our best travel tips, including how to save money with the best cards, what insurance to choose, and all our favourite tools and tricks. They'll help you to plan the perfect North Island New Zealand road trip.
Find the best deals on car hire
We recommend Rentalscars.com for booking your rental car. They search over 900 companies, and if you find a cheaper deal anywhere else, they promise to beat it. We use them every time.
Road trip New Zealand: North Island itinerary

Wellington
Days 1-3
Our time in the North Island began in Wellington, which was named one of "the world's coolest small capitals" by Lonely Planet. After almost a whole month in nature, it was a bit of a shock to be back in a city environment and we didn't love Wellington as much as we thought we would. That said we were biased because of our mood and I think the city has a lot to offer. There were lots of excellent restaurants and cafes and we enjoyed the city's creative vibe. The botanical gardens are also beautiful. For more info on Wellington, I recommend reading Liz's post as she lived there for a while and loved it.
Accommodation in Wellington
We did a home exchange in Wellington, using the website Home Exchange. I'll be writing more on that soon as it has become one of my favourite ways to travel.
Travel to Wellington
We got to Wellington by taking the Interislander ferry from Picton. The first half of the three-hour journey is beautiful, taking you through the magnificent Marlborough Sounds. After that, you're on the open sea, which was pretty rocky. I felt very sea sick, which didn't mix well with all the wine from the day before!
While in Wellington, we walked everywhere.

Tongariro National Park
Days 3-4
We had grand plans for Tongariro and really want to do the one-day Tongariro Alpine Crossing hike, but we both injured ourselves so had to pull out. The Wanderlusters have written a guide to the hike here. As we couldn't do it, we opted for a shorter walk from up near the Whakapapa Apline Chairlift. The chairlift itself wasn't in use but we walked around the area and got a great view of Mount Ngauruhoe, which was Mount Doom in Lord of the Rings.
Accommodation in Tongariro
We stayed at the Adventure Lodge and Motel, which was clean but basic and run by a rather unfriendly woman. But she was really knowledgeable about the area and this would be a fine place to stay if you're doing the hike (they give lifts to the start of the hike in the morning). It cost NZ$110 (£55) for a double room.
Travel in Tongariro
We hired a car in Wellington, which we kept for the next five days before collecting a camper van in Auckland. We used Omega Rentals again.
The journey from Wellington to Tongariro was meant to take four hours, but we hit traffic, which made it more like five.

Lake Taupo
Days 4-5
Lake Taupo is the North Island's answer to Queenstown, filled with lots of adventure activities and gorgeous nature to explore. It's a laidback little town that you could easily spend a few days in. We were there for just one night and used that time to walk along the lakeshore, visit the magnificent Huka Falls, and relax at the amazing Wairakei Terraces, a little complex of thermal pools, fed by the mineral-laden Wairakei geothermal steamfield, and surrounded by beautiful gardens. It's one of the most beautiful thermal spas I've ever been to, and spending the evening there bathing in the pools as the sun went down was magical. You can also take a self-guided tour of a re-created Maori village, including an artificial geyser.
Accommodation in Taupo
We stayed in a double room at a friendly hostel called Tiki Lodge Backpackers*, which cost NZ$80 (£40) for a double room. It's in easy walking distance of the town.
Travel to Taupo
The drive from Tongariro to Lake Taupo took one hour. It's a beautiful drive with some pretty viewpoints along the way where we stopped for a picnic.

Rotorua
Days 5-6
Rotorua is the place to go to see New Zeland's thermal activity and learn about Maori life. Nicknamed 'Sulphur City' it's the North Island's most smelly destination, home to steaming hot springs, impressive geysers and bubbling mud pools. Thirty five percent of the population is Maori and there are a couple of centres you can visit to learn more about Maori life.
A few years ago there was a rift within the main Maori tourist attraction, which resulted in it being split in two. On one side is Te Puia and on the other side is Whakarewarewa Village. We chose to go to Whakarewarewa as this is a little village where Maori people still live today and we felt that would be more interesting. The villagers show you around and tell you about their way of life and the significance of all the thermal activity. We also tried some sweetcorn that was cooked in one of the mineral pools! We can't really comment on which one is best as we didn't go to Te Puia, but we were happy with our choice. At Te Puia, you can see kiwi birds as well as Pohutu, a geyser which erupts up to 20 times a day. You can also see Pohutu in the distance from Whakarewarewa.
While in Rotorua, we also visited Wai-o-Tapu, the geothermal wonderland. Some people find this place too touristy, but I still thought it was pretty amazing with all the incredible naturally coloured waters and minerals. There's a geyser that is made to spout at 10:15am every morning. They use organic soap to trigger it, which is also how it was discovered when prisoners were washing clothes in the water!
Finally, while in Rotorua we couldn't resist going for some treatments in the mineral-rich mud and water. We opted for a mud bath at the QE Health Spa, and a visit to the Polynesian Spa where you can bath in spa pools while overlooking the lake. We highly recommend both.
One thing we didn't have time to do is go on the Skyline Rotorua Luge. It's run by the same company as the one in Queenstown and we loved that so I'm sure it'd be great fun!
Accommodation in Rotorua
We stayed at a lovely AirBnB apartment*, which was short 5-10 minute drive from the centre. The nicely decorated apartment in a residential area was a self-contained studio loft in the owners' garden – we loved it. It cost NZ$100 for one night.
Travel to Rotorua
The drive from Taupo to Rotorua is just one hour. Wai-O-Tapu is on the way so we stopped there first in time to see the Lady Knox geyser erupt. We managed to see all we wanted to in Rotorua within that one day.

Hobbiton / Coromandel
Day 6-8
From Rotorua, we drove to Matamata, home of one of New Zealand's best tourist attractions, the Hobbiton movie set! I'm not a diehard Lord of the Rings fan, but I absolutely loved visiting the set. It's such an incredible place and I found the amount of work and detail that went into building it fascinating. The whole set has been left intact since the filming of The Hobbit, and you feel as though you've stepped into some sort of real-life magical land. You have to do a tour and it isn't cheap at NZ$79 per person, but I do think it's worth it.
After Hobbiton, we headed to the Coromandel Peninsula, which was recommended to us time and time again by New Zealanders themselves. It's a gorgeous part of the country with deep forests and a mostly unspoiled rugged coastline. We stayed for two nights in an amazing treehouse in the forest. While there, we visited two of the Coromandel's main tourist attractions – Cathedral Cove and Hot Water Beach. They're both busy places, but very much worth visiting – Cathedral Cove for its beauty, and the Hot Water Beach for the novelty. Thermal waters run beneath one section of the sand, so you can dig your own hot pool. Be careful though, as some parts of the beach produce scalding water. It'll inevitably be busy so take notice of the areas that other people are avoiding!
Accommodation in the Coromandel Peninsula
We stayed at an incredible treehouse near Whitianga. I've written a full review of the Coromandel treehouse here. One night at the treehouse costs NZ$270. It's definitely worth it!
Travel to
the Coromandel Peninsula
The drive to Hobbiton takes one hour from Rotorua. We got a little lost and stopped at the Matamata iSite to get directions. You can see a map of where Hobbiton is here.
From Hobbiton, we drove up to Whitianga, which took about three hours. The final part of the drive, once you hit the Coromandel Peninsula, is particularly beautiful, along forest-lined coastal roads. There are tons of farms along the way where you can buy fresh avocados and other produce.
Auckland
Days 8-9 and 25-26
Wellington is New Zealand's capital, but Auckland is the country's biggest city and up to 25% of the population live there. As I've said before, we were prioritising nature in New Zealand so we were only in Auckland for two nights, one on the way up to the Bay of Islands and another on the way back. It felt like a very liveable city, with a relaxed vibe and a great seaside location. Oddly, the only thing Steve and I did there, aside from eat out, was go to two different escape rooms. We recently discovered these and love them so decided to try out the two different companies in Auckland. Both were good, but out of the two, we preferred Escapade NZ where we did the Bach room.
If we'd had more time, I'd have loved to visit Waiheke Island, which is just a 40-minute ferry ride from Auckland, and home to beautiful beaches, vineyards and olive groves.
If you're on a budget, here's a guide to some of the Auckland's best cheap eats.
Accommodation in Auckland
We stayed at a lovely woman named Aimee's AirBnB* in the pretty Grey Lynn area of the city, which is a residential area, close to the more vibrant and hip Kingsland and Ponsonby. It was a great location with lovely hosts. Highly recommended.
Travel to Auckland
The journey from Whitianga to Auckland take 2.5 hours, but expect to add a bit more once you get to the city as you're likely to hit traffic. It took us an extra 40 minutes. We were able to park at the AirBnB for free.

Whananaki
Day 9
This marked the first day for us in camper van on the North Island. We picked up our Spaceship camper van in Auckland and made our way up to the Bay of Islands, stopping at Whananaki along the way, mainly to break up the ride, and also because we wanted to experience a peaceful spot along the coast. The Otamure Bay DOC campsite didn't disappoint and we enjoyed spending the evening there, listening to the sound of the waves and taking a stroll along the sea front. In the morning, we saw people stand-up paddle boarding, which would have been fun if we had the equipment.
Accommodation in Whananaki
We stayed at a DOC campsite called Otamure Bay, which is a peaceful spot on the beachfront run by a friendly family with about eight children.

Travel to
Whananaki
We picked up our camper van in Auckland and drove up to Otamure Bay. The journey was supposed to take three hours, but traffic made it four. There are some great real fruit ice-cream stalls along the way!

Bay of Islands / Waipoua Forest
Days 10-13
The Bay of Islands was one of our favourite places in New Zealand. It reminded us of an exotic version of England, a little like Cornwall but with warmer water and sunnier skies. We did two boat trips while we were there and loved both of them. The first was a full day sailing on the R Tucker Thompson, an incredible tall ship that doubles as a teaching vessel during the off-season. All the profits from the tourist sales go towards providing youth development voyages for 13-18 year olds where they learn about teamwork and leadership skills. Aside from the charity angle, which of course adds to its charms, the tall ship is worth going out on anyway for a beautiful day sailing around the islands. It was one of the highlights of our entire time in New Zealand. We especially enjoyed climbing the rigging and sitting on the bow. Tea and scones are served in the morning, as well as a lunch later on, and even champagne if you want it!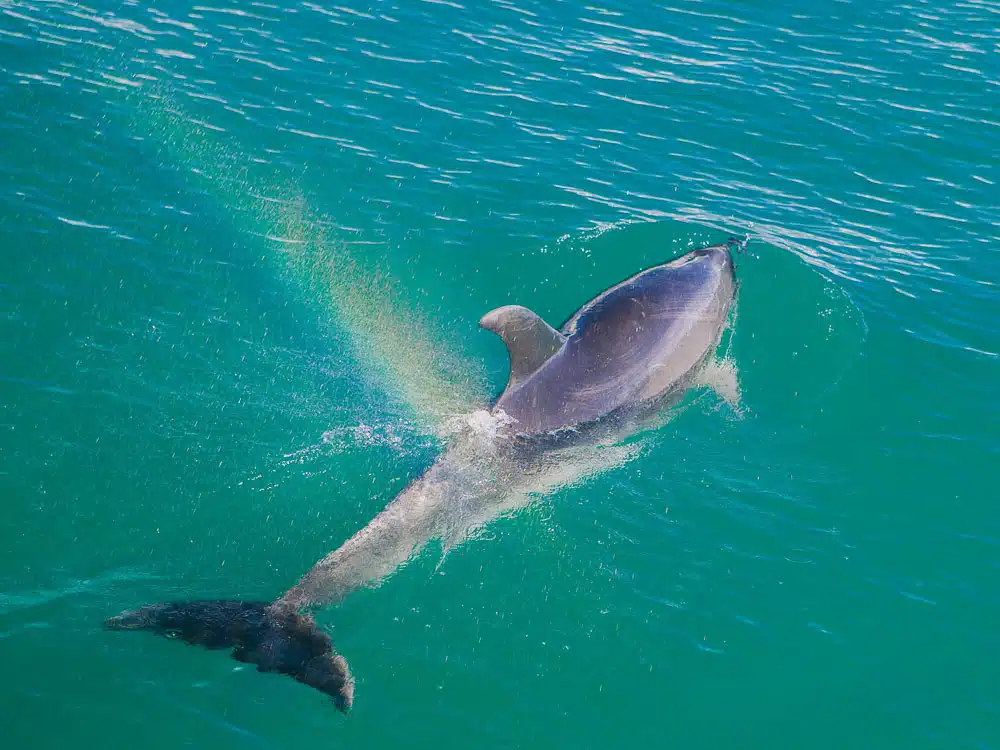 The second cruise we took was the Cream Trip with Fullers Great Sights, which follows the old delivery route around the Bay of Islands from Paihia. This was a very different experience to R Tucker Thompson one – less personal and on a big catamaran with more people. But it also meant we ventured further, plus there was the added bonus that this trip included the opportunity to swim with dolphins. Unfortunately, we were unable to swim with the ones we saw because the dolphins had babies with them, which is against the rules for swimming. We did, however, spend a magical 30 minutes sailing alongside the dolphins as they playfully danced and interacted with the boat. Other highlights of the trip included spotting penguins, sailing through the hole in the rock and visiting Otehei bay where we went for a walk up over the hills for a beautiful view across the islands. We also had fun trying the boom netting, where you hold onto the net as it pulls you alongside the boat!
While in the Bay of Islands, we also went tandem parasailing, which involved being pulled around the island 1200ft in the air from the back of a boat. It was somewhat nerve-wracking, but the views were spectacular.
On our final day, on the way back to Auckland, we drove to Waipoua forest, home to the tallest kauri tree in New Zealand, the magnificent Tane Mahuta. We also stopped to see Te Matua Ngahere, another ancient kauri tree that isn't as tall, but is wider and older than Tane Mahuta. Both were beautiful and certainly worth seeing.
If we'd had more time, we'd have travelled further north to Cape Reinga along the gorgeous Twin Coast Highway.
Accommodation in the Bay of Islands
We stayed just outside Paihia in the Bay of Islands holiday park. It was one of the nicest campsites we stayed at, set within a pretty woodland garden and bordering a river. A powered pitch cost NZ$32 per night.

Travel to the Bay of Islands
From Whananaki to Pahia takes around one hour by car, but we chose to drive via Russell and get the ferry to Pahia from there. That allowed us to see the quiet little town that was once described as the hell hole of the Pacific.

Raglan / Waitomo
Days 14-16
We'd heard great things about Raglan, a popular surf town on the North Island and we weren't disappointed. We loved the town's laid-back vibe, great cafes, and magnificent coastline. It's the kind of place we could imagine returning to for longer to learn to surf or simply relax by the sea.
On the way there, we also stopped at the Waitomo caves where we went on a caving adventure to see the glowworms. I get claustrophobic so the whole thing was pretty challenging, but definitely worth it – I've written about the experience here. The company we went with was a small family-run business called Glowing Adventures who I can't recommend enough.

Accommodation in Raglan
In Raglan, we stayed in two different places as our first choice, Solscape was fully booked the first night. Solscape is a gorgeous eco retreat with a wide range of accommodation from campsites to eco cabins. The common area has an incredible view of the sea and is a wonderful place to relax and enjoy some wholesome food. We both had an excellent massage there. The other place we stayed was a simple holiday camp right on the coastline. It certainly lacked the character of Solscape, but had direct access to the beach and town, which was a bonus. A powered site cost NZ$20 at both places. Book your stay now.
Travel to Raglan
In reality, we drove to Raglan from New Plymouth because we made a detour from Auckland for the WOMAD festival. However, as your trip is unlikely to coincide with the festival too, I haven't included that in the itinerary. The journey from Auckland to Raglan is about two hours (although do allow extra time for the traffic around Auckland). I would recommend driving to Raglan via Waitomo to visit the caves. Waitomo is also two hours from Auckland, and then another 1.5 hours from Raglan. Or you could also visit Waitomo as a day trip from Raglan.
An optional extra – WOMAD Festival and New Plymouth

New Plymouth
After the Bay of Islands, we spent one night in Auckland where we switched camper vans, before heading down the west coast to New Plymouth before heading up to Raglan. We might not have included this in our itinerary had it not been for the fact that we had tickets for the WOMAD festival that was taking place down there. Our entire time in New Plymouth was taken up with the festival (which was amazing!), so we don't have many tips on the area. But I would say that the journey down there was spectacular and some of the most stunning scenery I saw on the North Island, especially along the coast between Mokau and New Plymouth, and thought the forest valley between Mokau and Piopio. New Plymouth is close to Mount Taranaki, Egmont National Park and the Whanganui River, so is ideal for hiking and adventure sports. The Pouakai Crossing is a particularly popular 19-kilometre trail that takes in Egmont National Park.
New Plymouth is also just north of the Surf Highway, so a good spot to follow on from Raglan if you're into surfing. From here, you could easily loop back down to Wellington ot head back to Auckland.
Accommodation in New Plymouth
In New Plymouth, we stayed in our Britz Action Pod at the WOMAD campsite. It was one of the most civilised festival camping experiences we've ever had. They had proper showers and toilets, which is generally unheard of at British festivals!
You could also stay in one of these New Plymouth Airbnbs or if you have a van, stay at one of these campsites.

Find the best deals on car hire
We recommend Rentalscars.com for booking your rental car. They search over 900 companies, and if you find a cheaper deal anywhere else, they promise to beat it. We use them every time.
A one-month road trip in New Zealand
Read part one of the itinerary – the South Island road trip.
And here's a storybook version of the south island part of the trip, and a storybook version of the North Island.
If you're planning a trip, be sure to check out our travel planning pages. We also have full, detailed itineraries for How to relax in Goa and Kerala; The ultimate South Africa honeymoon guide; How to make the most of 10 days in Japan; Finding hygge in Copenhagen, 48 Hours in Dublin, five days in Iceland, and more. See all our itinerary posts here.
*Affiliate link (we get a small percentage of any booking you make, at no extra cost to you).