It's the final episode of my London video project – 'Victoria's Insider Guide to London'. We're currently working on a new series with Expedia, so there will be more videos coming soon about other places in the UK, but for now here's the last London video. It's all about where to find the best views in London
Where to find London's best views
Duck & Waffle
A perfect way to begin the day at the break of dawn is with breakfast at Duck & Waffle. High up on the 40th floor of the Salesforce Tower, the restaurant is open 24 hours a day. At sunrise you'll find couples celebrating special occasions, tourists enjoying the view, and the odd ragtag bunch of people who haven't been to bed all night. My favourite dish is the waffles, but I hear from my meat-eating friends that the signature duck and waffle is amazing. Another option in the Salesforce Tower is Sushisamba, a Japanese-Peruvian-Brazilian restaurant, on the floor just above Duck and Waffle. Sushisamba is open from 11:30am – 2am.
The Shard
The Shard divides people – some see it as an architectural wonder, others as a mess. I personally quite like it, and even more so now I've been inside. For the 'Best afternoon teas in London' episode, I went to Ting at the Shangri-La, which was one of my favourite teas of all. Ting is on level 35 and the view from there is incredible, but if you want the highest view of all, you have to go to the official View from The Shard up on floors 68, 69 and 72 where you can see for up to 40 miles across London. There's a handy interactive exhibition so you know what you're looking at, and they also host special events such as yoga and silent discos. Tickets cost from £15.95 when you book online (it costs more if you show up on the day).
Alongside Ting, there are also four more bars and restaurants in the Shard with great views across the capital. They're pretty pricey, but you don't have to pay an entrance fee, so some people choose to go to one of these and buy a drink rather than pay entrance for the View at the Shard.
Greenwich Park
Some of London's parks have gorgeous views across the city, and they're all free to enter. One of the best is Greenwich Park where you have a great view of the city from Canary Wharf to Westminster. Other things to do in Greenwich include visiting the Royal Observatory, straddling time on the prime meridian, or visiting the planetarium. For a view from the other side of London, head to Parliament Hill on Hampstead Heath. We also featured Hampstead in our film about 'Where to find the village feel in London', so watch that for some extra tips.
King Henry's Mound, Richmond
A park with an unusual view of London is Richmond Park, and specifically King Henry's Mound. You can peer through the trees to see St.Paul's Cathedral perfectly framed in the distance, and there's a telescope so you can get a better look. And if you turn around, you can see Windsor Castle in the opposite direction.
South Bank
Not all views have to be from up high, and one of my favourite views in the city is from simply walking along the South Bank. It's where I tell all newcomers to the city to go for a perfect introduction to the city. Walking from London Bridge to Westminster, you can take in some of the major landmarks, including the House of Parliament, the Globe and St.Pauls. I've written a post about my perfect walk along the South Bank. The bridges also afford great views. I particularly love crossing Waterloo Bridge on the bus at night when the National Theatre is all lit up.   And you can also do the Tower Bridge Experience where you can climb the towers and walk on the transparent viewing platform that looks down on the bridge below.
Cruise on the Thames
Another great way to see the city is from the water. There are boats that run as part of the public transport network and that you can ride with a travel card. But if you want something a bit more special, there are also a number of cruises, including an afternoon tea cruise with Bateaux Cruises.  It's a lovely way to spend the afternoon with a glass of champagne, sitting on a deck chair watching the city pass you by.   
Arcelor Mittal Orbit and Slide
Perhaps the most fun view in London is from the Arcelor Mittal Orbit. Not only does it have a great view across the Olympic Park, you can also choose to get back down to ground level via a huge tunnel slide – it's the longest of its kind in Europe. I loved it, as you can hear in the video! Tickets cost £10.50 for kids and £16.50 for adults.
Frank's Cafe
The view from Frank's Cafe, right on top of a multi-storey car park in Peckham, is one of my all-time favourite views in London. I was living round the corner back when Frank's first opened and was a true hidden secret, but nowadays it's one of London's most popular bars and it's not uncommon to have to queue to get in at the weekends. A simple but high-quality mediterranean menu is served, and campari cocktails are the bar's speciality. Frank's was commissioned by Bold Tendencies, an art project that also hosts a huge annual sculpture exhibition in the car park, as well as a programme of events by the Multi-Story Orchestra. Frank's is open in the summer months, from May to September.
Another option, right next to Franks, is the Bussey Building, which has its own rooftop bar as well as a rooftop cinema, which we made a film about last summer. Both are great options.
Like this post? Pin it for later!
Insider Guide to London
These videos are part of our series for Expedia called Victoria's Insider Guide to London. The other episodes in the six-part series are:
Where to stay in London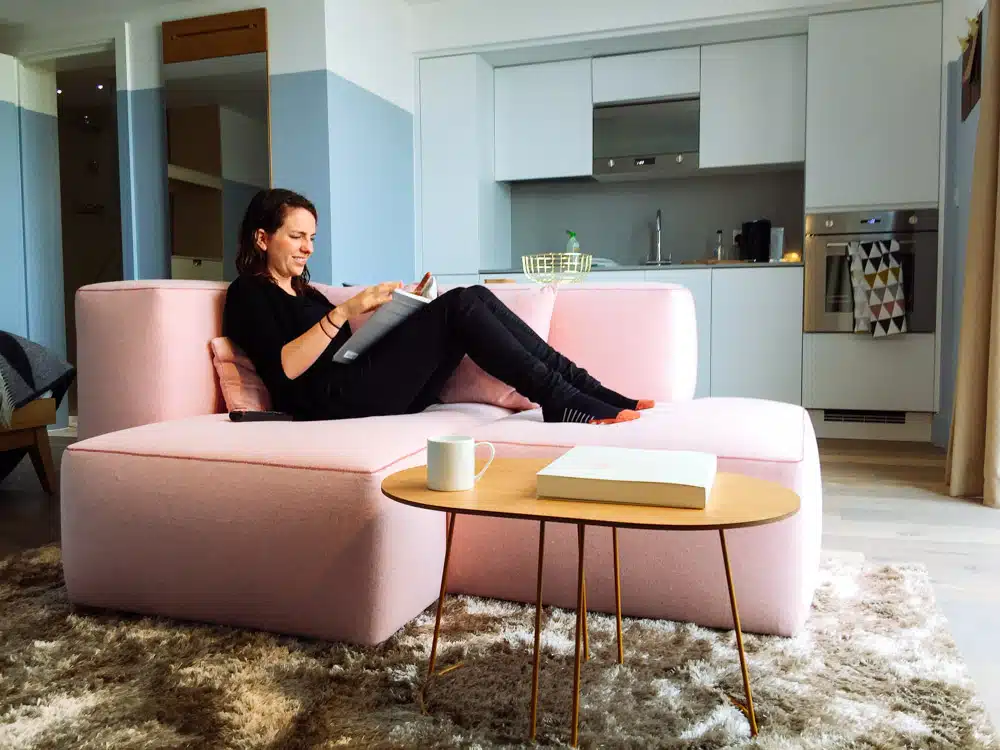 If you're looking for somewhere to stay, have a look at my pick of the best hipster hotels in London. Or if you want to book an AirBnB, use this link and you'll get £30 off your first trip.