Bristol is well-known as one of the UK's most creative and exciting cities. It often tops the charts of the best places to live in England and, after moving here in 2016, I have to agree. Londoners like me flock to Bristol, tired of the pace of the capital but still keen to have all the perks of city living, from an exciting food scene to cultural events of every stripe. It's a city famed for its liberal-mindedness and local activism, the home place of Banksy and drum and bass, and decked in a rich history that permeates the streets. And to top it off, it's surrounded by the hills of South-West England, meaning you can be out in the countryside within moments of the city. Bristol has stolen my heart, and I though it was about time I shared some of it with you.
This article is all about some of the best things to do in Bristol. We teamed up with local blogger Lori at Wild and Grizzly to find out about some of her favourite places in Bristol, and we're also sharing lots of our own. There's a video with a round-up of the very best of what to do in Bristol, plus here's a written guide with some more options added in.
Updated in April 2019.
Handpicked City Guide: The Best of
What to do in Bristol
The Best Things to Do in Bristol
1. Visit the harbourside
Bristol maritime history stretches back many centuries, taking in impressive boat building as well as a more shameful past as a slaving port. You can explore some of this history down by the harbourside where the number one attraction is the SS Great Britain, a ship designed by Isambard Kingdom Brunel. It was the first ship of its kind to cross the Atlantic and is considered on of the most important ships in history. Not far from the SS Great Britain is the Matthew, a replica of the ship John Cabot sailed on when he discovered Newfoundland in 1497. You can sailing trips on the Matthew or just admire it from the harbourside. While there, also visit the M Shed, a museum that tells the story of Bristol and its people, and also hosts lots of excellent visiting exhibitions, from the Nat Geo wildlife photography of the year exhibit to lesser known cultural features. And the harbourside isn't only about maritime history, it's also packed with great restaurants and cafes (most notably, the excellent Wapping Wharf, whcih you can read more about in the food section), as well as the excellent Arnolfini gallery of contemporary art, and the Watershed independent cinema. A good walk along the harbour, stretches from the SS Great Britain all the way to the Watershed, which only takes about 20 minutes if not stopping, but there's so much to see that it will easily take longer. If you're doing a circular route, you can hop on a ferry at the SS Great Britain to take a different route back.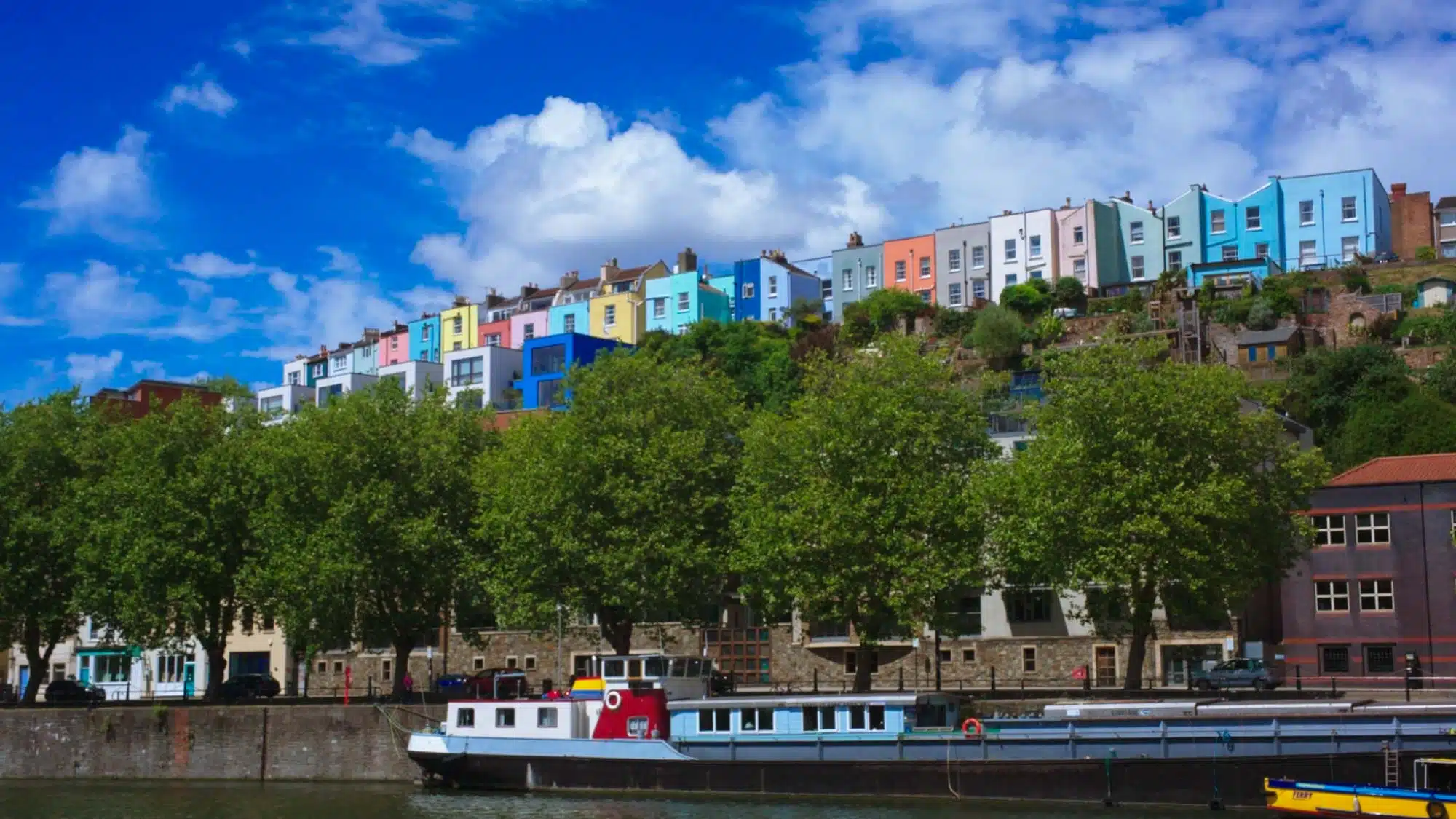 2. Take in the view from Cabot Tower
For a great view of Bristol, head up to Brandon Hill Park and Cabot Tower. The park itself is beautiful, and you can climb the tower for free. Once up there, you'll see a panoramic view of the city, from Clifton to the harbourside and beyond. The park is just a few minutes away from the harbourside and centre of town, and it's also right next to Park Street, one of Bristol's most beautiful streets. The Bristol Cathedral is at one end, and at the top you'll find the Bristol Museum and Art Gallery, as well as the Wills Memorial Building, part of the university and one of my favourite pieces of architecture in the city. The Bristol Museum is perfect if you're visiting with a family as it has a lovely play area and lots of child-friendly exhibits.
3. Take the family to the At Bristol Science Centre or Aquarium
Bristol is a great family destination with lots of options to choose from. You could go to the At Bristol Science Centre, which is filled with interactive exhibits, or go to the Bristol Aquarium to be enchanted by the sea life. There's also the renowned Bristol Zoo, which also has a site about 15 minutes outside the city called Wild Place, which has more space for some of larger animals like giraffes and cheetahs.
4. Be charmed by Clifton Village
Clifton Village is Bristol's most charming spot. True to its name, it has a lovely village feel, and is a perfect place to wander while exploring all the little cafes, delis, boutiques and restaurants. The area is filled with elegant Georgian architecture, and be sure not to miss the impressive Royal York Crescent. Some of my favourite spots in the village are Papersmiths, a magazine and stationery shop; Spicer + Cole, which has some of the best cakes in Bristol; and The Primrose Cafe, perfect for sitting outside on a sunny day. Go to the nearby Clifton Wood to see some particularly colourful houses.
5. Marvel at the Suspension Bridge
Bristol's most iconic sight is the suspension bridge that sits high above the Avon Gorge, just next to Clifton Village. It's a spectacular site from every angle, whether you're down below in the Cumberland Basin, or high above on the Bristol Downs. A particularly good spot for bridge gazing is from the beautiful terrace at the White Lion Bar in the Avon Gorge – it's perfect on summer nights and even better during the Balloon Fiesta when if the wind is in your favour, you can see the balloons sail right past you.
6. Get a taste of the countryside without leaving the city
One of the best things about Bristol is the countryside that surrounds it. Drive in any direction for about 15 minutes and you'll be in the depths of it, but there are also some great option even closer to the city centre. Two of my favourites are Leigh Woods and Ashton Court. On the other side of the suspension bridge, they're both just a 15-minute walk from Clifton Village, but feel miles from city life. Ashton Court is also home to the annual balloon fiesta and has an 18-hole golf course too.

7. Explore the city's street art
Bristol has a thriving street art scene and is also the home of Banksy, so you can see a few of his originals around the city. Stokes Croft, where I live, is the heart of the Bristol's street art scene, featuring everything from graffiti to huge murals. If you head to the Canteen bar, you'll see a Banksy just outside, as well as a huge mural of a breakdancing Jesus! There are also some particularly nice murals on and around Picton Street. There are street art tours run by people who know Banksy, and if you're around in the summer, head to UpFest, Europe's largest street art and graffiti festival, which is held in Bedminster.
8. Delve into Bristol's food scene
One of my favourite things about Bristol is the food. It's one of the things I was afraid I'd miss about London, but Bristol has easily compensated. There's something for every taste, from Michelin-star food to amazing burgers. I'll write a full post with all my favourites soon, but these are a few of them: Ceres for brunch; Bosco for pizza; Swoon for gelato; Pinkmans for doughnuts; and Poco for locally sourced tapas. Cargo at Wapping Wharf is a brilliant foodie hub, with lots of shipping containers filled with local restaurants. I've also written a guide to the best brunches in Bristol.
9. Sample the city's nightlife
Bristol is famous for its drum and bass scene that peaked in the 90s, and nowadays it continues its reputation for having a big clubbing scene. Lakota is one of the favourites. But if, like me, clubbing isn't so much your scene, there are plenty of other options. The Bristol Old Vic and Tobacco Factory host world-class theatre productions, and the Colston Hall and O2 Academy hold gigs by international artists. There are also no end of pubs and bars, and the city has become well-known for its speakeasy scene, including bars such as Red Light and The Milk Thistle. Another excellent bar is the Psychopomp gin distillery, which makes all its own gin on-site. You can also do gin-making classes there.
10. Go shopping around Christmas Steps and Colston Street
This didn't quite make the film, but deserves to be on the list. Bristol has a proud independent business scene, and some of the finest can be found on Lower Park Row, Colston Street and Christmas Steps. A few favourites are 2oth Century Flicks, an old school dvd shop with an 11-seat private cinema and Bloom and Curll bookshop. Also head to the nearby St Nicholas Market, which has over 60 stalls selling everything from food to antiques.
I hope you love Bristol too!
So that's a quick run-down of some of the best things to do in Bristol if you're visiting the city for the first time or want to get to know it better. There are tons of things I've had to miss, but I'll be sure to write some specialised versions, focussing on different elements of the city in the future. For now, this should be enough to get you started.
I hope you'll love the city as much as I do.
Enjoy!
Like this post? Save it for later on Pinterest!
Last Updated on