Last updated on
For years people have been telling me how great Liverpool is, and when we finally made it there, I could see what they were all talking about. In fact, it's now one of my favourite cities in England. Every taxi driver we met in the city was keen to tell us the city is booming, and they're right; since Liverpool was crowned Capital of Culture in 2008, the city has had a facelift and fast established itself as not only a great place to live, but also the perfect place to visit. It has more museums and galleries than any UK city outside of London, the architecture is stunning, there are more parks than in Paris, the people are friendly, and it has infectiously upbeat vibe that makes spending time there a joy.
We've made a video about some of the best things to do in Liverpool. We tried out some of the best tourist hot spots and then met up with local blogger Helen of Helen in Wonderlust who shared some of her favourite places in the city and her pick of what to do in Liverpool.
The Best Things to Do in Liverpool
Bridges and Balloons favourites: our pick of the best places to visit in Liverpool
The street food at Mowgli is A+, and don't miss the sorbet.
Leaf on Bold Street was our favourite brunch spot.
Ghetto Golf is the most creative mini golf we've ever been to.
Head to Henry Bohn or radical shop News from Nowhere for your bookshop fix.
Camp + Furnace is excellent for cocktails
We loved the British Music Experience for a musical trip down memory lane.
Stay in one of Liverpool's best boutique hotels
What to do in Liverpool
1. Experience some Beatlemania
Liverpool is home to The Beatles and there are plenty of ways for fans to indulge in some Beatlemania. One of the most popular things to do in Liverpool is to go to The Beatles Story for a journey through the band's meteoric rise to stardom, including loads of memorabilia and an audio tour that takes you deep into the Fab Four's lives. Or head to the Cavern Club where the band played nearly 300 times. It's also hosted plenty of other stars, and there's live music every day. And if you're a diehard fan, jump on the Magical Mystery bus for a tour of the band's old haunts, from the houses they grew up in to the places that inspired their music, including Penny Lane and Strawberry Fields. Also don't miss the Beatles statue at Pier Head.
2. Explore the city's music scene
The Beatles aren't the only jewel in Liverpool's music crown. Music is a the heart of the city's heritage and it's earned itself a title as a UNESCO City of Music and the World Capital of Pop.  The best way to explore this is by going to see some live music while in the city at local venues such as LEAF, Camp and Furnace, The Shipping Forecast, 24 Kitchen Street or the Arts Club. We also highly recommend a visit to the British Music Experience, an interactive, immersive look at how Brtish music has changed the world. There's memorabilia from stars including the Rolling Stones, David Bowie, Dusty Springfield, Oasis and the Spice Girls. You can also try your hand at lots of different instruments. It's our favourite Liverpool attraction.
3. See the city from the water
Liverpool has a gorgeous setting on the waterfront, lined by Georgian architecture, listed buildings and some of the city's major tourist attractions. The best way to see it all is from the water. And a classic Liverpool activity is to join the Mersey Ferry's 50-minute Daily River Explorer Cruise, which takes you on a loop along the riverside with great views of the city's skyline, including the Three Graces, Albert Dock and the Liverpool Museum. There's an audio guide that tells you what you're looking at along the way. There are two stops where you can hop off to visit a space exhibition or a World War 2 submarine. It's a great family activity in Liverpool.
4. Enjoy the Albert Dock
The Albert Dock is one of the most beautiful spots in Liverpool. It has the largest collection of Grade I listed buildings in the UK and together they house some of the city's major attractions, including the Tate Liverpool, the Maritime Museum and the Beatles Story. There are also plenty of bars, cafes and restaurants to choose from, and it's lovely place to simply take a wander.Visiting the docks is often listed as one of things you must do in Liverpool.
5. Wander the Georgian Quarter
Liverpool's has a handsome Georgian Quarter, filled with elegant houses and leafy streets. At the heart of it all is Hope Street, a road that is bookended by the city's two cathedrals, which are a Liverpool must-do. At one end is the Catholic Cathedral, affectionately known as "Paddy's wigwam" for its iconic shape, and at the other end is the Anglican Cathedral where you can climb to the top of the Vestey Tower for panoramic views of the city. Despite the Catholic cathedral looking far more modern than the gothic-looking Anglican one, it was actually completed in 1967, just 11 years before the Anglican one in 1978. Other highlights on Hope Street include the Everyman Theatre, the Liverpool Philharmonic, and the Hope Street Hotel (included in our list of the most stylish hotels in Liverpool).
6. Head to Bold Street
Another popular street in Liverpool is Bold Street, which has some great bars and cafes. It's also surrounded by the Ropewalks area, which is filled with bars and is one of the favourite nightlife spots. Places to visit on Bold Street include: Mowgli for some excellent Indian street food; Leaf for colourful cafe vibes and live music; Maray for small plates; and Bold Street Coffee for one of the city's best brews. Bold Street is headed by St.Luke's Church, more commonly known as the 'Bombed out Church', which regularly holds events. And at the other end is Liverpool One, a huge shopping complex of all the high street brands.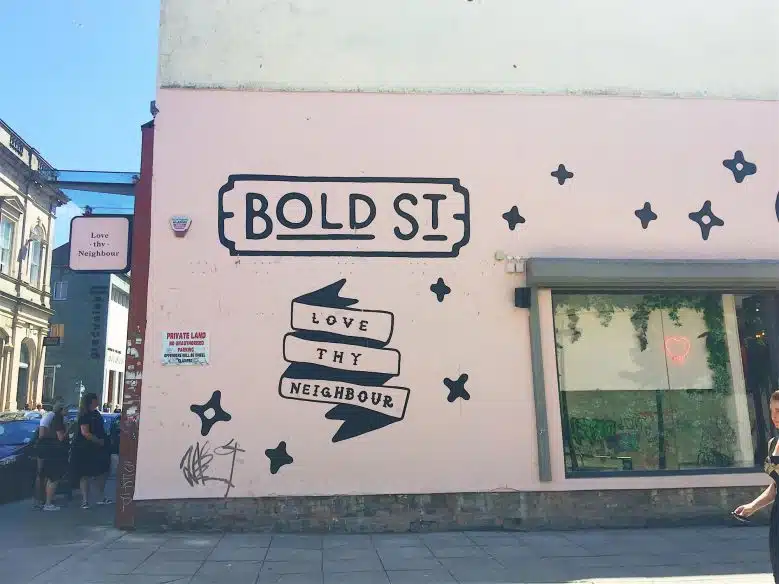 7. Sample Liverpool's nightlife
Liverpool is famous for its nightlife and at the weekend it seems you're never far from a stag or hen do. But there are plenty of options to suit all people and you're bound to find something you like. Options include the lively Matthew Street, home of the Cavern Club and a popular spot for visitors to the city. Or go to the Ropewalks for bars that cover every musical taste. And we loved the Baltic Triangle, home to Liverpool's creative industry and some of its most interesting bars, mostly housed in old warehouses. Camp and Furnace is one of the most popular places, a huge bar/restuarant/venue space, and other options include the Baltic Social and Constellations. Also don't miss the amazing Ghetto Golf, an adults-only mini-golf venue that doubles as a bar. It's definitely one of the most fun things to do in Liverpool.
8. Watch the sunset at Crosby Beach
A perfect way to end the day is with sunset at Crosby Beach. It's home to Anthony Gormley's Another Place sculpture, which consists of 100 iron men staring out to sea. The effect is striking, especially at sunset when the statues are silhouetted against the sky. The beach is also a beautiful place to take a stroll at any time of day.
9. Sefton Park and
Lark Lane
Two things we didn't include in the video, but that deserve a spot on the list are the city's parks and its football. One of the most popular parks is Sefton Park, which has a gorgeous Palm House and regularly holds events. It's also close to a place called Lark Lane, which we didn't make it to, but were recommend by a few different people. It's well-known for having some great boutiques, cafes and restaurants, and is a good place to pair with the park. And for football fans, you can do the Liverpool Football Club museum and stadium tours to learn about one of the most famous clubs in the world.
10. Do a tour
If you don't fancy navigating yourself, there are plenty of tours to choose from in Liverpool. Here are a few suggestions…
Where to stay in Liverpool
We've written a guide to the best boutique hotels in Liverpool.
Let us know if there's anything else you'd add to the list.
And don't miss our Bristol and York guides: the best things to do in Bristol and the best of what to do in York.
And our guide to Liverpool's most stylish hotels.