Last updated on
This time last year, our journey was still a dream. I had another couple of months at work, we needed to find tenants for our house and the number 2012 was still synonymous with the Olympics. Now, twelve months later, that number has come to symbolize the year the dream came true.
Choosing to travel was a massive ingredient that helped make 2012 one of the best years of our lives. In our next post, we'll look at what else helped create that, but today we wanted to celebrate our travel highlights from the past 12 months.
During that time, we've been to six countries in South America, as well as separate trips to India, Europe and the US, and now Mexico (which you'll be hearing a lot more about soon as we've fallen for it head over heels). In the meantime, we're limiting this list to our highlights from South America. Here's the top 15 in no particular order.
1. Visiting Buenos Aires, home to Borges
Borges is one of Steve's favourite all-time authors so he was super excited to visit the writer's hometown of Buenos Aires. While living in Palermo, we regularly crossed Calle Borges and were reminded of the literary great. Best of all, the whole city is full of booklovers and has the shops to match. While Steve was in the US for five weeks, I took advantage of this and whiled away many an hour in some of Buenos Aires best bookshops and cafes.
2. The rumble of Perito Moreno Glacier
Everyone told us that we'd be awe-inspired by the sound of Perito Moreno Glacier rumbling and cracking into the water below. It was hard to imagine and we tried to keep our hopes at bay in case it didn't happen for us. Luckily, it did and we both can both still remember the sound now. It was one of the most magnificent displays by nature that we have ever witnessed.
3. The day El Chalten became Narnia
We almost didn't go to El Chalten as we were told the weather would likely be too bad to see anything or hike. We decided to risk it and the tiny town ended up being one of our favourite destinations yet. After a few days of murky skies and rain, the clouds cleared and we woke up to a magical scene, surrounded by snow-capped mountains. The surprise of the view that morning is one of our most treasured memories of the year.

4. Whale watching in Patagonia
Puerto Madryn is another destination we nearly skipped. We wanted to go whale watching but it was the very start of the season and there was no guarantee we'd see any whales. We decided the 48-hour bus ride was worth it, and happily luck was on our side and we spent an awesome day being blown away by the magnificent creatures. Even without the whales, meeting our couchsurfing hosts in the city was worth the journey alone. Our trip to Gaiman, however, didn't live up to expectations.
5. Monkeys of South America
Anyone who knows us will be aware that we have a massive love for monkeys. This year, we've been lucky to meet a lot of our favourite creatures. Two that stand out are the sagui monkeys we met on Rio's Sugar Loaf Mountain, and Nina, a spider monkey from Senda Verde, and animal refuge close to La Paz. Nina woke us up one morning when swinging on the tree house we were staying in at the refuge.
6. Merienda time in Salta
We lived in Salta for about five weeks and eating a merienda became a daily ritual. We'd walk to the lively town plaza and stop in one of our favourite cafes for an Argentine teatime of coffee, croissants, juice and sparkling water. The empanadas and ice-cream of Argentina also deserve a mention.
7. Star-gazing in San Pedro de Atacama
"It looks like one of those stickers you put on the ceiling," I said as I stared at Saturn through a telescope in Chile's desert. Despite the seeming irreverence of my words, it was a magnificent moment, seeing the planet hanging there in the cosmos. We were there as part of a star tour in San Pedro de Atacama, which is one of the places on Earth said to have the clearest skies. Even without telescopes, it was the most star-filled sky I have ever seen – the Milky Way resplendent in all its glory.

8. Street art of São Paulo
Both Steve and I have a soft spot for graffiti, often preferring the galleries of the streets to museums. Brazil's street art – especially in São Paulo – is on another level, quite literally. The signature style of the city is stories-high hieroglyphic-type characters – the more dangerous and ingenious the position the better. The streets are also filled with some of the world's most beautiful street art, especially in the trendy Vila Madalena area of the city.
9. Searching for UFOs in Capilla del Monte
One of my favourite questions that we ask in our 'If I had a Superpower' interviews is one that Steve came up with: "Have you ever seen something you can't explain?". I was particularly keen to hear the answers in Capilla del Monte, a town famed for UFO sightings. People talked repeatedly about the energy of the town, and we felt it during our time there. Whatever it's due to, Capilla del Monte is certainly a special place, and one of our favourite places we've been to. It will also always hold a special place in my heart for being the place I faced my fear.
10. Living like royalty in Vilcabamba
Whenever we're looking for a treat in terms of accommodation, our dream is always a jacuzzi. In Vilcabamba, that luxury was taken up a notch when we found an affordable apartment for nearly a month with a jacuzzi in the room! Our time in the town had its ups and downs – with a cancer scare and conspiracies – but the room at Descanso del Toro and the beauty of the town meant it had to make the top 15.
11. Discovering Rio, our favourite city so far
We loved Rio from the moment we got there and sat down with our first Caiprinha in Ipanema. Not only was it the starting point of this epic journey, but it also captivated us with its infectious energy that jumps to a samba beat. From the street parties of Lapa to the dance of capoeira in Santa Teresa, and the massive Alemao favela, we fell for the city and would love to go back.

12. Exploring wine at the source
Despite loving wine and living next door to France, I've never been to a wine region and explored the drink's origin. This year I've been spoilt for opportunites. First off, we explored Mendoza's wineries on bike, and later took a trip to Cafayate, home of Torrontes and wine ice-cream. Later in the year, I also went to Porto where I became an instant fan of port after exploring the gorgeous Douro Valley.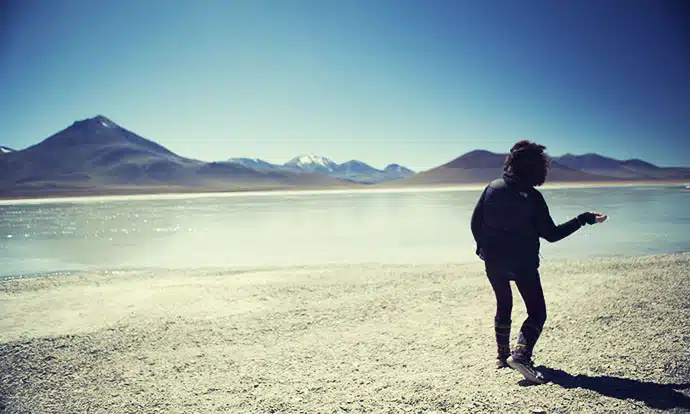 13. Salar de Uyuni in 3D HD
We'd seen plenty of photos – especially the iconic perspective shots ­– but being amid Bolivia's Salar was something that demands experience. The expanse of white salt that appears after three days driving through a desert landscape of geysers and colourful lakes is mind-blowingly otherworldly. We took so many photos that it had to become a three-part photo series dedicated to the awesome tour.
14. Excellent splendour of the universe at Iguazu
The whole year has been full of moments that make us want to scream with joy at the excellence of the universe – so much so that it has spawned a catchphrase "Excellent splendor of the universe" that we like to proclaim, preferably with one hand thrust joyously into the air, whenever such a moment occurs. Our trip to Iguazu Falls was the birthplace of this saying, where the water, rainbows and thunder of the falls made our jaws drop and our hearts soar.
15. Can I say everything?
I'm at number 15 and it's absurd how many things I still want to add to the list – Lake Titicaca, volunteering with the Wichi, and finding Trindade in Brazil, to name just a few. I figure it will become a replica of the whole blog if I add it all, so instead, peruse the archives if you're interested in exploring more – and always feel free to ask any questions if you're heading to South America too. We loved every moment of it.