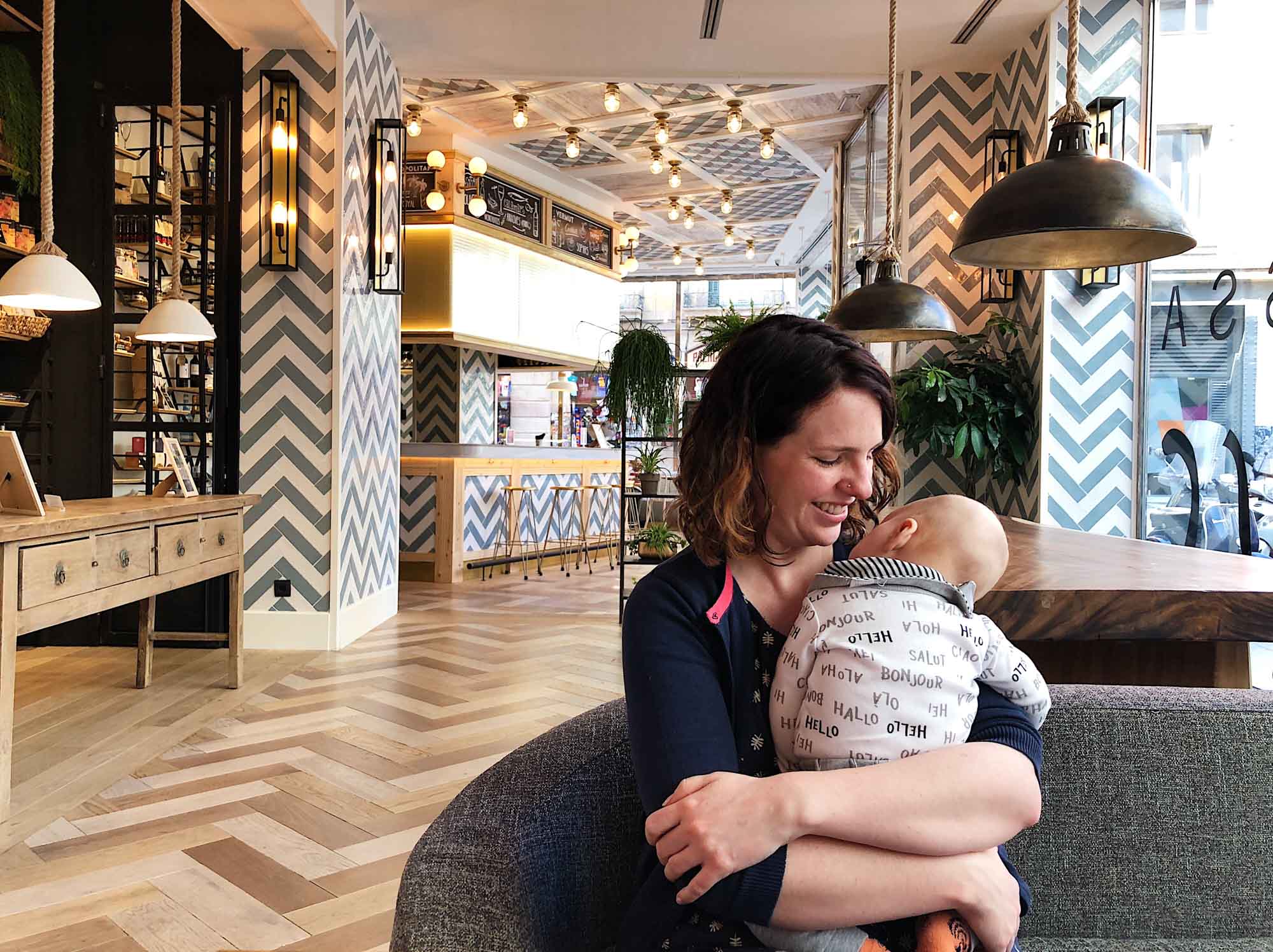 We did it! We took our first trip abroad with Otis and it turned out pretty lovely. He slept on the plane, enjoyed all the attention, and Steve and I still felt like we had a holiday, even with a baby in tow. This post is filled with all our tips for travelling to Barcelona with a baby, including how to get around, where to stay, where to eat and ideas of things to do. 
Why Barcelona?
We were in Barcelona for four nights, choosing it in part because we both know the city really well, which meant we wouldn't feel any pressure to see everything or feel like we were missing out. It's also one of our favourite cities, so we're always happy to have a reason to visit.
However, even if you've never been there before, Barcelona is still a great place to visit with a baby. The Spanish love kids, so we were welcomed everywhere, from the hotel to bars and restaurants. It's culturally normal in Spain to take kids out at night, so we were spared the guilt of taking Otis out too late, and it was good to see how a different culture approaches childhood.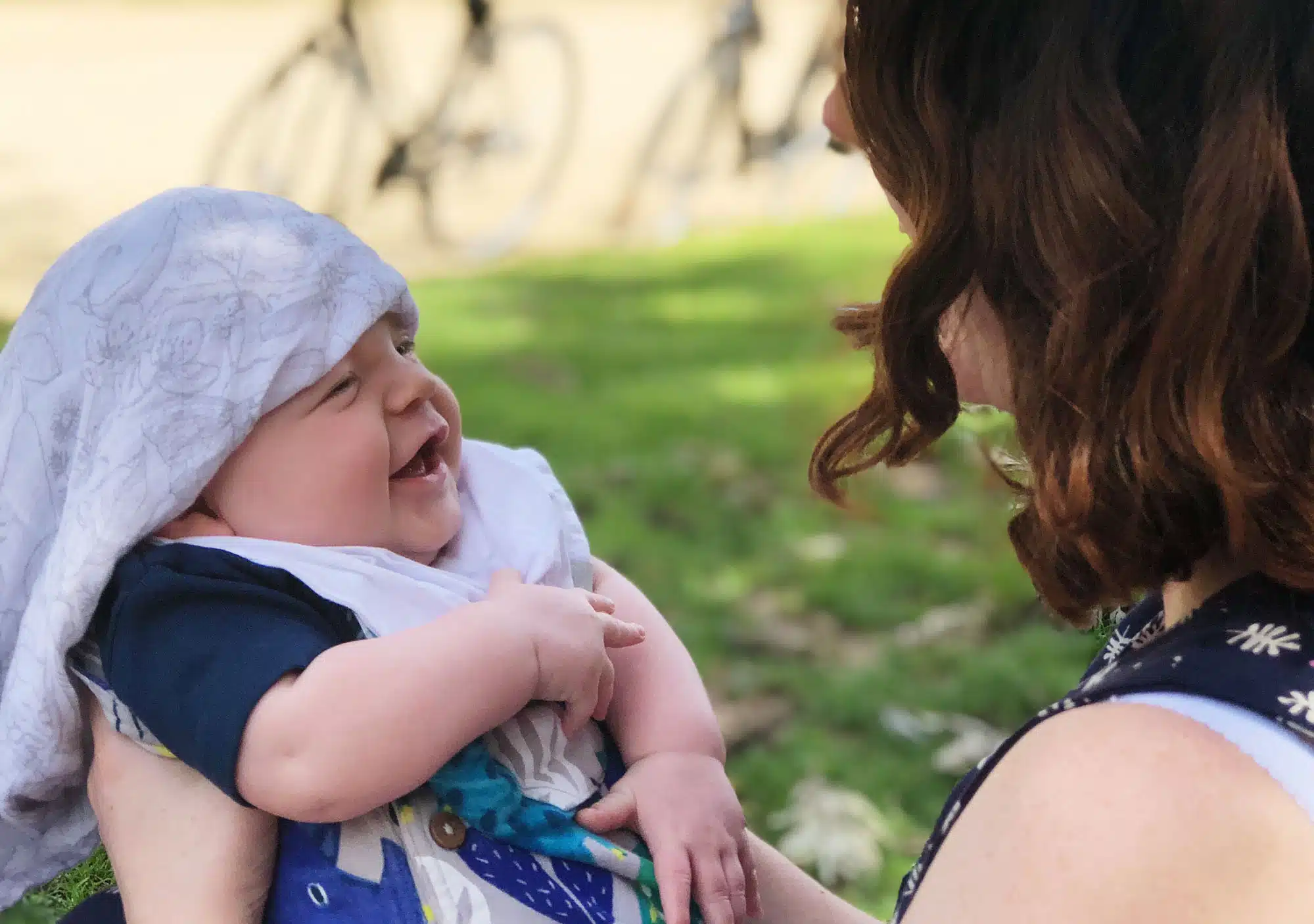 Baby travel to Barcelona
Otis was three months old when we visited, so at a relatively easy age. He essentially slept, ate, and had little periods of play during the day. He's not mobile yet, which I'm sure makes things easier. Many people say that pre-crawling/walking is the easiest time to travel with a baby and, while I don't have any point of comparison yet, I can definitely see how that would be true. I'll be writing more about travelling with a baby as Otis gets older, so I'll report back as I go.
But for now, here are my tips for travelling to Barcelona with a baby.
Things to do in Barcelona with a baby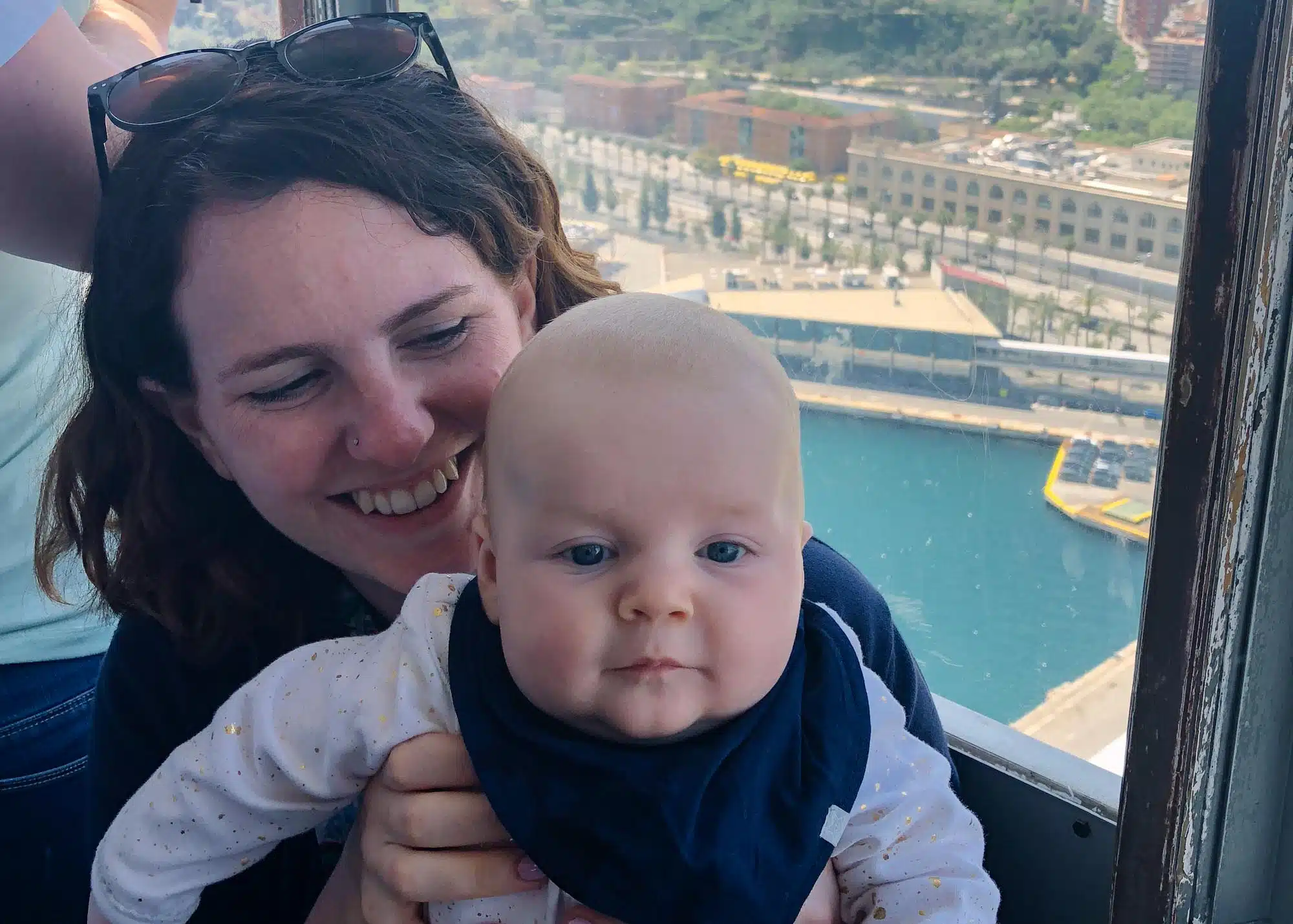 As I said, we've spent a lot of time in Barcelona, so didn't feel the need to try and see all the big sights. Instead, our main motivation was to relax, so we took our days slowly and spent our time walking around our favourite places and eating at our favourite restaurants, while also discovering some new things along the way.
However, had we wanted to visit some more of the sights, we still could have done that with Otis, especially if we timed our visits with his naps. I just wouldn't recommend trying to cram too much in – just one or two things per day is enough. For more ideas of things to do in Barcelona, see this post, Handpicked City Guide: What to do in Barcelona , or explore the Visit Barcelona website.
This time, this is what we did:
Montjuic Cactus Garden and Teleferico
Montjuic is a big hill in central Barcelona overlooking the city. It's home to all sorts of things to see and do, from the Montjuic Castle to the Olympic village, to a whole host of museums. On this visit, I heard about a cactus garden on Montjuic that I'd never been to before. It's called Mossen Costs I Llobera garden and is a stunning display of cacti with gorgeous views out to sea. The gardens are close to the teleferico stop, so we combined the two, visiting the gardens and then taking the teleferico down to the beach. I'm not a huge fan of heights so the teleferico was somewhat hair-raising, especially with Otis on my lap, but it's definitely worth it for the views. I think they're likely the best in Barcelona. We also had a picnic on the hill.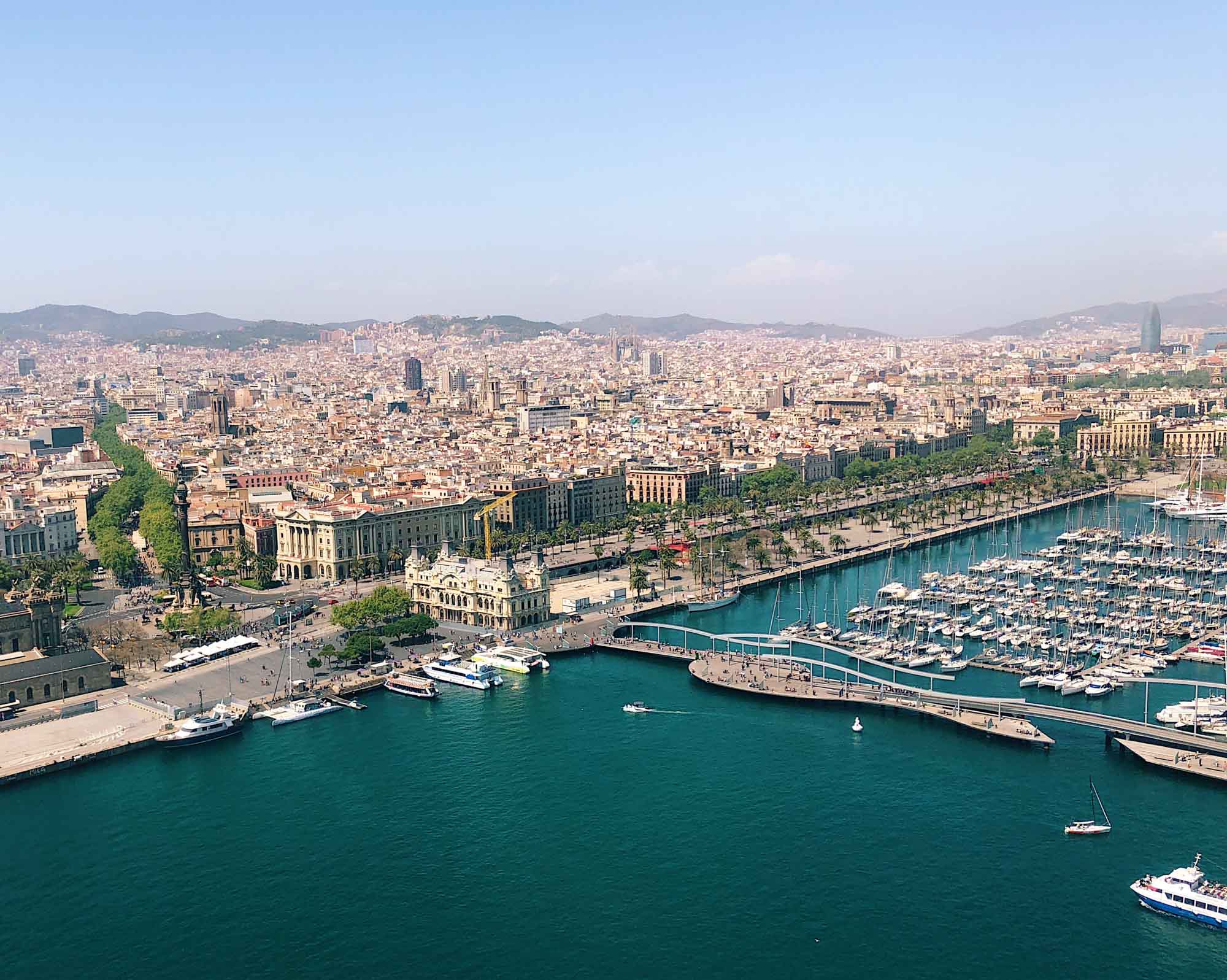 However, there is one thing we did that you probably shouldn't! We originally intended to get the teleferico from the beach up to Montjuic. But, due to some unfortunate map reading, we ended up navigating to the teleferico stop at the top of the hill. This meant we found ourselves at the bottom of a flight of around 200 steps up to Montjuic. As we had our friend Shannon with us, and weren't feeling inclined to walk to the beach and correct our mistake, we ended up carrying the pushchair up all the steps! It was a bit mad and not something I'd recommend, but we managed. A better option would be to get the teleferico up the mountain as we had intended, or to get the funicular from Parallel station. Alternatively, if you had a baby carrier, the steps would be fine.
Walk around the city
Barcelona is a perfect city for walking. The architecture is stunning and there's so much to see within a small area, from the beach to the parks to the picturesque streets of the Born and Gothic quarters. We spent hours wandering around. It's especially nice in good weather to walk down to Barceloneta and take a stroll along the beach promenade. You could also hang out on the beach, but if you have a baby, make sure you have a good quality beach tent for some shade.
Ciutadella Park
I put this park in every post I ever write about Barcelona because I absolutely love it. It has a chilled out, friendly vibe and is the perfect respite from the city. It was especially good with a baby as it gave us somewhere to relax for a few hours during the day. We brought a blanket with us and Otis was entertained staring up at the trees while we all chatted, read and snacked.
La Boqueria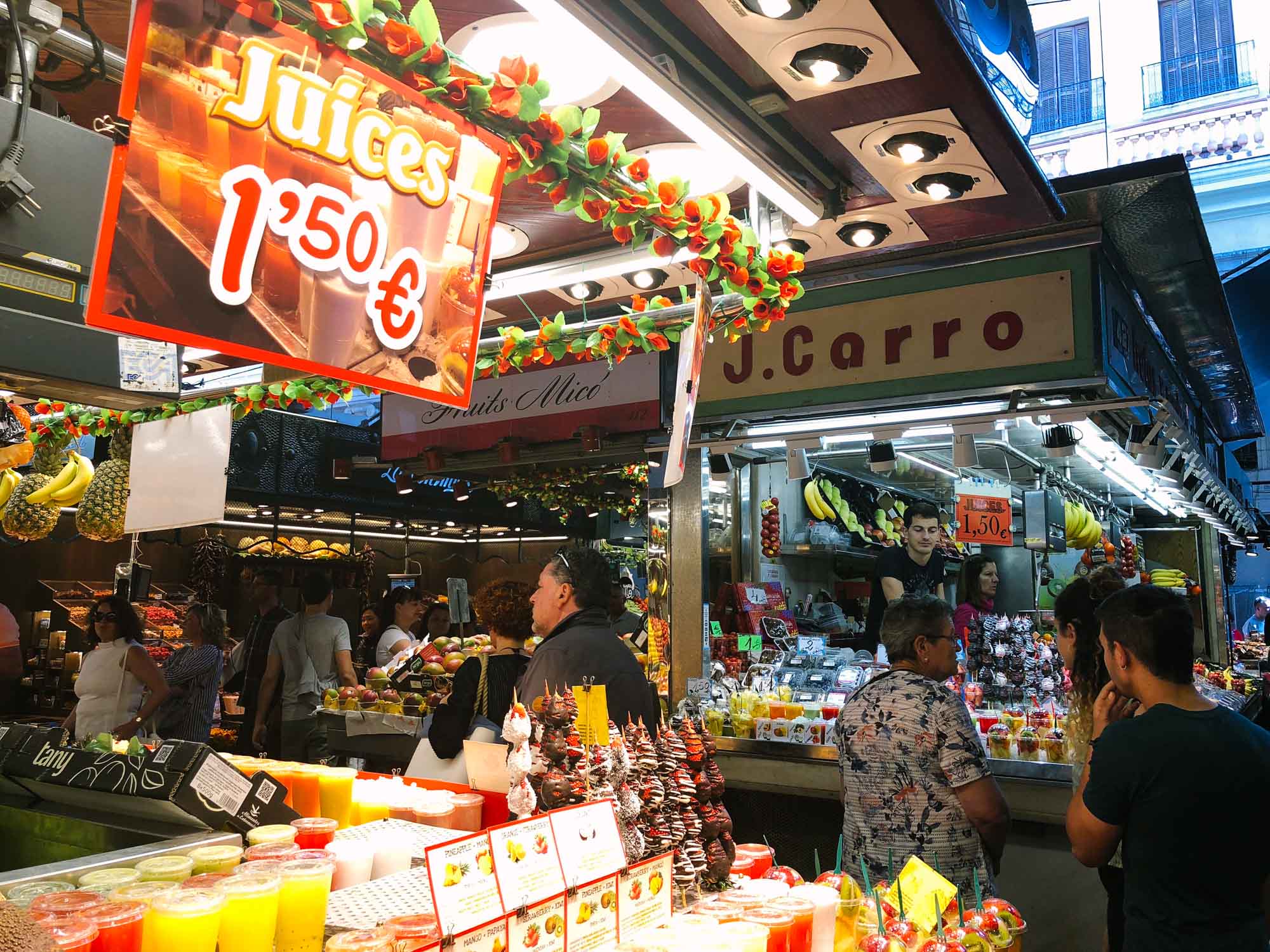 The Boqueria market is easily one of the most touristy places in Barcelona, but I still love it, and on this occassion we went there to collect some picnic materials before heading up Montjuic. Yes, we could likely have got it cheaper elsewhere, but then we wouldn't have had the atmosphere – I think sometimes it's worth paying that little extra.
Tibidabo
For me, the word Tibidabo conjures the world of Carlos Luis Zafon's Angel's Game, but it's also home to one of Barcelona's best views and an amusement park. It's not one that's aimed at babies, but if you have a toddler, there are a few small rides they can go on, including the carousel and a little train. Plus if you have kids around the age of five and over, there are tons of rides to enjoy, including roller coasters and giant swings. And for a time out, there's a Lego room, which Otis enjoyed, aged 18 months.
The park is right next to Tibidabo church, which you can see from the city below, so you can also combine your visit with a trip there.
Tibidabo isn't the easiest place to get to – it involves a train, tram and a funicular, so you need to decide if the view and amusement park are worth the journey with a baby/toddler. I would say that it's better suited to older children (5 and over) so worth it if you have older children with you too.
Places to eat and drink in Barcelona with a baby
I was worried that travelling with Otis would mean that we couldn't go to our favourite restaurants in Barcelona, either because babies wouldn't be allowed or because Otis would be grouchy in the evenings, but luckily that wasn't the case. Otis slept through all our evening meals apart from the last one, which we cut a tiny bit short so we could take him home to bed And all the restaurants were fine with him being there in the pushchair – as I said at the start, it's very common for Spanish people to take their babies out in the evening. That said, we did go out for dinner very early by Spanish standards, booking our table for the earliest sitting at 7pm with the aim of being home by 9:30pm, which tended to work out. If your baby has a routine that would make going for dinner harder, you could prioritise lunch as your main meal, and then try going out even earlier in the evenings, or perhaps get a takeaway, self-cater or order room service.
These are the restaurants we went to:
Brunch and Cake by the Sea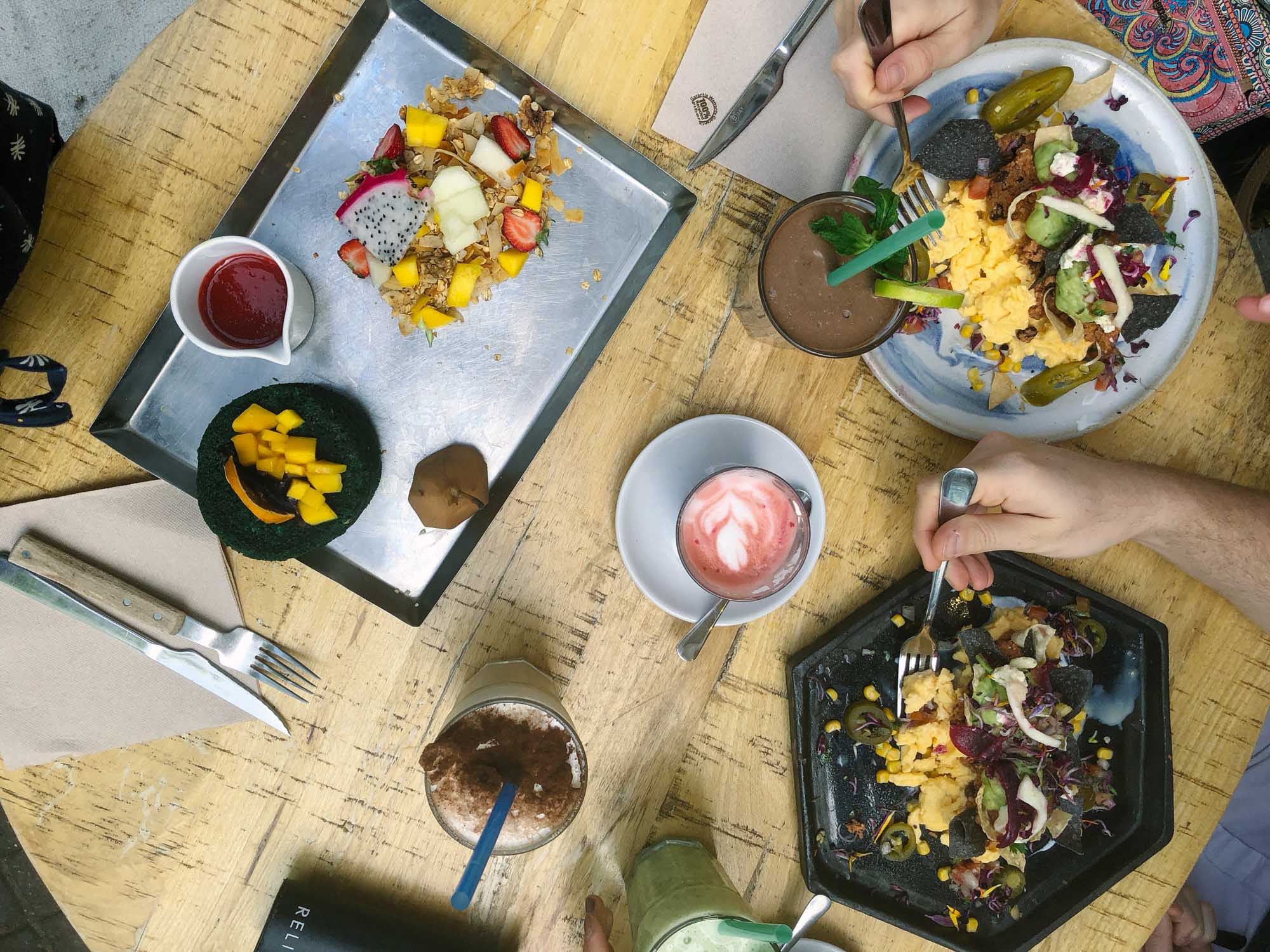 Brunch and Cake is a small hipster cafe chain in Barcelona, specialising in colourful, fresh dishes with some unusual ingredients, for example, deep green matcha pancakes. The food was delicious, the beetroot latte not so! We went to the Barecloneta branch on a Sunday and had to queue for about 30 minutes.
Cuines Santa Catarina
I've talked about this place before – Cuines Santa Caterina is an old favourite and as it was less than a five-minute walk from our hotel, we decided to go there on our first night in the city. We sat outside and ordered some of our favourites from the international menu (padron peppers, a curry and provolone). Even inside, there is plenty of room for buggies.
Rasoterra
We were introduced to this amazing restaurant on our last trip to Barcelona, so we went again for my birthday on this visit. The food at Rasoterra is high-end, creative vegetarian fare, all made with fresh ingredients, many of which are grown in the restaurant's own garden. If you're vegetarian, I think it's a must, and even meat eaters are likely to enjoy it. Let them know you're bringing a pushchair in advance because not all tables would be able to accommodate one.
Bun Bo
We chose Bun Bo for its convenience as it was right next to our hotel as we fancied an easy option after a full day of walking around the city. The food was good but not amazing, so I wouldn't go out of your way to go there. However, it has a good setting and the food was tasty, so if you're nearby, it's a good option.
Sesamo
We were recommended Sesamo by our friends, Erin and Simon at Never Ending Voyage. It's a vegetarian restaurant, serving veggie takes on traditional Spanish dishes. This is brilliant because so much of Spanish cuisine is meat or fish heavy. They serve an incredibly good value tasting menu where you get a seemingly endless selection of the chef's favourites. We were absolutely stuffed by the end! The food is hearty and good and definitely worth it for the treat of trying authentic-tasting yet veggie Spanish dishes.
Demasie
I was dreaming about Demasie from the moment I left Barcelona after our last visit in October. They serve decadent cinnamon rolls that are especially good if you catch them just out of the oven. It's close to Ciutadella Park, so perfectly situated to grab one en route.
La Vinya del Senyor
Normally I'm a fan of Vaso del Oro for tapas in Barcelona, but it's a tiny place and we decided not to try it with the pushchair (it could have been done with the carrier though). Instead, on my birthday, I decided I wanted to have tapas outside Santa Maria del Mar church in Born. It's a perfect tourist trap location, but it's beautiful and it was my birthday, so we decided to try one of the handful of tapas restaurants that sit there. The one we went to was called La Vinya del Senyor and the food was unremarkable, but still good and the setting was definitely worth it.
La Xampanyeria
I definitely hadn't expected to go here with Otis! In the past, you could sit outside La Xampanyeria on the street, so we went there intending to do that. Instead, we found that you're no longer allowed to sit outside and there's a doorman making sure you don't take your drinks out. The same doorman also welcomed us inside, pushchair and all, creating a little space for us at the front. As I keep saying, the Spanish are more than happy to accommodate babies!
Gusto del Born
If you're looking for a quick bite, Gusto del Born pizzeria on Passeig del Born is a perfect option. It's pretty close to the park, so you could take it there if you fancied a picnic.
Where to stay
We stayed in the Hotel Barcelona Catedral*, which was absolutely perfect for us. It ticked our boxes of being beautifully designed and in a central location, and it was also great for Otis. They provided a travel cot, all the staff were wonderfully welcoming and they even gave Otis a teddy bear on arrival. However, please note that this is not a specifically family-orientated hotel, for example there is no heated children's pool, kid's club or specialist baby equipment beyond cots and high chairs. For us, this was fine as we didn't want to stay in a family-focussed hotel, but if this is important to you then I'd recommend staying elsewhere (although I haven't come across any hotels in the city centre that have a heated children's pool).
The hotel is right next to the cathedral in the gothic area, just a five-minute walk from Plaza Catalunya where the airport bus drops you off, and just a stone's throw from the main shopping district, plus lots of excellent bars and restaurants.
In the past, we've mostly stayed with friends in Barcelona, or been living there ourselves, so it was a real treat to stay in a hotel and it made travelling with Otis super easy. It was lovely returning to a clean room every afternoon and also having breakfast provided every morning.
I'd recommend Hotel Barcelona Catedral to anyone, those travelling with a baby or not. It's a beautifully photogenic place with lots of Instagram opportunities, plus it's not style over substance, as the hotel is comfortable and well run too. There's a pool on the roof, which is especially welcome on hot days and a perfect respite from the city.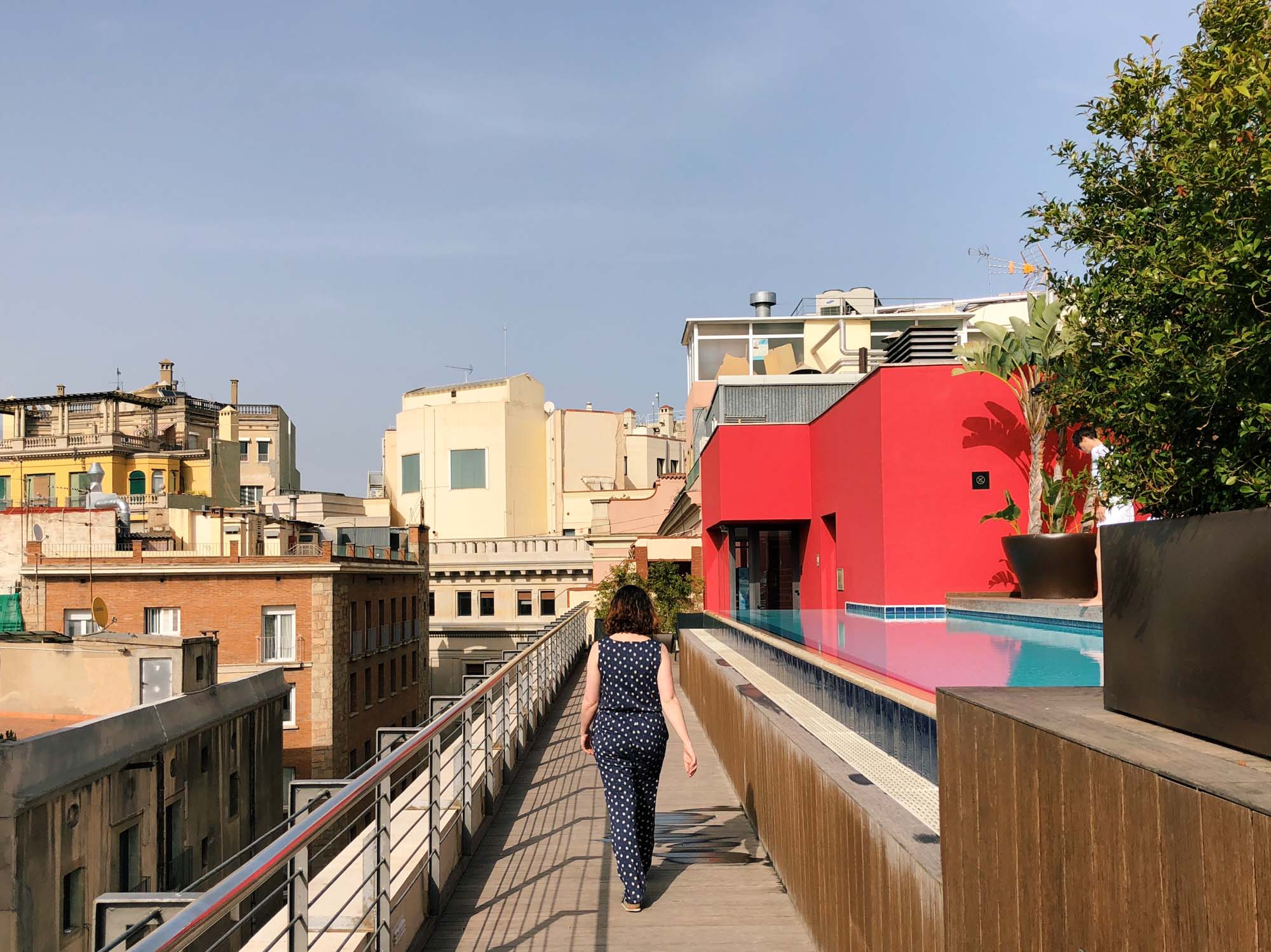 Rooms cost from €139 for a double. Book a room now*.
Part of our stay in the hotel room was sponsored, but my recommendation is genuine. I don't think you could find a better option in the centre of Barcelona.
Getting around Barcelona with a baby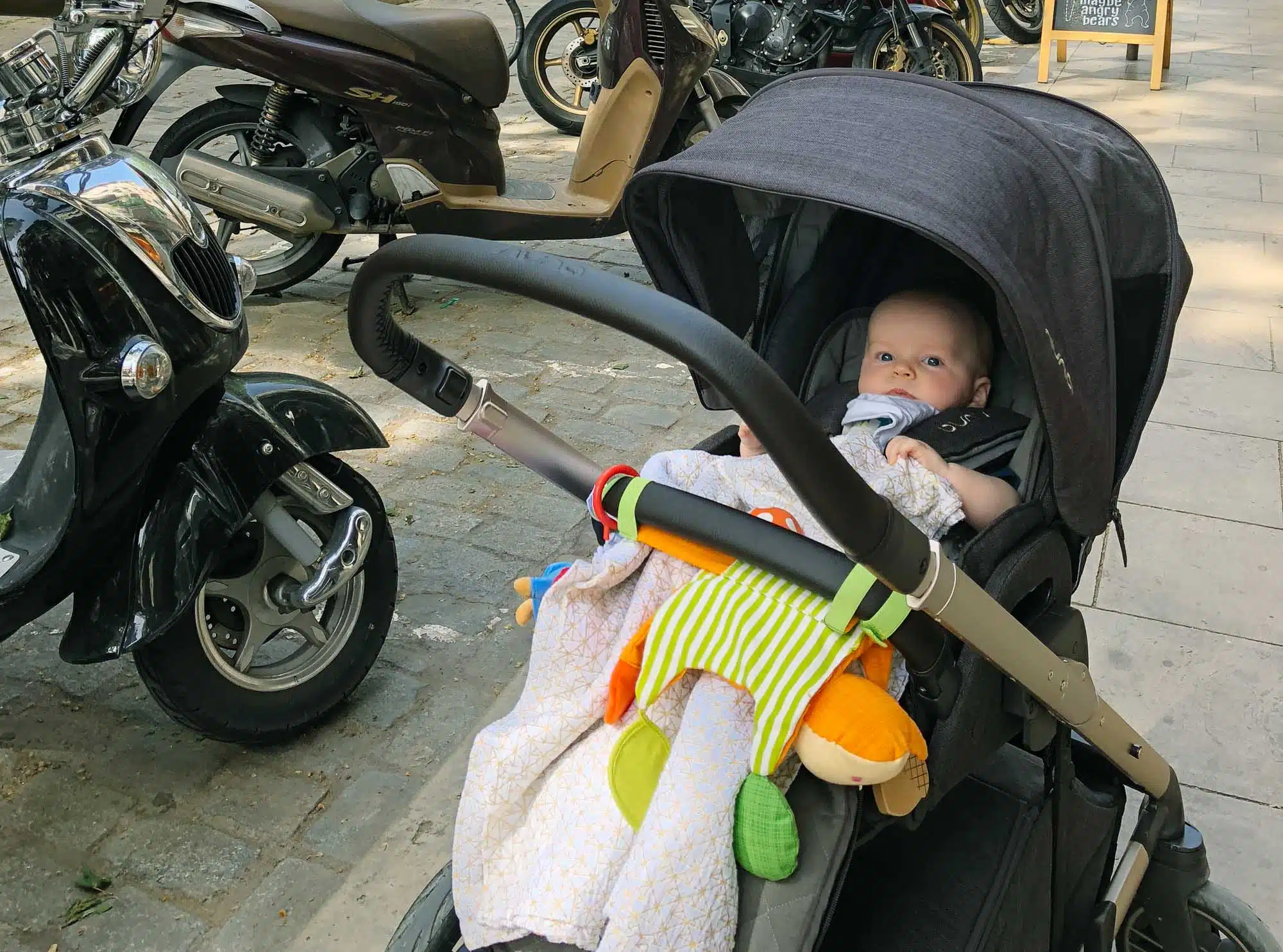 We were staying in the centre, so we walked everywhere while in Barcelona, staying within about a 40 minute radius from our hotel. Walking is my favourite way to see any city, so it suited us, but you could also use the metro.
I read  before we travelled that Barcelona is a nightmare with a pushchair, but we didn't find that to be the case. Although there are cobbled roads in the city, they tend to be bordered by paved sidewalks, so it's easy to avoid the cobbles. Also, we have the Nuna Mixx, which has great suspension and big wheels, so it was fine, even on the cobbles – plus the bumpy ride had the benefit of sending Otis to sleep! Another benefit of having a pushchair is that it's easy to shield the baby from the sun, which can be a bit trickier with a carrier. And in the evenings when we went out for dinner, Otis slept in the pushchair, leaving us free to enjoy the meal without him strapped to us.
However, there are definitely some situations where a carrier would be easier. if you're keen to go into some of the smaller tapas bars then a pushchair would be a hassle. 
A carrier would also have been better for our misguided trip up the staircase to Montjuic!
The carrier we use is the [easyazon_link identifier="B0743L6R1T" locale="US" tag="whatsvictoria-20″]Ergobaby Omni 360[/easyazon_link], which we both love as it's easy to use, comfortable and doesn't put a strain on your back, which is something people often complain about with other carriers. Nadine at Le Long Weekend has written a really useful guide to how to choose the best baby carrier.
Getting to Barcelona with a baby
We flew from Bristol with EasyJet. I was really impressed by the extra help provided for families. When travelling with a baby on EasyJet, you're allowed to check-in two pieces of baby equipment free of charge, for example a pram or a travel cot. We just brought one – our pushchair – which we were allowed to take all the way up to the gate. This was really helpful for pushing Otis around the airport. Once at the gate, we transferred him to our baby carrier. You're also allowed to bring a piece of hand luggage for the baby as well as a nappy changing bag, free of charge.
I was breastfeeding, so didn't need to think about formula, but if you do use formula, this post is post is filled with formula feeding travel tips.
There was a designated check-in line for families, as well as a special lane for families at security, which meant we were able to skip the long queues. We could also have got on the plane early, but we decided to get on last to minimise Otis' time on the plane (and reduce the risk of him crying!).
As it was, Otis slept for the entire journey – I think the white noise and vibrations of the plane were perfect for that! I even got to read a book! And I made sure to feed him during take-off and landing to try and ease the risk of his ears hurting. This was easier said than done as it's hard to time his hunger! I'd advise bringing a dummy as a back-up.
Having the baby carrier on the plane with us was useful as it meant we could put Otis in it when catching the transfer bus from the plane to the airport (you don't get your pushchair back until baggage reclaim).
To get from the airport to the centre of Barcelona, we took the Aerobus, which takes about 30 minutes and goes every 5-10 minutes. It's really convenient and there was space for the pushchair.
What to bring to Barcelona with a baby
I'm going to write a post with our packing list soon but, in short, we brought: one large hard-shell suitcase (for our clothes and Otis' Sleepyhead); one small carry-on bag for all Otis' stuff; a nappy changing backpack; and the pushchair, which we protected with its own bag.
This is the exact luggage we used, all of which I highly recommend. You can see it all in the photo above, modelled by Steve.
1. [easyazon_link identifier="B06Y372ZRT" locale="UK" tag="bridgandballo-21″] Large Samsonite Flux Suitcase(75cm)[/easyazon_link] – this perfectly fits the Sleepyhead in one side, plus it's super lightweight and easy to push around. This was our first time using a spinner and I don't know why we've never had one before – they're so easy to travel with!
2. Storksak Cabin Carry-on – Storksak makes the most stylish baby luggage I've come across. This carry-on option has wheels so you can pull it along easily, plus there's a built-in organiser, which can be hung up in the wardrobe once you arrive. As a fan of packing cubes, this was next level amazing!
3. Babymel Robyn Convertible Nappy Changing Backpack – my best friend has this nappy changing bag and I copied her as I love it so much. It looks good, plus it has lots of useful compartments. It's the best changing bag I've seen.
4. [easyazon_link identifier="B00GULAN6O" locale="UK" tag="bridgandballo-21″]Phil and Ted pushchair bag[/easyazon_link] – this was so useful for protecting the pushchair in the hold. In theory you can bring a pushchair without one, but seeing as we intend to travel a lot with ours, we thought it best to protect it.
A note on staying cool
As we live in England, by the time April came around, the hottest weather Otis had experienced was about 15 degrees celsius. In Barcelona, it was around 25, which is pretty cool for Spain, but quite a change for us and we needed to protect Otis from the heat. We stayed in the shade as much as possible and kept Otis in the pushchair, which has a good sun shade. We also used a lightweight swaddle cloth to cover up his legs, which kept poking out into the sun. And as an extra precaution, we used some baby suncream on the parts of him that weren't covered by clothes. At night, we dressed him in less than usual and kept an eye on the room temperature (we brought a thermometer from home). I found this part of travel a little stressful as Otis was only three months old, so I was still getting the hang of looking after him, and keeping him at the right temperature was one of the things I found most mind boggling!
And that's it for my tips. Let me know in the comments if you have any to add.