Our time in Mexico was cut short, but certainly wasn't wasted. We spent two beautiful weeks in Mexico City, a place that stole our hearts and made us realise our love for Mexico goes beyond the village of San Pancho. The laid-back pace of Mexico suits us and despite being one of the world's largest cities, we found Mexico City both manageable and charming. This was largely due to where we stayed in the the bohemian district of La Condesa, a fashionable area with tree-lined streets and a bounty of cute restaurants, cafes and boutiques. It neighbours Roma, a similarly arty enclave, but with more of a hipster edge, and we fell in love with both. Here are the reasons why, and some ideas for things to do in Condesa and Roma next time you visit. I've also written a guide to the best hip boutique hotels in Condesa and Roma.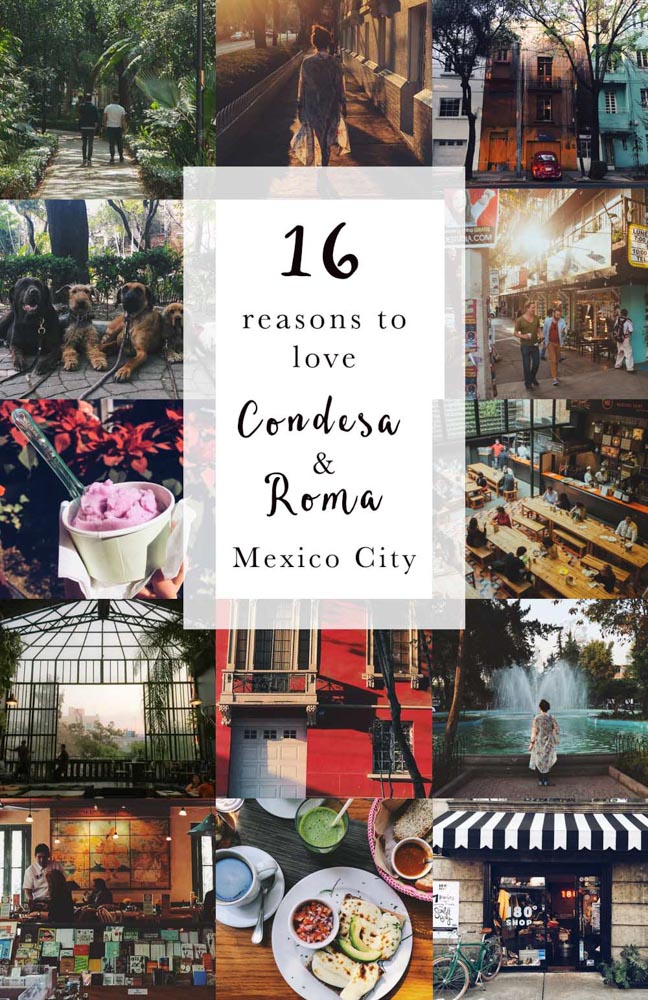 Things to do in La Condesa and Roma
Dog school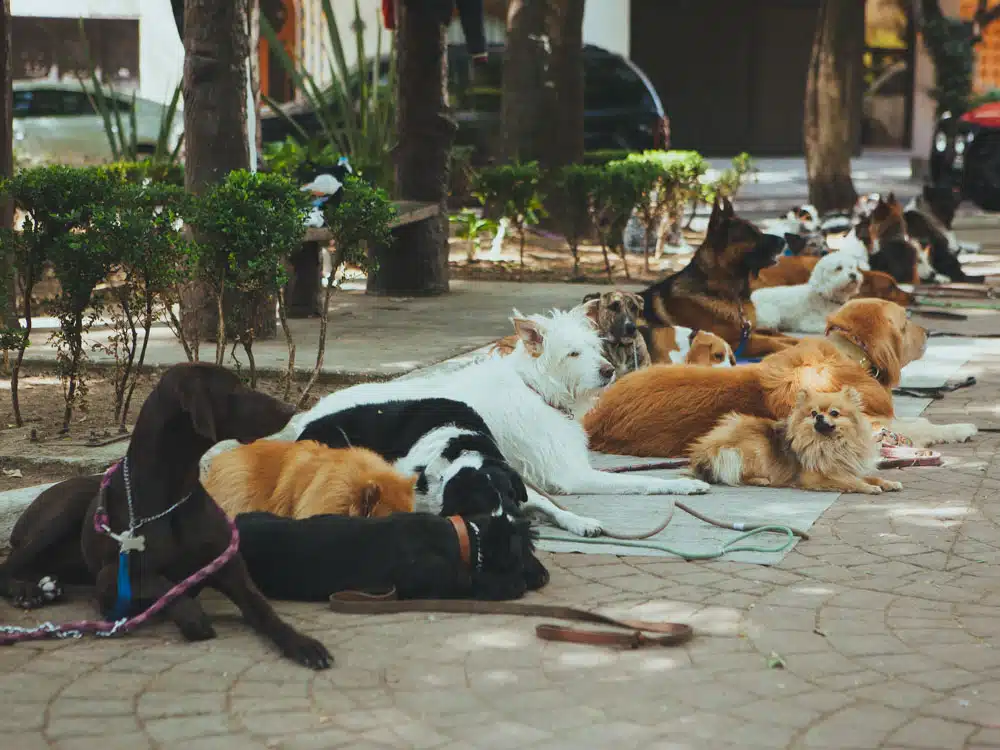 Number one on this list is one of my favourite things in the world. On our first day in Condesa, Steve and I were walking around Parque Mexico when we came across a large group of dogs of all shapes and sizes sitting placidly side by side with no leashes, just chilling. "What is up with those dogs?" we said. You would never see such a thing in England. There were other dogs running past, there were even cats, and still this group of dogs didn't move. We soon learned that this was dog school, a place where people leave their dogs to be taught obedience by a group of what must be dog whisperers. Steve and I are massive dog lovers; not having a dog is one of the sacrifices of travelling so much, so we grew to love walking past the dog school every day and seeing what pupils were in attendance. From huskies to a little spitz, we saw so many and always so well behaved – apart from the odd one who had to be tied up away from the crowd, presumably having been naughty. Don't miss the dog school!
Parque Mexico
Aside from the obvious joy of dog school, Parque Mexico is also a beautiful park to wander around, filled with lush trees and promenades perfect for strolling. It's always a hive of activity, especially at the weekends when you can catch live music and dancers practising their moves. We walked through the park every day and couldn't make it from one end to the other without saying again: "I love this place so much".
El Pendulo book cafe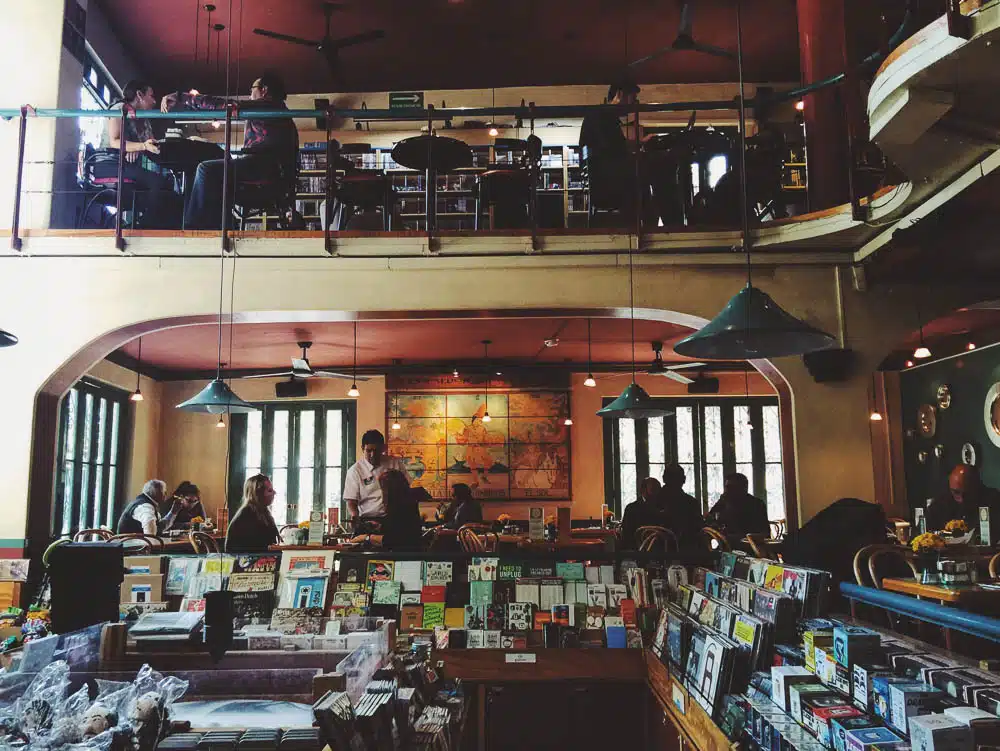 The most famous El Pendulo store is in Polanco and regularly features on lists of the best bookshops in the world. It's well deserved and we loved visiting that one, but we also grew to love our local El Pendulo store in Condesa. It's smaller than the Polanco shop but has the same cosy charm and is the ideal place for whiling away hours trying to work while getting distracted by all the people and books. There's also a Pendulo in Roma, which is equally beautiful – I think it may be my favourite chain of bookshops in the world.
Tacos Gus – NOW CLOSED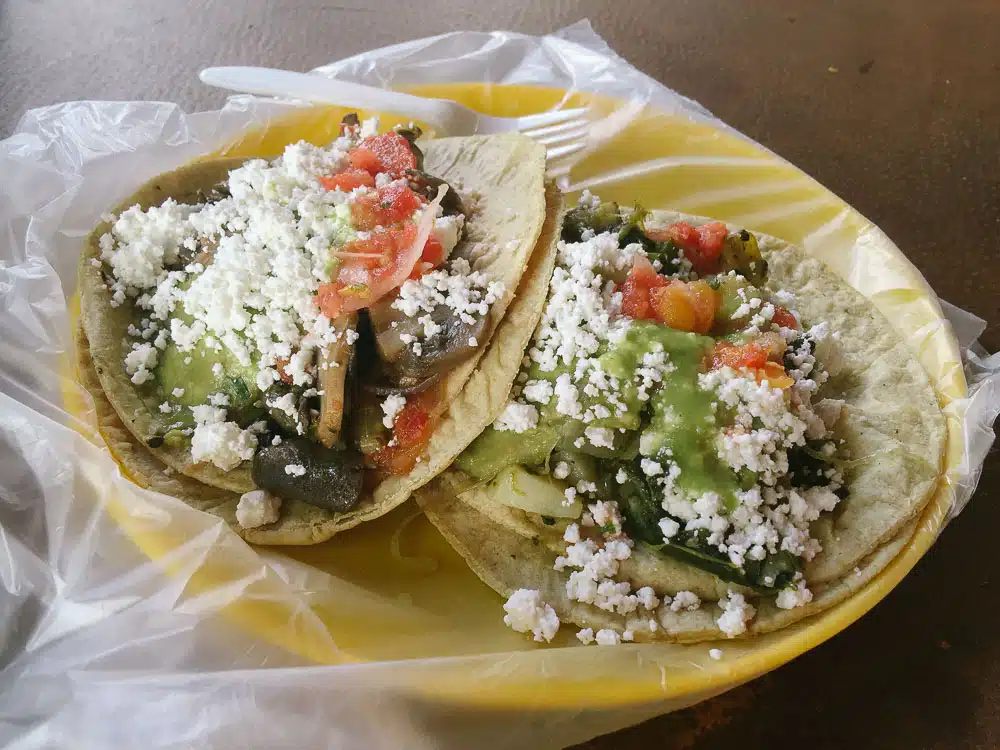 As a vegetarian, lots of Mexico City's meat-heavy taco stalls are off limits, but Tacos Gus is an exception. It's a shop rather than a stall but has comparable prices to street food and a huge menu of over 20 vegetarian options. Delicious!
The tree-lined streets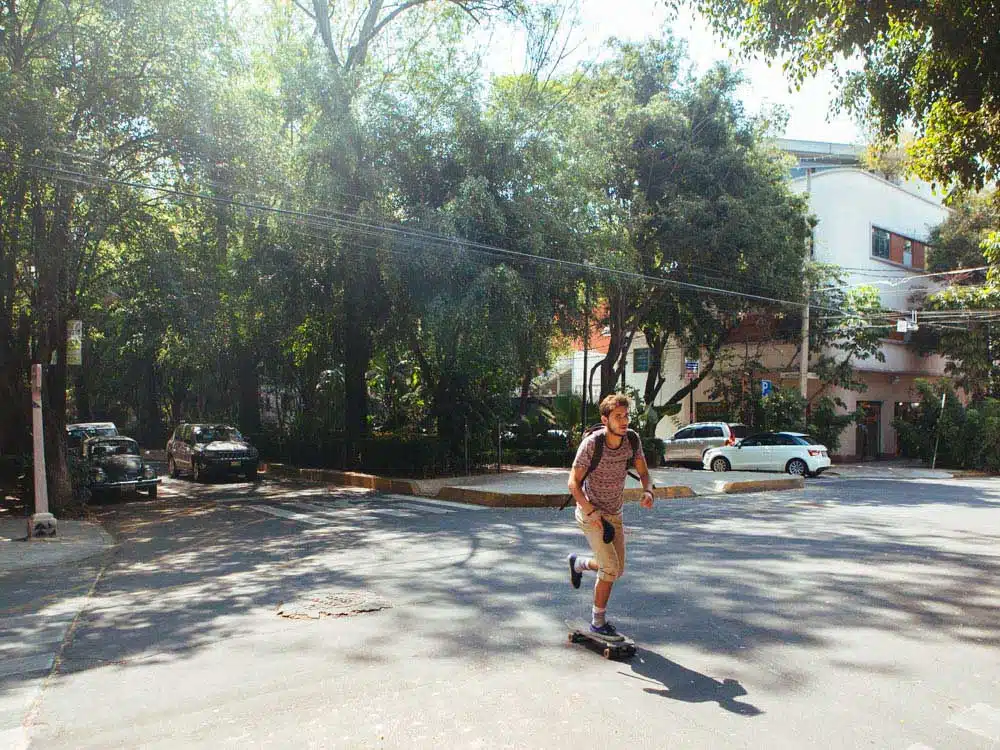 One of the appeals of Condesa is simply the beauty of it's streets. It's made up of lots of charming, wide avenues, with trees that form a canopy above. When you're in one of the biggest cities in the world, these touches of nature are greatly appreciated.
The architecture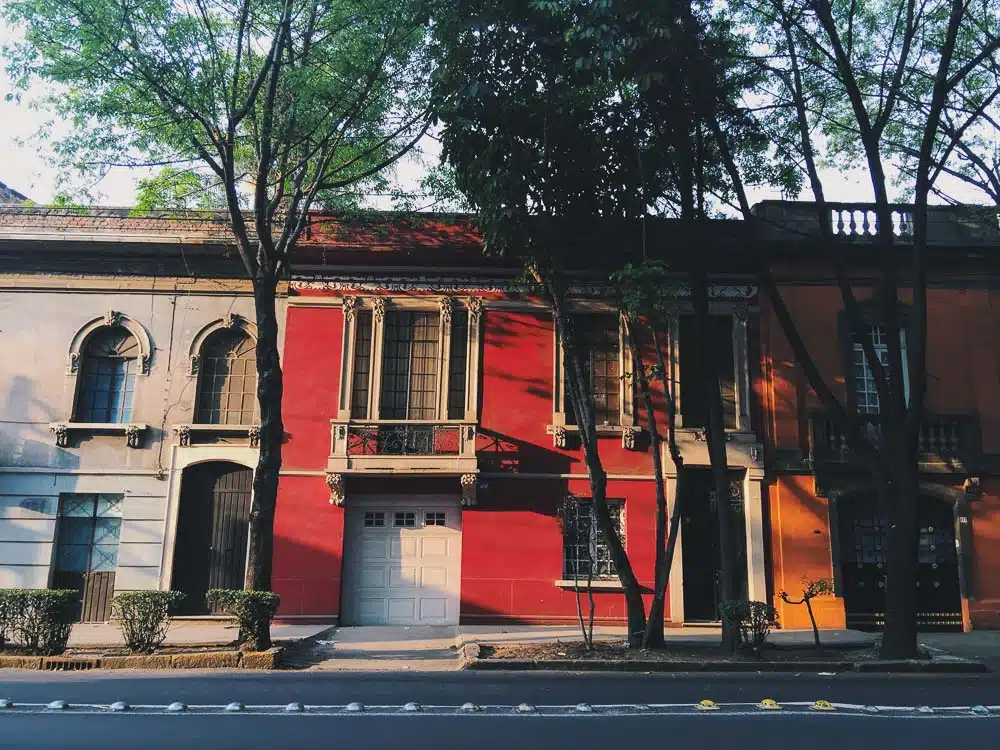 The streets are gorgeous and the buildings that line them are even better. I'm a big fan of colourful homes and Condesa and Roma are filled with brightly coloured facades spanning the entire rainbow. The architecture is varied with a lot of beautifully restored Art Deco buildings. We walked round for hours filling up our Instagram with pictures of pretty buildings.
Mercado Roma
Mercado Roma is hipster central; a covered market filled with little food counters from some of Mexico City's most popular restaurants and cafes. The tamale de quest con rajas tacos from Azul Antojo are some of the best tacos we've ever tasted, and we were always finding excuses to treat ourselves to some churros from El Moro. The Ozio ice cream stall is also amazing.
Casa Quimera
We stumbled upon Casa Quimera and couldn't believe our luck – it's an almost entirely vegan food market with a collection of stalls selling veggie versions of Mexican dishes. Next door are some more meaty options, and there's also a great coffee stand. As you can imagine, it's another hangout popular with hipsters.
Avenida Ámsterdam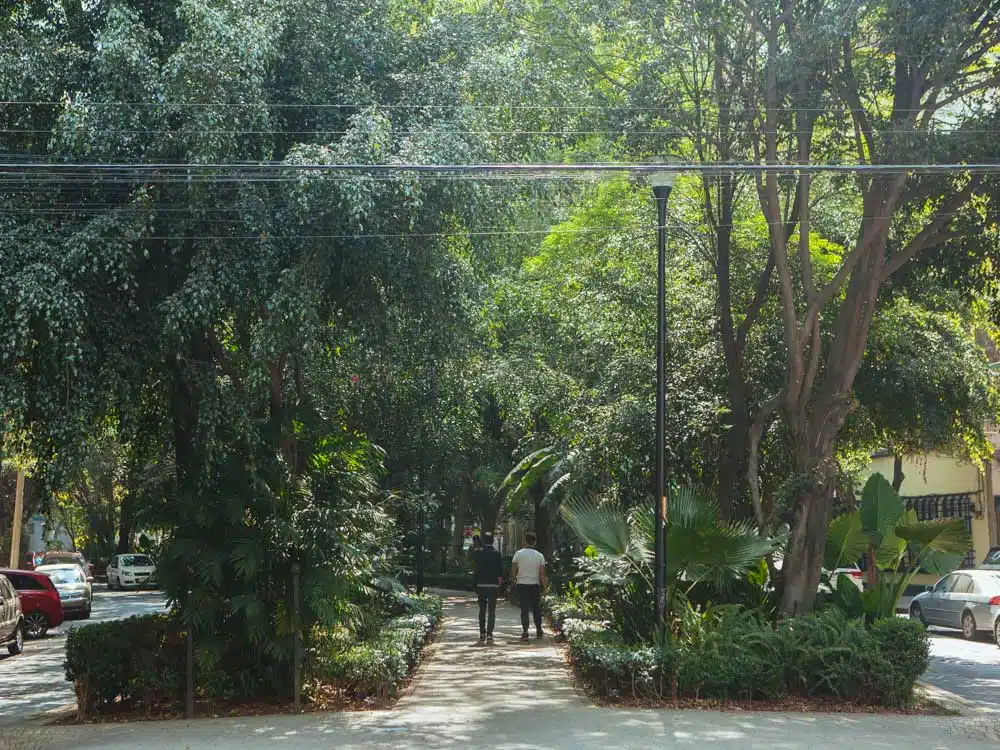 Avenida Ámsterdam encircles central Condesa with Parque Mexico in the middle. In the centre of the road there's a pedestrianised tree-lined walkway, which is a wonderful place to walk around, away from the cars and bustle of the streets – it's a slice of jungle in the city. Condesa is filled with these delightful pockets of nature.
El Ocho Cafe Recreativo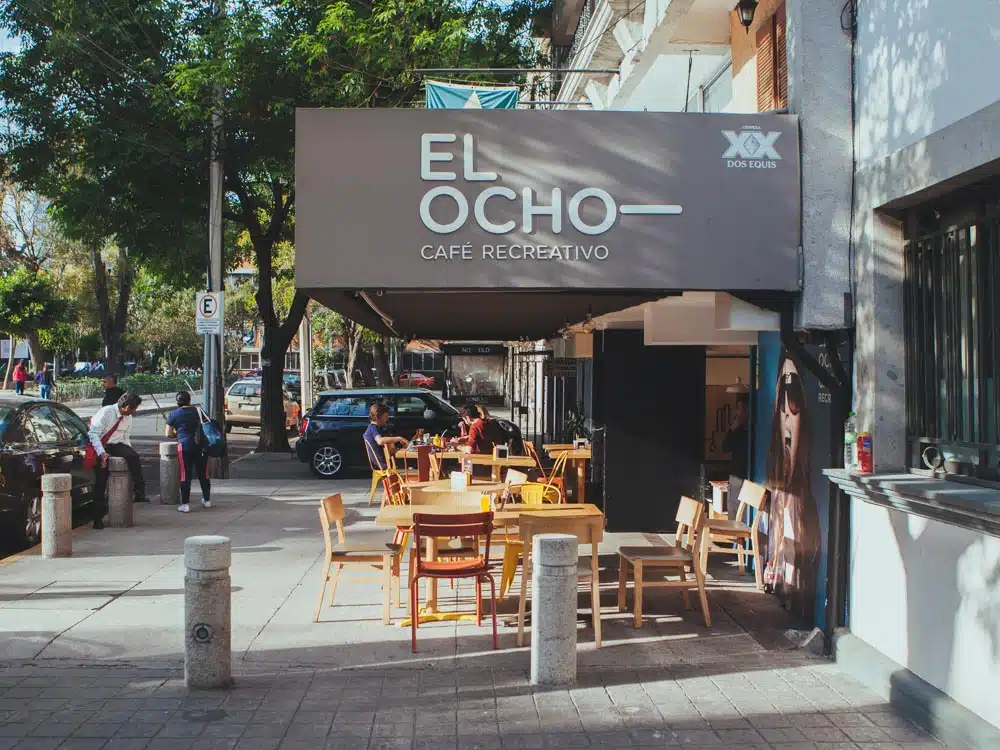 Steve and I are games geeks and were delighted to find El Ocho, a cafe entirely devoted to play where you get a menu of games along with the food. From Scrabble to Uno to some Mexican games we'd never heard of, there were loads to choose from.
The light
Everywhere has a golden hour, that beautiful time of day when the light starts to fade and paints everything in a golden glow, but Mexico City seems to have one that is even more magical than most. Make sure you don't miss it.
Enigma Rooms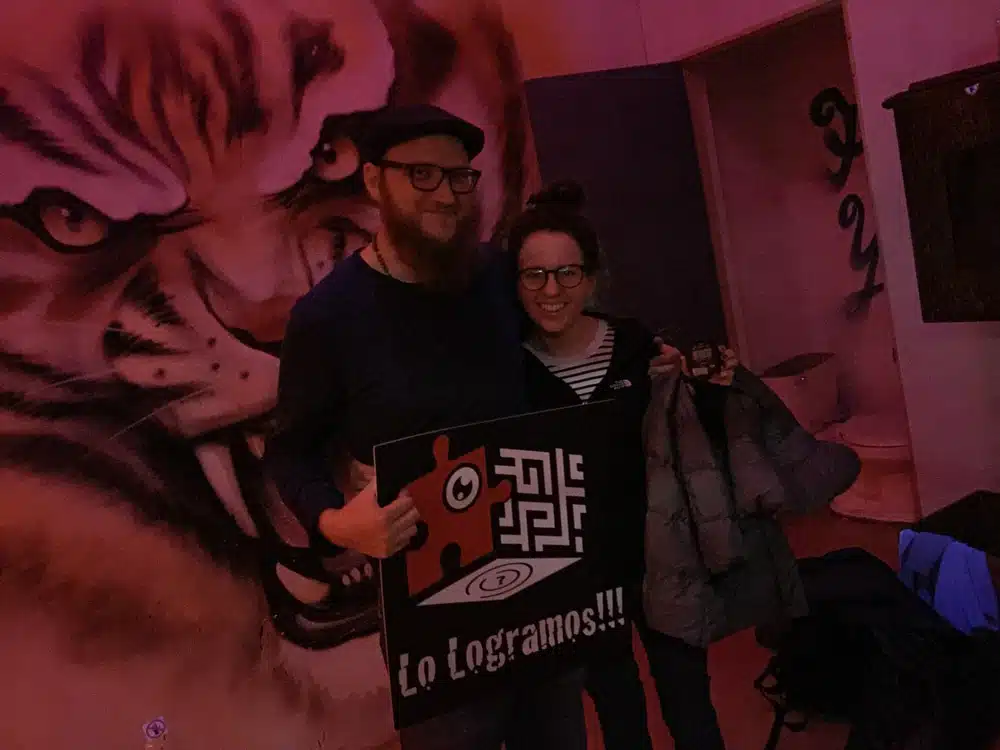 This discovery took our game geekdom to a new level. We'd heard about the concept before, but tried our first escape room while in Mexico City at Condesa's Enigma Rooms. We were locked in a Sherlock Holmes themed room and given an hour to follow the clues and find our way out. We like it so much, we want back a few days later to try the Jigsaw room. So much fun!
SO many restaurants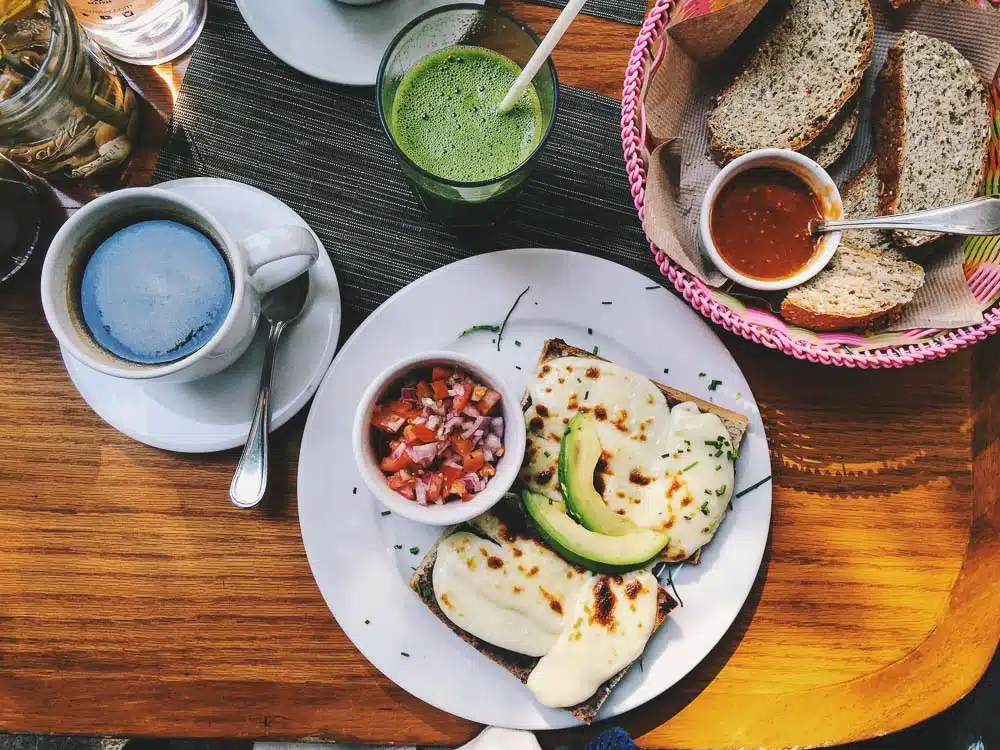 There are tons of restaurants and cafes to choose from in Condesa and Roma. We've singled a few out, but others to mention that serve good vegetarian food include Ojo de Aqua (great juices), Pizzas Nosferatu (great veggie options, but beware of the grasshoppers!), Yamasan Ramen House (great veggie ramen), Milo's (mediterranean food in a beautiful setting), Por Siempre (a vegan taqueria), Chiquitito Cafe (tiny place that takes its coffee seriously), and Orígenes (organic food and shop). The breakfast in El Pendulo is also great. And, of course your options are multiplied for non-veggies – Mexicans really loved their meat! FourSquare has a protective community in the city so it's a good place to find recommendations.
Cute boutiques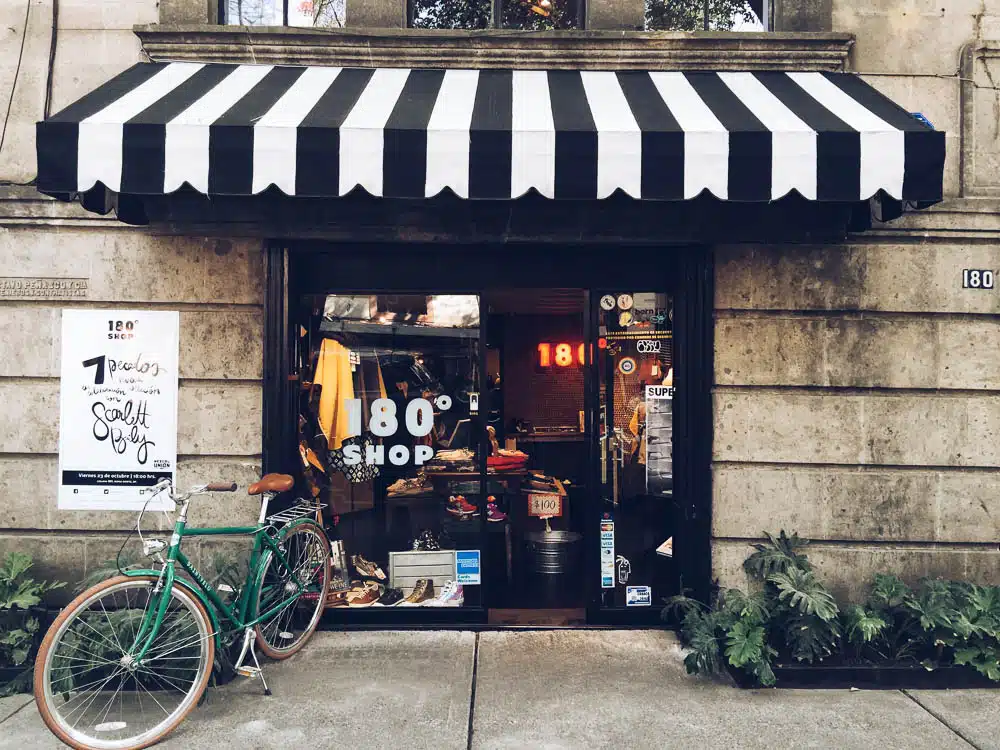 Roma and Condesa are magnets for hipsters and as such there are plenty of little boutiques filled with a full spectrum of hipster needs, from vintage clothes to independent designers and shops selling glasses made out of wood. There are some particularly good ones in Roma along Colima street, including 180 Grados.
Romita Comedor – NOW CLOSED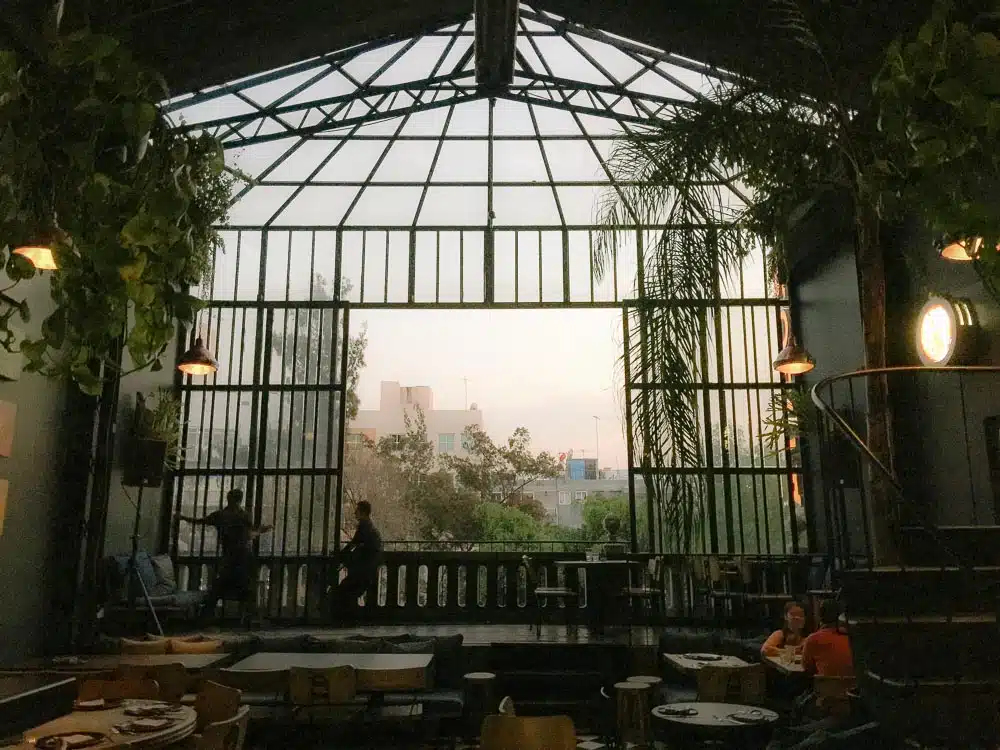 There are a lot of bars to choose from in Condesa and Roma, but for something special we loved Romita Comedor. It's a little fancy but worth putting up with the slightly haughty service for the amazing architecture. It gets really busy at night, but is a good place to grab an afternoon coffee or pre-dinner cocktail.
Close to El Centro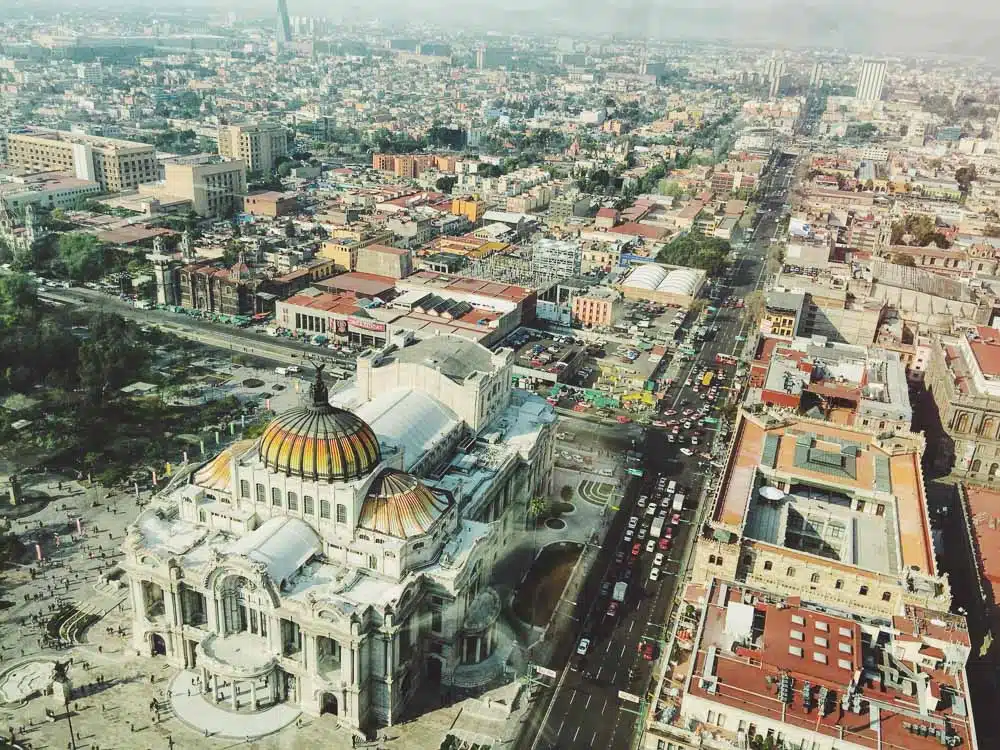 A great benefit of Condesa is that it's close to the centre of the city so it's easy to get to most of the main sights. You can hop on the metro or grab an Uber if it's too late. An Uber all the way to the airport (half an hour) only costs around £7. Definitely make sure you go explore Frida and Diego's Mexico City, visiting the Blue House and the homes of Diego's murals. 
Where to stay in Condesa, Mexico City
I've written a full guide to the most hip boutique hotels in Condesa and Roma. But here are a few recommendations to get you started.
The links below are affiliate links, meaning I get a small commission if you book them (at no extra cost to you). It's one of the ways I keep this website going. I have marked affiliate links with an asterix *. Read more about my affiliate policy here.
AirBnB
AirBnB has plenty of stylish, hip options in La Condesa and La Roma. We stayed in an apartment that's no longer available, but there are some gorgeous options on offer. I recommend taking a look at the AirBnB Plus selection for some of the most beautifully designed places in the city. If you sign up to AirBnB with this link*, you'll get $25 off your first booking.
Condesa DF
Probably the most trendy hotel in the neighbourhood, the slick Condesa DF has a beautiful open courtyard and offers a stylish mix of art deco style with modern touches.
La Valise
La Valise is number one on my list of places I'd like to stay in Mexico City. There are just three rooms and all have been impeccably styled by owner Emmanuel. It looks stunning.
AR 218
The stylish AR 218 has beautiful sweeping staircases  and a simple, modern design with Mexican touches.
Don't forget your travel insurance!
Don't forget your travel insurance! We recommend World Nomads* or True Traveller* who both offer reliable, comprehensive cover, including medical, evacuation, baggage and a range of adventure sports and activities*. You can buy both True Traveller and World Nomads insurance even when you've left home, which is unusual for travel insurance companies.
Save time and money on your next trip
See our travel resources page for all our best travel tips, including how to save money with the best cards, what insurance to choose, and all our favourite tools and tricks.
And here are some extra dog photos, just for joy.
*Affiliate link (we get a small percentage of any booking you make, at no extra cost to you).