Last updated on
There is nowhere I'd prefer to be in August than Edinburgh, and that's saying something for someone who lives in the UK and is addicted to travel. The already enchanting city becomes an intoxicating hotbed of international culture and creativity for the whole month of August when it hosts not one, but five world-class festivals.
The one you'll know best is the Fringe – the world's largest arts festival – but there's also the Edinburgh International Festival, Edinburgh Art Festival, Royal Edinburgh Military Tattoo and Edinburgh International Book Festival.
Each of these alone is a reason to visit the city, so when all five take place at once, Edinburgh is unmissable and has something for every taste. Here's a run-down of all five festivals, including our video from Edinburgh 2019.
Our video was made for Festivals Edinburgh as part of a paid collaboration.
Video: Edinburgh Festivals in August
Edinburgh International Festival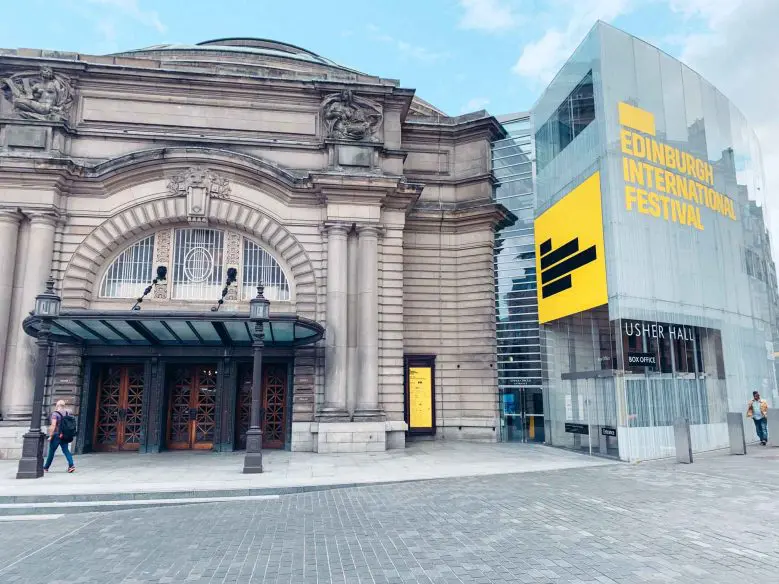 It all began with the Edinburgh International Festival, which was founded in 1947. The three-week celebration of performing arts attracts some of the world's most renowned creators, spanning music, theatre, opera and dance.
The team travel the world, searching for the most exciting performers, and bring them all together in a medley of world premieres, acclaimed productions and new collaborations. Expect classical music alongside avant-garde experimentation and iconic theatre shows.
Some of the highlights from 2019 included: Stephen Fry's Mythos: Gods, Heroes, Men, a three-part dramatic retelling of his best-selling book; Red Dust Road, the National Theatre of Scotland's stage version of Jackie Kay's memoir; Canadian pianist, Angela Hewitt; Kate Tempest; Faso Danse Theatre's Kalakuta Republik; and a production of West Side Story.
Book ahead as these shows tend to fill up fast.
Edinburgh Festival Fringe
The Edinburgh Festival Fringe started when performers who hadn't been invited to the international festival turned up in Edinburgh and staged their shows anyway. The movement grew and grew and now it's the world's biggest arts festival, showcasing around 56,796 performances of 3,548 shows in over 300 venues during 25 days in August.
The programme is overwhelming, featuring comedy, dance, physical theatre, circus, cabaret, children's shows, musicals, opera, music, spoken word and exhibitions. And in keeping with its history, the festival is entirely open-access, ranging from household names to unknown artists trying to kickstart their career. As such, the quality varies wildly, but the breadth of choice means you can mix and match between sure-fire hits and lucky dips. Most events are ticketed, but there's also a whole programme of free Fringe shows.
Steve and I have been four times and for us the comedy is always a highlight. We tend to battle the overwhelm of the programme by gravitating to the Pleasance and the Assembly venues, which can be trusted to curate amazing programmes. That said, some of the best things we've seen have been outside those venues, so it's always worth mixing it up.
In 2019, we brought Otis with us for the first time, which meant we got to try some of the children's events. Highlights included a kid's beatbox show by Shlomo; Little Top, a circus performance for babies; and a slapstick water show – Splash Test Dummies – in the Circus Hub. Otis loved it all and it was great fun sharing in his excitement.
Edinburgh International Book Festival
I've been a fan of the Hay Festival for years but had no idea Edinburgh also has a book festival in the summer – the Edinburgh International Book Festival. Featuring around 900 authors from over 60 countries at 800 events, the two-week event is filled with some of the most inspirational thinkers from around the world. Alongside the Fringe, it's my favourite festival in Edinburgh.
You can expect to see everything from novelists to poets to scientists to philosophers to musicians to comic creators and many, many more. Like Hay, it's a place to be inspired, share ideas, have thought-provoking discussions, and generally be entertained, challenged and informed by leaders in their fields.
The festival takes place at the west end of George Street and Charlotte Square Gardens, which are transformed into a pretty, tented village, which offers a peaceful respite from the rest of the buzzing, festival-filled city.
It's free to go inside the tented village, so it's worth popping in just to for the atmosphere and to browse the huge festival bookshop. It was especially ideal with Otis as they have a fun children's play area, and a whole host of children's events (you can see him enjoying it in our film).
Edinburgh Art Festival
Art was one of the missing ingredients to the Edinburgh festival scene until 2004 when the Edinburgh Art Festival was founded. Taking place at galleries, museums and artists' spaces across the city, it's a celebration of visual arts, featuring leading and emerging artists as well specially commissioned pieces.
The festival includes over 40 exhibitions each year, and the vast majority is free to attend. It includes exhibitions, performances, screenings, artist talks and guided tours.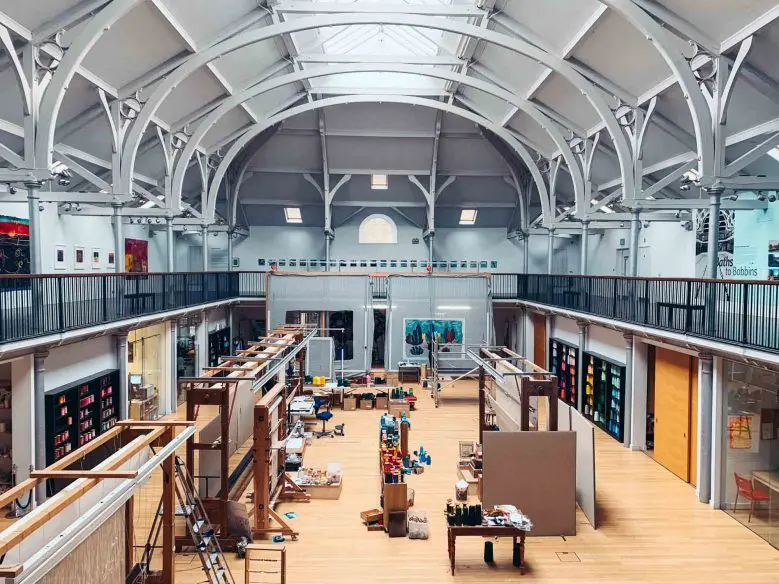 When we went in 2019, we saw an exhibition of Grayson Perry's tapestries, went to a children's craft workshop at a cute little artist's garden in the city centre, and did an interesting night walk through the city where we were guided by an audio recording and an interactive AR recording (headphones and a smart phone were provided at the start).
The Grayson Perry exhibition was held at the Dovecot tapestry studios, which is a fascinating place to visit by itself – you can watch the resident tapestry artists at work from the gallery of what used to be an old bathing house. I'd recommend visiting there at any time of year in Edinburgh.
The Art Festival has a good programme for children called Explorers, which includes events such as art activities, workshops on specific artists, and free outdoor art workshops involving play and woodland games.
Royal Edinburgh Military Tattoo
The Royal Edinburgh Military Tattoo is an incredible spectacle of international pageantry, music and dance. Taking place at Edinburgh Castle, it has a different theme every year and features a series of elaborate military tattoos performed by armed forces and military bands from around the world.
A tattoo was originally a form of military music, but has nowadays evolved into a sophisticated display of theatrics and musical performances, including non-military performers. In 2019, the theme was kaleidoscope, which culminated in an amazing human kaleidoscope dance/march, featuring all the performers from the show (watch the video to see what I mean!). And every night ends with an amazing fireworks display above the castle.
You have to book in advance as it's a sell-out every year. For that reason, only Steve could go when we went as he had a press pass. I've had to rely on the photos and footage for my impressions. Now I'm keen to make sure I get a ticket next time. The dances look amazing!
Where to stay in Edinburgh
We stayed in a lovely Airbnb in the Marchmont area of Edinburgh, right next to the Meadows. It was a short 10-minute walk to the festival across the Meadows.
We were there with Steve's parents, so the place was bigger than we would usually need (it had three bedrooms) and the prices were inflated because of the festival (this is the case all over Edinburgh). But it was a really lovely place to stay, with cosy rooms, plenty of space and a beautiful view across the gardens. It cost £283 per night. Book your stay here.