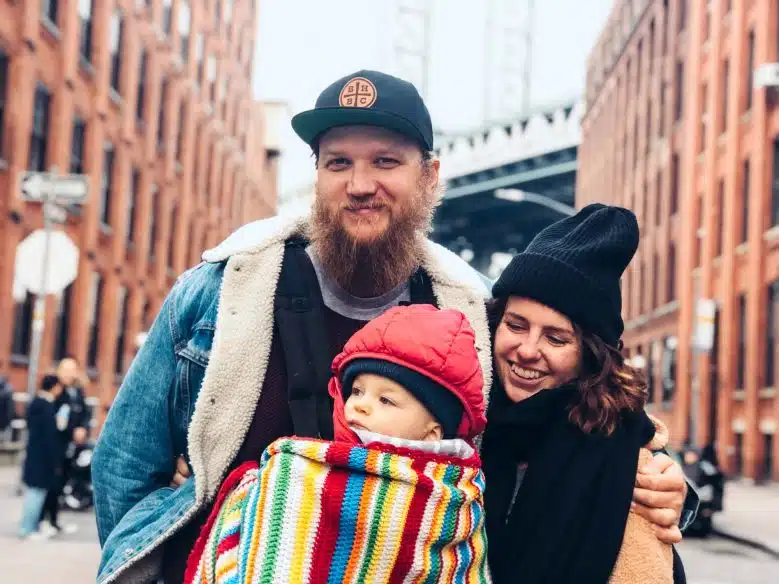 New York might not be the first place you think of when deciding where to travel with a baby, but, for us, it was one of the best trips we took in Otis' first year. By the time we went there, when Otis was 10 months old, we had already travelled with him to Barcelona, London, Croatia, Wales, and spent six weeks road tripping in California – so we were definitely seasoned baby travellers. That said, I think we'd have enjoyed it just as much even if it'd been our first trip with a baby. Hundreds of thousands of families live in New York, so it's equipped with absolutely everything you need for your child. Plus it's a place that oozes excitement and wonder so, as a parent, you get the thrill of being somewhere amazing by doing really simple things, like taking a walk through Soho or going for lunch in a classic diner.
I highly recommend it and these are our top tips for travelling in New York with a baby.
Tips for visiting New York with a baby
How to get around New York City with a baby
New York City and its traffic isn't a place where you want to hire a car, so the best option is to walk, take advantage of the public transport system or take taxis when you need to. Here's a run-down of the options.
1. Taxis/Ubers
Taking a taxi, Uber or Lyft is one of the most convenient ways to get around the city. However, this does mean you have to think about car seats. It's legal to travel in a taxi in New York without one, but if you'd prefer to use a car seat then you'll have to either bring your own, or hire a taxi that has one. Uber and Lyft both offer affordable cars with car seats, but they're forward-facing and only suitable for babies over 12 months. And Black Lane and Kidmoto offer taxis with car seats, but they come with a large price tag. If you bring your own car seat, you can put it in most taxis/Ubers. We brought our own car seat and used it in an Uber to and from the airport. You might also like to use a car seat on the aeroplane (we didn't do this). If so, here's a handy guide to airline-approved car seats.
2. Subway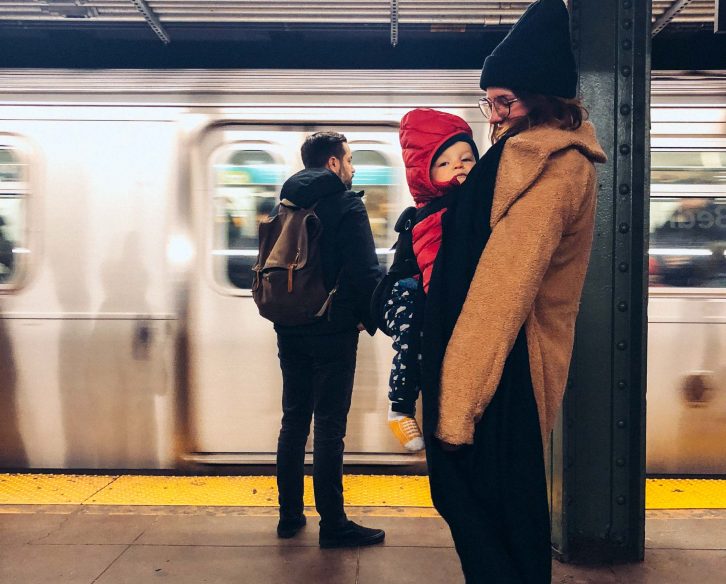 Some people say to avoid the subway with a baby, but we found it really useful. If you're using a baby carrier then going on the subway is as easy as it is without a baby – just try to avoid rush hour, so you don't get crammed in with the crowds. We tended to have the stroller with us, which made things a bit more complicated. Most of the subway stations have stairs and many don't have elevators, so Steve ended up having to carry the stroller up and down a lot of stairs while I carried Otis. This is do-able if you have the strength, but for an easier option, have a look at this list of accessible subway stations. Be warned though that the elevators aren't always working (as we found out the hard way), so also use this tool for checking the status of elevators and escalators in each station. Plan your journey using the MTA trip planner.
3. Buses
Buses aren't the best option for travelling with a baby in New York as you're not allowed on them with an open stroller, plus the subway is a quicker option. But sometimes it might be necessary to take a bus, so keep in mind the stroller rule and perhaps take a carrier instead.
4. Ferry
A fun way to get around the city is to take one of the ferries. We did this from Greenpoint down to Dumbo and it was a really enjoyable way to get between the two places while viewing the city from the water. See the New York ferry routes and schedules here.
What to bring to New York with a baby
Car seat
I highly recommend bringing your own car seat, especially if your baby is under 12 months. This is because, as explained above, car seat hire for infants under 12 months in taxis can be expensive and hard to come by. If you're hiring a car, you could hire a car seat with your hire company, but it's difficult to guarantee the quality, plus the service is often unreliable (we once reserved a car seat in Croatia, only to arrive at the airport and be told it was no longer available). A good option is to bring a stroller travel system, so you can use the car seat attachment to travel around the city and then jump in a taxi with the car seat whenever you need to. We took our Nuna Mixx travel system with us.
Travel cot
We brought our own travel cot because we went to New York after our California road trip, so we already had one with us. The Hoxton Hotel does provide travel cots, so if New York had been our only trip, we'd have just used that. I recommend checking with your accommodation to see if they provide a cot and then weighing up the pros and cons. The downside is that you'll have to carry it with you (although most airlines allow you to bring two large pieces of baby equipment, including a travel cot, for free). A benefit of bringing your own is that your baby will already be used to it. We use the [easyazon_link identifier="B00IM8G038″ locale="US" tag="whatsvictoria-20″]Baby Bjorn travel cot[/easyazon_link] as it's the lightest one we've found, plus it's nice and easy to put up and take down.

Stroller and/or sling
We took a stroller (the Nuna Mixx) and a sling (the [easyazon_link identifier="B0743L6R1T" locale="US" tag="whatsvictoria-20″]Ergobaby Omni 360[/easyazon_link])to New York and used both of them while there. What you choose to do is really down to your own preference. Some people are happy to use a carrier all day, but Steve and I appreciated having the stroller as we walked a lot and Otis is pretty heavy! We didn't have any issues bringing it into cafes, restaurants or shops, although getting into smaller places would likely pose a problem. You can normally bring a stroller for free on your flight, so personally I think there's no harm in bringing one. Also, if you have a travel system and can attach your car seat to the stroller, this is useful for getting taxis as you have your own car seat with you. The problem with this option is that car seats tend to be less comfortable than the standard stroller seat, so your baby might not tolerate long days in it (plus if they're really young, it's only recommended they sit in the car seat for limited periods of time). Make sure you have a rain cover.
Travel high chair
A travel high chair is one of my favourite items of baby travel equipment. Most places you eat out at have high chairs, but a travel high chair is super useful for when you're eating in your hotel room/apartment. Without one, you end up having to hold your baby while they eat. But with one, the baby can sit by themselves and get on with their meal while you do whatever you need to. We found it particularly useful at breakfast time. We have one called [easyazon_link identifier="B07CNWG6PY" locale="US" tag="whatsvictoria-20″]Pop 'N Sit by Summer Infant[/easyazon_link]. It's stand alone and comes with a handy little tray, plus you can attach it to a chair if you want your baby to join you at the table. You can get fabric travel high chairs, but they have to be attached to a chair and they don't have a tray, so you're reliant on the right type of chair and a table, which aren't always available in a hotel room. The Summer Infant high chair packs down quite small, so you can also stash it in the pushchair if you know you're going to a restaurant without high chairs, or perhaps want to use it for a picnic in a park.
Baby food and formula
New York, of course, has lots of shops selling baby food and formula, but depending on the length of your stay you might want to bring a small supply of your baby's favourites. For example, we struggled to find protein-rich ready-made vegetarian baby food in the States. For the most part, we fed Otis fresh food, prepared by us or in restaurants, but sometimes a pouch is a handy option. We found a few good options, such as [easyazon_link identifier="B0754V6HC8″ locale="US" tag="whatsvictoria-20″]Plum Organics Mighty Four[/easyazon_link], in Whole Foods, but some of the best ones ([easyazon_link identifier="B00VKCLCN6″ locale="US" tag="whatsvictoria-20″]Ella's Kitchen vegetable lentil bake[/easyazon_link] and [easyazon_link identifier="B00MZWK416″ locale="US" tag="whatsvictoria-20″]bean feast[/easyazon_link]) were only available online. As we were travelling for so long, we ended up ordering them via Amazon and having them delivered to Amazon lockers. This is a really handy way of sourcing essentials that you don't want to carry over on the plane. Just sign up for a US Amazon account before you leave.
I was breastfeeding Otis in New York, so didn't need to worry about formula. But if your baby is used to a particular brand, it's worth checking it's available in New York, and if not, maybe bring some with you.
Other baby essentials
It's easy to overpack when travelling with a baby, so do bear in mind that you'll be able to pick up anything you need while in New York, most likely at any time of day – it's the city the never sleeps! Bring enough nappies and wipes to get you through the flight, but then buy the rest locally.
10 best things to do in New York with a baby
When travelling, Steve and I are big fans of doing the same things we would normally have done before Otis arrived. Of course, some things are out of the question, such as late-night bars, clubs and theatre performances, but there are a surprising amount of things you can do with a baby in tow. Infants under one are often easily entertained by just gazing at the world around them, so enjoy that while you can before they start having opinions. Also, if your baby will sleep in their stroller, they can have their naps while you're out and about. However, all babies are different and you know your baby best, so make sure to do what suits you as a family – perhaps that means committing to one nap in the hotel or not having whole days out and about. Do what suits you best.
There are endless things to do in New York, but these are my top 10 favourites. I've also included a few baby-friendly things that we heard about, but didn't have the time to do on this trip.
1. Walk around the city
One of the easiest and most enjoyable things to do in New York is to simply walk around. As the setting for so much art and entertainment, it feels like stepping into a familiar movie, TV show or book. We walked for miles, drinking it all in and stopping for drinks and snacks along the way. Some of my favourite places to wander are: the Lower East Side; Soho; Dumbo and Williamsburg. Also try to walk across the Brooklyn Bridge at some point – it has some of the best views of the city. Also see this post on the best hikes in Manhattan.
2. Visit Chelsea Market
Chelsea Market is a gorgeous covered market filled with delicious places to eat. Our favourite spots were Los Tacos No.1 and Doughnuttery. There are also some great shops including Posman Books and Artists and Fleas (a marketplace, featuring lots of different artists and stalls).
3. Ride the ferry
We already mentioned the New York ferries in the 'how to get around' section, but they're also a fun sight-seeing thing to do in themselves. Hop on one of the regular NYC ferries, or take a trip to Staten Island on the free Staten Island ferry.
4. Go to a play space
For a proper baby activity, New York has lots of different playgrounds, play spaces and play cafes. Visit the Mommy Poppins site for a full list of play spaces in NYC and play spaces in Brooklyn.
5. Do a stroller tour of a museum
You can visit most of the museums in New York with a baby, but a few also offer stroller tours led my museum experts. Places that offer stroller tours include the Guggenheim, Whitney, and Brooklyn Museum.
6. Ride a carousel
A fun thing to do with a baby is to ride one of New York's famous carousels. The most classic option is the carousel in Central Park, but we also spotted Jane's Carousel, a glass-enclosed option on a pier in Dumbo.
7. Go to one of the parks
Parks are ideal when travelling with babies, especially when the weather is good and you can roll out a blanket and give your baby some playtime. New York has plenty of options, ranging from the iconic and massive Central Park to local options, including Washington Square Park, Brooklyn Bridge Park, Prospect Park and Bryant Park. We also loved stopping at playgrounds so Otis could have a go on the swings. Central Park alone has 21 playgrounds to choose from, including Tarr-Coyne Tots Playground on 68th Street, which is aimed at babies and toddlers.
8. Walk the High Line
The High Line combines both strolling the city and visiting a park, but deserves a mention of its own. It was originally a train line, but has now been transformed into a beautifully landscaped, elevated park. It runs from the meatpacking district to West 34th Street, between 10th and 12th Avenue. The High Line has fantastic views of the city, plus some excellent street art along the way. It's a good option to combine with a trip to Chelsea Market.
9. Go to the baby cinema
While I was on maternity leave, going to the baby cinema was one of my favourite things to do. It's when the latest film are shown at special screenings where you're allowed to bring your baby along. This means the cinema is more tolerant of noise, plus they turn the volume down a bit and keep the lights on low. New York has a few different cinemas offering baby screenings, including Hawks with Babies every Tuesday afternoon at Nitehawk; and Alamo for All screenings at the Alamo Drafthouse. Both cinemas feature in-seat dining, which is a fun novelty in itself.
10. Visit the Children's Museum
The Children's Museum is aimed at slightly older children, but babies will enjoy aspects of it, including the soft play, which is suitable for every age from zero up to 12.
11. Do a tour
Here are some tours that look like fun to do with a baby in tow. The skip-the-queue tickets would be super handy, plus I couldn't help but include the donut tour! And the photographer would be an amazing way to capture your trip with some pro photos of your family.
Places to eat in New York City with a baby
The only thing we've changed about our eating habits when travelling is that we don't tend to go out for dinner and instead shift the emphasis to lunch or brunch. Otis normally sleeps around 7pm, so we either self-cater in the evenings or order a take-out. Happily, services like Caviar, Postmates and Grubhub. mean that you can get some of the best restaurants' food delivered direct to your hotel.
We ate incredibly well in New York and these were a few of our favourites: Milk Bar for ice cream and truffles; Van Leeuwen or Ice & Vice for ice cream; Misi for stylish, high-end Italian fare in Brooklyn; Doughnut Plant for inventive doughnuts; Nix for Michelin-star vegetarian cuisine (yes, you can got to fancy restaurant with a baby!); by Chloe for excellent vegan food; Sadelle's for the best sticky bun in town; Black Seed Bagels; The Butcher's Daughter for top-notch veggie food; Norman for brunch; and Best Pizza. A big thanks to Guy for introducing us to all these places. Blogger Adam also has lots of great Brooklyn restaurant recommendations.
Where to stay in New York City with a baby
In an ideal world, the best place to stay with a baby is an apartment/suite with a separate bedroom, so that when your baby goes to sleep, you can stay up without disturbing them. AirBnB was once an affordable option for this, but laws now mean that you can only legally rent out an AirBnB apartment if it's a room in someone's home or you're renting an apartment for more than 30 days. If either of these options work for you use this link* to get $25 off your first trip.
If your heart is set on a hotel, you'll likely be staying in a room as the cost of a suite is pretty high. We stayed in a double hotel room in New York (and many other places) and, for us, it wasn't a problem. Otis would go to sleep and we'd place a scarf over his cot and dim the lights. He was at a stage where he wasn't easily disturbed, so we were able to chat quietly, eat, watch the TV on low volume etc while he slept. Also, we were pretty tired after busy days exploring New York, so our own bedtime wasn't much later than his!
With this in mind, any hotel that has room for a cot and isn't too noisy can work for family travel. And this meant that we chose a hotel based on what we love rather than a specifically family-friendly place. In fact, that's the philosophy we've tended to go with for all our travel with Otis, meaning we haven't compromised on style. And that's how we ended up at the super hipster Hoxton Hotel in Williamsburg*, Brooklyn. We're already big fans of the original London branches of the hotel (see our post on the best hipster boutique hotels in London), so were keen to see the Brooklyn iteration. It didn't disappoint and had all the hallmarks that make the The Hoxton brand special – an open-house philosophy that ensures the lobby and bars are buzzing, creative hubs; a simple breakfast delivered to your door every day; and stylish design features created by local artists. We were also lucky to stay in one of the rooms with a view of Manhattan, which was a stunning sight to wake up to every morning and go to sleep to at night. It's definitely one of the most spectacular views I've ever had from a hotel room.
We stayed in a cosy room, which had enough space for Otis' travel cot, plus all our luggage (there are handy drawers under the bed, which were useful for storing our stuff). But, if you can afford a 'roomy' room then go for that as it was quite a squeeze.
The hotel was perfectly placed for us in Williamsburg, just five minutes' walk from the nearest subway station and close to tons of bars, restaurants and shops. We even walked into Manhattan from one day, which took about 50 minutes.
Rooms start at $180, although do look our for special offers (we stayed there on the opening deal for $89 per night). Find the latest prices and book now*. (We also received a media discount for two of our nights at The Hoxton.)
More New York travel tips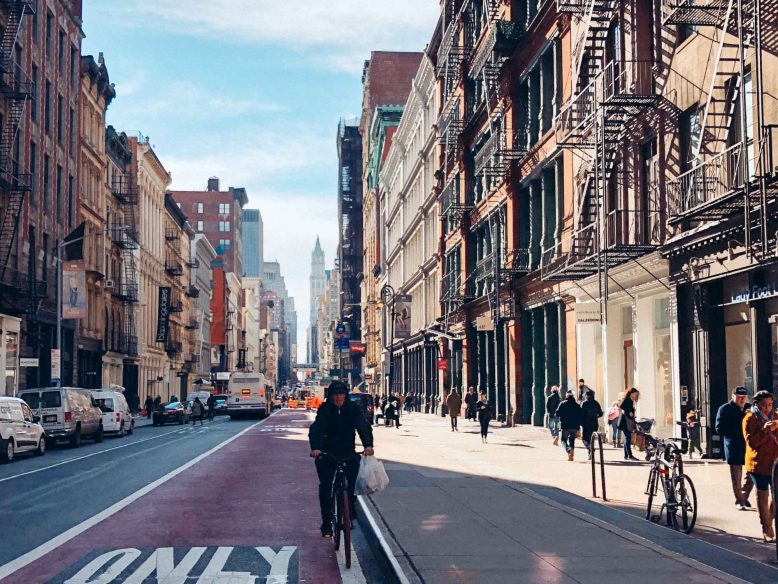 If you decide to book an AirBnB apartment, use this link* as it'll give you £25 off your first trip.
Don't forget your travel insurance! We recommend World Nomads* or True Traveller* who both offer reliable, comprehensive cover, including medical, evacuation, baggage and a range of adventure sports and activities*. You can buy both True Traveller and World Nomads insurance even when you've left home, which is unusual for travel insurance companies.
If you're planning a trip, be sure to check out our travel planning pages for all our best travel tips, including how to save money with the best cards; what to bring; and all our favourite tools and tricks.
We also have full, detailed itineraries for many other destinations, including 5 days in Iceland; 10 days in Japan; a road trip from Florence to the Amalfi Coast; a South Africa honeymoon guide; and the ultimate road trip in New Zealand. See all our travel itineraries. If you do our California road trip, you might like to add on a trip to Portland like we did. We flew up from San Francisco and I've written a full guide on what to do in Portland, plus a guide to the best vegetarian restaurants in Portland.
For more New York travel tips, I recommend reading Mommy Poppins, a New-York based website filled with tips for doing things in the city with kids.
Share the love on Pinterest
Found this useful? Share it on Pinterest!
*Affiliate link (we get a small percentage of any booking you make, at no extra cost to you).