Steve's beard is made of ice again. And we're staring at the sky.
There's a smudge upon the horizon, but is that just a cloud?
And smudges aren't what we're after. We're hoping for a show. In Iceland, it showed its face, but only in shades of grey. Please fire up tonight.
I lay back on the snow, preparing to call it a night. The KP Index is two this eve, so hopes aren't soaring high.
But then a wisp catches my eye. Three bright columns, with the faintest hint of green, are tiptoeing across the sky.
"Steve. Oh my, what's that? Is it…."
"Yes!"
The aurora has arrived.
I'd waited for this moment; hoped and wished and dreamed. But the beauty of it left me starstruck.
For two hours straight, Steve and I jumped around like kids, clapping our hands, gasping, and failing to come even close to words that could do it justice.
"I feel like I'm seeing a god."
"It's almost too much."
"This is completely dumbfounding."
The columns turned to snakes that spread across the sky, winding their curves in an elegant dance that mesmerised all of us below.
New strokes appeared and added to the canvas, pulsing like pink-green notes on a wild galactic score.
"THIS IS FUCKING INCREDIBLE!" screamed an ecstatic french man, to nods from all around.
And it didn't stop surprising, building in intensity as the night drifted on – until at one moment, the whole lake around us glowed in a bright green light, illuminating all the onlookers who had been just voices minutes before.
It's a beauty I've never seen – a dancing act of cosmos that inspires awe right to your core.
Our home is made of magic.
——————————-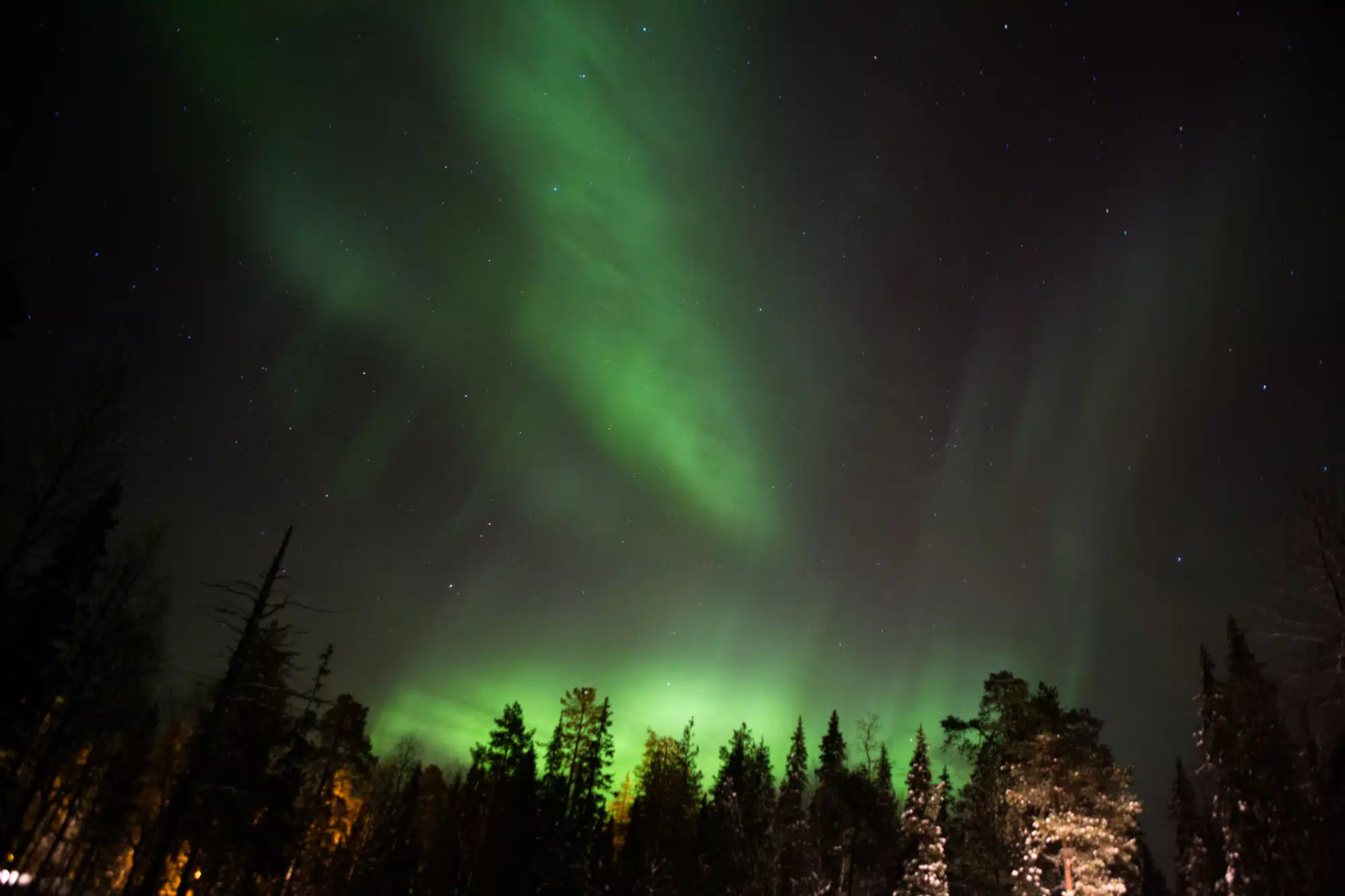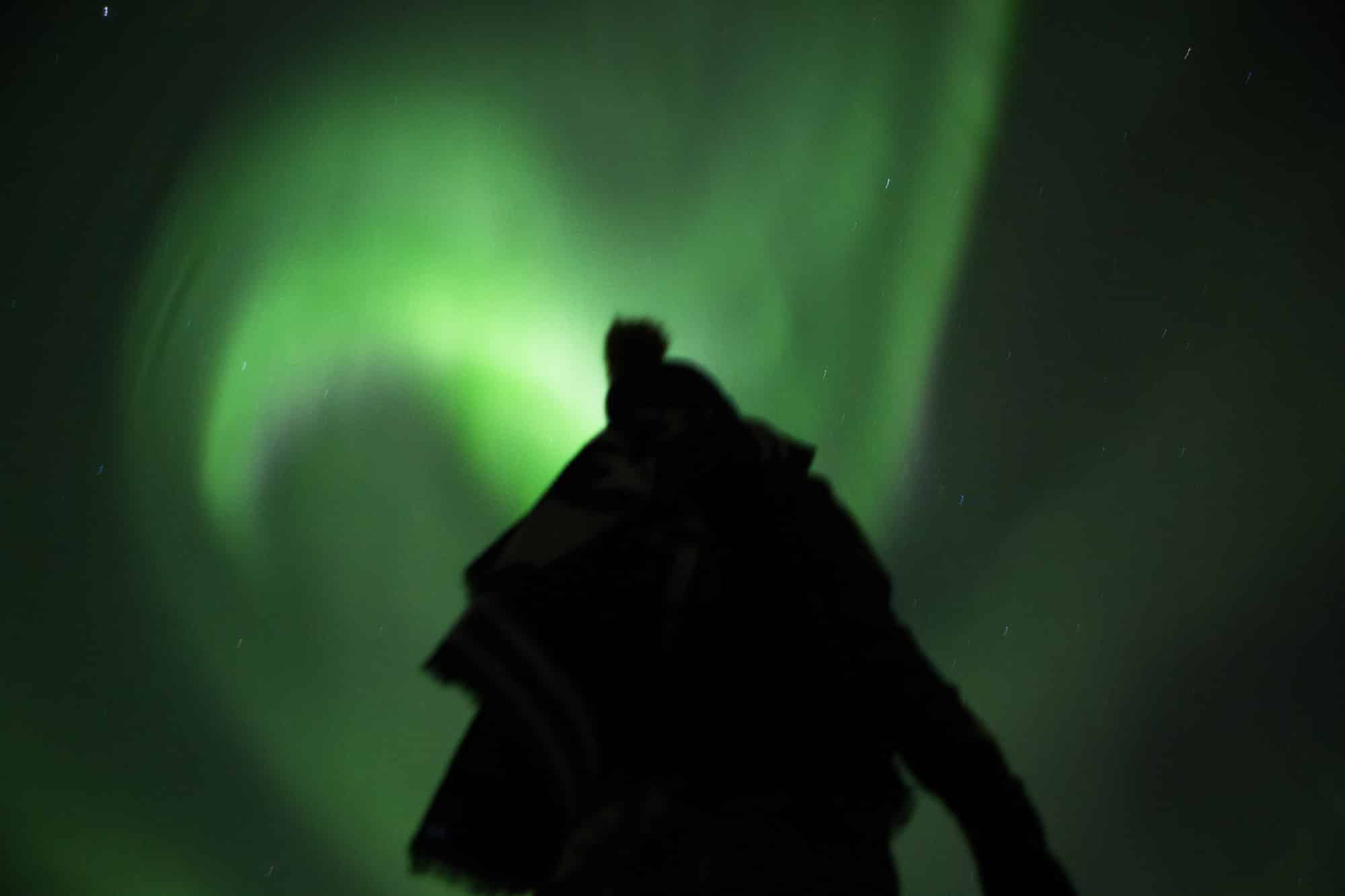 Tips for seeing the Northern Lights in Finland
The first thing to say about going to see the Northern Lights anywhere is that you shouldn't get your hopes up. The chances of seeing them are very slim, and dependent upon a concoction of different factors. Make sure you plan a holiday that will satisfy you even you don't see the lights. For example, this winter, we've spent nine nights in Northern Lights territory (five nights in Iceland and four in Lapland), and we only saw them fully on one of those nights.
The lights are caused by geomagnetic storms, and these are measured by something called the KP Index, which rates from 0 (very little activity)-9 (really strong). The higher the number, the further south the lights can be seen, and the stronger they're estimated to be. This handy map gives an indication of where the lights can be seen for each level. The KP Index isn't an exact science and can be misleading. For example, the night we saw the lights in Lapland, the KP Index was forecast as 1-2 so we weren't expecting to see much at all. The aurora surprised everyone, and locals said it was one of the best displays they'd seen all year.
The best website we found for a KP forecast was the EU Aurora Service, which has a 3-day hourly forecast. It sometimes updates a little closer to the time. The Space Weather Prediction Centre also has an ovation map that forecasts auroral activity onto a dynamic image of the globe, which we also found to be quite accurate.
Aside from the geomagnetic storms, the other factor you have to contend with is the weather, and most of all the clouds. Even if the auroral activity is really high, you won't be able to see it through the clouds. On two of the nights we were in Lapland, a huge geomagnetic storm occurred with a KP Index of 5-6, but the sky was thick with clouds, so we had no chance to see it. The weather forecast for clouds often changes by the hour, and wind is unpredictable, meaning it could unexpectedly blow the clouds in or out of your way. My advice would be to take the weather forecast as a guide, but don't get to hung up on it. You'll only know in that moment if the clouds will clear.
Make sure you scope out a spot where there is minimal light pollution. In Luosto, there was a lake beside our hotel that was perfect the night we saw the aurora as the lights were so strong. However, this lake was surrounded by some artificial lights too, so an even better spot would have been up in the forest. We did a snowshoe trek up there one evening to try and see the aurora again – but unfortunately the clouds were in the way. There are lots of tours you can book where guides take you to the best viewing spots, or you can just ask locals/your hotel for tips. Our snowshoe trek was with Lapland Safaris, who we highly recommend. Even without seeing the lights, it was a fun and informative adventure through the forest.
You don't necessarily need to book a northern lights tour. As I already said, in Luosto, all we had to do was walk to the lake to see the lights. We could even see them from just outside our bedroom when they were at their strongest. However, in places with more light pollution (such as Rovaniemi), it would be good to book a tour or hire a car so you can travel to the best spots.
Take advantage of any warning systems offered by your hotel. Both places we stayed at – Lapland Hotel Luostotunturi (pictured above) and Santas Hotel Aurora had a system where you were given a phone that was sent a message if the aurora appeared. This was really handy as it meant you could go to sleep or have dinner, safe in the knowledge you weren't going to miss anything. However, these systems often only last until 1am, after which time you have check yourself.
When the auroral activity isn't very strong, the lights can appear as a light grey colour that is easily mistaken for clouds. While still quite exciting to see, this type of display isn't very impressive to the naked eye. This is what we experienced in Iceland.
Cameras pick up the aurora sooner than the naked eye. If you do see some grey/white lights and you're unsure if what you're seeing is the aurora, take a photo with your camera, and if you see some green, you can be sure they're the northern lights. When we saw the lights in Iceland, we could only see grey, but our cameras showed brightest green. However, in Finland, the photos were very similar to what we could actually see.
Don't bother trying to take photos on your iPhone. You need to take long exposure photos, with a camera that lets you control the exposure. You want to have the aperture wide open and for the shutter speed to be no longer than 5-6 seconds, otherwise it'll be blurred. A tripod is essential. For the photos in the post, Steve was using a Canon 5D Mark iii, mostly using these settings: ISO 3200; f 2.8; 6 seconds.
Good luck! I really hope you get to see them. It's one of the best experiences I've ever had.