Last updated on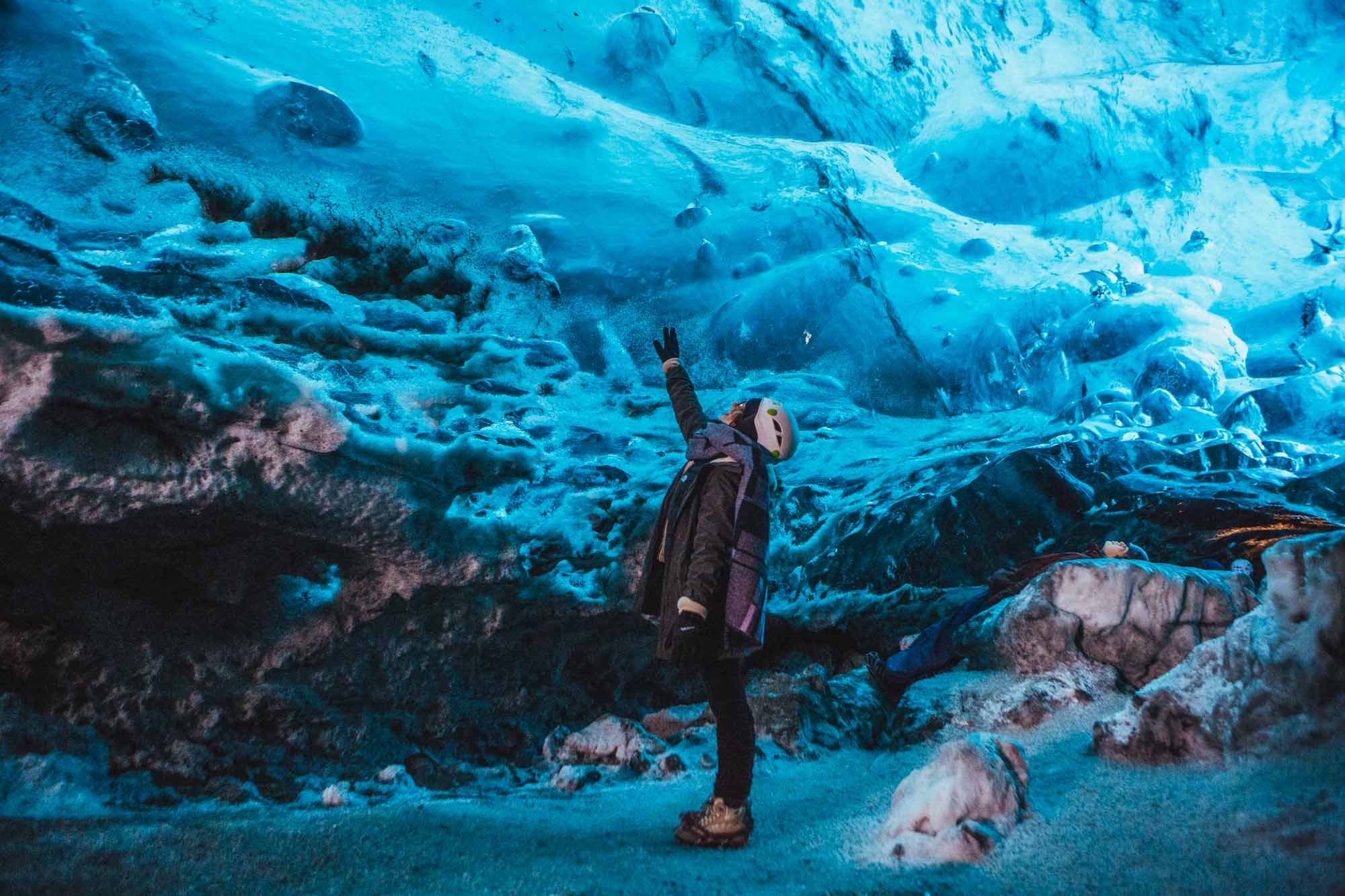 One of the reasons we were so keen to visit Iceland in winter was to see its incredible ice caves. We'd caught sight of them on Pinterest and couldn't believe our eyes – I didn't know such a thing existed before then. The caves form when the glacial rivers retract and freeze during the winter. They form in different shapes and locations every year and create worlds of deepest blue. It's one of the most impressive natural wonders I've ever seen. This post has some tips for visiting the ice caves in Iceland, plus a photo essay in homage to their incredible beauty. I've also written a detailed Iceland itinerary with all the details about where we stayed, what we did and how much it all cost.
Where to visit the ice caves in Iceland
The ice caves form where glaciers melt (ice tongues), and the most popular area to visit is Vatnajökull National Park in south-east Iceland. The most popular cave of all is the Crystal Cave because it's so accessible – tour companies can drive right up to the entrance. There are tons of other ice caves in the country on the edges of Klofajökull, Skeiðarárjökull, Sólheimajökull, Svínafellsjökull, Kverkfjöll, and Breiðamerkurjökull glaciers, but practically all the tours I came across were going to Vatnajökull. The caves have a reputation for being the most photographic. There's also a man-made cave on Langjokull Glacier, which opened in 2015 and is a popular day trip from Reykjavik.
If you decide to go to Vatnajökull, you can combine your trip with a visit to Jokulsarlon Glacier Lagoon and the Diamond Beach, which are both incredible sights in themselves. I've written more about these in my Iceland itinerary.
How to visit Iceland's ice caves
You can't visit Iceland's ice caves alone, and have to go with a tour guide. Don't even think about trying to visit one by yourself. There are a lot of hazards involved – including potential collapse of the cave, flooding, and instable ice. People have died trying to see them alone. Be sure to book a tour.
Visiting the caves has steadily increased in popularity over the past few years and as such many tour operators are springing up and offering tours. Unfortunately, this means that the most easy-to-access cave, the Crystal Cave, can get very crowded. The owners of the national park are looking into ways to mitigate overcrowding and monitor the different operators. I would recommend going with an established guide, which is why we chose Glacier Adventures who have worked in the Vatnajökull area for years. Glacier Adventures offer two main options – visiting the Crystal Cave or visiting one of the further afield ice caves that they have discovered themselves. Choosing the latter options means you'll definitely have the cave to yourself, but the journey to get there is more arduous, involving a hike across the glacier. We would have liked to try this option, but unfortunately the cave wasn't accessible on the day we visited, plus it would have meant doing a lot of nighttime driving to get back to Reykjavik. This is one of the things to be aware of with the caves – your visit is at the mercy of the weather as the caves are often flooded or made inaccessible by adverse weather conditions. This includes the Crystal Cave, which is frequently flooded.
What tour to book and where to stay
Our tour with Glacier Adventures cost ISK19,500 (£138/£167) and departed from the Hali Country Hotel, about 10 minutes from Jokulsarlon. Our guide was brilliant – a local man from Hali who filled us in on the local and natural history and gave tips on how best to photograph the cave. I highly recommend this tour. Because we were being collected from the Hali Country Hotel,, we also chose to stay there the night before. It's a good spot for trying to see the Northern Lights. Another hotel we'd have like to try is the Fosshotel Glacier Lagoon, which looked worthy of 'special stay' status.
If you're not hiring a car and you're based in Reykjavik, you can book a tour all the way from there, for example this tour by Guide to Iceland includes an overnight stay near Jokulsarlon. It costs from ISK50,150 (£382/$465) I'd recommend doing a two-three day tour as otherwise it's a lot of driving in one day. However, if time is short you could do the express tour with Goecco. This takes 18-19 hours and costs from ISK41,526 (£316/$385). Or if you have the budget, you could go by plane with Guide to Iceland, but this costs from ISK107,350 (£814/$990).
Iceland Travel offers multi-day trips, covering the South Coast, as well as a slightly shorter trip from Reykjavik to the Myrdalsjokull Glacier, which last 10-12 hours and also includes stops at Vik, Reynisdrangar, and Seljalandsfoss waterfall.
Is it worth visiting the Crystal Ice Cave?
We were a little concerned about visiting the Crystal Cave as we'd heard how crowded it gets and we were worried that might ruin the experience. However, even though it'd be wonderful to see it alone, the spectacle of the cave is so impressive that we think it's worth it even with the crowds. It makes taking photos quite tricky if you want to avoid having other people in your shot, but the cave is pretty big, so it's not as though you're jostling for space. Also, we spent about 40 minutes in the cave and the flow and the amount of people in there fluctuated over that duration as tour groups came and went. The shapes and spectrum of blues created by the ice are mesmerising, and unlike anything I've ever seen.
Do I need any special equipment?
The tours will provide you with crampons and a helmet. Other than that you just need the same warm clothes you'll already be wearing for winter in Iceland.
When can I visit the ice caves?
The ice caves are only open in the cold season, roughly from November through to March, but this all depends on the weather. Here's a handy guide to the best time to visit Iceland.
What are the ice caves like?
I think pictures will speak louder than words, so here's a selection from our visit to the Crystal Cave.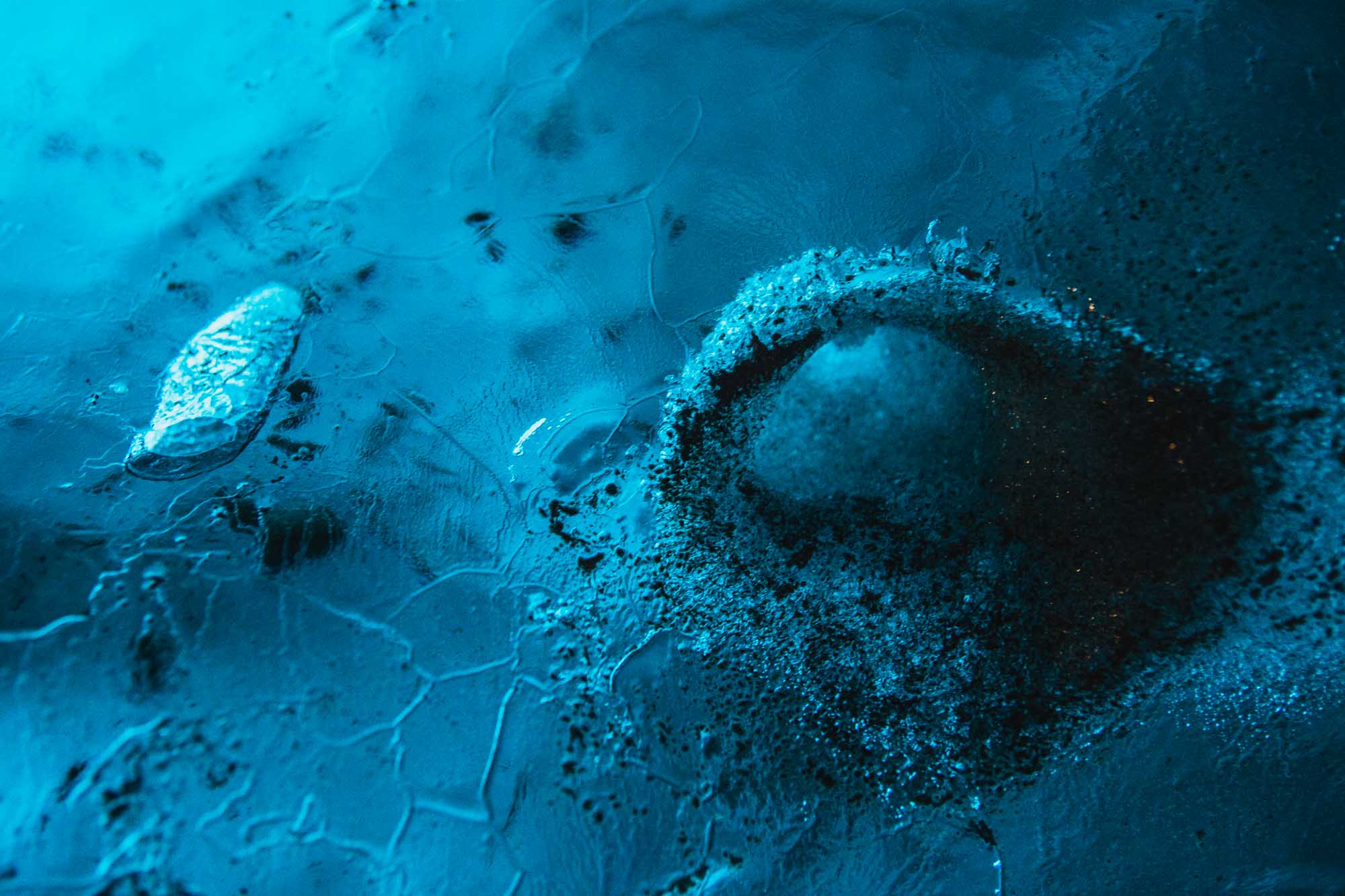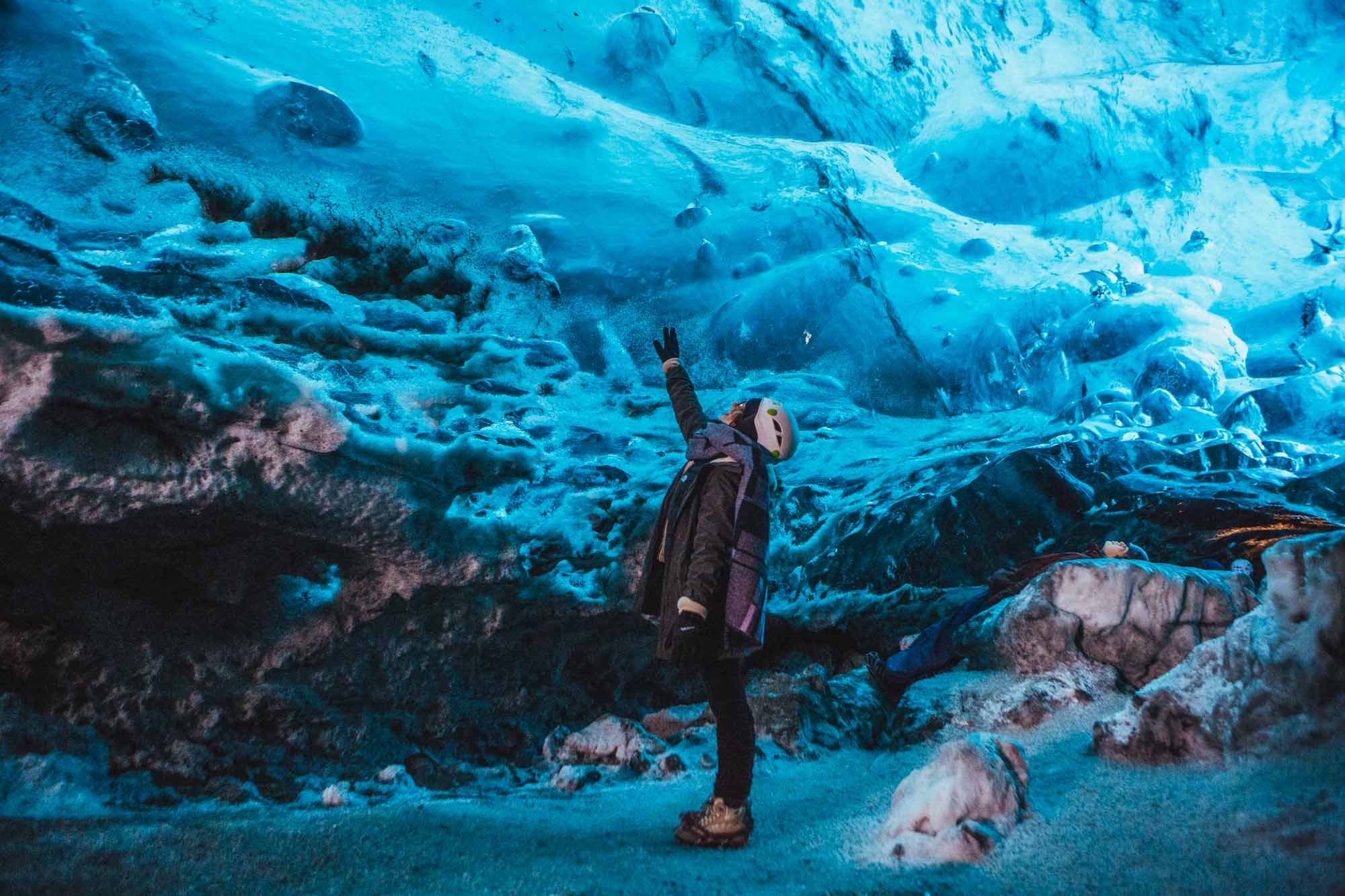 Read more about Iceland in our in-depth Iceland itinerary post, featuring everything we did, where we stayed and how much it all cost.
Disclosure: When Glacier Adventures found out we'd be writing about them, they refunded the cost of our tour, which was very kind 🙂 This in no way influenced my opinion. We really loved the tour.