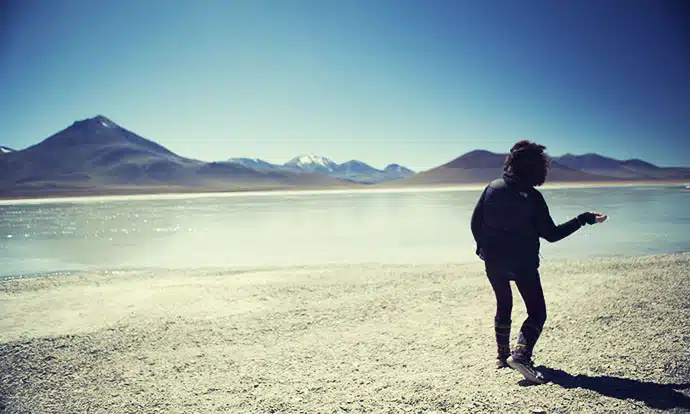 Drunk, kamikaze drivers, freezing cold nights, and crippling altitude sickness was enough to make us apprehensive about venturing into Bolivia's salt flats – but it definitely wasn't enough to put us off exploring what promised to be some of the planet's most other-worldly landscapes. Here is our journey in photos as well as some travel tips for the salt flats. Jump straight to the bottom if your looking for the salt flats travel tips.
Bolivia salt flats travel tips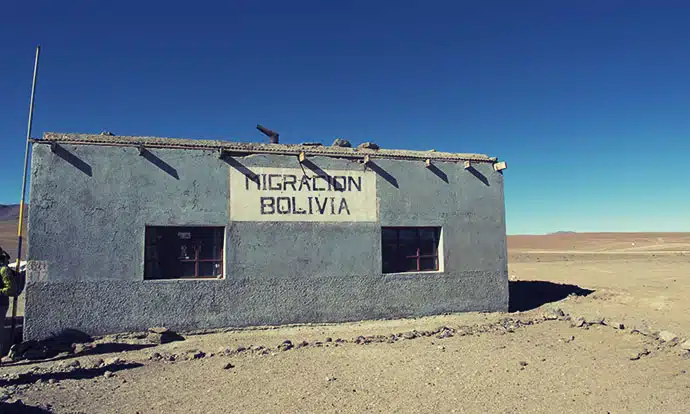 There are a few different starting points for a tour of the salt flats: Uyuni or Tupiza in Bolivia, or San Pedro de Atacama in Chile. We were heading to Chile anyway so chose to start there. You cross the border into Bolivia almost immediately, passing through what may be one of the world's most tiny migration points.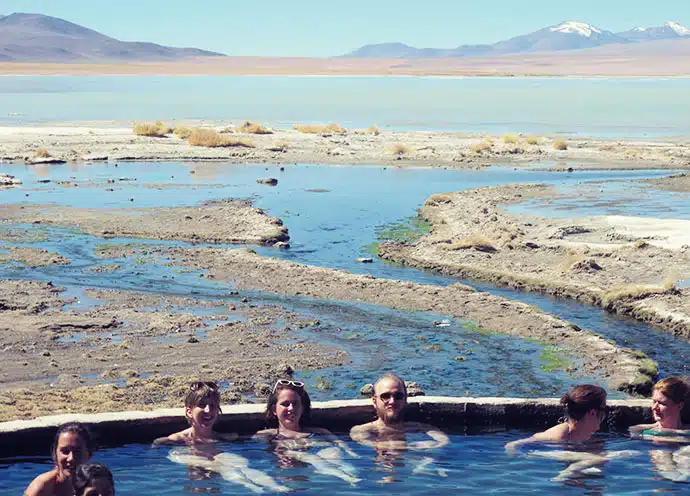 Our first stop was this thermal water pool. It took a bit of courage to shed the woolens and strip down to a bikini, but Steve and I never say no to a thermal bath, and this one was in perhaps the most spectacular setting yet.
The colours of the landscape were stunning and Steve couldn't resist setting my hair against it.
As you drive deeper into Bolivia, coloured lagoons dot the route to the salt flats, and have inspired many a cairn. I added a final pebble to the one above.
These geysers were one of the highlights of day one, spouting their sulfurous steam. Be careful not to get to close though – many tourists have been burned.
Next to some of the geysers, you can see bubbling, boiling mud cracking through the surface of the land. I'd love to paint with the palette above.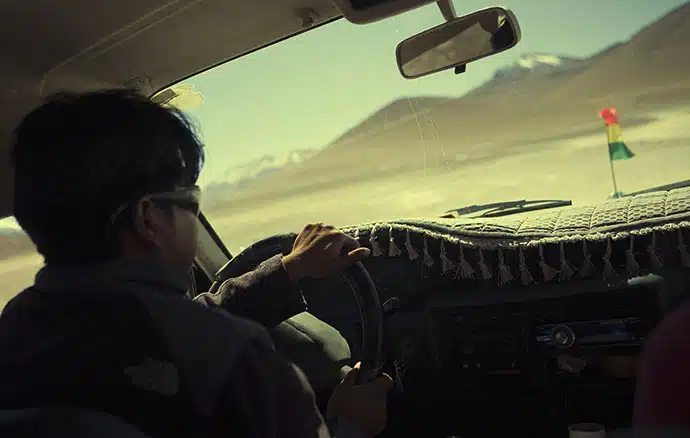 One of the main concerns on any tour of the salt flats is safety. There are endless reports of accidents and drunk or reckless drivers. Our operator, Cordillera Traveller, claimed to have a 100 per cent safety record, and our driver was certainly responsible. But what he had in safety, he lacked in charm, seeming to wish he was anywhere but in the car with six tourists. We were at his mercy and it was a shame to feel hated.
But of course, the scenery dwarfed those concerns, and the Laguna Colorada was the jewel in the crown of a mind-blowingly colourful day.
It was definitely worthy of an 'Excellent splendour of the universe' moment.
And then to bed. Our resting pace was this basic, but beautifully situated, lodge looking out towards the coloured lagoon. The sunset was stunning and, along with the splendour of the day, helped abate the uncomfortable altitude.
Day two started with eggs for breakfast and shared stories of an uncomfortable night's sleep. We'd all had trouble breathing, one person had screamed in the night, and some hadn't slept at all. But an air of excitement kept everyone going – and at least we hadn't been cold.
One happy camper had the best outfit of all. Justin's headgear is made from a pair of boxer shorts and a travel towel – clothing ingenuity at its best.
Our first stop of the day was this rock formation in the Siloli desert. It's tree shape is the result of wind erosion, and it won't be long until it falls.
Pristine lakes and bright blue skies provided the perfect mirror for the mountainous landscape.
Flamingoes are a common feature of the three-day tour. I had always imagined them to be tropical creatures so was surprised to see them inhabiting such an unforgiving part of the world. You can also find them in Patagonia so it seems they are pretty hardy.
Quick flamingo fact: they are pink because of what they eat. I'm yet to see a white one.
Behind every photo is a camera, and here's your behind-the-scenes look at the previous photo. We look like the flamingo paparazzi, hiding amid the rushes!
Next to the lake where most of the flamingos resided, there were some excellent signs including this brilliant 'no flying' notice.
My favourite was this candid 'no peeing' sign
After lunch by the flamingo lake, we drove, and drove, and drove along this single, seeming road to nowhere…
…until we arrived in a tiny town named San Juan. They even sold beer, which the tour quickly took advantage of.
That night we stayed in a hostel made of salt – walls, beds, seats and floors. I felt parched just thinking about it. It was on the edge of the salt flats, which we could see through our bedroom window above. Tomorrow would be the big day when we finally reached our destination – the dazzling Salar de Uyuni.
A sunrise over the salar provided a fitting final morning for the colourful three-day tour. We all slept better that night and were excited for the final spectacle of the salt flats.
Our hostel was on the edge of the salar so we immediately drove out onto the white expanse, making a beeline for Huasi Inca island.  or Fishes Island as it's also known.
Llama, salar, cactus: no-one could resist this iconic island photo.
This was my Andean salt flats costume, modelled here atop the Huasi Inca Island. I may look a little ridiculous but I was wonderfully warm and how I loved that wool!
One of the 'must-dos' of the tour for many people is taking amusing perspective photos on the salt flats. We hadn't given it much thought so had no pre-conceived ideas of what we'd do. Erin, our friend from Cafayate, wished for a dinosaur. It seemed impossible until fellow tour-mate Nick found one in the island gift shop. Great minds…

Dinosaur and beer can in tow, it was now time to take the photos, which proved much more tricky than anticipated. Here's a shot of everyone trying to do the math.
We eventually got it down…
…and played at being tiny people…
…jumping in the sun.
It's easy to forget that the salar is, of course, edible. These are piles of salt, drying out in the sun, ready for collection. I wonder how long that pile would last in a home kitchen?
The final stop of the tour was the train graveyard where artists have made use of the retired parts.
Steve and Nick found a giant see-saw. Memories of flying into the air as a child made me step away.
Instead I stuck to the swing. A cheery way to end a phenomenal adventure.
Travel tips for a salt flats tour in Bolivia
The Salar de Uyuni, more commonly known as Bolivia's salt flats,  is the world's largest salt flat compromising more than 10,500 square kilometres. It's one of the most popular tourist activities in Bolivia, especially for photographers.  You can't explore it alone and need to be accompanied by a guide. Tours are usually three or four days long and can be started from a few different spots: Uyuni, Tupiza or San Pedro de Atacama in Chile. The tours vary wildly in price and comfort, and there are plenty of horror stories of bad tour companies. A common problem is drunk driving. The best way to choose your tour company is to ask around once you get there and get reviews from people who have just finished a tour. That way you'll get a specific idea of the driver and the quality of the tour.
Where to start your salt flats tour
We started our tour in San Pedro de Atacama in Chile, but you can also begin in Uyuni or Tupiza in Bolivia.
How to choose a salt flats tour company in Bolivia
We did our research, asking around and reading reviews online, and settled on Cordillera Traveller because of their 100% safety record. Their reviews weren't perfect but they seemed like the best of the bunch. We travelled in two jeeps of six people each and it didn't feel uncomfortably cramped.
How to prepare for the high altitude of the Bolvian salt flats
The altitude on the first day (if starting from Chile) is the highest you'll experience throughout the tour. We acclimatised for a few days in San Pedro de Atacama prior to the tour, drinking lots of coca tea and steering clear of too much alcohol. We had also taken the road from Argentina, which passes through altitudes as high as the salt flats tour. We felt very uncomfortable on the journey, struggling to breath and getting headaches, but things got better while in San Pedro. If you haven't come from Argentina, it's recommended that you do a day trip to some high-altitude geysers in Chile to help prepare more (we were delighted not to do this as the start time is abou 4:30am in the morning!).
Despite our preparation, Steve still suffered from terrible headaches on day one of the tour. I was okay, but about half of the tour group felt unwell, especially two girls who had splitting headaches and had to go to bed. Nearly everyone felt short of breath in the night and struggled to sleep well.  Good news – everyone's headaches improved on the second day.  Despite these difficulties, the tour is definitely worth it.
Is it cold at night on the salt flats tour?
Before we did the three-day tour to Bolivia's salt flats, we were often warned about the hellish first night spent in freezing cold temperatures at a high altitude in very basic accommodation. Perhaps we were lucky with the weather, but the blankets provided, combined with our clothes (I definitely overdid it with the woolens!), were more than sufficient. On the first night we only had cold showers, but we had hot showers on the second night and the lodging was very comfortable (it was much more basic the first night, but still fine).
Is there vegetarian food on a salt flats tour?
Yes. Our food over the three days was great including a vegetarian spaghetti bolognese, salads, rice dishes, potatoes and eggs. Everything was prepared well and no-one got ill.
Should you stay in Uyuni?
The tour ends in Uyuni around midday. There isn't much in town so I wouldn't recommend hanging around. We got a nightbus to La Paz, which was one of the rockiest journeys I have ever been on. The Lonely Planet described it as bone-shaking and they definitely weren't exaggerating. We originally booked with Todo Turismo but when we arrived in Uyuni, we found out they had sold our ticket to someone else. Luckily, Cordillera were able to book us onto a different bus.
One reason to stop in Uyuni is Minuteman Pizza where we shared a delicious evening meal before catching our bus.
If you're planning a trip anytime soon, be sure to have a look at our travel planning resources pages, which are filled with useful advice for trips of any length.