Last updated on
I'm pretty late to the party, but over the past year I've fallen head over heels for Instagram. I was slow to embrace it as I couldn't quite face the idea of yet another social network, but this one has become my favourite (closely followed by Pinterest). I mostly follow travellers so my feed is a beautiful stream of inspiring photos from around the world (interspersed with teacup pigs and pretty plates).
Beyond the big travel sites, such as Lonely Planet, National Geographic and Matador, it can be hard to know where to start – so this is a round-up of who I consider to be the best travel bloggers to follow on Instagram. Some are professional photographers, others are more organic – I like to follow a mix. Please leave any of your own recommendations in the comments. It's always great to find new people to follow.
The best travel bloggers on Instagram
Kirsten Alana | Aviators and a Camera | @kirstenalana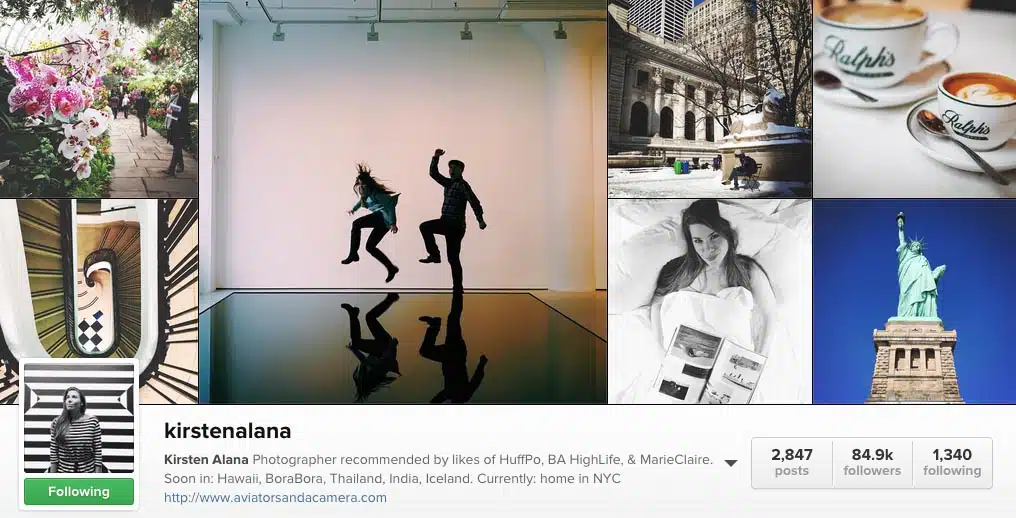 Kirsten is my number one favourite blogger on Instagram. She's a professional photographer based in New York who also travels a lot and blogs at Aviators and a Camera. Her stylish photos are evocative of an enviable lifestyle that inspires endless wanderlust.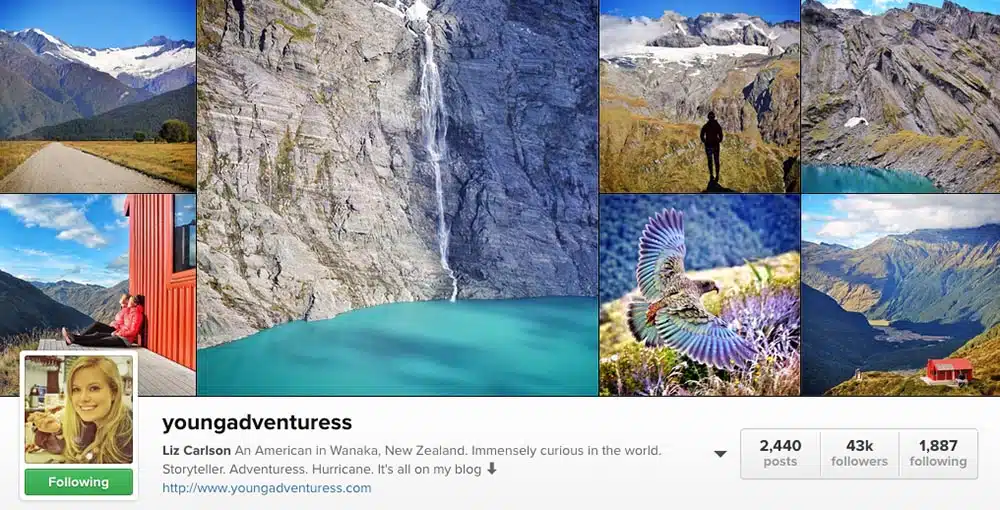 If you're not sure about going to New Zealand then following Liz will put it high on your wish list. She's been living there for the past couple of years and has quickly become the queen of New Zealand instagrammers. Her colourful photos showcase her adventures around the country, as well as her trips elsewhere in the world. (Side note: Liz is also the first person I ever took a photo of on the Bridges and Balloons Instagram feed!)
Sometimes I wander if Brooke is some sort of super human. She travels an astonishing amount, always looks immaculate, and has had a huge amount of success in a pretty small amount of time. Brooke has more than 140k followers on Instagram and her photos are always gorgeous. She mostly travels alone, tends towards a luxury style of travel, and is brilliant at what she does.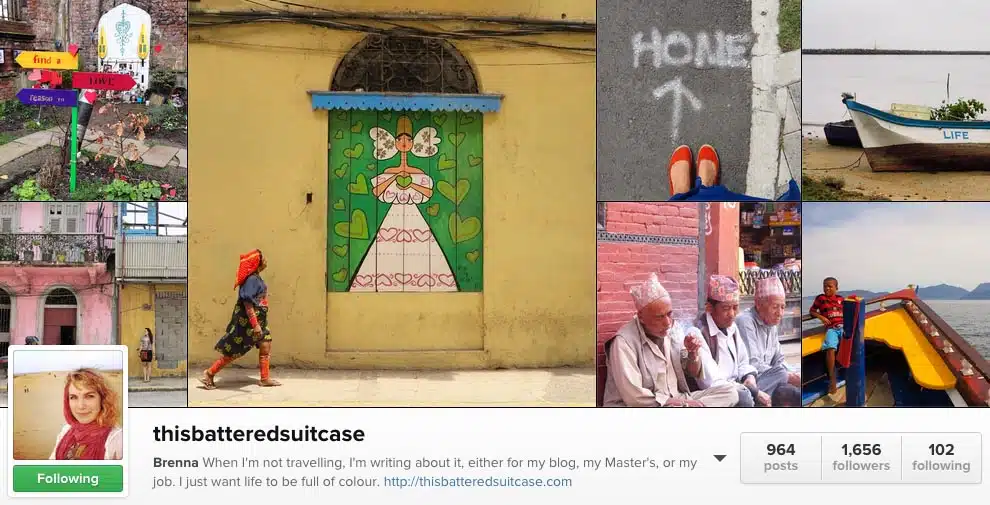 Canadian Brenna has great style and her Instagram feed reflects that. She's based in London at the moment and I love seeing her perspective of my home city. Brenna also fits in a lot of trips abroad and always manages to find the most colourful elements of wherever she goes. I'm also a big fan of Brenna's writing on her blog, This Battered Suitcase.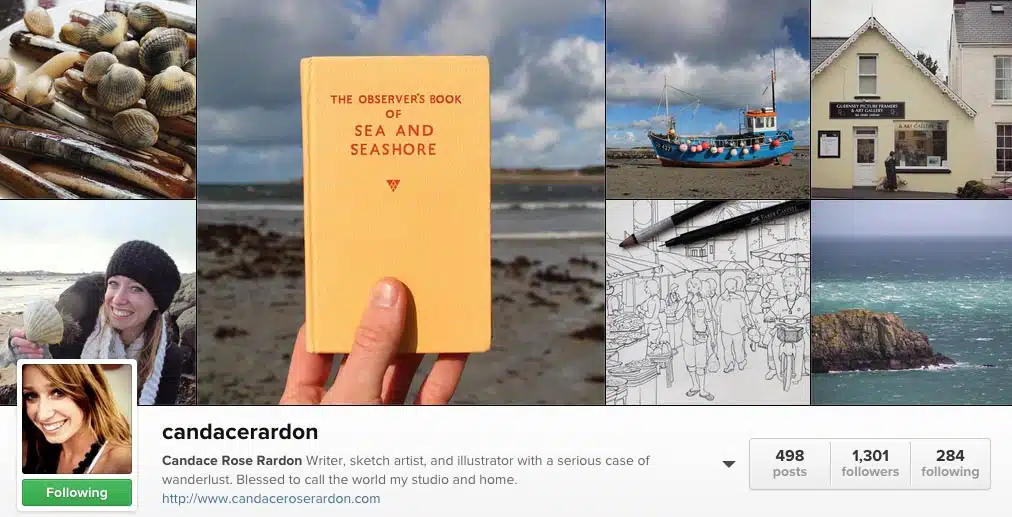 If you haven't already seen some of Candace's gorgeous travel sketches, I suggest you look at them now. Her blog is filled with beautifully crafted words and photos from a girl who clearly loves to explore the world, and her Instagram is the same. There's something wonderfully honest and down to earth about everything Candace produces, which makes me a massive fan.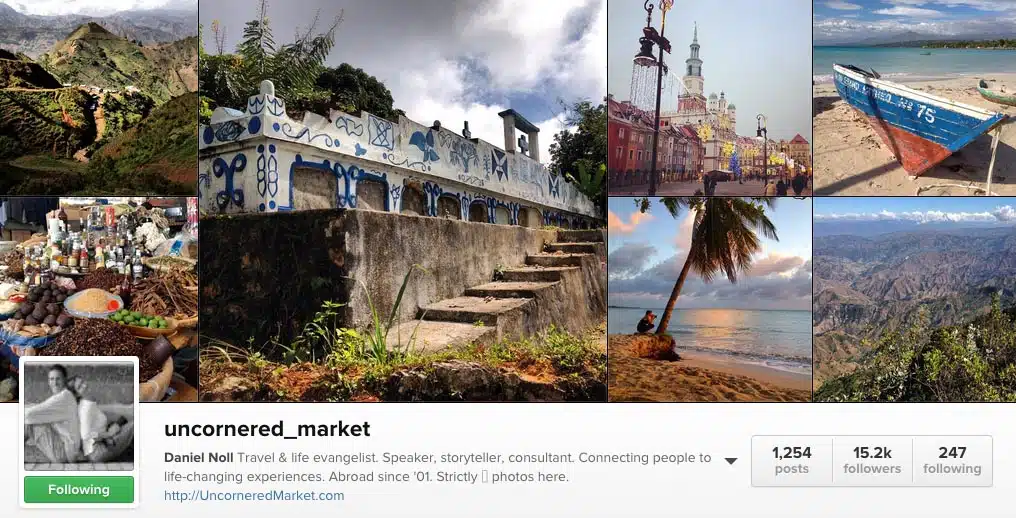 The Uncornered Market blog has always been full of great photos from around the world and their Instagram feed is no different. Dan and Audrey have been travelling for more than seven years and tend to focus on less well-trodden destinations such as Ethiopia, Haiti and Rwanda. Their blog is filled with culturally insightful posts and their Instagram feed reflects that.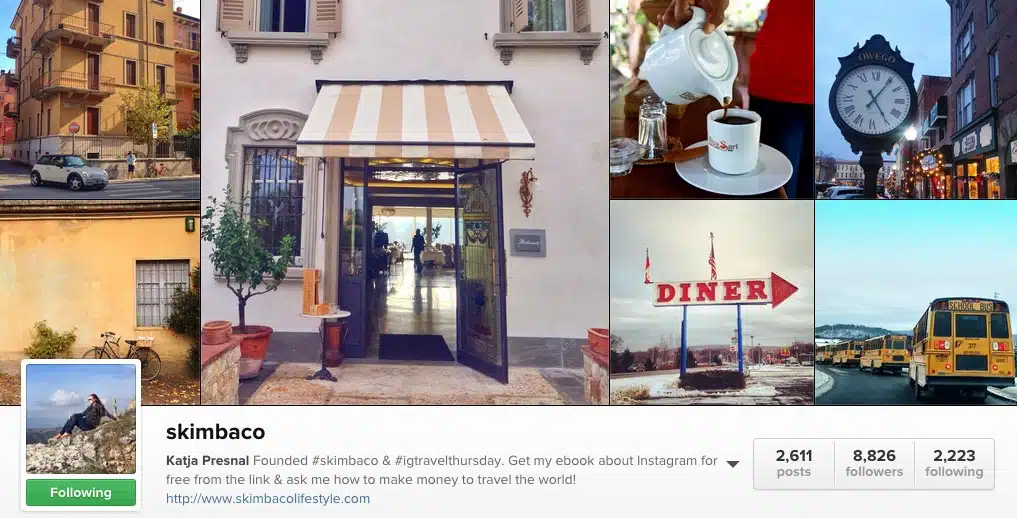 Katja is the founder of the online travel-lifestyle magazine, Skimbaco, which is all about living a smart, stylish and sustainably happy lifestyle. She also founded #igtravelthursday, which showcases great travel photography every Thursday. Finnish-born Katja has been travelling for more than 17 years and her three children were all born in different countries!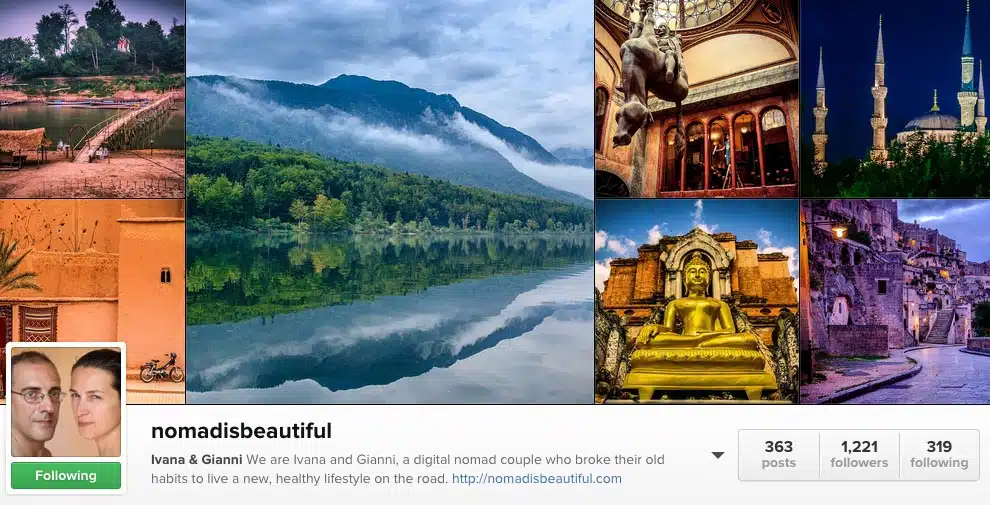 Ivana and Gianni are a digital nomad couple from Slovakia and Italy who are in search of places where you can "replenish your spirit, take good care of your body, and eat and drink decent, healthy, local food and beverages." Their Instgram feed is full of brightly coloured photos from their travels, mostly in South-East Asia.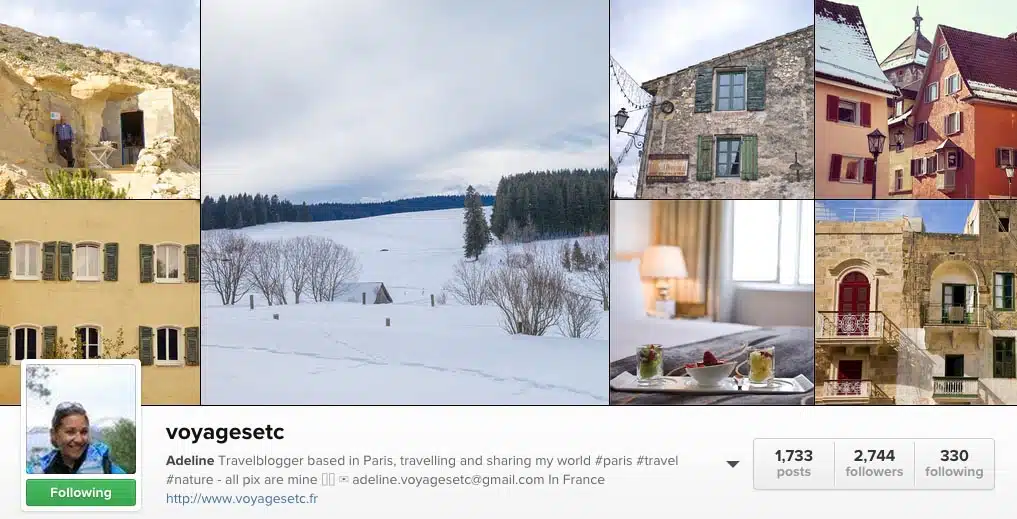 Adeline has an eye for the whimsical and her Instagram feed is full of lovely muted tones and pretty details. She's based in Paris but travels often. Her blog is also filled with great photos (sadly I don't speak French so I can't read it).
Inma and Jose are both talented photographers who travel far and often. I met Inma in Finland and saw firsthand how passionate she is about photos and travel. It's obvious from the A World to Travel Instagram feed which is an endless source of wanderlust.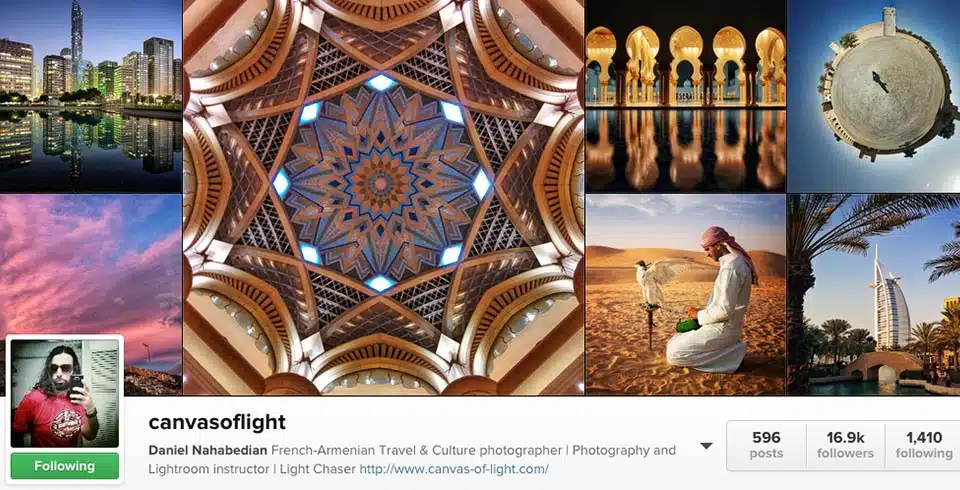 Daniel is a professional travel photographer who also teaches on the subject. His Instagram feed is a great showcase of his work and you can read his blog for lots of useful photography tips.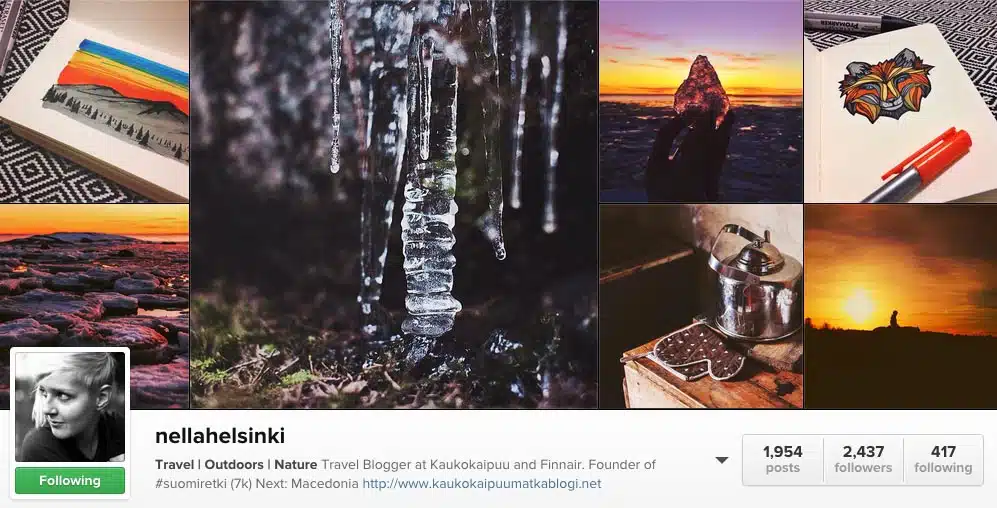 Nella is a Finnish blogger who takes gorgeous photos of her homeland. I love her dreamy, somewhat hipster style. Nella is also a talented artist and her feed often includes photos of her work.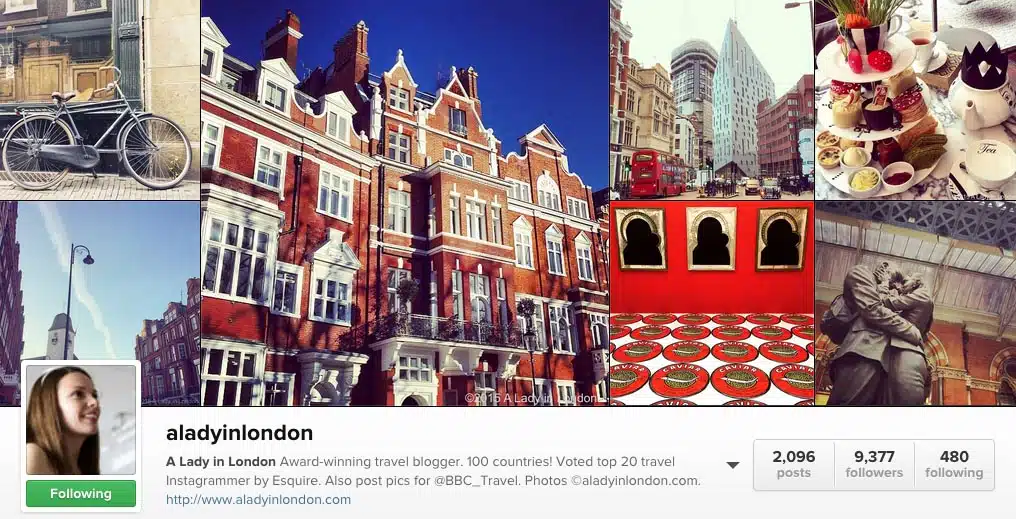 Julie is a expat Californian who has been living in London for the past eight years. She's also an avid traveller and has been to more than 100 countries. Julie is the BBC's chosen localite Instagrammmer for London and her feed is filled with lots of beautiful photos of the capital, as well as tips to go with them.
Victoria and Steve | Bridges and Balloons | @bridgesballoons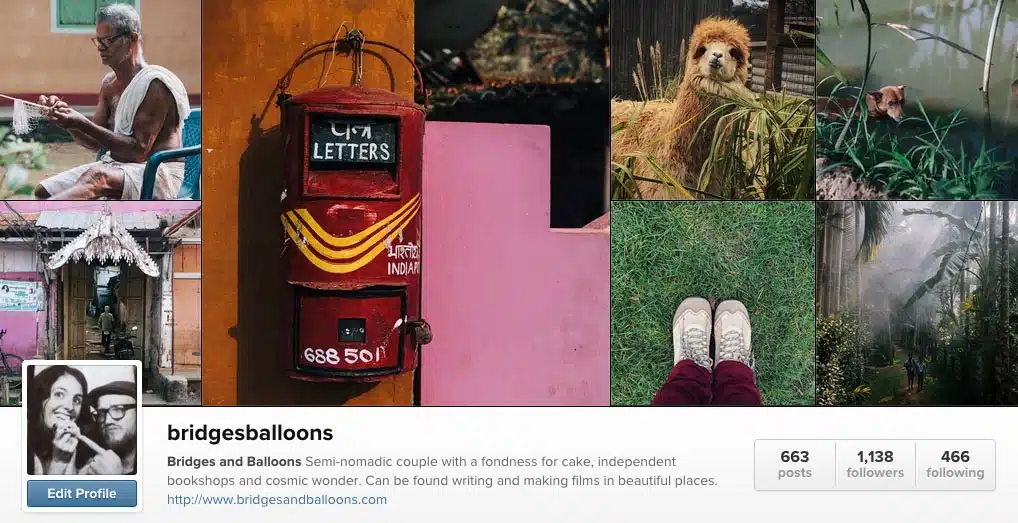 Ha! I know it's cheeky to include our own Instagram feed but there's no room for false modesty here! I love posting to Instagram as much as I do looking at it. The photos are taken by both Steve and me and it's one of the key ways we blog about our travels and our life in London. We also include lots of tips, including special restaurants, cafes, bars and other finds from along our way.
Hope you like all these as much as I do! Remember to let us know your recommendations in the comments.