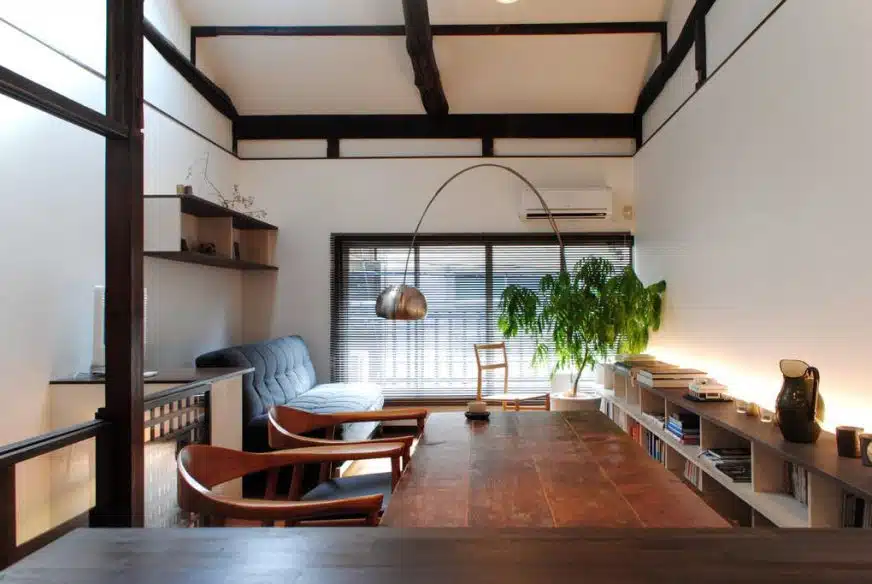 Tokyo has some incredible hotels, but one of the most reasonably priced ways to stay there is to choose an AirBnB. There are all sorts of options, from traditional Japanese houses to modern apartments. And if you don't mind sharing, you could stay in a guestroom in someone's home.
We've curated a collection of some of the best Tokyo AirBnBs. We start with places where you have the entire house/apartment, and end with some shared options at the end.
You can read more about Japan in our 10-day Japan itinerary and our guide to the best hotels in Japan.
And don't miss our guide to the best Airbnb tips for finding your dream stay.
All of the accommodation links in this post are affiliate links, which means I get a small commission if you make a booking (at no extra cost to you). It's one of the ways I keep this blog going. Read more about my affiliate policy here. Thank you for your support!
AirBnB Tokyo: What you need to know
Some things to know about Tokyo AirBnBs
All AirBnBs in Tokyo must have a license. The license number is included in the AirBnB description of each listing.
Many of the AirBnBs are located in the centre of Tokyo, and as such, they can be noisy due to sounds from the streets. Where this is an issue, ear plugs are usually provided.
Japan is known for efficient design and most of the apartments in Tokyo are small, but well-designed spaces. A large room/apartment is hard to come by and you will pay a premium for it.
Nearly all AirBnBs come with a pocket wifi device for use throughout your stay, which is handy if you don't have a SIM/phone that allows cheap international usage (we love Three/Vodaphone for this).
The Best Tokyo AirBnBs
Japanese "Mingei" room
The room pays homage to Mingei, a Japanese folk art movement that was developed in the late 1920s and 30s. It's a beautifully put together, serene space with natural plant-based furnishings and décor. It's a seven-minute walk from Ikeburo station, and there are lots of restaurants and shops within five-minute's of the apartment.
What the guests say: "Communication with Yasuko was perfect and we didn't have any problem in finding the house and checking in. The flat is clean and cozy and looks exactly like in the pictures. The position is also very good, the area has plenty of cafes and shops and being at walking distance from JR station Ikebukuro allowed us to move around the city very easily. Would definitely recommend to stay at Yasuko's!"
AirBnB listing: Japanese Mingei room
Price: From $167 per night
Sleeps: 3 people (3 single beds in 1 room)
Designer's flat, Yoyogi park
Created by an interior designer, this grey-hued room has a simple and calming elegance, with high-end comfortable furnishings. It's a 10-minute walk to the Yoyogi park metro station and just 5-minutes' taxi ride from Shibuya. Ear plugs are provided. This is a good option for being close to the natural space of the park while still being in the centre of Tokyo.
What the guests say: "The apartment is just as described – very cool interior and style. Check-in was seamless and communication was great. Everything you could need, it is about a 15-20 minute walk to get into shibuya and about 15 minute walk to the closest train station. The apartment is convenient to access and feels completely safe. It is next to a busy highway so there is traffic noise, but it wouldn't put me off staying again."
AirBnB listing: Designer's flat, Yoyogi park
Price: From $203 per night
Sleeps: 4 people (one double bed, two floor mattresses)
Two-bedroom huge apartment
This modern apartment is huge by Japanese standards, complete with two living spaces, two bedrooms, laundry room, bathroom, and two WC's. It's a real luxury option in Tokyo (with a price to match). All the appliances are state-of-the-art and you can enjoy the classic Japanese toilet experience, complete with heated seats. It's a three-minute walk to Okubo station, which is one stop from Shinjuku. And Okubo itself is a nice area with lots of restaurants, bars and shops (including a handy 24-hour convenience store). On a clear day, you can see Mount Fuji in the distance. Currently, they have a 30-day minimum, but when first saw it, it was less, so still check if you'd like a shorter stay.
What the guests say: "Midori was extremely quick and easy to communicate with. Check-in was easy and we had detailed instructions to use everything in the apartment. This was a spacious apartment that was very comfortable–great for a group or family. Short walk to subway–or easy 15 minute walk into the heart of Shinjuku area. The beds were comfortable and all of the appliances were clean/new. Great water pressure/toilets (automatic/heated seats/etc!). 2 bathrooms/2 showers made this very comfortable for a larger group. Would absolutely stay here again and recommend it to anyone."
AirBnB listing: Two-bedroom huge apartment
Price: $3,410 per month (30 night minimum)
Sleeps: 6 people (two bedrooms)
Shinjuku cosy room
This cute apartment is a perfect example of efficient Japanese design where everything has its place. It's in the heart of Shinjuku, so close to tons of restaurants, bars and shops. The apartment comes with lots of handy amenities, including a washing machine, microwave, toaster, kettle and air con.
What the guests say: "This place is AMAZING! Every bit as cute as the photos, GREAT location, and truly felt like home. Next to amazing food, Golden Gai, trains and even a wonderful massage place that you'll surely need after walking around Tokyo. I will 100% be back!"
AirBnB listing: Shinjuku cosy room
Price: $122 per night
Sleeps: 4 people (1 king bed, 1 sofa bed)
J's Apartment
This apartment in the quaint neighbourhood of Tateishi in the east of the city gives you a chance to experience residential Tokyo while still being within reasonable distance of many of the major sights (20 mins to Akihabara and 40 mins to Shibuya). The owner says it's like experiencing Tokyo in the 1940s. The apartment is made with natural cedar wood and mud walls, giving an overall natural feel. And the group who run it are always remarked upon for their excellent hospitality, often going out for drinks with guests.
There are some similar options run by the same host (Mr. T) in the same area. They are: the Cedar Apartment ($120 per night), Bargain Bungalow ($88 per night), Factory roof-top ($76),
What the guests say: "First thing to note, is T's hospitality. Organised pickup from the station, helped with luggage, introduced me to the apartment and the surrounding go-to restaurants (ichiriki is probably the best ramen I have ever had), and helped a lot with my checkout. Place was nice and as described. Probably the most helpful host I have had during my travels in Japan. Highly recommended."
AirBnB listing: J's Apartment
Price: $115 per night
Sleeps: 4 people (2 bedrooms)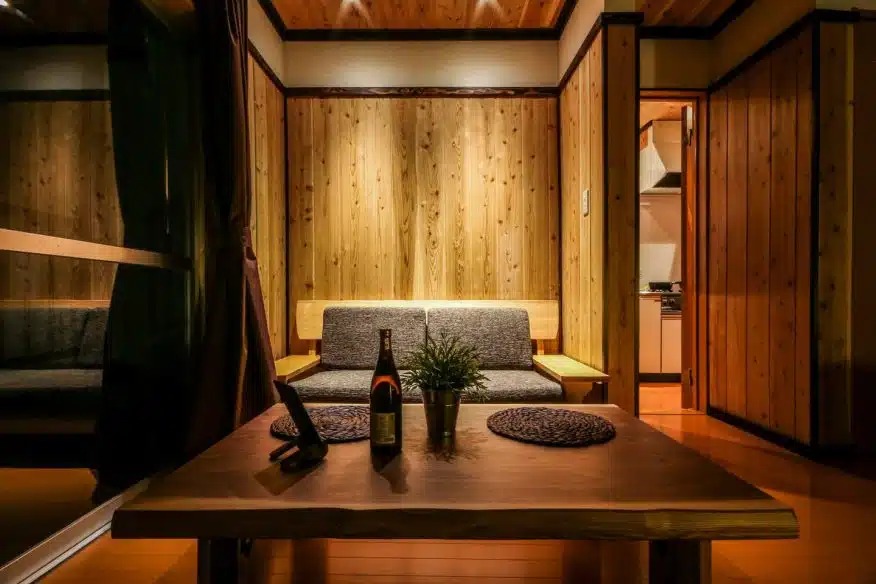 PDO Inn
This is a homely apartment-style boutique hotel that's also listed on AirBnB. The rooms are stylish and have a natural feel, using solid wood flooring and filled with lots of plants. The amenities are high-end, including my favourite, Aesop toiletries. But the highlight is the open-air bath on the rooftop next to a big cypress tree )bath in use from April to November). The nearest station is Kanemecho (one-minute walk) and it's also just 18 minute's walk from Ikebukuro (one of Tokyo's main railway stations). As with many places in Tokyo, it can be a bit noisy, but earplugs are provided.
What the guests say: "Very clean and easy to find from the train station. It's filled with lots of interesting art and books. The rooftop garden is super cute. The toiletries were a nice touch. We enjoyed our last bath in Japan in the rooftop before heading to the airport. Give yourself at least an hour to fill up the bath if you plan on using it. Super worth it!"
AirBnB listing: PDO Inn
Price: From $185 per night
Sleeps: 2 people (one bedroom)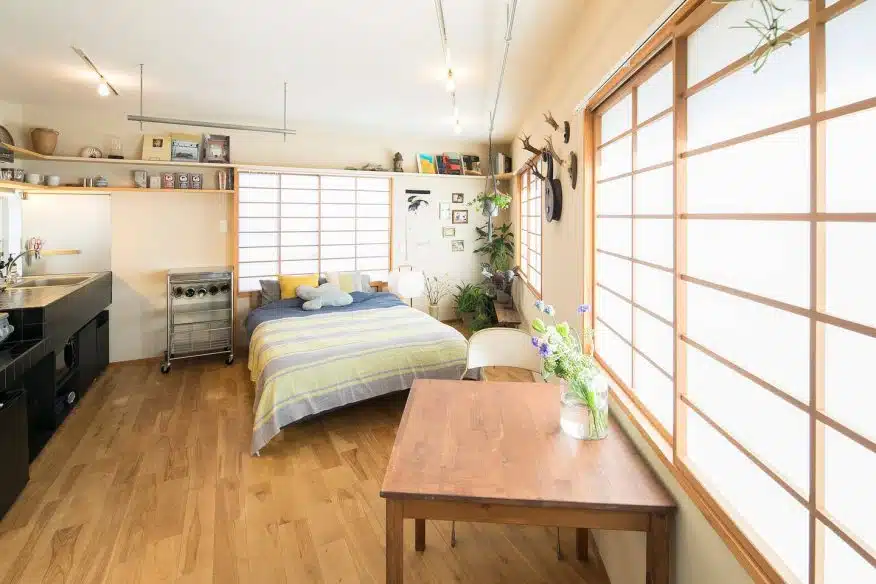 100-year-old wooden house
This is our favourite from the list. The 100-year old wooden house has tons of character and has been renovated with a modern, elegant style. And it's located in Hiroo, one of Tokyo's most desirable residential neighbourhoods. The listing clearly states that due to the house's age, you are likely to hear noise from neighbours and the street (what the owner's charmingly refer to as background music).
What the guests say: "I could not recommend Yuki and Emuri's beautiful house in Hiroo more. The location is perfect, 1min walk to the train station on the Hibiya line which runs directly to stations such as Ebisu, Nakameguro and Ginza and is a super easy transfer elsewhere. The neighbourhood is gorgeous, with an authentic community feel. It is across the road from a fantastic supermarket and there are many great cafes and restaurants in easy walking distance. The house itself is exactly as pictured and huge by Tokyo standards. Yuki and Emuri could not have been better hosts, always so happy to help and quick to respond to any questions."
AirBnB listing: 100-year-old wooden house
Price: From $186 per night
Sleeps: 3 people (one bedroom, one sofa bed)
Shinjuku party house
This is the place you need if you're hosting an event or party in Tokyo. Sleeping up to 11 guests, the house comes equipped with all you need for a group gathering. There's even a grand piano and a massive projector. It's also all soundproofed, so you can party to your heart's content. The house in Korea Town, a five-minute walk from the nearest station and about 12 minutes to Shinjuku.
What the guests say: "We had a very enjoyable time in Tokyo especially because of Ichimaru's wonderful place. It was perfect for our needs. We spent over a week in Tokyo for an event and the place was very convenient and comfortable. We especially appreciated all the thoughtful touches at his well designed place. Even though the place is located in the heart of busy Korean town, it was very private and quiet. We had the best of restaurants just steps away as well as the amazing crazy Don Quixote for all our convenience store needs. Also the train stations were just a short walk away. What a fun place for a group to stay and enjoy Tokyo. I highly recommend it."
AirBnB listing: Shinjuku party house
Price: From $666 per night
Sleeps: 11 people (4 bedrooms, 8 beds)
Family AirBnB Tokyo
This is an ideal place to stay for families as it has plenty of room and comes equipped with lots of toys and baby equipment, including a cot and stroller. It's in Koenji, a creative area of the city, just west of Shinjuku, filled with artists, vintage shops and alternative youth culture. The home is huge by Tokyo standards and includes three anime themed bedrooms, a full kitchen and bathroom with full-size tub. There's also a kotatsu (a Japanese-style table with heating underneath).
What the guests say: "I gave this place full marks for every category because it really is a great value on all fronts. First off: the location is perfect. It's in maybe the best neighborhood you could be in in Tokyo, and it's on a really cute street. You'll pass lots of izakaya on the short walk from the train station in the evening; in the morning there are great cafes for coffee; during the day there are good thrift shops. Secondly: this place is huge. I have been to Tokyo before but didn't realize you could get a place this large. Plenty of space for the six of us that stayed here (two to a room) and a nice large common area so we could hang without intruding on anyone's sleeping quarters. And finally very helpful hosts."
AirBnB listing: Family AirBnB Tokyo
Price: From $232 per night
Sleeps: 8 people (three bedrooms, six beds)
Old Folk House
Stay at this renovated traditional house owned by an artists for a taste of Japanese lifestyle. Sleep in tatami mat rooms, enjoy the small Japanese garden and admire the artist's own work on the walls. It's in a quiet neighbourhood with good transport links to the rest of Tokyo.
What the guests say: "This has been our best Airbnb experience to date! Old Folk House is a beautiful 70-year old Japanese home, it is utterly charming and we felt immediately at home. The hosts, Akanene and Mitso, were brilliant and provided everything we could have asked for – a warm welcome, great directions and lots of thoughtful touches throughout. It was a perfect end to our honeymoon and we would stay at Old Folk House again in a heartbeat – in fact, we didn't really want to leave!"
AirBnB listing: Old Folk House
Price: From $3 per night
Sleeps: 3 people (one bedroom)
Shinjuku studio
A small but perfectly located studio with a serene atmosphere, just a five-minute walk to Shinjuku station. Although a pocket wi-fi is provided, guests say to be aware that the data limit is very small. That said, people still rate the apartment highly.
What the guests say: "We had a great stay in Lemonz' apartment! The place is amazingly located, literally just a 3 minute walk from Shinjuku station but tucked away in a very quiet street. There's a family mart and a 7/11 just around the corner and it's also very close to some cool cafes and bars. The apartment is just as seen in the pictures, we found it very clean and Lemonz provided all the things necessary for a comfortable stay. Lemonz was friendly and easy to communicate to, and gave us a very clear guide on how to get to the apartment."
AirBnB listing: Shinjuku studio
Price: From $135 per night
Sleeps: 2 people (one bedroom)
Feel the Japanese culture
The highlight of this apartment is the access to a traditional public hot spring right next to the house, letting you experience this stalwart of Japanese lifestyle. Howevere, be aware that there's no private shower room, so this is your only option for washing (open 4-11pm). It's in a quiet residential area, but within about 20 minutes of Shinjuku Akihabara.
What the guests say: "This space is definitely one to experience when staying in Japan. It is located in a great, quiet area, just about a 10 minute walk from the nearest subway station with a food market and 7/11 close by. I was greeted by the host and his sweet family once I arrived and was introduced to the bath house (sento) located next door with a laundromat attached to it. The bathhouse was a plus and greatly appreciated – you experience Japanese tradition when staying here. The place itself was very clean. The mattress is so comfy, you'll have a great night's rest."
AirBnB listing: Feel the Japanese culture
Price: From $79 per night
Sleeps: 3 people (one bedroom)
Sunny apartment near Shinjuku
This little apartment crams in a lot of beds, but at $130 per night, it'd be a bargain if six of you weren't worried about lack of space. It's a colourful space with fun artwork, and well located, close to Hatagaya station.
What the guests say: "Masami is an awesome host! She was very helpful/available to answer questions before and during our stay. Her apartment looks exactly like the pictures. It's a little small but it was okay for our family of 5. It is very close to the Hatagaya train station and there are tons of restaurants and shops nearby. We would definitely stay here again on our next trip to Tokyo!"
AirBnB listing: Sunny apartment near Shinjuku
Price: From $93 per night
Sleeps: 2 people (one bedroom)
New York café style
This new apartment was designed as a café with bar seating in the kitchen area, high ceilings and an open-plan design. It's a two-minute walk from Hatagaya station (two stops from Shinjuku). There's also a piano for guests to play.
What the guests say: "Mieko's converted cafe was just delightful. We loved making breakfast at the original cafe bench with windows all around looking out on people as they pass. We sat on the outside step amongst the flowers with our coffee, kindly supplied by Mieko. The beds were very comfortable with a double story wooden loft ceiling above. The shower was great. The adjacent lane has flowers, murals and a small shrine at the end that people came to visit. Charming. Well located close to the train and laneway shops."
AirBnB listing: New York café style Tokyo
Price: From $126 per night
Sleeps: 4 people (one bedroom)
Sweetie's Shinjuku apartment
Sweetie's Shinjuku studio apartment is a typically small Tokyo apartment, but it's nicely decorated and well located, just six minutes from Shin-Okuba station. It accommodates up to four people, but that would be a real squeeze with the sofa bed out too. It's on the sixth floor and there is no elevator, so do be aware of that if you have lots of luggage!
What the guests say: "We had a great time staying at this place! We could not have asked for a better location. It is 5 minutes from a train station that takes you to the Yamanote line (a loop that takes you to many desirable neighborhoods). It is also right off of a busy street where a lot of action is, but her place is still quiet so you will have no issue getting to sleep. She was responsive and helpful. I definitely recommend this spot!"
AirBnB listing: Sweetie's Shinjuku apartment
Price: From $125 per night
Sleeps: 2 people (2 beds)
Shinjuku apartment with rooftop
This homely apartment in Kyodo, three stops from Shinjuku, has a rooftop garden perfect for relaxing after a busy day in the city. The apartment is spacious, especially by Tokyo standards, and comes with plenty of amenities including a full kitchen. It takes about 10 minutes to get to Shunjuku and the surrounding area also has plenty to do (it's right next to a big shopping mall).
What the guests say: "This is a really wonderful apartment. It is absolutely spotless and so many lovely touches. We felt like it was a home away from home. Everything was beautiful and extra touches like coffee and a coffee maker, condiments to cook with and even a toaster oven. It made life so much easier for us traveling with young children to be able to prepare some of our own food from the amazing supermarket across the road. Rooftop is great and comfortable furniture. The best Airbnb we have stayed in!"
AirBnB listing: Shinjuku apartment with rooftop
Price: From $198 per night
Sleeps: 7 people (2 bedrooms, 3 beds)
Shared AirBnBs in Tokyo
Sacred Forest House
The owner of this house is living the dream, located just 15 minutes from Shinjuku but surrounded by natural forest, and in a beautiful three-story home. It has a cosmopolitan style and is filled with artworks and murals. And they have two adorable dogs!
What the guests say: "What can I say, the place was beautiful, easy access, room was clean and had thoughtful touches, I honestly wish I could have stayed more than one night. The couple who owns the house are very friendly, kind, and thoughtful. Can not recommend this place enough."
AirBnB listing: Sacred Forest House
Price: From $56 per night
Sleeps: 2 people (one bedroom)
Miraie shared house
If you're happy to share and want to experience a residential neighbourhood then this home Shinagawa is an interesting option. The house is owned by a Japanese-Taiwanese couple who are advocates of shared living and host both long and short-term guests. They have a daughter and a dog. You'll have your own bedroom, but are encouraged to interact with the family and other guests in the shared social spaces. There's also a rooftop bath.
What the guests say: "I would 100% stay here again! Takashi and Li are some of the best hosts I've interacted with via Airbnb. They are so friendly and also very creative. Their home has everything you need and is comfortable. It's also about a 7 min walk from the subway station as well as the bus that goes directly to and from the airport. Everything in the Airbnb was clean and tidy, too. Overall, I definitely recommend this stay!"
AirBnB listing: Miraie shared house
Price: From $93 per night
Sleeps: 2 people (one bedroom)
Private and dorm rooms in Shinjuku
Another fun shared option is this quirky apartment in Shinjuku hosted by Min and Haru, a friendly Japanese couple. The bedroom has a city view and you can see the Sky Tree in the distance. They have three different rooms: one single room and two dorms sleeping 9 people each. The roof terrace is a popular hangout for guests.
What the guests say: "Min's place is perfectly located, place was clean and the room is very comfortable. I arrived in the evening and it was raining, and Min met me on the street with an umbrella and helped me with my bags. The whole apartment has a really cozy feel, although my favorite was my room and waking up to sunrise every morning. I could see the sun rise in the background from my window, really, really nice."
AirBnB listing: Single room; Nine-bed dorm
Price: From $56 per night
Sleeps: 1 person (single bed); or 9 in dorm room
Found this useful? Save it on Pinterest!
All photos courtesy of AirBnB.