We're excited to say we're hosting round #47 of Travel Photo Roulette! Thank you so much to 2away for choosing our photo of Pipa the smiling dog. We were completely blown away to win the 46th round of this brilliant contest. It was started by Jeremy over at Living the Dream almost 2 years ago as a way for travel bloggers to showcase their best photography. For each round a new theme is chosen, and independent travel bloggers are asked to submit their photos. Then a winner is chosen to host (and judge) the following round.
So it is with great pleasure that we announce this week's competition theme: Excellent Splendour of the Universe!
This phrase (born from our genuine awe at Iguazu falls) captures those moments when you're overcome by the ridiculous awesomeness of the universe, to the point when you can't resist shouting something absurd and triumphant in the face of it. We'd love to see your photos depicting this feeling. It could be your reaction or whatever provoked that reaction – feel free to interpret it as you wish. We can't wait to see what people come up with.
Here's a photo of us reveling and rejoicing in the excellent splendour of a peculiarly red lake that we encountered on a tour to Bolivia's salt flats.
How Travel Photo Roulette works
The rules are simple. The hosting blogger is the chosen winner of the previous round. The new host chooses a theme for the next round and bloggers can submit a single entry based on how they interpret the theme. The time frame for submissions is one week. At the end of the week, the host blogger chooses the winner for that round and said winner repeats the process on their own blog. Readers can always try and sway the host via comments during the contest, but the host is free to give as little or as much weight to people's opinions as they wish.
The rules for travel photo roulette
1) One submission per blog (so sites that have 2+ authors only get one entry).
2) No photoshopping allowed unless specifically called for! Cropping and correction for red-eye or camera flaws are ok, however. Minor edits are totally fine for this round if you think it improves your image.*
3) Abstract submissions welcomed as long as it fits within the interpretation of the chosen phrase. Remember, the hosting blogger chooses the winner, so if they cannot understand the submission, you might not win!
4) Keep phrases general so that all bloggers can participate. Specific items like "Eiffel Tower" should be avoided but rather made open-ended like "monuments." For variety, it is okay to say focused things such as "monuments at night" in which most of us have pictures of.
6) Abstract thoughts are appreciated, but keep it within the realm that all readers will understand. No "Kafka-esque", but "Overlooking Creation" is able to be interpreted by all.
7) No obscene pictures or phrases allowed. Suggestive phrases and photography can be accepted, but please keep it within reason.
8) After a sufficient period of time, phrases can be reused, however new photos must be submitted. Keep the ideas and photos fresh!
9) Pictures from your entire portfolio are fair to submit. You do not have to take the photo within the week of the contest period to submit it.
10) Most importantly, ALL PHOTOS MUST BE YOUR OWN.
11) And last but not the least, talk about Photo Roulette! When tweeting about it, don't forget to use the #PhotoRoulette hashtag.
*Although the rules state no photoshopping, we don't mind if you do. Like Ken Kaminesky said in round #10, we want to see your artistic vision. To us computer editing is an important part of the process – if that's what you're looking to portray.  We'll judge on the merits of the photograph, not on the photoshop skills, so you don't need to be a photoshop expert to participate.
How to submit
Entering is easy. Just leave a comment below with a link to the image you'd like to submit and a caption or description of the image to help flesh it out. Once you've added your comment, we'll add the image to the submissions. Don't forget to check back during the week to see the other submissions and join the conversation by leaving comments for others. We'd love to hear what you think.
The contest runs for 7 days, starting Monday 27 August and ending Sunday 2 September. The winner will be announced within a few days of the end of the contest and the selected blogger will then host round #48. Please do your best to keep your images to a medium size and be aware that anything larger than 690px will be reduced in size.
Past photo roulette winners and hosts
The following is a list of the previously played rounds of the game and the hosting blogger for each. This list also doubles as a winners' table as each topic host won the preceding round. Click the host's link to go directly to that entry to see some stunning photographs from the chosen term/phrase.
46. August 10th – August 17th – 2away – "Smile"
We can't wait to see your submissions. Good luck everyone!
Entries:
Entry #1 from Making it anywhere:
Excellent splendour of the universe's biggest sandwich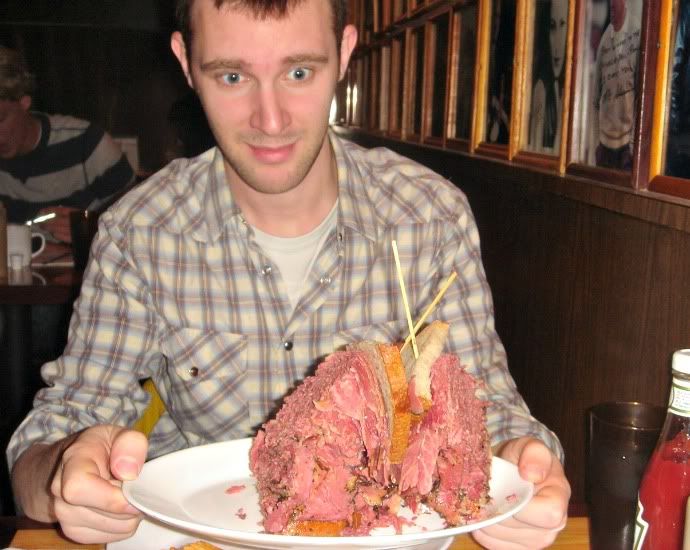 ---
Entry #2 from Living the Dream:
"For one second at the temple of Edfu in Egypt, I truly believed that I was Indiana Jones. Keep in mind, my last name actually is Jones."
---
Entry #3 from Wanderlass:
"I'm blown away by the beauty of Bolivia. I'm specially obsessed with the pink flamingos against the snow capped mountain backdrop."
---
Entry #4 from The Travel Hack:
"Here's my entry to the Travel Photo Roulette. I can't think of a better photo that screams "this world is awesome!!'"
---
Entry # 5 from The Gypsy Nesters
"This is one of my favorite shots! The animals are so friendly in the Galapagos, including when in flight – the expressions on these guys' faces are priceless as this frigate comes in for a closer look. I think I was the only one who remembered I had a camera!"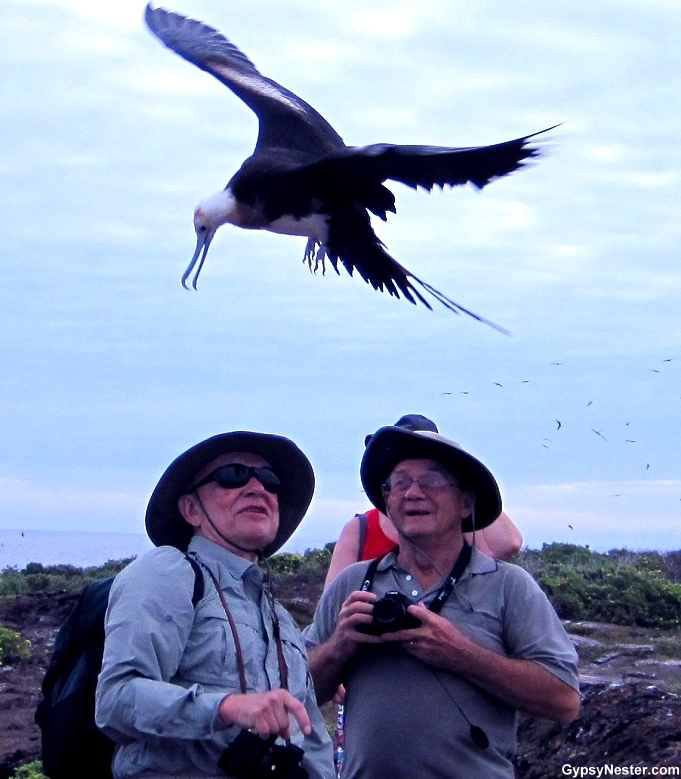 ---
Entry # 6 from The Humble Tourist
"I had a few options to choose from but nothing beats the excitement I felt when I first saw the Grand Canyon appear beneath me from the helicopter. I'd already seen it from the rim but this was epic."
---
Entry # 7 from Flashpack at Forty
"Hsinbyume Paya in Burma: I love the way the weather can give you a whole new perspective on a piece of architecture. We had perfect sunshine for our arrival here then the moody clouds rolled in. Proves that you don't need brilliant sunshine to get the best shots."
---
Entry # 8 from Travel with Kat
"Here's my interpretation… A mallard duck enjoying the 'Excellent Splendour of the Universe!'"
Entry # 9 from Food Travel Bliss
Great stuff! Keep 'em coming!