I dreamt of Babylonstoren before I got there and I've been dreaming of it since I got back. It's the kind of place that makes you want to pack up your life and move to the countryside, buy some chickens and grow all your own food. Everything at this special places to say in the Cape Winelands –from the gardens to the hotel rooms to the food on its plates – is presented with impeccable style. I was drawn to it from the moment I saw it, and it became one of the highlights of our honeymoon in South Africa.
Babylonstoren review

We arrived via Cape Town after a road trip full of wows. It seems that wine always grows in places of exceptional beauty, and South Africa is no different. The miles of farmland against a backdrop of mountains plants you firmly in rural life, and takes you a world away from Cape Town within one hour of the city.
A special place to stay in the Cape Winelands, South Africa
The Cape Winelands are brimming with vineyards and farmstays, but Babylonstoren stands out for its style that plugs into the current hipster zeitgeist for all things homemade and natural. The original farm buildings date back to the 18th Century, and have now been transformed into a hotel, restaurant and spa, as well as a working vineyard and farm. The current owner used to be the editor of an interior design magazine so it's no wonder it's all so beautifully designed.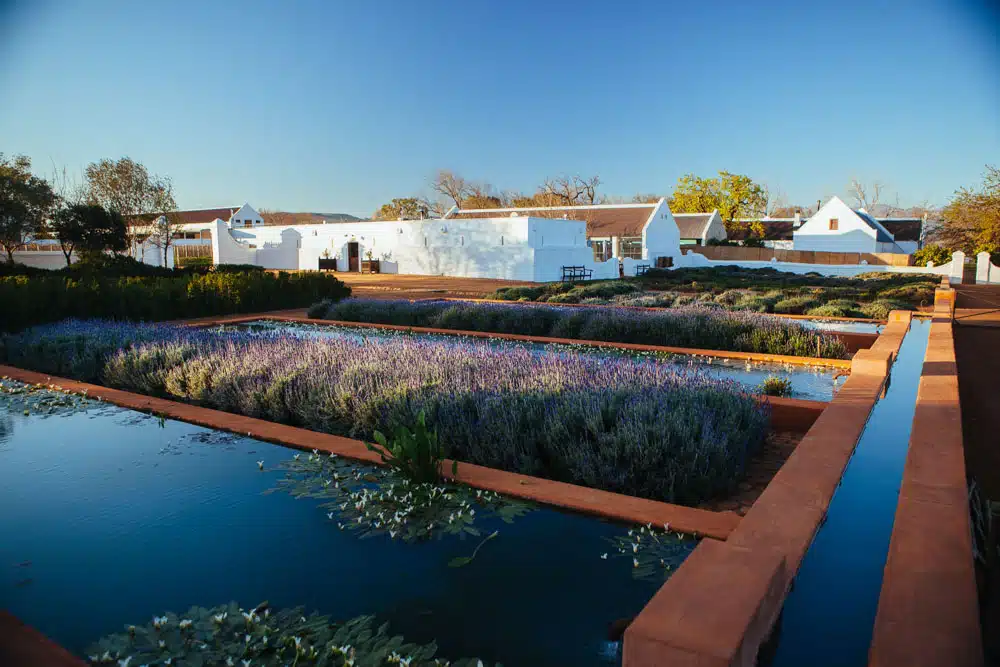 Babylonstoren gardens
The 8-acre gardens are the heart of the farm and exploring them and all their produce was a highlight of our stay at Babylonstoren. We even spotted a giant tortoise on our wanderings. Guests at the hotel are invited to pick whatever they like from the garden throughout their stay so you can create a handpicked feast. There's a garden tour at 10am every day.
Farm-to-table dining in Cape Winelands, South Africa
The gardens are the source of all Babylonstoren's food and its restaurants excel at farm-to-table dining. We had breakfast in the greenhouse, surrounded by the produce that made up our plates, and later enjoyed lunch at Babel, a restaurant that's worth visiting even if you don't stay at Babylonstoren. The starter salads at Babel were named by colour and made up of an array of fresh yellows, greens or reds. In the evening, it was pizza night and we shared a communal meal with fellow guests in a barn – it looked like something from the pages of Kinfolk.
Beautiful hotel in Cape Winelands
For me, a highlight was the room itself. As you'll know if you read this blog, I'm a geek for stylish details and this place was full of them. From a cosy open fire to deliciously high ceilings, a gorgeous roll-top bath, and a cloud-like bed, the whole suite oozed comfort and style. It's the kind of space I dream of living in.
The spa was also stand-out splendid. Steve and I booked a couple's hamam treatment and a full-body massage, which were both blissful experiences. If you had to choose one, I'd go with the hammam. It's ideal for couples and the therapist was brilliant.
Babylonstoren wine and produce
Babylonstoren produces seven wines – three reds, three whites, and one rosé. We did a guided tasting and especially loved the Chenin Blanc and Babel. There are complimentary bottles of wine in the rooms and there's also a fully stocked bar in the guest lounge where you can help yourself to drinks or make your own cocktails. We liked the wine so much, we bought some all the way back to London with us, along with some olive oil and tea.
Babylonstoren honeymoon
If you're looking for somewhere special to stay in the Cape Winelands, then Babylonstoren is a perfect choice. Whether you want to go for a few hours or a few days, we wholeheartedly recommend it. Eat at one of the restaurants, take a walk around the gardens, indulge in the spa, and relax with some wine while basking in one of the world's most beautiful landscapes. And if you're not already convinced, here's a few more photos to tempt you.
Book your stay at Babylonstoren now.
Find more special places to stay around the world in our Special Stays series.