"It's just like the village in Beauty and the Beast."
This was my first thought when arriving in the tiny village of Eguisheum, just down the road from the equally charming town of Colmar in France. With cobbled streets, candy-coloured houses and wooden beams, it was like stepping into a scene from the film I'd watched just a week before. I half expected Belle to appear and the whole street to burst into song. It was a fairytale bought to life.
I was drawn to Colmar after hearing stories and seeing photos from other bloggers that painted a portrait of a picture-perfect town that couldn't fail to charm (thanks Erin and Simon for the tip!). It's in the Alsace region of France, right next to Germany, and you can see the German influence everywhere, from the architecture to the pretzel-filled menus. It would be easy to think you're in Bavaria, save for the stylish window shutters and macaroon-filled bakeries that add a distinctive French touch.
We were in Colmar for a couple of nights for the first stop on our road trip around France, Switzerland and Italy. The whole two weeks turned out to be the most colourful road trip we've ever taken in Europe, and Colmar set the tone perfectly, with colourful buildings and cute sights galore. A canal runs through its centre and the town is often nicknamed 'France's Venice'. Indeed the most picturesque part of the town takes the name 'Little Venice',  with pretty buildings lining the waterside. Although this is the most touristy part of town, it never felt crowded.
People take pride in their homes in Colmar and many are decorated with flower-filled window boxes, wisteria arches, and sometimes even chairs attached to the walls! We went in April at Easter-time, which made for an even prettier visit as the whole town was decorated in celebration with trinket-filled displays forming bridges across the canal and Easter nest lining the windows.
We read on another blog that the colours of the houses reflect the jobs of the people that people used to live there: blue for fisherman, yellow for bakers, red for butchers, and pink for brothels, but we couldn't verify that and I'm not sure it can be true as there was a pretty limited colour palette and it would have meant quite an extraordinary amount of brothels. But perhaps the colour coding is a thing of the past and nowadays people have free reign. Either way, I like the idea of it!
Eguisheim
While Colmar was stunning, our trip to Eguisheim was even sweeter. We hired bikes for the afternoon and cycled the 30-minute journey from Colmar to find a village that outdid itself in charm. It seemed every house had decorated for Easter, with cute little baskets, eggs and chicks. The village is arranged in two concentric streets around a central square and at every turn we found ourselves stopping and take yet another picture-perfect snap. In fact, we did that during out time in both in both Equisheim and Colmar, so here are some photos from the trip: the real-life Beauty and the Beast 🙂 I've also included some practical info on visiting Colmar and Equisheim at the end of the post.
Colmar in photos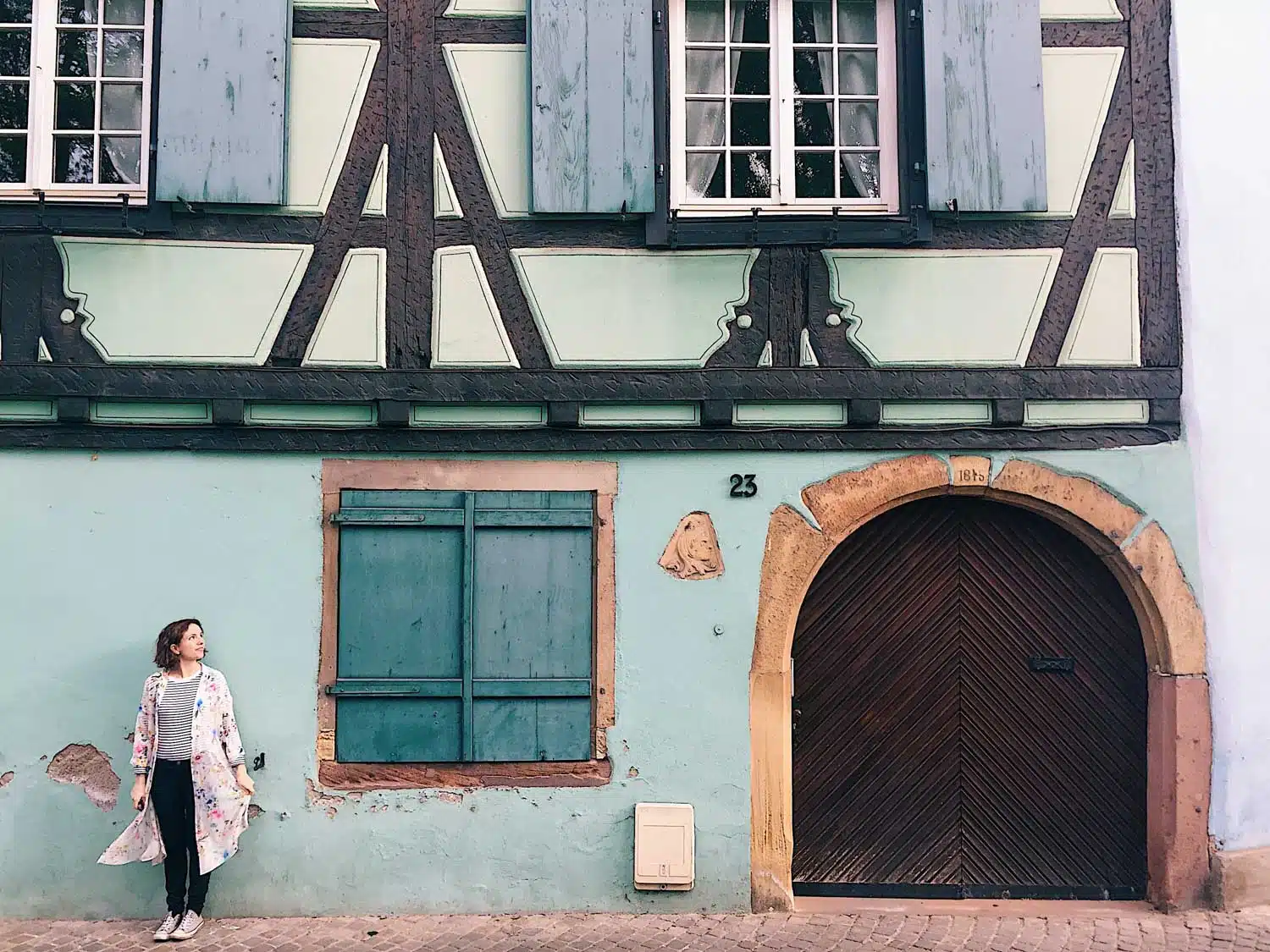 Eguisheim in photos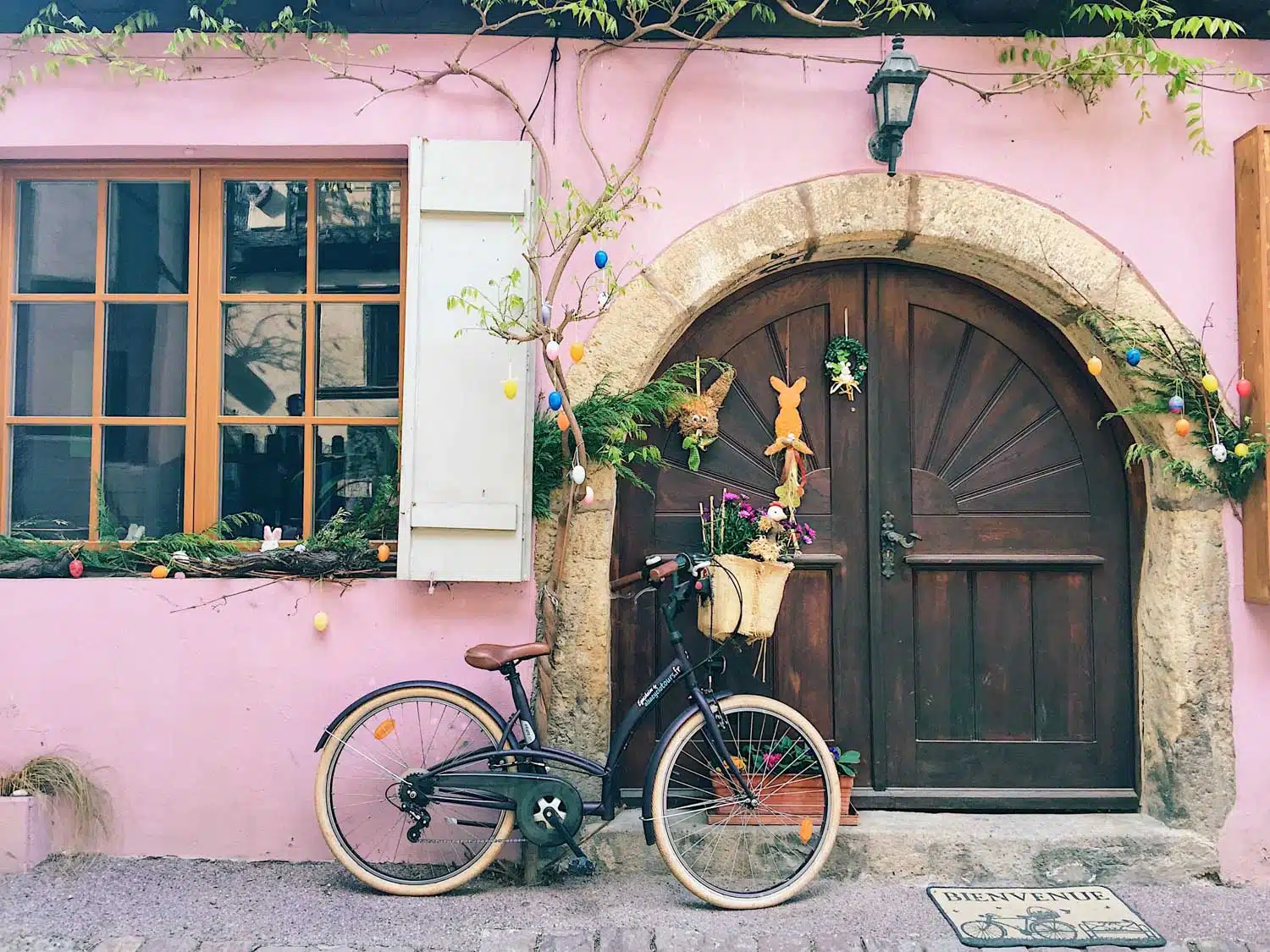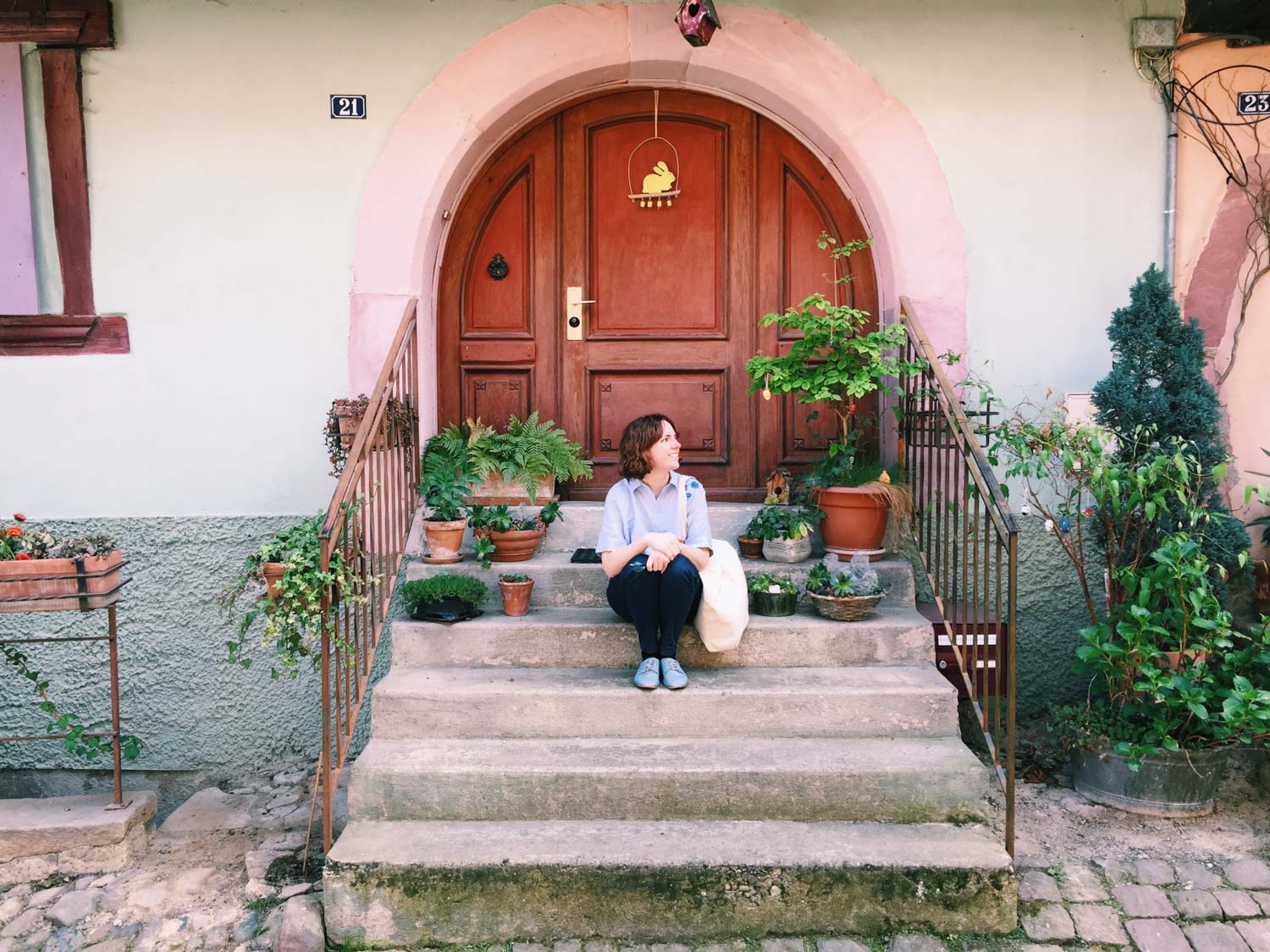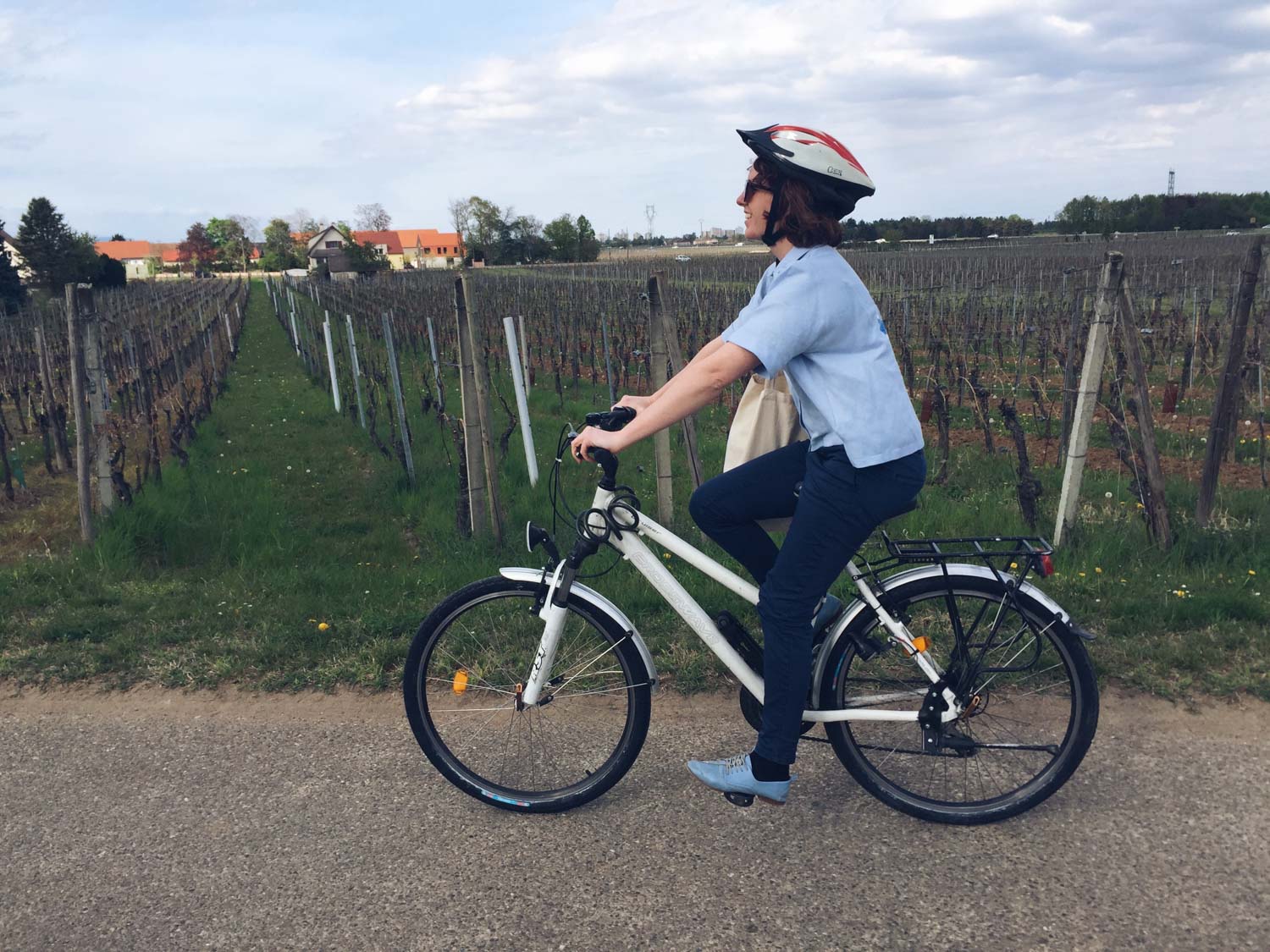 How to visit Colmar and Eguisheim
We flew to Basel from Bristol and caught the Flixbus from Basel airport to Colmar, which took 1 hour 20 minutes, and cost €12. Colmar is also just 2 hours 20 minutes from Paris.
We stayed in an AirBnB apartment in Colmar, just outside the old town, which cost £40 per night. The specific one we booked isn't available at the moment, but there are plenty of others available and if you book using this link, you'll get 30% off your first booking.
Before leaving Colmar and heading off on the rest of our road trip, we hired a car from Hertz via Rentalcars.com. We have always found the cheapest offers on this site.
We rented bikes from Colmar Velo, which is right next to the train station entrance.
We rented bikes from Colmar Velo next to the train station. We got hybrid bikes, which cost €12 for half a day (€20 for a whole day). A city bike is slightly cheaper at €6 for a half day and €8 for a full day. You need ID to rent the bike and also need to put down a deposit of €75 per bike, which we paid by card. They provide maps of routes to different towns.
Eguisheim is 7km from Colmar. We cycled there along the Alsace wine route, which takes you along quite a busy main road before turning off to Equisheim. You get some views of the vineyards, but we much preferred the route we cycled home, which went along much quieter streets, alongside a river and through fields of vegetables and corn. Both routes took about 30 minutes, although the first one was slightly shorter.
France isn't a great place for vegetarians, but we did find a couple of good options. One was the cute L'Un des Sens wine bar, recommended by Simon and Erin. In an atmospheric position, set back from the street at 18 Rue Berthe Molly, the bar's licence means you have to order a small snack with your drink and they had a great selection of veggie dips, cheese and bread. We also enjoyed a lunch in the garden of L'Arpege organic restaurant, which has a daily set lunch menu, including veggie options.
We stayed in Colmar for two nights and this was enough to see all we wanted on this trip. However, if we had more time, we'd have liked to visit some more of the surrounding villages and see if any of them could outdo Eguisheim! We would also have liked to follow the Alsace wine route and visit some of the vineyards.